Is the John Cooper Works (JCW) version of the Clubman a highly desirable and superhot version of the most nonconformist Mini on offer today, or does it represent an overwrought interpretation of a car that should simply be fun-to-drive and practical… instead of flashy and belligerent? As ever, it depends on what you are looking for.
We like: Accessible performance, pugnacious attitude, individuality without sacrificing practicality
We don't like: Not really a hot hatch, all-wheel-drive largely ornamental, awkwardly priced
Alternatives:
Hot Hatch Pedigree: Yes, the John Cooper Works division has done tremendous things to establish Mini as a performance marque, but the superbly balanced Volkswagen Golf GTI, now in 7.5 iteration, remains the benchmark hot hatch. With sufficient performance and driver engagement, allied with excellent build quality and refinement, the GTI appears a relative bargain in this company.
For AWD thrills: For many aficionados, the Quattro-equipped Audi S3 Sportback is virtually everything that you would ever need as far as a wieldy and powerful, yet luxurious and practical all-wheel-driven premium hatchback is concerned. Yes, it carries a significant price premium over the Clubman JCW, and can't match the Oxonian's charm and pluck, but it's a hard-to-fault package.
A family car with added punch: The Tiguan 2.0TSI 4Motion Highline R-Line is a recent addition to the Wolfsburg-based firm's highly-rated family car range. It may not make as bold a statement of other cars in this list, but with comparable outputs to the Clubman JCW, it's practical, classy (and we suspect much easier to sell on) than the other cars in this line-up. Think about it, it makes sense.
Click here to compare the Mini Clubman JCW with its VW Golf GTI and Audi S3 rivals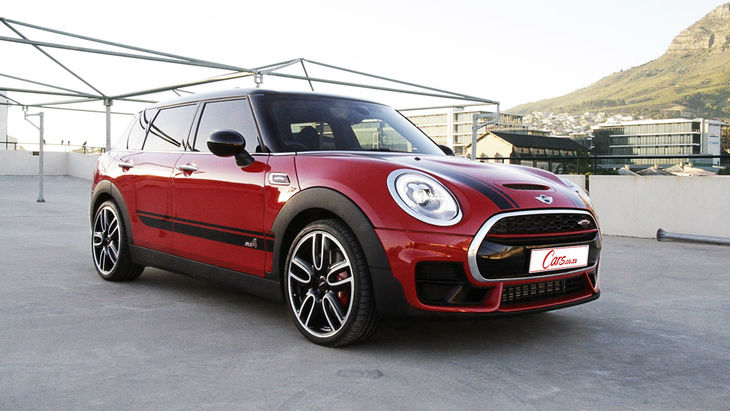 Few manufacturers can execute a dual-tone colour scheme as well as Mini. Note how the black body cladding matches the window trim and roof.
What is it?
The John Cooper Works version of the Clubman sees the longest Mini (with a wheelbase comparable in length to rival compact hatchbacks) gain a new flagship with a raft of sporty addenda inside and out, an uprated motor to complement its complement its trademark cabinet aft doors, plus an all-wheel drivetrain, which can divert up to 50 per cent of the torque to the rear axle of the usually front-wheel driven car.
In other words, the Clubman, which already offers reasonable rear legroom and a 360-litre luggage bay, which can increase to 1 250 litres with the optional rear seatback folded flat, gains performance courtesy of a fettled 2.0-litre turbopetrol that produces 170 kW and 350 Nm of torque and is mated (in the case of the test unit) with an 8-speed automatic transmission. A sports suspension (with electronic damper control optional) and 18-inch alloys help to keep the Mini pinned to the road.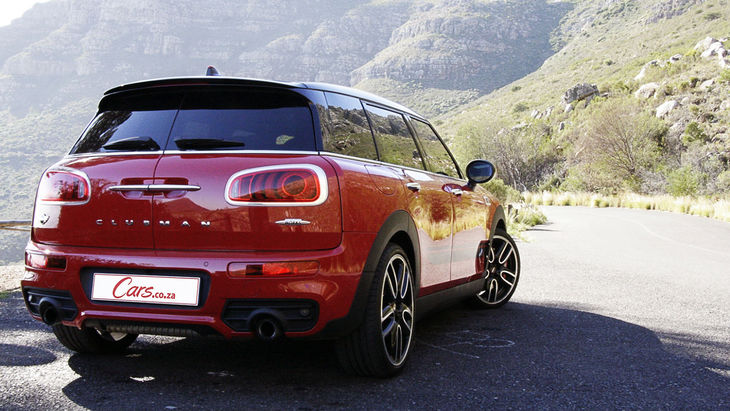 The Good
A sense of occasion
Call it a flashy yuppie's toy if you will, but the Clubman JCW is a consummate head-turner. Although its front end is comparatively understated, black 19-inch wheels (optional, 18" items are standard), flared wheel arches and ornate skirts and aprons are complemented by a dual-tone exterior finish and contrast striping down the spine and sides of the vehicle. The pronounced shoulder line, extended side glass area and blacked-out pillars give the Mini a low-slung, road-hugging profile.
Inside, the All4 strikes a tasteful balance between sportiness and practicality. Piano black and weave-pattern insets, along with smatterings of strategically-placed JCW detailing, contrast leather stitching and dual-tone velour upholstery underline the "luxuriously athletic" pretensions of this derivative.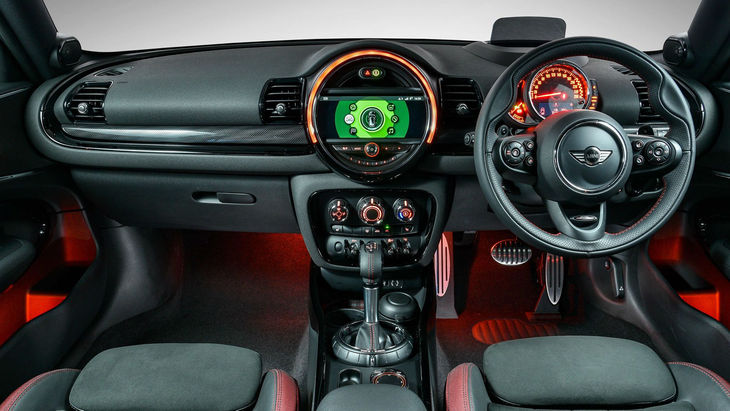 Funky LED mood interior lighting (customisable, of course) adds a sense of theatre to a sportily clad and -designed cabin.
Accessible and refined performance
When a car is endowed with a sporty, lowered suspension and shod with large wheels and low-profile rubber, it is not unreasonable to expect that the Clubman JCW's ride quality would suffer to benefit of its ride and handling. What's more, a potent 4-pot turbomotor calibrated to an 8-speed automatic transmission for optimal responses to driver inputs suggests that the test unit might be a little nervy and tightly wound in everyday driving conditions, but the reality is quite different.
Perhaps by virtue of its elongated wheelbase, which tends to iron out bigger road imperfections more regularly than in shorter cars, plus a crisp, direct-but-not-darty steering setup, the Clubman JCW is a palpably easy/non-intimidating car to drive quickly. The fact that 4-wheel traction is dynamically applied (whenever driving conditions demand it) instils confidence, of course, and each and every tester praised the rorty percussive exhaust note of the car when in Sport mode. For general driving conditions, the Mid mode felt suitably responsive.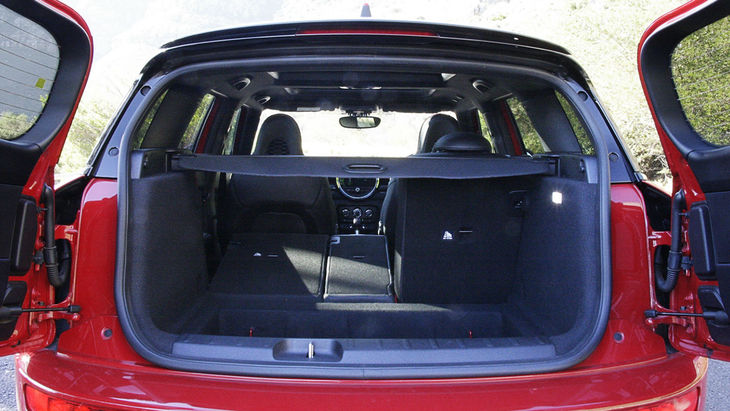 The luggage bay is certainly more spacious than in any other contemporary Mini, apart from the Countryman. 40/20/40 seats are optional.
Sops to practicality
Even though the Clubman JCW exists mostly for the sheer indulgence of its driver, it can fulfil a compact family car role with reasonable aplomb. The rear cabinet doors open expansively to reveal a capacious luggage area aided by a low loading sill, a hidden compartment under the boot floor and a high-mounted luggage cover cartridge. One aspect that requires a bit of familiarisation is that the design of the aft doors requires the right side to be opened first, and closed last.
Meanwhile, the rear bench is styled to look like the seats are individual units and, apart from the fact that they are aesthetically appealing, they afford reasonable leg and headroom, which means that a pair of adults of average height can be accommodated with reasonable ease. Testers also remarked that the panoramic sunroof lent a light airiness to the otherwise dark, sombre Mini cabin.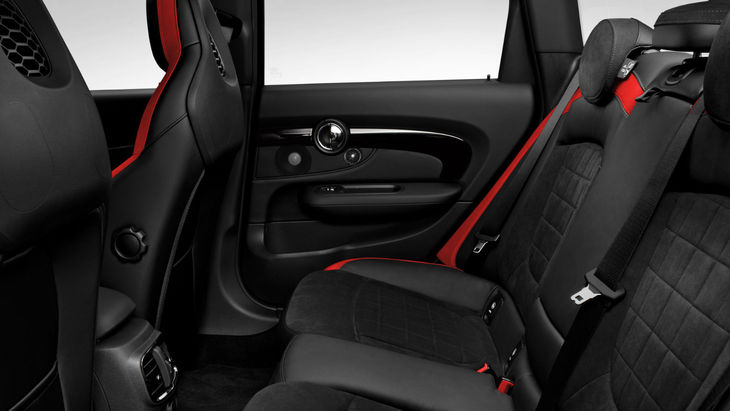 Rear occupants sit in relative comfort, with reasonable legroom on offer as well as additional ventilation outlets.
The not-so-good
Not a hardcore hot hatchback
The disadvantage of offering its driver a cache of easily accessible performance (that hardly ever encroaches on the absolute limits of adhesion) is that this John Cooper Works simply denotes the flagship of the Clubman range, not that his car is raw and edgy by design. Even though the claimed 0-100 kph time of 6.3 seconds is quick enough and overtaking acceleration is more than sufficient, the Mini just fails to offer that element of seat-of-the-pants excitement and a hint of prickliness or unpredictability to the handling that would provide an enthralling challenge for years of ownership.
Why have all-wheel drive?
Mini used to compete in the World Rally Championship, which should make the Clubman JCW's all-wheel drivetrain more significant, but unless you're planning to spend much time traversing roads affected by sleet, snow and ice, 4-wheel traction has no more use in the South African climate than added safety in low grip (rainy or gravel) driving conditions. Still, it is a nice-to-have feature.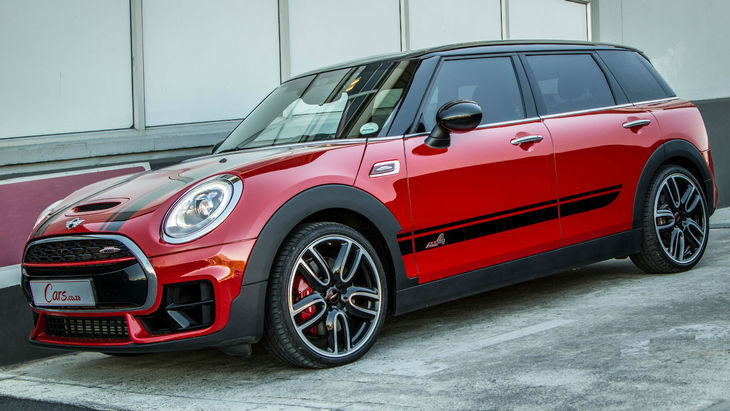 Whereas the front apron execution is not over the top, the R10 000 19-inch wheels leave no doubt as to the Mini's sportiness.
Expensive asking price
With an asking price of just under R600k, the Clubman JCW comes equipped with Dinamica/cloth sports front seats, LED headlamps, PDC front and rear with park assist, comfort access, anti-dazzle interior mirror, automatic air-con, Mini Connect and Visual Boost for the infotainment system.
Although that list suggests the Clubman JCW is not a stripped out offering in the least, it needs to be noted that to bring the derivative up to a desirable level, visually speaking, would push the asking price significantly past R600k, which puts further daylight between the Mini and the Golf GTI and bring the former closer to contenders like the Audi S3 Sportback and Golf R, for example.
Price and after-sales backup
The Mini Clubman JCW All4 sports-auto retails for R584 516, which includes a 2-year/unlimited kilometre warranty and 5-year/100 000 km maintenance plan.

The Clubman JCW is keen to tackle a winding ribbon of blacktop on a whim, but think of it as a hotter Cooper S rather than a headline product.
Verdict
If you're looking for the most compelling performance that you can get out of a family-friendly 5-door Mini then the Clubman JCW has to be your default choice. As a result of its packaging and less than scrawny kerb weight, the All4 tested here is sure-footed and spirited, but stops short of being fast. That might matter little to those who love the sheer pugnaciousness of the Clubman JCW, which could never be mistaken for anything but a rorty, large-wheeled cabinet-doored Mini.
However, the car's appeal is limited to very small pocket of brand enthusiasts; those who'd love to show off their cars' novelty doors (all 6 of them) and replay the crackles and burbles of the sports exhaust system to everyone and anyone who'd care to see/hear them. In terms of outright pace and ultimate practicality, this JCW is soundly beaten by some of its rivals on both counts. It is, however, one of the most instantly desirable cars in the new vehicle market… It's virtually impossible to not have an opinion about this Mini model!
Interested in a hatchback version of the JCW? Check out Francisco Nwamba's video review:

Related content:
Mini JCW Countryman & Clubman (2017) Launch Review
Mini Countryman (2017) First Drive
Mini Countryman Cooper (2017) Review
New Mini Countryman Revealed [with Video]
Mini Countryman Plug-in Hybrid Announced
Mini Countryman S sports-auto (2017) Quick Review
Mini Cooper S Clubman (2016) Review
Audi Q2 (2017) Test Drive & Review Video
Mercedes-Benz GLA 220d 4Matic (2017) Quick Review
Interested in buying a Mini?