Mini has revealed its redesigned Countryman and it will be shown at the upcoming Los Angeles Motor Show in November 2016. Take a look at the details…
The Mini Countryman has been in need of a refresh for some time now and Mini has now revealed details of the new Countryman ahead of its reveal at the Los Angeles Motor Show in November. The new Countryman range will comprise of two new petrol turbo variants, as well as a plug-in hybrid version. The new Countryman will also offer all-wheel drive, should you so desire.
"The new Mini Countryman is not only the largest Mini we've ever built, but it's also the most technologically advanced and most versatile MINI of our product line up. The addition of the plug-in hybrid option is a major milestone for the brand and we look forward to bringing this exciting new vehicle into one of the top performing market segments," said Thomas Felbermair, Vice President Mini of the Americas.
Engine line-up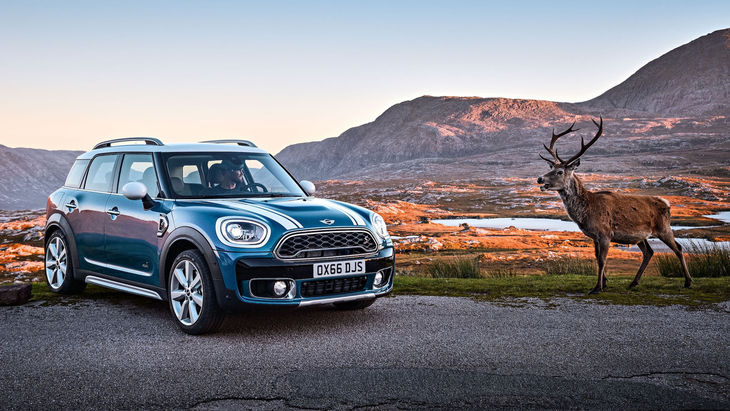 The Countryman is now powered by more powerful and efficient petrol engines with the option of a plug-in hybrid.
Two new turbopetrol engines will power the new Countryman. A 1.5-litre 3-cylinder turbo engine produces 99 kW and 219 Nm of torque, which represents a 42% increase in torque compared with its predecessor. A 6-speed manual transmission is standard (6-speed automatic optional) and, as was previously the case, the new Countryman can also be had in all-wheel drive configuration, in which case 8-speed automatic transmission will be offered.
The second petrol option is the more powerful 2.0-litre 4-cylinder turbopetrol engine with 140 kW and 280 Nm of torque, while the all-wheel drive plug-in hybrid version will be powered by the same 99 kW/219 Nm three-cylinder 1.5-litre turbopetrol engine, coupled with a 65 kW/165 Nm synchronous hybrid electric motor and a 6-speed automatic transmission.
Total output for the plug-in hybrid is 165 kW and 385 Nm of torque and will have an electric range of 39 km. The engine will power the front wheels while the electric motor will power the rear wheels. Charging the battery will take 3 hours and 15 minutes using a 240V outlet. This derivative will be the first hybrid model in the Mini stable and it will be called the Cooper S E Countryman.
Interior features
The larger dimensions of the Countryman has resulted in an increase in space for passengers and luggage. Mini says the boot has grown by 30% compared with the outgoing model and comes with an adjustable boot floor. The sliding rear seats are split in a 40:20:40 configuration and the Oxford-based manufacturer claims there is now more front and rear legroom and headroom as well as increased shoulder room.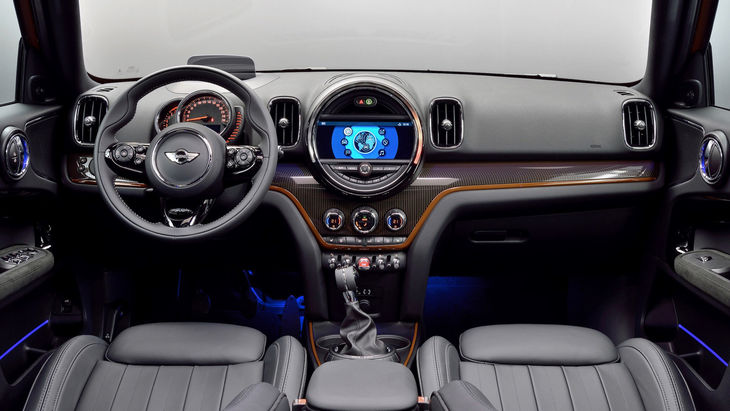 The new Countryman's interior now offers more space and as always, can be customised to your taste.
Some of the standard features on the new Countryman include: a panoramic sunroof, leather upholstery, 6.5-inch infotainment display, Bluetooth capability, rear-view camera, rear park distance control, automatic LED headlights, rain-sensing windscreen wipers and 17-inch alloy wheels. Heated seats will be offered as standard on all-wheel drive models.
Buyers can also customise their Countryman with a range of options such the Technology Package that offers an 8.8-inch touchscreen navigation system, wireless charging and the innovative Mini Find Mate function.
Find Mate consists of two tags with a Bluetooth wireless tracking function that can be attached to frequently used objects and travel items such as bags, cases, key rings and rucksacks. It can detect the presence or absence of any such objects connected to the system and tracking is done not only on the Mini's interface, but also on a smartphone. Providing there is a Bluetooth connection with the tag, an acoustic signal can be activated in the car or on the smartphone to help locate the object. If the tag is outside the Bluetooth range, the driver can be guided to the place at which a connection was last detected.

The new Mini Countryman is expected to arrive in South Africa later in 2017. We will keep you updated as more details regarding local specification and pricing becomes available.
Related content
Mini Clubman Range Gains JCW
Mini Cooper Convertible Auto (2016) Review
Mini John Cooper Works Hatch (2016) Review
Mini One (2016) Review
Mini Cooper S Clubman (2016) Review
Mini Cooper JCW Test Drive – Loud, Fast and Red [Video]
Best Fun Cars Under R600 000
Want to buy a Mini?