The newly facelifted GLA is paired with the commonsense turbodiesel engine. Is this where you should spend money if you're in the luxury crossover market?
We like: More spacious than the A-Class, good-looking interior.
We don't like: Pricey, not for off-roading, unrefined diesel engine, uncomfortable on 19-inch wheels even with adaptive suspension.
Alternatives
If you don't mind petrol: The new Mini Countryman is a more comfortable and similarly spacious car. For a lot less money, you can get the Countryman S too.

For something more like an SUV: BMW's X1 offers more ground clearance and ride comfort both on- and off-road but lacks the all-wheel drive of the GLA.

A style over practicality choice: The Audi Q2 is a bit smaller in all areas but rides and drives particularly well. The Q2 is also a very distinctive car.

If you don't mind waiting: 2018 sees the likely introduction of the larger but not much more expensive new Audi Q3 and Volvo XC60.
Compare the specs of the GLA to the Mini and Audi Q2 here
Facts & Figures
Price: R593 640 (June 2017)
Engine: 2.1-litre turbodiesel
Transmission: 7-speed dual-clutch automatic
Power: 130 kW
Torque: 350 Nm
Claimed fuel consumption: 5.0 L/100 km
0-100 kph: 7.7 secs
Top speed: 218 kph
What's new?
Exterior upgrades to the GLA include lightly reworked front and rear bumpers plus full-LED head- and tail-lights with a more distinctive and higher definition red glow at the rear. The interior is largely the same bar a few subtle touches such as shinier electric seat switches.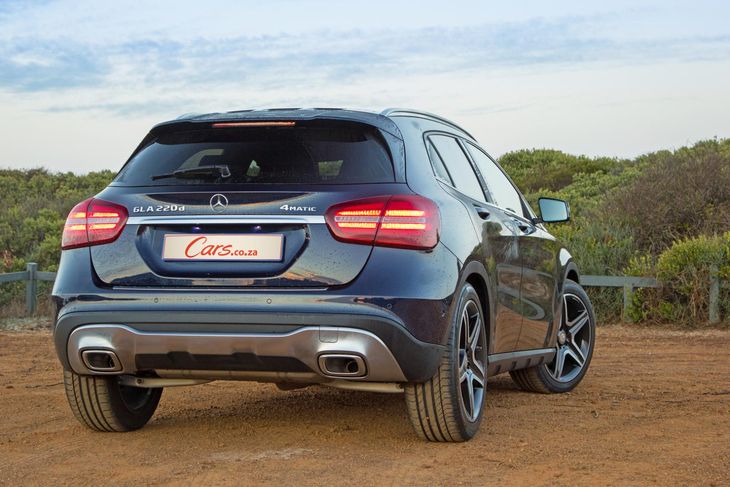 Those rear lights have a more visible and sharper red hue with this facelifted model.
The good
Occupant space
It may share a platform with the A-Class but the larger GLA's taller roofline translates into more head and shoulder room for passengers and increases bootspace by 140 litres to a total of 481. The luggage area can be specced to open electrically with a swing of the foot underneath the rear bumper. It's quite practical too, with seatbacks that fold almost flat to create a square loading area with a wide boot aperture. Mercedes does now offer a 360-degree camera option which we'd recommend as the fat C-pillars and narrow glass restrict rear visibility.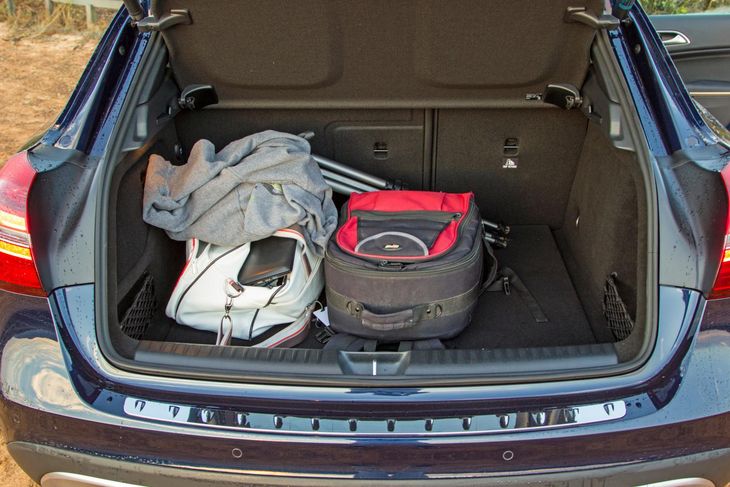 The GLA's boot is big with shopping hooks and little storage bins for smaller items.
Cabin look and feel
The GLA's cabin is one of the more stylish cockpits in the segment, with air vents styled as tiny jet engines protruding from the dashboard. The infotainment screen, despite looking like an iPad glued to the centre console, doesn't obstruct forward vision and offers simple and effective operation. It does feel as if the premium factor drops a little as your eyes wander down the cabin: the transmission tunnel plastic is a bit rough, as are the door pockets. The climate control switches and centre-mounted CD-player unit could also do with an update as they detract from what is otherwise a fresh and stylish interior.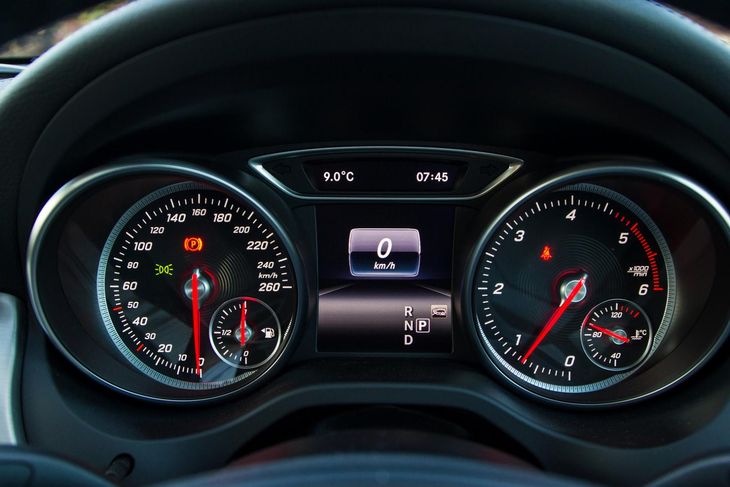 Gaps between the numbers grow in larger increments as the speed goes up - neat little trick by the Germans makes you think you're accelerating faster.
The bad
Rough engine
The 2.1-litre turbodiesel feels ready for retirement. It's rough at idle and the power and torque delivery doesn't feel as linear as many of its rivals. Consequently, the 7-speed dual-clutch gearbox can be caught out by the surge of torque which results in choppy progress at times. The 'old' engine does seem to still be particularly fuel efficient, much more so than your average small to medium-sized SUV. We averaged in the mid-6L/100 km range over our 2-week test.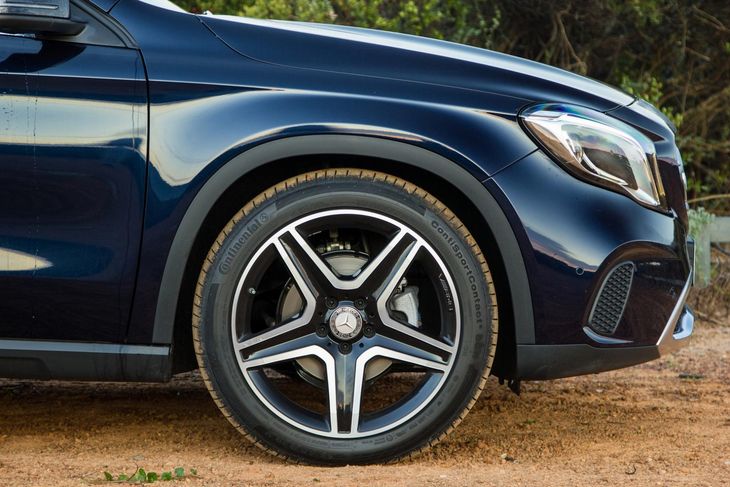 These 19-inch wheels and 45 profile tyres accentuate the harsh ride. Stick with the standard 17s if you prefer comfort.
Ride comfort
This has been a bugbear of the A-Class chassis since its introduction in 2012. Although an improvement on the A-Class, the GLA's suspension is still overly stiff. Increased ride height has allowed for more give in the springs but we expect more comfort given the badge on the nose. The introduction of adaptive suspension to the new model has only made a slight difference – a bit like sticking a plaster on an axe wound. If ride comfort is important to you, opt for the smallest wheel size and tallest tyre profile and spec adaptive dynamics at R20 500.
Not for off-roading
Most buyers looking at a GLA probably don't intend to do any real off-roading with it, but if you're tempted to see it as a quasi-off-roader, think again. Despite the increased ride height, a long front overhang is likely to catch on most obstacles before the wheels are able to relieve the scraping sounds. That said, the 4Matic all-wheel-drive system is good and will distribute power and torque effectively if you're in trouble. There's also hill descent control on the 4Matic if you're braving a difficult downhill.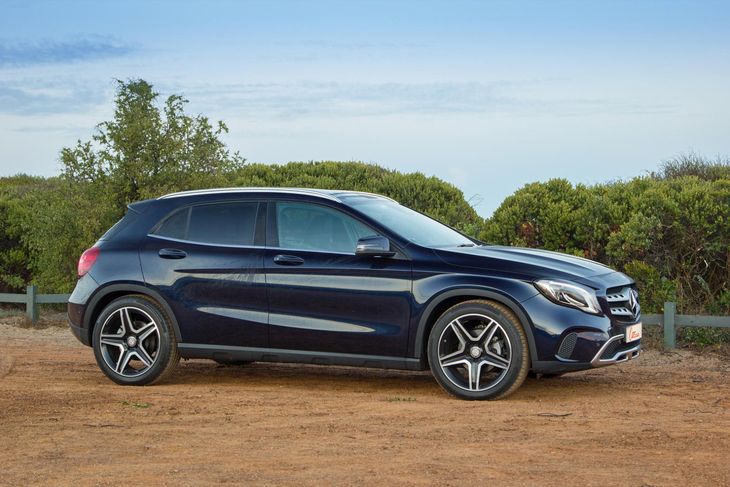 That long nose makes off-roading a tough task as it catches and scrapes easily.
Price and warranty
The GLA 220d starts at R534 00 for a basic auto. This model, with the Style kit and 4Matic, costs R593 640 before extras. It comes with a 2-year/unlimited km warranty and a 6-year/100 000 km maintenance plan.
Verdict
Mercedes-Benz's attempt to improve on some of the GLA's shortcomings by introducing adaptive suspension with comfort modes has failed to fix the platform's inherent flaws. It still doesn't ride bumps well and anything other than a perfect tarmac surface shows up its deficiencies. The turbodiesel engine is frugal. but raucous with a narrow peak power and torque band that makes for an unsettled ride at times.
Inside it's reasonably spacious for both front and rear passengers with a decent luggage area out back. You also get a premium-looking cabin with familiar Mercedes design touches and chrome finishes. If you're willing to throw a lot of money at the options list, you can also get a very technologically advanced car with a long list of safety features.
The facelift and upgrades haven't gone far enough to significantly improve the GLA. If you're looking for a premium compact crossover, there are more resolved options out there.
Related content
Mini Countryman Cooper (2017) Review
Mercedes-AMG GLA 45 4Matic (2017) Quick Review
Audi Q2 1.4T FSI Sport S tronic (2017) Review
Volvo XC60 (2017) Launch Review Video
Looking for a used GLA?