Mini's offshoots have recommenced with the launch of the Clubman and Convertible. The Clubman has been revised to feature four actual passenger doors (the previous model had three) but still keeps its retro rear split door.
We like: Reasonably spacious, funky interior
We don't like: Harsh ride, rear visibility
Also consider:
Something less quirky: The Volkswagen Golf GTI sells strongly with reason. It offers great performance and handling in a premium package that retains all the practicality of lesser Golf models. And it has plenty of brand appeal, too.
If it doesn't need to be big: The Volvo V40 T4 Inscription is an underrated product that is big on performance and features... and style. Note, however, that a facelift is coming later this year.
If you want something Italian: By looking at a Clubman you are clearly craving style and individuality. The Alfa Romeo Giulietta 1750TBi Quadrifoglio delivers on both fronts.
New design
As mentioned above, the new Clubman has two doors on each side now, making entry/exit for passengers a far easier (and safer) exercise. It also has two doors at the back, which open like those on the original Mini Clubman. At first glance, the new Clubman looks slightly awkward, with its big wide-eyed headlamps and then, longer-than-expected body. This can be attributed to the longer wheelbase to some extent, which has grown to make more space for passengers and things. The interior has had a significant upgrade from the previous version and features all of Mini/BMW's latest in-car technology. The Clubman also now boasts an eight-speed automatic gearbox as an option on the S model, a first for a Mini.
How does it fare in terms of...
...that cool factor?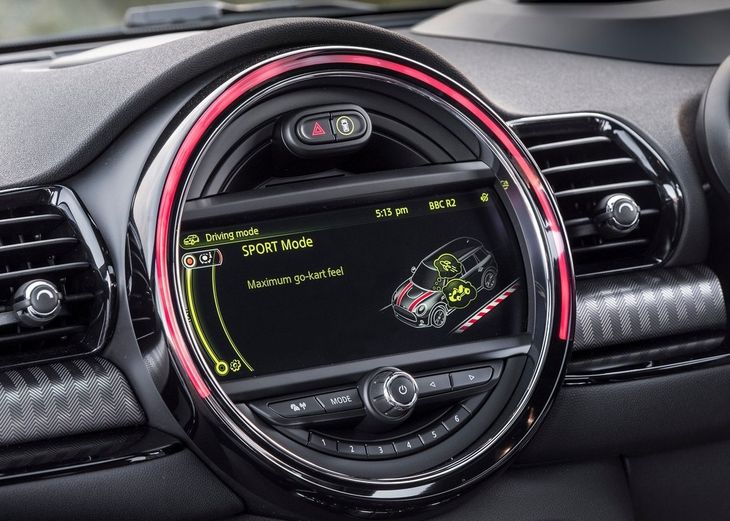 Design and trim colour variation lend the Clubman facia a "jukebox" look and feel.
The Mini, even in Clubman guise, still appears youthful and energetic. The individualisation programme allows owners to customise almost every part of the vehicle, including the body kit, chrome bits, roof rails and the interior. Consequently, very few Minis end up being of exactly the same specification and appearance. It is this individuality that Mini owners love, and which also makes delving into the options list a pointless exercise (on our part) and a potentially expensive one for the buyer.
If anything, the Clubman is the most individualistic of all the Mini models as it has its own unique style. It is, after all, a hatchback and a van squeezed into one. Somehow they've pulled it off and even if it's not to everyone's taste it's certainly going to grab attention.
...practicality?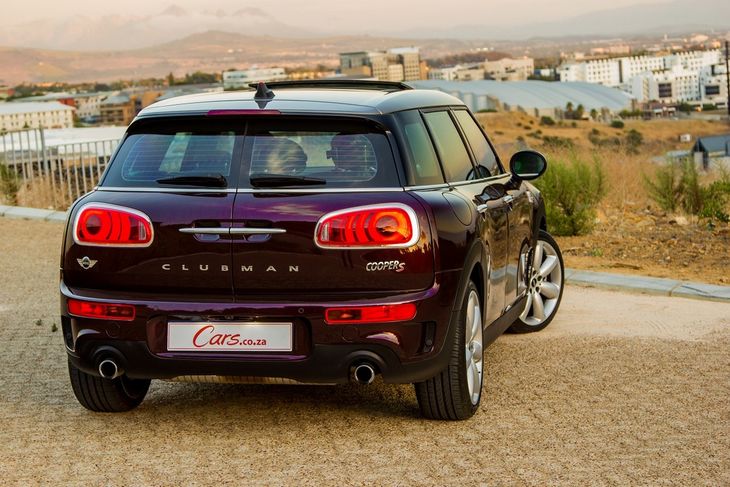 Centrally split rear doors create a pillar that blocks some rear-view visibility.
The Mini name doesn't exactly drum up visions of loading surfboards and bikes for a holiday, but that's what we did with the Clubman. This Mini's extended wheelbase (2 670) means it's about the same length as a Golf. The boot is also quite large at 360-litres and the seats fold down flat with a 40/20/40 split. It easily handled luggage and rear seat passengers over the long Easter weekend. The van-style rear doors to the boot is a novel touch. They have to be closed in a specific order (left first then right) but can be opened individually via the key.
Keep in mind, though, that you do have to leave a bit more room behind the car when reversing or the doors can't be opened. On that note, a rear camera is almost essential as the centre pillar where the rear doors close hinders rear vision.
...performance?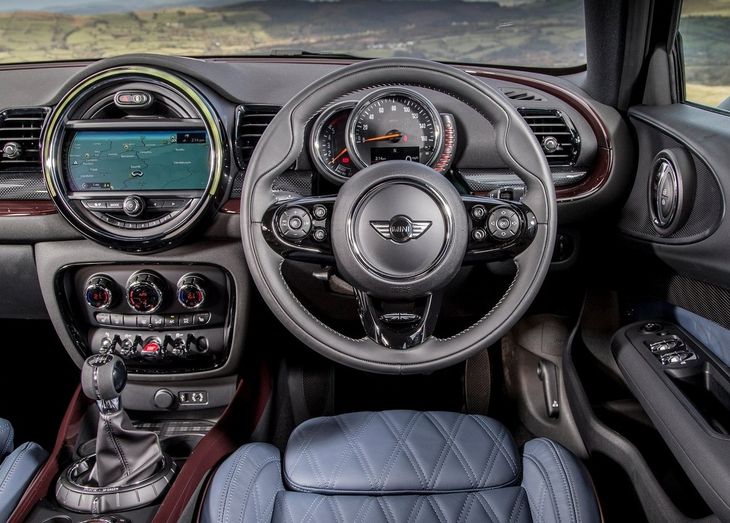 Thick-rimmed steering wheel contribute to a dynamic driving personality.
The Cooper S Clubman is equipped with a 2.0-litre turbocharged petrol engine, much like the standard Mini Cooper S. It has 141 kW of power and 280 Nm of torque available. For an S model it doesn't feel excitingly fast like the standard Mini Cooper S does. It builds speed quickly but runs out of puff at higher engine speeds. Comparatively, we feel it lacks between 20 and 80 Nm and that's probably detracting from the gripping acceleration and mid-range shove expected that one would expect from a Cooper S. Driving thrills are what Minis (especially those branded Cooper S) is supposed to deliver and this model didn't quite achieve the lofty expectations we had of it. That said, a hotter JCW model is probably on the cars in the not-too-distant future.
On the other hand, if you're selecting the Clubman in the first place perhaps you'll be willing to cut it some slack on the performance front. You may also be happy to hear that the Clubman did prove to be particularly fuel efficient during its time in our fleet. The claimed consumption is 5.9L/100km and including the sporty driving, we achieved 6.8L/100km by the time it was returned, which is excellent.
...that typically Mini, go-kart handling?
When you shift the Mini's driving mode switch into Sport, a little readout displays on the central infotainment screen. It amusingly reads 'Maximum Go Kart Feel'. Whilst it feels nothing like a real Go Kart, the Clubman is certainly fun to scuttle around the city and open roads. The Sport Mode enhances the throttle pedal mapping to be more urgent and the steering becomes "sportier". The Clubman can be whipped from side to side remarkably quickly and at one point, even cocked its inside rear wheel during a rather tight turn. Clearly the Mini genes still shine strongly, even in this supposedly more practical application.
When pottering around town, the sporty bias means that the ride can become too firm over expansion joints on the freeway or on rippled tarmac. The run flat tyres certainly don't help the ride, nor do they keep things quiet in the cabin at freeway speeds.
... vibe inside?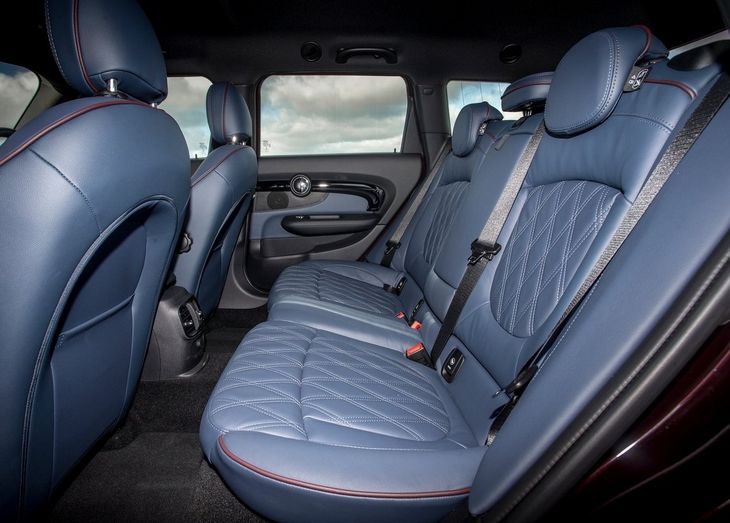 Chester Indigo Blue leather seats are extremely comfortable.
The Mini interior is jam-packed with little details that can be adjusted to add a bit more colour and fun to the driving experience. For instance, the big round infotainment system in the centre can light up and pulse like a '80s jukebox. Our model came with a high-end leather trim, finished in Chester Indigo Blue – a R8 600 option. The equipment levels can be specced up to the individual's choice but essential extras would be items such as the reverse camera (R4 700) and Bluetooth with USB capability for R3 500. You can get navigation for as little as R6 600 but the full professional navigation system hits home as an R28 000 option and comes with real-time traffic information. Be prepared to spend on options if you want a fully "connected" driving experience.
... safety?
It's interesting to note that the Clubman scored four stars out of a possible five in the EuroNCAP crash tests. It scored highly in adult occupant crash test but not as highly in child protection (especially for rear-facing child seats), pedestrian safety and its safety assist systems. Nevertheless, Isofix child seat mounts are fitted and the Clubman comes with six airbags.
Verdict
The Mini Clubman stands out as something different and characterful from the average hatchback. The splitting rear doors look cool and certainly don't hamper practicaliy in the sense of loading/unloading, but they do require special attention when opening in tight spaces and obstruct rearwards vision. Overall, the Clubman is more spacious and practical than we expected and has similar proportions to a Volkswage Golf GTI. The ride is sporty and is a lot of fun to manhandle on open roads. In traffic, it could do with being more pliant over the bumpy stuff. On the performance front, this Clubman perhaps lacks the mid-range thrust that a Cooper S buyer would desire, but then again there is enough power to have fun. Overall, the test team were quite taken with the Clubman S as a viable alternative to a traditional premium hatchback.
Pricing
In standard trim, the Mini Cooper S Clubman costs R446 347. With all the options fitted to our model like the blue leather seats, professional navigation system and the JCW interior and exterior kit, it will come to considerably more than that. Tick those option boxes carefully.
Compare the Mini Cooper S Clubman with the Volkswagen Golf GTI and Volvo V40 T4 Inscription here