Mini has expanded its Countryman range with this, a plug-in hybrid derivative. It promises great performance, but not at the expense of the environment. Let's see what it's all about...
The Mini Cooper S E Countryman ALL4, to give it its full title, is the first Mini featuring a plug-in hybrid drivetrain. Power comes from a 3-cylinder petrol engine and an electric motor. Together, these two motors have a system output of 165 kW and 385 Nm of torque while offering a claimed fuel consumption of 2.1 L/100 km and a corresponding CO2 emissions figure of just 49 g/km. It's not slow either and has a claimed zero to 100 kph time of 6.9 seconds.
The technology comes straight from BMW Group's eDrive division. It's a smart setup as it features an electrified all-wheel drive system with the front wheels being powered by the petrol engine and the rear wheels driven by the electric motor. What's cool about it is that it can run solely on electric power. It has a top speed of 125 kph and has a range of 40 kilometres on pure electric power.

"The plug-in hybrid concept perfectly matches the new MINI Countryman because it offers intelligent all-wheel drive as well as being able to run on electricity alone both in urban areas and over longer distances, too. This is unique in the segment," says Uwe Seitz, MINI Cooper S E Countryman ALL4 project manager.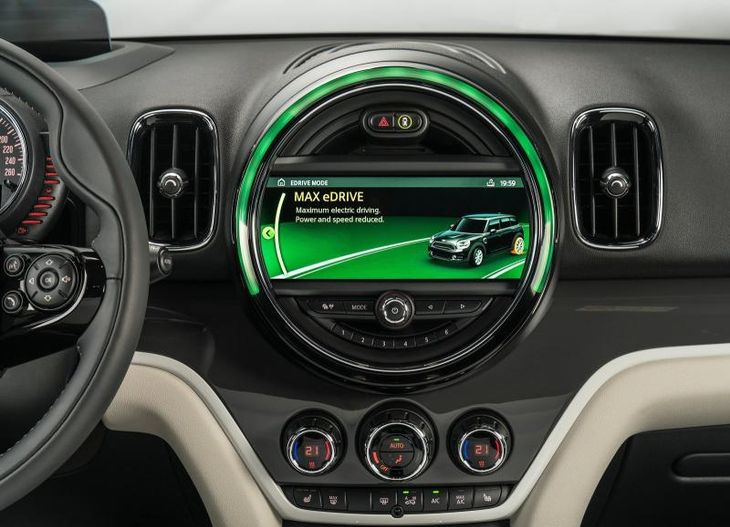 Countryman PHEV is capable of driving solely on electric power. Range is rated at 40 km on pure electric power alone.
The lithium-ion battery is positioned directly in front of the electric motor under the rear seat. It is made up of five modules containing 16 battery cells. The battery has a capacity of 7.6 kWh and if you use a wall box with a charging capacity of 3.6 kW, the Countryman PHEV can be fully charged in just over 2 hours. Charging at a regular household plug takes just over 3 hours.
At this stage, nothing is confirmed, but we wouldn't be surprised to see it in South Africa, given BMW's green i Performance products being launched.
Related Content
Mini Countryman (2017) Specs & Pricing
New Mini Countryman Revealed [with Video]
Mini Countryman JCW Revealed
2017 Mini Countryman First Drive
Want to buy a MINI?