Mini expands its range of JCW products to the bigger Countryman and the longer Clubman and with it, all-wheel drive.
What is it?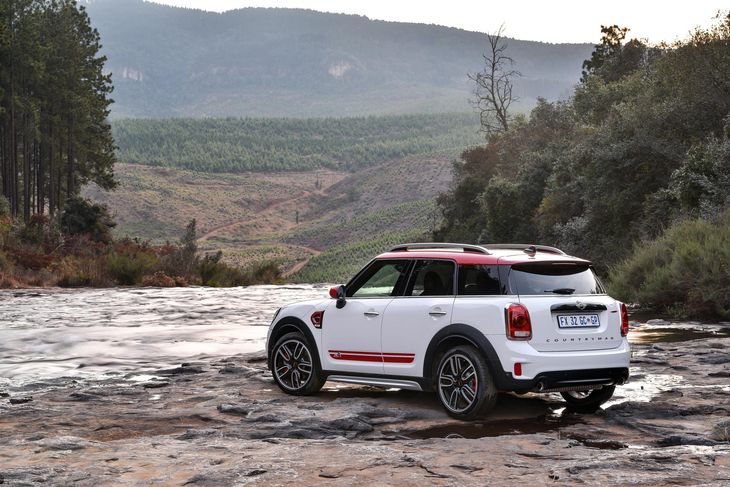 The JCW Countryman and Clubman now come with all-wheel-drive. 18-inch, 40 profile wheels on the Countryman can make life harsh.
John Cooper Works (JCW) is the (now wholly owned) tuning arm of Mini that delivers its highest performance models to market. These two latest introductions join the Mini Hatch JCW to form a trifecta of performance Mini vehicles available. The Countryman JCW is a crossover with mild off-road ability, while the Clubman is a full-length hatchback with a reasonable luggage bay accessible by doors that open outward. JCW takes the Countryman S/Clubman S, then adds more power, tweaks the suspension and introduces a touch of flair to the exterior.
How does it go?
Both variants use the 2.0-litre, 4-cylinder turbopetrol engine with peak outputs of 170 kW and 350 Nm, some 29 kW up on the standard S. The motor is mated with a part-time all-wheel drive system and an 8-speed auto gearbox; the claimed 0-100 kph times for the derivatives are 6.3 seconds for the Clubman and 6.5 seconds for the Countryman. There is a six-speed manual option available in both cars if you wish to switch gears via a lever. In order to gain the extra power, the JCW versions have a bigger turbo, an enlarged air cooler and modified pistons.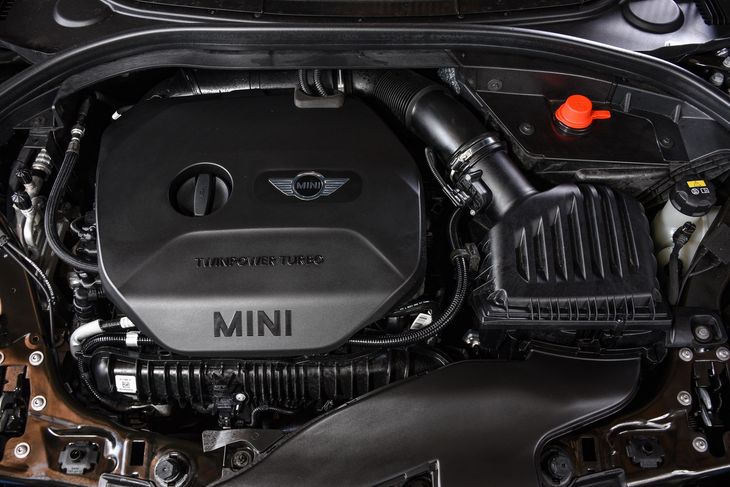 The JCW engine gets a bigger turbo, reworked pistons and bigger air cooler.
The engine delivers excellent low down power and accelerates best at the lower end of the rev spectrum, it can feel like it's running out of legs after 5 000 rpm, but the speedo needle will keep extending in spite of the somewhat strained engine note.
We only drove the 8-speed auto and if you want an auto, it's a great transmission. Shifts up and down the 'box are rapid and unlike many autos, doesn't have to constantly hunt down the gears when you feed in the power on exit. On the overrun, there's some scripted pops and bangs that keep you entertained when you're not pinning the throttle pedal. Overall, the performance of the engine and gearbox is impressive.
Does it need all-wheel-drive?
With our temperate climate, probably not, but then again, the All4 system in the Countryman and Clubman acts mostly as a front-wheel-drive car. Only when it detects slip from the front wheel or a loss of grip does it engage the rear wheels to aid traction and stability.
We drove in horrendously wet conditions from George to Knysna via Uniondale in the Countryman. Some 50 km of that was on a dirt road that had a shiny layer of water on it. The All4 system is useful on terrain like that, especially when the Mini's scrabbling for grip on slow climbs and tricky descents.

All4 only engages the rear wheels when extra traction is needed or in a dynamic situation if the computers deem it will improve handling.
On the 18-inch run-flat tyres, the Countryman's ride is firm on dirt, it's not as smooth as a pure SUV like an X3, but copes with washboard gravel and rocks. The cabin feels the shakes and prolonged periods are likely to introduce rattles. The Countryman's ground clearance of 165 mm isn't great for off-roading and for reference, a VW Tiguan is 201 mm. If you're looking at a JCW variant, it's unlikely that off-roading prowess is a major priority.
The steering is quite light, even when Sport mode is selected and it can feel quite vague when you're on a dirt road and trying to feel the traction levels under you. Out on the tarmac, the lightness is less noticeable and the rubber grips much better providing more confidence in the front end.
And the Clubman?
The Clubman JCW is lower – it sits at 141 mm off the ground. It feels more direct and agile on turn in and the steering heavier and feelsome. It's altogether a different car that is aimed at driving enthusiasts rather than a compromised crossover like the Countryman.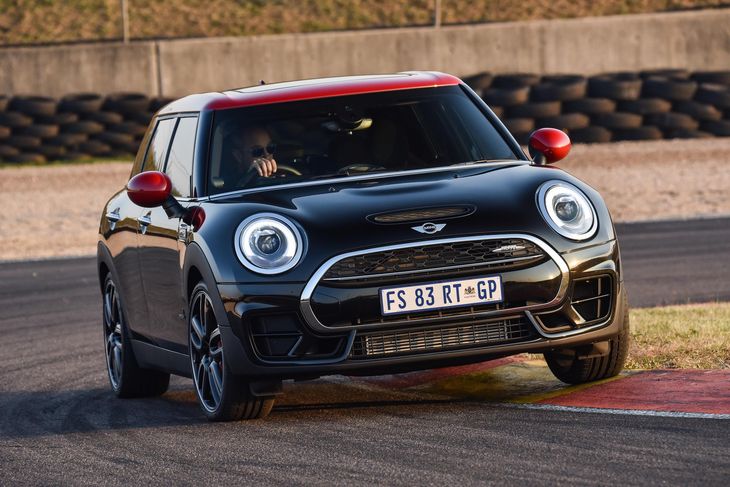 The Clubman JCW has sportier handling characteristics like better-weighted steering and a lower centre of gravity.
The Clubman JCW is interesting in that it's shaped like a wagon (the aft doors open like those of a panel van, which means reverse parking manoeuvres can be tricky) and it has a (relatively) long wheelbase. The wagon shape is cool, despite what the local sales charts seem to suggest, and the bay doors are refreshingly different. It's comparable to something like a Golf GTI or a Mercedes A250, but in an unconventional package.
It was really fun to send the Clubman derivative up and over 4 mountain passes between George and Oudtshoorn; it offered up ample grip and feel on the way down Robinson Pass to Mossel Bay. It's more driver-focused than a GTI – and certainly sportier than an A250 – and if you need a modicum of usable luggage space in your Mini, it offers a great alternative to the Mini Hatch.
Inside stuff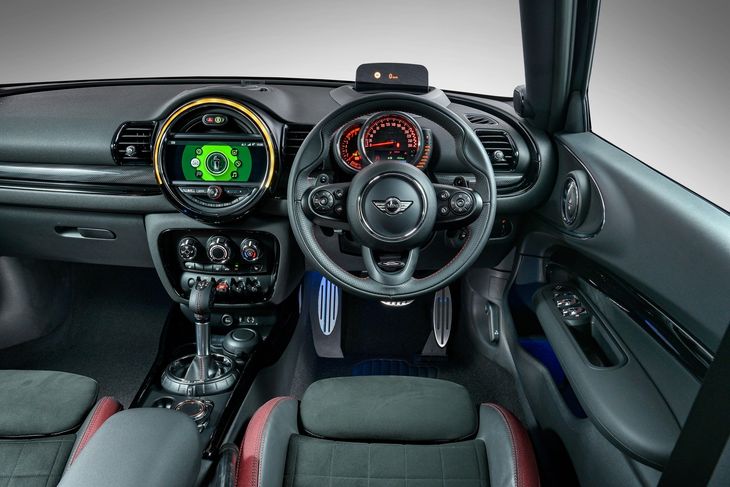 Clubman interior, like the whole Mini range, is very busy inside. Metallic pedals are a JCW addition.
The JCW cabin doesn't differ much from the S derivatives. You do get specific JCW seats, a special door sill and a JCW-branded steering wheel. The cabin remains typically busy with colourful lights that illuminate the cabin and the centre infotainment system. There's also now a Mini Connected app that links your phone and car up so that you can send destinations from your phone to the car's navigation (you can also see the fuel left in the tank, which is novel...). The JCW sports seats are firm and supportive, but, on the downside, are likely to get a little uncomfortable after a few hours of driving. The luggage bay on the Clubman remains the same at 360 litres and the Countryman's Crossover's size enlarges the load area to 450-litres.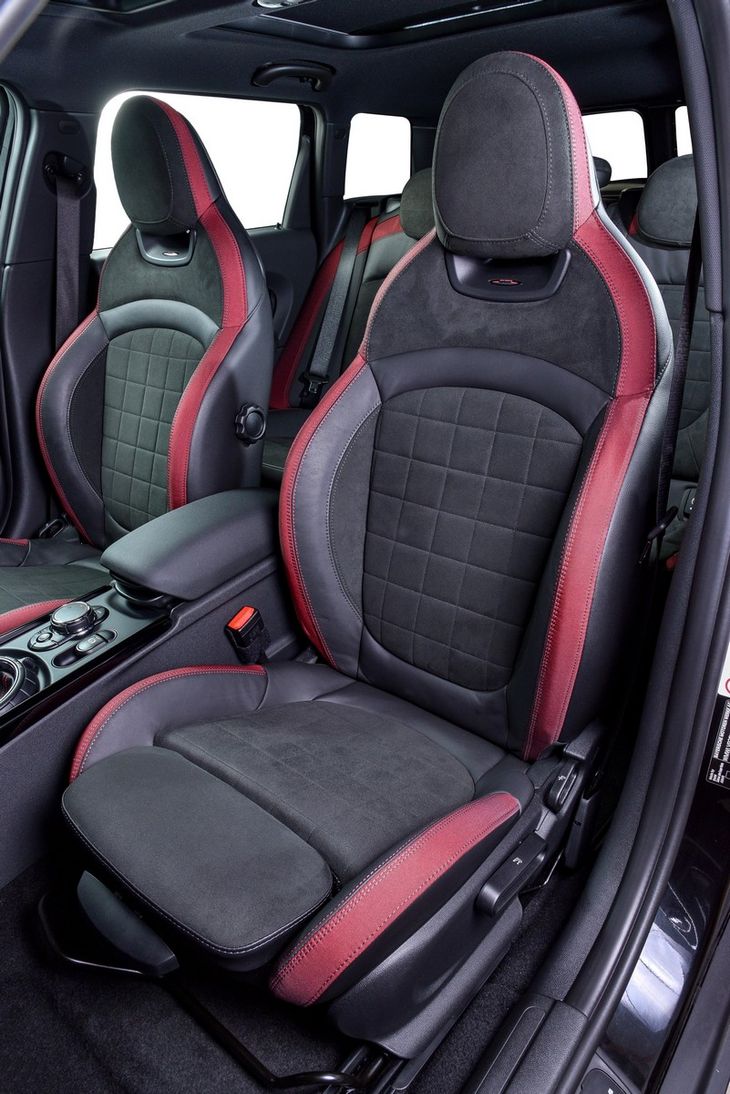 Sporty JCW seats are firm and supportive but not made for long journeys.
Final word
The Mini JCW range now totals 3 cars. We drove the Hatch version last year and it was a finalist for Fun Car of the Year category of the 2016/17 Cars.co.za Consumer Awards. Now with the Clubman JCW, the Oxford-based marque avails a more practical fun car that has a very distinct personality and design. The JCW upgrade endows it with really competitive power and acceleration figures that are a match for the competition. It's a great alternative to the raft of 5-door premium hot hatchbacks out there and you'll certainly stand out in a crowd of hum-drum VW GTIs.
The Countryman JCW is a little more difficult to place. It doesn't really add anything to the Crossover's abilities. The 18-inch wheels are likely to be a nightmare to keep scratch-free if you want to drive down dirt roads often. The Countryman JCW isn't quite mad enough to make an audacious statement that the Mercedes-AMG GLA45 does and it's not markedly more powerful than the standard S to make it a huge upgrade. The Countryman JCW feels like an added styling package to fit a sporty personal taste, but with a bit of extra performance to sweeten the deal.
Pricing
Mini sees itself as a premium brand with the likes of Audi, Merc and BMW so its pricing is in the same range as the competition from those brands.
Clubman John Cooper Works R558 612
Clubman John Cooper Works sports auto R584 516
Countryman John Cooper Works manual R610 726
Countryman John Cooper Works sports auto R636 792
All JCW Minis are sold with a 2yr/unlimited km warranty and a 5yr/100 000 km maintenance plan.
Related content
Mini Countryman S sports-auto (2017) Quick Review
Mini Cooper S Clubman (2016) Review
Audi Q2 (2017) Test Drive & Review Video
Mercedes-Benz GLA 220d 4Matic (2017) Quick Review
Interested in buying a Mini?
Search for a used Clubman here