The Mini Countryman is the largest Mini product to date and an attempt to tackle the family SUV crossover market. Does it succeed?
We Like: Style, great engine, brimming with charm, surprisingly practical, lively and enjoyable drive
We Don't Like: Controversial styling, can get pricey
Alternatives
Something similar: Both the Countryman and Audi Q2 target a trendy, high-earning clientele who love the option of personalisation. Compared with the Mini, the Audi Q2 1.0 TFSI S line sports auto loses out in terms of interior space and we think some of the options make it very expensive.
Something similar: The recently refreshed Mercedes-Benz GLA brings the Three-pointed Star to the compact SUV segment. It's stylish, but the GLA200 auto lacks a punchy engine and doesn't offer much in the line of driver involvement.
Need a bit more space? An all-new Mazda CX-5 has just gone on sale and on paper, looks to offer big cabin space and a thrifty diesel engine. The 2.2DE Active lacks the style and customisation of the Mini however.
Compare the Mini Countryman to the Mazda CX-5, Mercedes-Benz GLA and Audi Q2 here
What is it?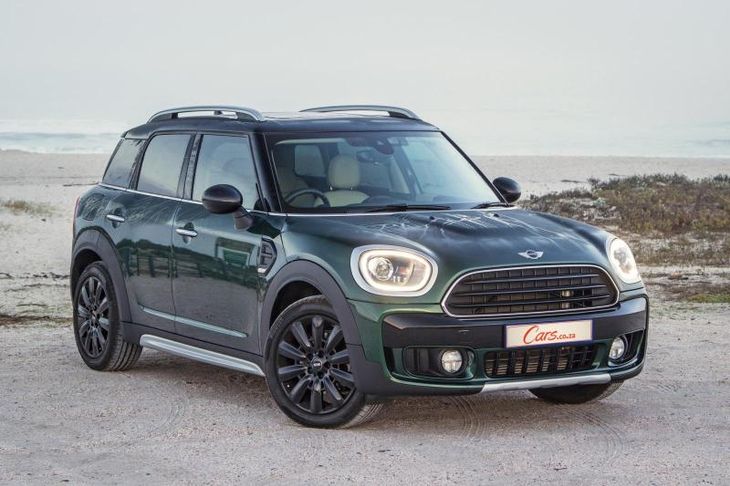 All-new Countryman is the biggest Mini yet and it opens up the brand as a lifestyle SUV
The Mini Countryman is one of the brand's most polarising vehicles. It's a love/hate car, but the sales figures do not lie: the first-generation Countryman did very well in South Africa. Compared with the outgoing model, the new Countryman is bigger, longer, wider and better finished, and it looks quite a practical family car. There are two petrol engines to choose from: a 1.5-litre 3-cylinder turbo and a 2.0-litre 4-cylinder turbo. In terms of packaging (and, therefore, mass appeal) this new Mini Countryman represents a big leap forward and, thanks to the shared platform that also underpins the BMW X1 and 2 Series ActiveTourer, the newcomer is quite pleasant to drive too. How is good is it as a family car, though?
How does it fare in terms of…
Kerb appeal?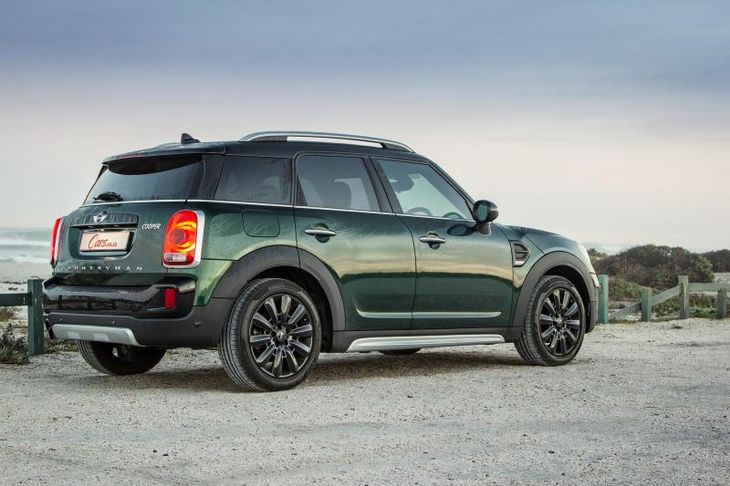 There's nothing quite like a Mini and in terms of cool and desirability, it's untouchable
In the premium compact family car/crossover segment, looks count for so much and the Mini arguably has the competition licked. It's all about chunky adornments (especially the light clusters) and squared off extremities here, yet the Countryman is still unmistakably a Mini, replete with black side cladding, -bumper and -grille trims and contrasting side mirrors and roof finish. Our test unit came in a lovely British Racing Green (yes, that is the official name!) matched with 18-inch gloss black alloys, which made for a striking combination.
Interior execution?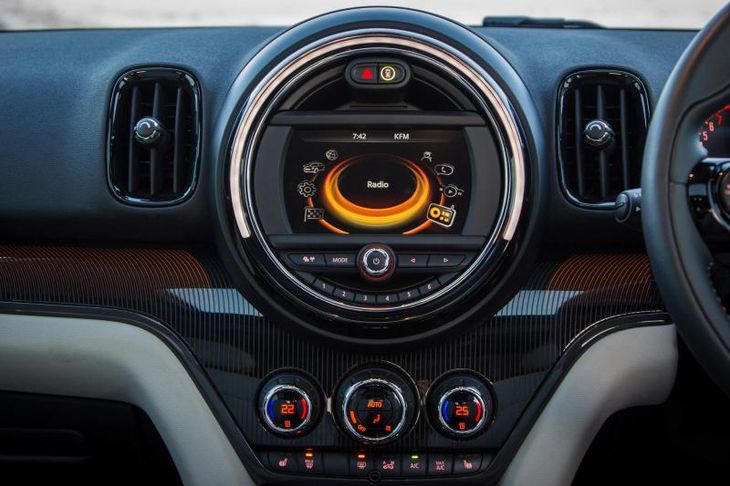 Back-lit LED dashboard is one of the most interesting features we've ever seen in a car. Build quality has jumped as a whole.
The Mini Countryman's interior quality has improved considerably. In terms of design, it's still a Mini, which means it has a great, albeit elevated, driving position. The optional sportier seats add some zing, but are comfortable enough to justify the additional outlay. The centre of the dashboard still retains that middle-mounted "speedometer" – a tribute to the original Mini, but in this case, the unit features a smart high-quality infotainment screen. The speedometer sits above the steering quality and the only criticism is the tiny fuel-level LEDs.
When travelling at night, the fascia, dashboard and cabin are lit with funky LEDs, but moreover, the cabin's quality feel grabbed our attention... The plastics are of a high grade and the finish is impressive, a far cry from some previous-generation Minis. Also of interest are the latest batch of safety features from BMW Group, which resulted in the Countryman scoring highly in the Euro NCAP test. The car features Automatic Emergency Braking (AEB) as standard, which is one of the best collision avoidance technologies available in this segment.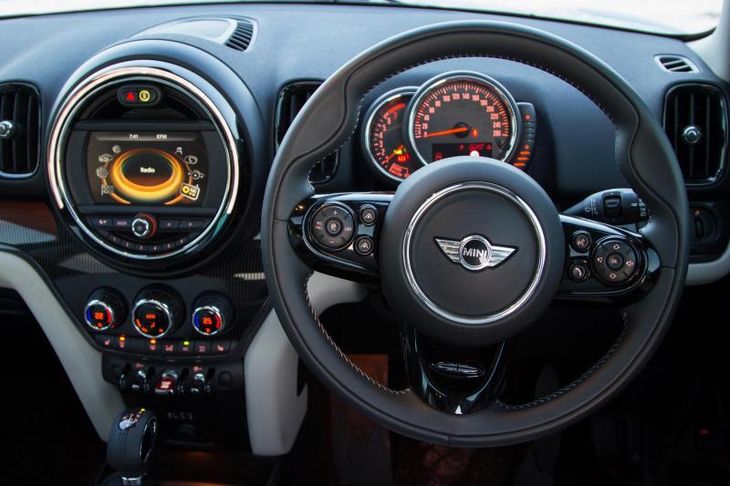 From the driver's seat, it's typical Mini, with the sporty steering wheel, speedometer positioning and neat pedal placement
Practicality?
By virtue of its larger dimensions, the Mini Countryman has finally become a credible practical compact family car, which it always set out to be. The amount of rear head- and legroom are generous, and 4 adults can be comfortably accommodated. Our test unit came with a rear bench that could slide fore and aft, so that leg- and luggage space can be increased as required. The luggage bay is more than sufficient at 450 litres and with the seats folded down, a mountain bike can be accommodated without any hassle. The bay offers double floors too, which came in handy as a place to hide laptop bags away from prying eyes. As an additional bonus, the optional picnic bench makes for one of the coolest boxes worth ticking.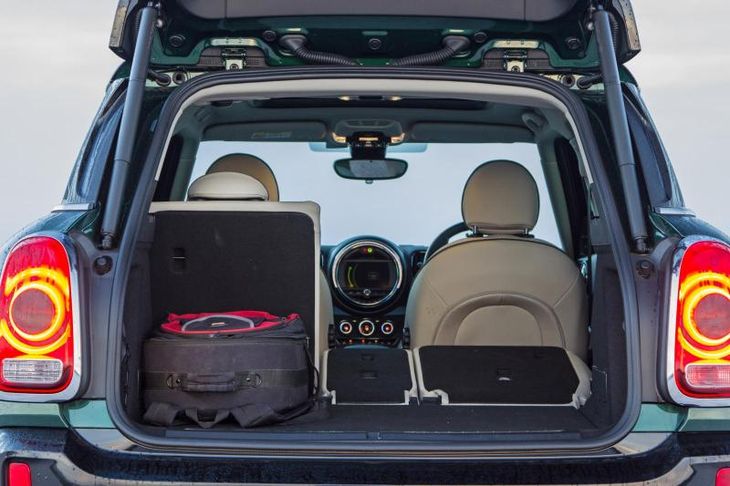 There's ample room in the Countryman. Two-tiered boot and optional picnic bench are great features.
Performance and ride quality?
The Cooper S badge holds considerable sway and buyers are likely to favour the more powerful model. However, our plucky Cooper test unit didn't disappoint. Packing 100 kW and 220 Nm from a turbocharged 1.5-litre 3-cylinder motor, the Countryman Cooper doesn't feel sluggish, despite its relative heft. The test unit had a 6-speed automatic transmission, which proved well calibrated to the engine (the Cooper S can be optioned with an 8-speed automatic transmission)... Despite the all-wheel drive (All4) system not being available for the South African market (but watch this space), we'd feel okay with taking the Mini Countryman down a gravel road... there's 165 mm worth of ground clearance, which is just about enough.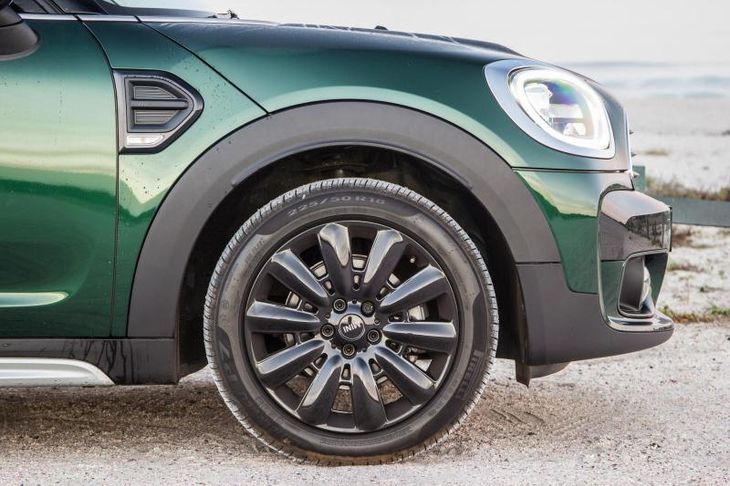 The ride of the Countryman is firm and hands-on, just like a Mini should be. Our test car rode on 18-inch alloy wheels.
Nevertheless, the Countryman drives well. The ride is a bit on the firm side and we'd suspect an improvement on ride quality, should you option smaller profiled wheels. Unlike its hatchback siblings, body roll is apparent, so you can't just pitch it into corners and plant your right foot on the load pedal like the Minis of old. The steering is also set up for more long-road comfort, so while it is light to twirl, the wheel needs more lock applied to turn in with urgency (at least compared with ordinary Minis, remember it has a wider track than its brethren).
You should see 100 kph come up from standstill in about 10 seconds and there's just about enough in-gear shove for highway overtaking when there are four adults in the car.
Pricing and warranty
The Mini Countryman range starts from R423 824 for the manual Cooper Countryman, while this automatic version goes for R442 052. Cooper S models start at R493 306. The Countryman is sold with a 2-year/unlimited km warranty as well as a 5-year/100 000 km service plan with service intervals set at 20 000 km.
Verdict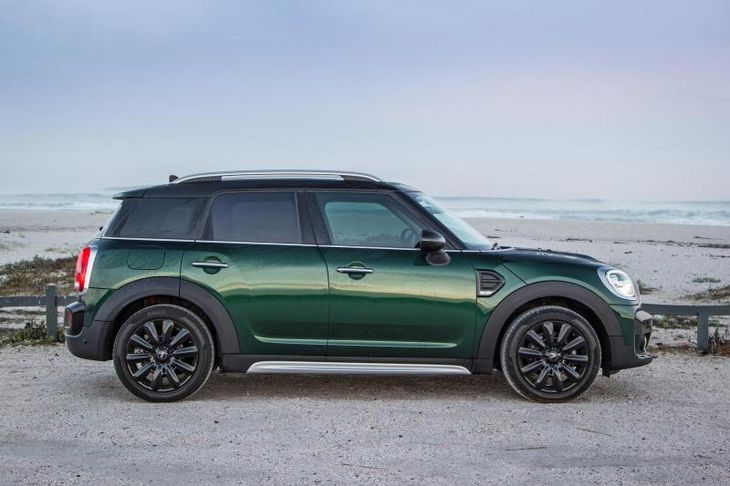 There's very little to dislike about the Countryman. It retains the Mini charm, yet offers plenty practical and sensibleness to justify it. Be mindful of the optional extras which can add up.
The Countryman has grown up and become a sensible proposition for family car buyers, but do not fret, it has nonetheless retained enough Mini-ness to make it stand out from the rest of the segment. Sure, it may not have that unabashed fun factor driving experience that the smaller Minis offer in droves, but that had to be sacrificed on the altar of practicality. The cabin quality has improved in leaps and bounds too – we predict that the interior plastics will probably be less prone to rattling in 20 000 km's time. We were a little underwhelmed by the performance and think that despite the excellent 1.5-litre engine, we'd always long for the Cooper S and the extra grunt it offers. Let it be known, however, that should you opt for a normal Cooper, you won't be disappointed and can use the difference between it and the S to tick some options. We'd heartily recommend the uprated hifi, the picnic bench and satnav.
It's a massive leap forward for the Mini brand and while it still has that air of fun and different to it, the Countryman is a serious and premium product. We like it!
Related Content
Mini Countryman (2017) First Drive
Mini Countryman (2017) Specs & Pricing
Mini Cooper S Clubman (2016) Review
Mini Cooper S Special Edition (2017) Specs & Price
Mini Cooper Convertible Auto (2016) Review
Mini John Cooper Works Hatch (2016) Review
Mini Cooper JCW Test Drive – Loud, Fast and Red [Video]

Want to buy a MINI?