The all-new Mini Countryman has thus far impressed us as a surprisingly practical all-rounder, without sacrificing much of its typically Mini character. In hotter Cooper S form, could this be the ideal family car for the buyer seeking practicality and charm, with a dash of driving fun?
We like: Practicality, charm, performance
We don't like: Wind noise
Alternatives:
A more compact option: If you don't need ultimate practicality from your city-based crossover, then consider Audi's refined and efficient Q2, available for similar money in 1.4T FSI Sport S-Tronic guise. Though the Audi offers a sweet ride/handling and performance/efficiency balance, it lacks the Mini's performance, spaciousness and also several of its standard features.
An improved Mercedes-Benz: The updated Mercedes-Benz GLA can be had for similar money in GLA200 automatic form, and with the attractive AMG Line trim pack added. Slightly longer, lower and narrower than the Mini, it is arguably not as practically packaged and also lacks some of the Mini's standard features, most notably the electric tailgate, rear park-distance control and climate control. It's engine also can't match the Mini's for performance.
Compare the Mini Countryman Cooper S sports-auto with the Audi Q2 1.4T FSI Sport Auto and Mercedes-Benz GLA200 AMG Line Auto by clicking here
Facts & figures
Price: R530 306 (August 2017)
Engine: 2.0-litre, 4-cylinder turbopetrol
Transmission: 8-speed automatic
Power: 141 kW
Torque: 280 Nm
Fuel consumption: 6.2 L/100 km (claimed)
0-100 kph: 7.4 seconds (claimed)
Top speed: 225 kph (claimed)
Big... and big at heart

In Cooper S guise, and wearing a JCW exterior pack (R28 000), the Countryman looks ready for (fast) action.
The second-generation Mini Countryman is the brand's biggest vehicle yet. Parked in isolation, it hides its bulk well, but parked next to a rival vehicle such as the Audi Q2, it is quickly apparent that this is a considerably bigger type of "compact" crossover. Several onlookers even suggested that it really shouldn't be called a "Mini" anymore. Having grown around 200 mm in length, the latest Countryman offers surprising space and is now a genuinely capable family car. But what of that trademark zest and spirit? Can a Mini this big (and heavy) really be faithful to the brand's DNA? Well, shoving a punchy 141 kW 2.0-litre turbopetrol under the bonnet should do it, shouldn't it?
The good
Class-leading grunt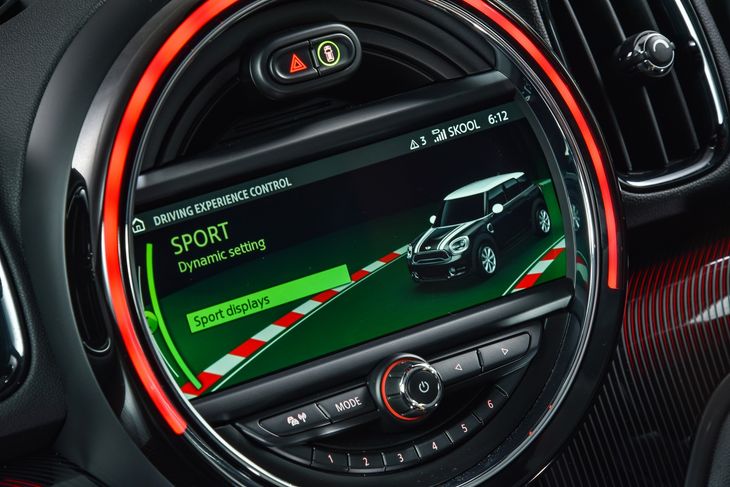 To get the full Cooper S experience, be sure to select the Sport driving mode. It makes quite a difference.
You can't dispute the numbers. The Countryman S is comfortably faster than its main rivals from Audi and Mercedes-Benz. The maximum torque (280 Nm) is available across a wide rev range (1 350 to 4 600 rpm), which theoretically means the Countryman should be quite responsive, and not merely fast off the line. It certainly does get a move on when you mash the throttle from a standing start (or use the launch control function), and the 0-100 kph time of 7.4 seconds will comfortably blow a Q2 1.4T FSI or Mercedes-Benz GLA200 into the weeds.
We did, however, find that the transmission (and possibly the weight of the car) can blunt the car's responsiveness on the move. In short, if you're in the mood for some driving fun, be sure to select the Sport driving mode (there are also mid (normal) and green (efficiency)), as this has a significant impact on the overall character of the car. It may also then be best to take manual control of the transmission as there are so many gears (8 of them). When set up correctly for the prevailing driving requirements, the Countryman is indeed quite a frisky character that's worthy of the Cooper S moniker, complete with an entertaining soundtrack consisting of pops and bangs as you work the rev range through the steering-mounted paddles.
A downside, of course, is that the power and performance come at the cost of some economy. With a claimed consumption figure of 6.2 L/100 km the Countryman S is notably thirstier than its listed rivals. In its defense, we did find its real-world consumption of around 8 L/100 acceptable given the performance available (and used).
Dynamics & overall refinement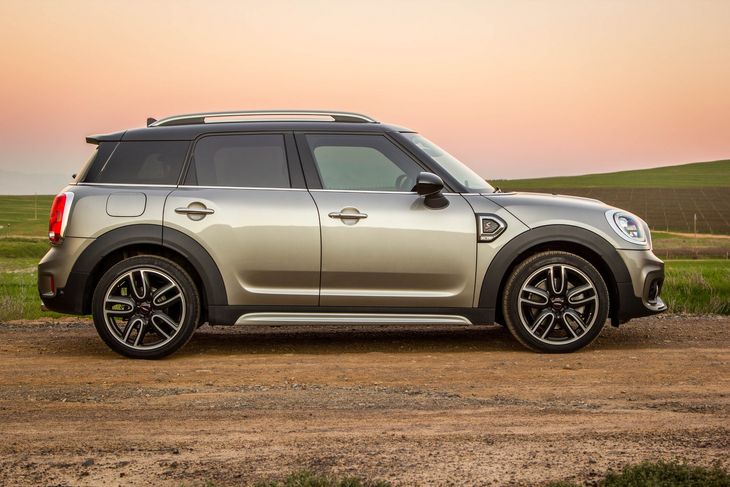 Impressive grip, suspension pliancy and well-contained body control are hallmarks of the latest Mini Countryman.
One of the greatest advances made with the new-generation Countryman has been in the area of ride refinement. This latest model is underpinned by the same general architecture that is also used for the BMW X1, and it delivers a surprisingly pliant ride, especially given the Mini's sporty nature, impressive handling and (optionally fitted) low-profile 19-inch tyres. But that's compared with its overly firm and unforgiving predecessor... The Audi Q2, with its refined and controlled underpinnings, is still superior when it comes to damping control, but most drivers will rate the Countryman tops for "engagement".
Nevertheless, on most road surfaces the Countryman Cooper S will be more than supple enough for family use, and with a ground clearance of around 165 mm, it can even traverse some rough unsealed surfaces. However, if the latter is going to be a frequent exercise, we'd advise going for a higher profile tyre, of course.
Switch to the sportier setting and the character of the Countryman changes noticeably. The steering gains extra weighting and it feels a bit firmer overall, encouraging the type of exuberant driving that the brand is famous for. Sure, it does lean a bit more than other Minis in the corners, but given the overall package, we feel it does the Mini (and Cooper S) badges proud.
Standard features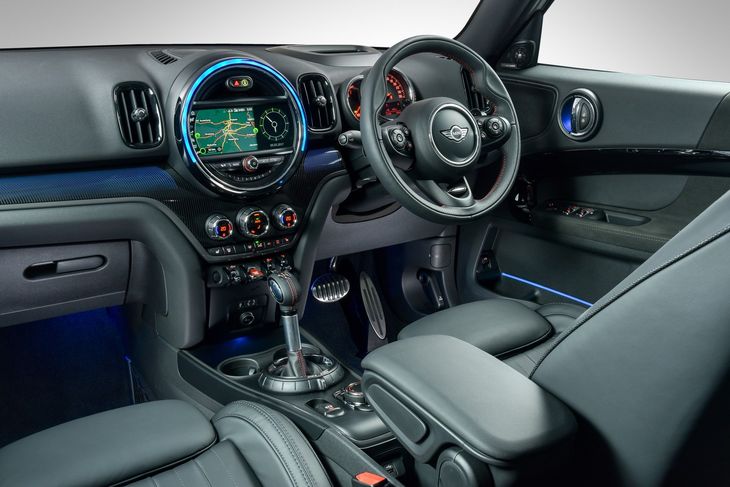 With adjustable colour themes, individualistic design and a quality feel all-round, the Countryman cabin is a nice place to be.
Let's be clear about this... You can add considerably to the overall cost of your Mini Countryman Cooper S by ticking too many boxes on the options list, but in reality it's not really necessary and would largely be in pursuit of more desirable aesthetics. Unlike most of its rivals, the Countryman S comes standard with niceties such as rear park distance control, cruise control (with braking function), an electronic tailgate and climate control. You also get rain-sensing wipers and automatic headlights (with LEDs), and then there's that very practical rear bench that can slide to improve either boot space or rear legroom (both of which are already bigger than anticipated).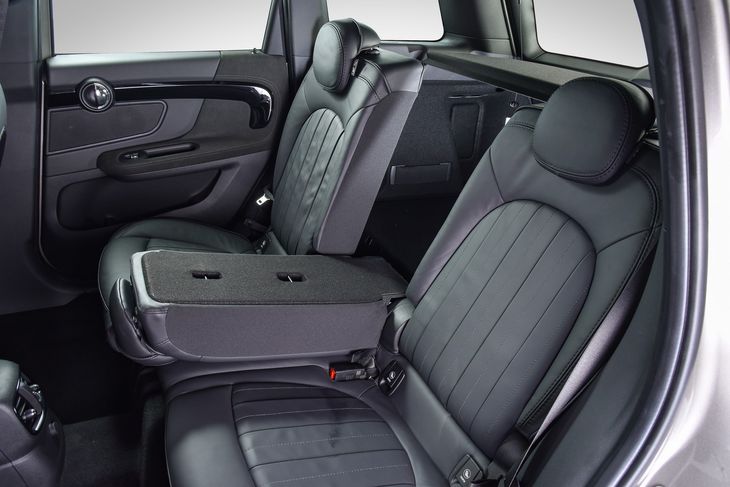 The Countryman's sliding/split-folding rear seat adds to the overall practicality on offer. Rear comfort levels are impressive.
The standard info-tainment system is, however, possibly a bit limited, even though it does offer Bluetooth and USB support. Our test unit featured a Harman/Kardon sound system that costs R8 900 as well as navigation (R7 800). Mini offers several trim packs which bundle several items together at tempting prices. As ever, one can quickly go overboard... For what it's worth, our test unit was specced to well over R600 000!
The safety specification is comprehensive, with 6 airbags, ABS with Brake Assist and an electronic stability system as standard, as one would expect. But as mentioned before, the standard cruise control system offers automated emergency braking. Active Cruise Control is a R7 600 option. Also fitted as standard are rear IsoFix child seat mounting points.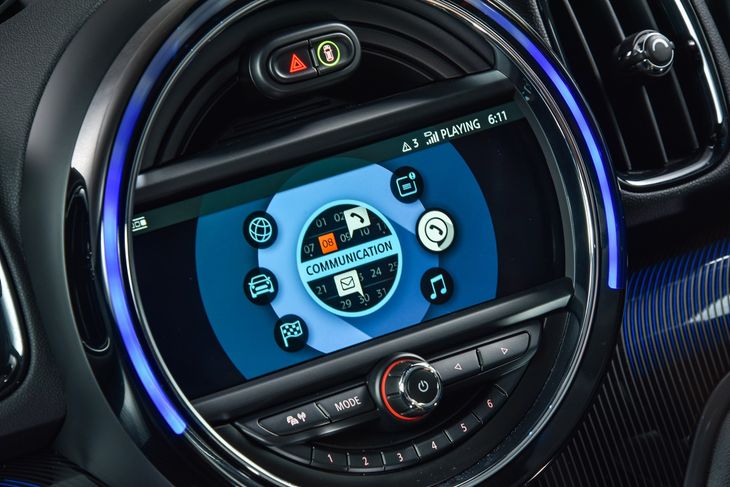 A host of in-car communication/entertainment options are available. Also note coloured light strip inlays on the facia trim.
The bad
Wind noise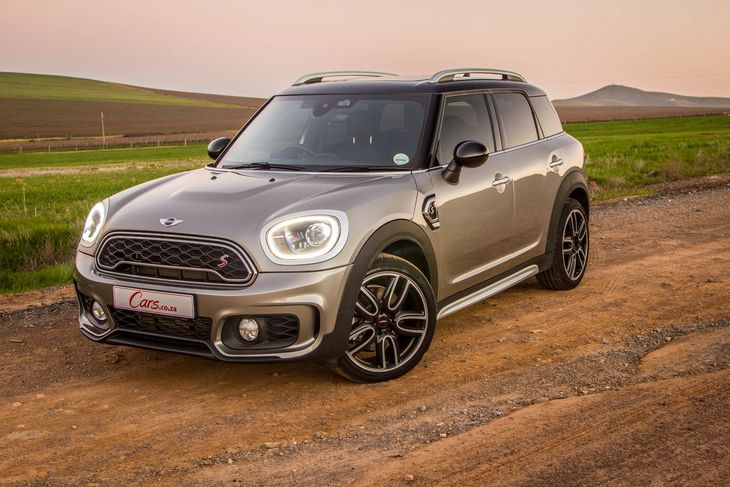 We suspect the roof rails on the Countryman Cooper S to be the source of the relatively high levels of wind noise.
A slightly disappointing showing comes in the area of wind noise. While the Countryman feels solidly built and the materials used inside are generally top-notch, the constant rush of wind noise will irritate some owners, especially as you don't have to be going particularly fast for it to become noticeable. We suspect the roof rails, perhaps in combination with the optional panoramic sunroof, to be the problem area(s).
Pricing & Warranty
The Mini Countryman S sports-auto currently (August 2017) sells for R530 306 without any options fitted. As ever, the vastness of the optional extras list can be daunting, but to be fair the Countryman S offers impressive standard specification (relative to its competitors). Included as standard is a 2-years/unlimited km warranty and 5-years/100 000 km maintenance plan.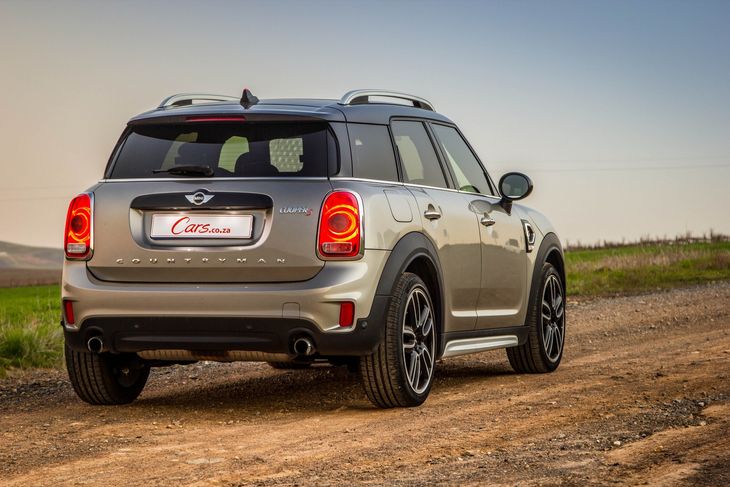 From quirky contender to class leader? The new Countryman Cooper S ticks all the practicality boxes, but also offers driving fun and style.
Verdict
It's not often that a second-generation vehicle represents such a convincing step forward from a (popular) predecessor. As we already found in our review of the more affordable Cooper derivative, the biggest improvements have come in the areas of cabin space, practicality and ride refinement. But far from being a bloated, overweight take on the Mini designed to milk the fashionable crossover niche, what we have here is arguably now one of the front runners in an admittedly small segment. Still, in Cooper S guise the Countryman delivers all the family functionality you're likely to need, along with the trademark style and zest that the Mini brand is known for. It can no longer be so easily ignored as a quirky, fringe player.
You may also be interested in:
Mini Countryman Cooper (2017) Review
Mini Countryman plug-in hybrid model announced
Audi Q2 Test Drive and Video Review
Mercedes-Benz GLA facelift First Drive
Looking for a new / used Mini Countryman to buy?