Audi is using the upcoming North American International Auto Show to showcase the new second-generation A7 Sportback and it looks great!
Audi's new 4-door coupe will land stateside next week and will be followed by its international launch which is due to take place in scenic Cape Town at the end of January 2018. Although Audi says that the new A7 Sportback is under consideration for the South African market, we suspect that it will become available locally later this year. Based on these images, we hope it does…
Key details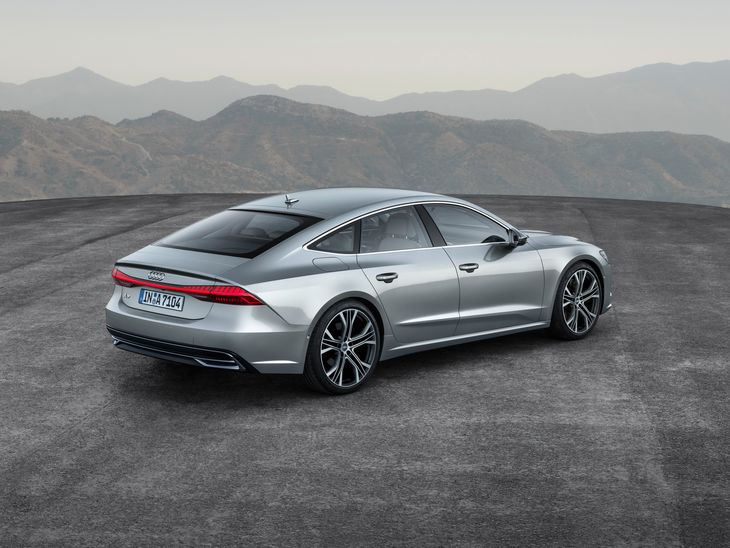 A tapering rear-end with an animated light unit extends the width of the A7 Sportback with 13 vertical LED light segments for maximum effect.
The new A7 Sportback draws design inspiration from the Audi Prologue Concept which was shown at the 2014 Los Angeles Auto Show in 2014 and features sculpted bodywork and a sloping roofline, giving it an undeniably tantalising silhouette. Despite its shape, interior space, particularly head and legroom, is said to be improved compared with the outgoing model.
The interior is mostly a digital affair with Audi's latest MMI infotainment system fitted, comprising 2 large touchscreens that serve as the interface for all vehicle functions and Audi's Virtual Cockpit enhances the interior ambience even further. The upper 10.1-inch touchscreen houses the infotainment system while the lower 8.1-inch touchscreen takes care of in-car functionality. As a result, very few buttons are present inside the new A7 Sportback and it will certainly appeal to tech-savvy buyers.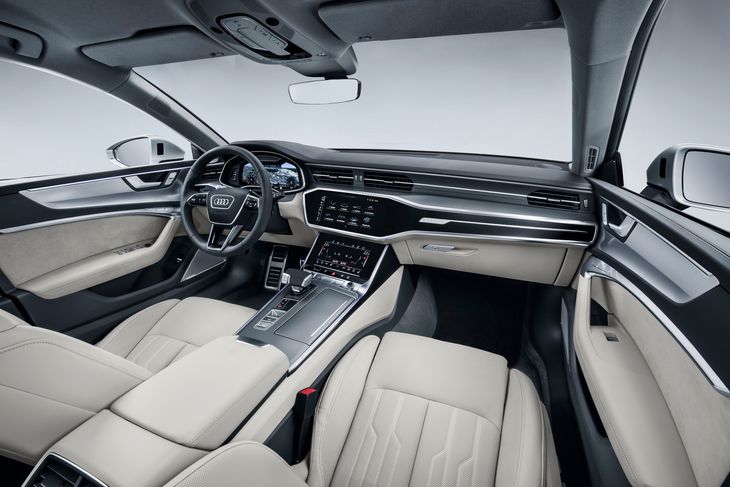 A plush cabin will offer high levels of comfort as well as a smattering of technology. A nice place to be...
The new A7 Sportback will initially be powered by a turbocharged 3.0-litre V6 engine with outputs of 250 kW and 500 Nm of torque. It will use a 7-speed S tronic transmission in conjunction with quattro all-wheel drive to achieve a claimed zero to 100 kph sprint time of 5.3 seconds before arriving at a top speed of 250 kph. Audi will then introduce a range of petrol and diesel option in 4-cylinder and 6-cylinder guise.
As you would expect, the new Audi A7 is packed with the latest driver assistance technology including AI Traffic Jam Pilot, Audi's first Level 3 autonomous system seen on the new A8. Using camera's and sensors, the system will take control of the vehicle on the highway and initiate functions such as braking, accelerating and steering without input from the driver. The new A7 will also be able to autonomously negotiate parking spaces. Familiar features such as adaptive cruise control will also be offered.

We will keep you updated as more details become available, so stay tuned!
Watch footage of the new Audi A7 Sportback below!
Related Content
2017/18 Cars.co.za Consumer Awards – powered by WesBank; Finalists
Update: New Audi A7 Sportback Revealed [w/Video]
Drag Race: Audi RS3 vs Mercedes-AMG A45
Classic Battle of the Brands: M2 vs RS3 vs A45
Audi to Change Vehicle Naming Structure
Audi R8 V10 Spyder (2017) Quick Review
Audi RS3 Sedan (2017) Quick Review
Audi TT RS (2017) Launch Review
Audi RS3 vs BMW M2 (2017) Track Race
Audi RS3 vs BMW M2 (2017) Drag Race
Audi RS3 Sportback & Sedan (2017) Specs & Price
Audi RS4 Returns with V6 biturbo power [Video]
Audi SQ5 quattro (2017) Review
Audi Q5 2.0 TDI quattro (2017) Video Review
Audi Aicon: A Look At The Future From Audi