The most hardcore iteration of the Audi TT has arrived in South Africa! It's called the Audi TT RS and straight off the bat, we can tell you that it's one of the most powerful and fastest coupes at this price point. David Taylor attended the launch of the new Audi TT RS in the Western Cape this week to bring you this report...
The Audi TT has often been unfairly labelled as soft in the past, but this latest generation of Ingolstadt's sporty coupe has really underlined its performance credentials as well as the versatility of the MQB platform. There are a handful of models to choose from too. There's a base-spec 1.8-litre Audi TT, a 2.0-litre model offered in both front-wheel drive and quattro and a reasonably powerful TT-S model, which is brisk. However, there was one model from the previous generation which had the capability of harassing far more exotic cars and was like letting a caracal loose in the chicken pen. It's called the Audi TT RS and the new one has just landed in South Africa.
Visually, the new Audi TT RS looks far more radical than its lesser siblings. Sadly, the fixed rear wing is now available as an option. The good news is that it is a no-cost option. Hurrah! Big wheels, big bumpers and gaping grilles signify that this is no longer your run-of-the-mill TT, while at the back two massive exhausts do duty. There are also subtle TT RS badges, which remind people that this is the real deal.
5-cylinder magic is back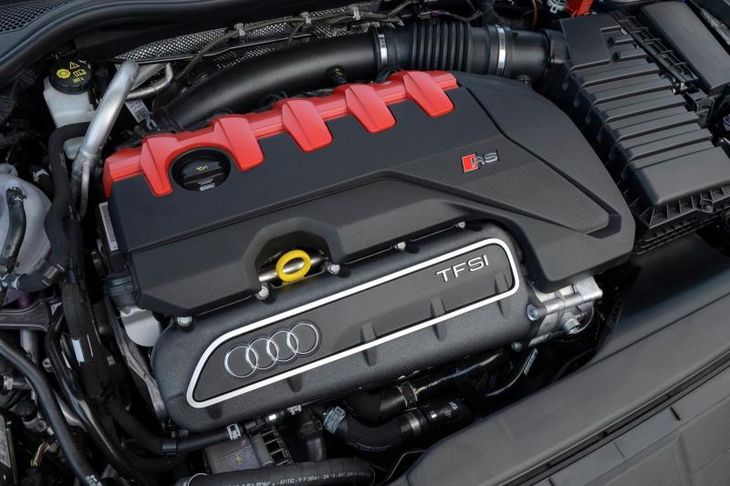 Magical goodness and well deserving repeat winner of International Engine of the Year.
The new Audi TT RS is powered by a revised example of the mighty 5-cylinder engine. Boasting a big turbo and even bigger outputs, the Audi TT RS looks formidable. There is 294 kW and 480 Nm on tap, with grunt going to all four wheels via a 7-speed dual clutch gearbox. Audi Sport claims a zero to 100 kph sprint time of 3.7 seconds, which is ballistic in anyone's books. It'll run to a top speed of 250 kph, but you can extend the top speed limiter as an option. One of the best things about this engine is its distinct soundtrack and you'll just love revving it for the acoustic satisfaction.
Audi knows how good this engine sounds and has fitted an RS exhaust button which makes it sound even louder. Delightful! Mechanically, this engine is 26 kg lighter than the previous TT RS, while the gearbox is lighter too. The car also sits lower to the ground compared to the lesser TT models.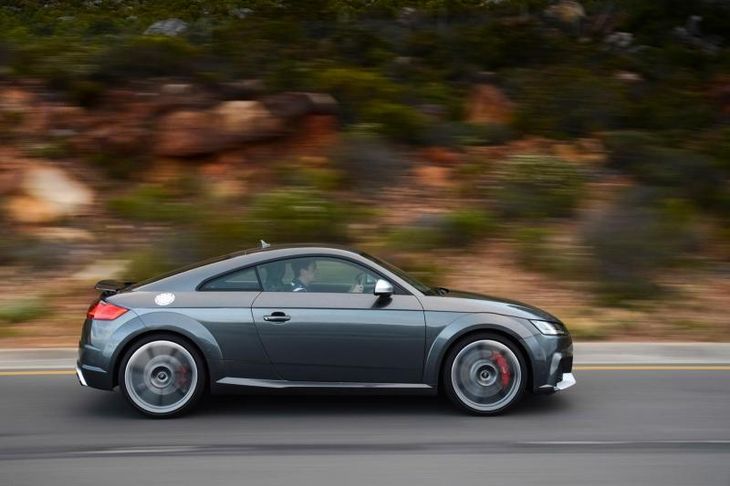 Faster than some exotics and with one of the best engine notes in the business. What's not to like?
Does it perform?
You bet it does. The Audi TT RS is ballistic, both in terms of off-the-line ability and in-gear performance. With launch control dialled up, it's a potent weapon and we foresee many exotic sportscars being demolished by the Audi TT RS. It's just so effortless and it'll happily do it repeatedly, without any fuss or hesitation. The first time launch control is activated, you'll feel your face contort thanks to the G-forces.
With the safety net and grip afforded by the all-wheel-drive quattro setup, you'll feel confident when you're pressing on. The brakes are phenomenal and do a fine job of bringing the Audi TT RS to a halt. If you're an enthusiast, it may be worth looking into the carbon-fibre ceramic discs which are offered as an option. The suspension features adaptive dampers, which greatly improve comfort when you're not in the mood to press on. However, even in dynamic mode with the dampers set to their hardest, the ride is not completely unbearable, which is a pleasant surprise. Some cars lose all comfort when they're in their most aggressive modes and the ride quality can be atrocious. A45 AMG is culprit number one when it comes to this.
We had the opportunity to test the Audi TT RS up the old Du Toitskloof pass, which has some wonderful sections and turns. It also has some rough tarmac in places, which has proven a literal pain in the backside in some sporty cars, such as the Renault Clio RS Trophy. The Audi TT RS was firm, make no mistake, but at no point did it become unbearable. The steering is to be commended. It's light and ultra-direct, and when you're really going for it, the Audi TT RS goes exactly where you point it. As far as performance offerings go, you'll be hard-pressed to match the Audi TT RS in terms of usability and outright performance.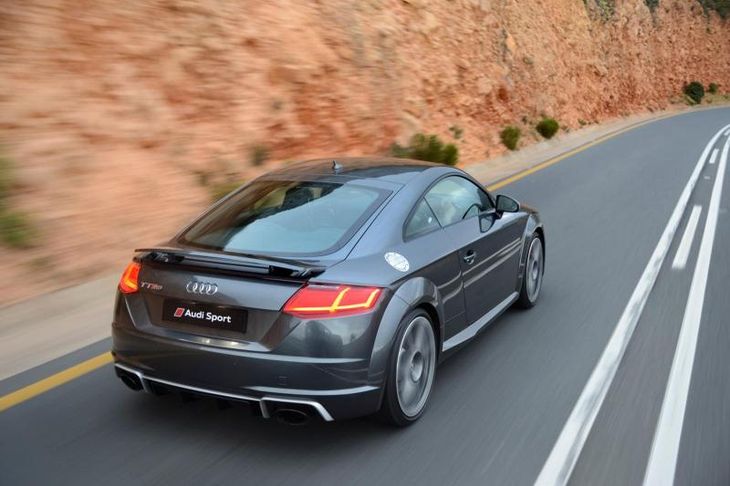 The fixed wing is available as a no-cost option. Note the big oval RS exhausts!
The cabin
Audi has gone all out when it comes to the TT RS cabin. The steering wheel is a work of art and is not too dissimilar to that of the Audi R8 and features a start/stop button. The interior focus is aimed purely at the driver and Audi has cleverly positioned key functionality onto the steering wheel, allowing the driver to keep his/her hands on the wheel at all time. The pretty, yet intuitive Audi Virtual Cockpit digital dashboard is standard on the TT RS and it offers everything such as satellite navigation, a central rev counter which doubles as a speedometer and shift light. You'd expect a centrally-mounted infotainment screen, but the cabin is wonderfully minimalistic and the only thing you'll find is the ventilation controls, cleverly integrated into the turbine-style vents. The seats are exceptionally sporty and supportive - something you'd expect when driving a near-supercar.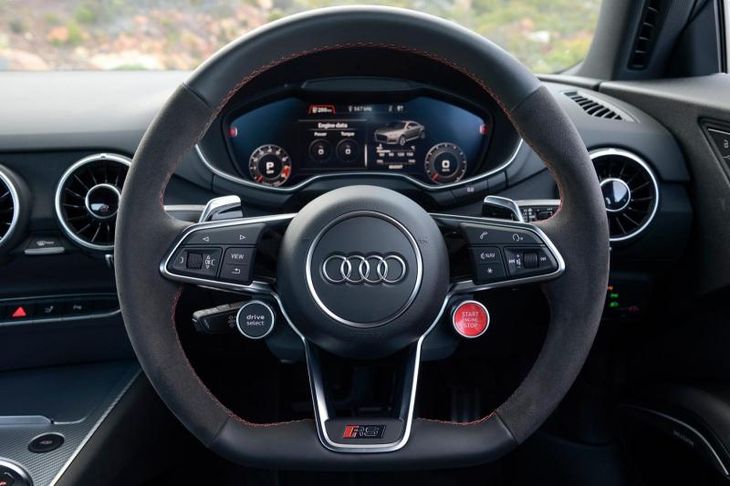 The steering wheel is fantastic and features both start/stop and Drive Select buttons.
Standard equipment
The flagship offering has to be fully loaded and the reality is that the Audi TT RS does come with plenty of bells and whistles as standard.
19 inch Audi Sport alloy wheels

4 way lumbar support

Audi drive select®

Audi virtual cockpit

Audi sound system

Bluetooth interface

Cruise control

Comfort key

Deluxe automatic air conditioning

Driver and front passenger airbag with front passenger airbag deactivation

Electric seat adjustment with pneumatic adjustment

Front S sports seats in fine Nappa leather trim with diamond stitching and RS embossing

Indirect tyre pressure monitoring system

ISOFIX child seat mounting for passenger and rear seat

Leather-covered multifunction sports steering wheel, 3-spoke, flat-bottomed, with shift paddles

LED headlights with range control including dynamic turn signals at rear

LED rear lights with dynamic indicator

Light / rain sensor

Lighting package

MMI Navigation plus

Parking system plus with selective display

RS sports exhaust system

RS suspension

Side airbags at front and head airbag system

Start/stop system
Verdict
Audi Sport and its new TT RS will intentionally be standing on its rivals toes. At this price point (see cost below), there are very few rivals that deliver this astonishing performance. It's a brutal machine and in the right hands, it's exceptionally quick. Thanks to the quattro all-wheel drive, it's not going to come unstuck either. The cabin is lavishly appointed and purposeful, and you get a fair whack of standard fare. You can, of course, go to town with options and Audi SA is promising to bring in Audi Sport body kits, which turn your TT RS into a vehicle looking like it competes in DTM. The test days beckon and we think there'll be a battle for the keys as it's a ballistic, road-legal weapon, and we love it.
Audi TT RS Price in South Africa
The Audi TT RS Coupé is priced at R963 000, standard with the 5 year/100 000km Audi Freeway Plan.
Further reading
Audi TT 2,0T S tronic - Best Fun Car

Audi TTS 2.0T FSI quattro (2016) Review

Porsche 718 Cayman (2016) First Drive

BMW M2 Coupe Auto (2016) Review

BMW M2 vs Mercedes-AMG A45 vs Audi RS3 vs Honda Civic Type-R: On-track analysis [Video]

Track Race: Audi RS3 vs Merc-AMG A45 vs Honda Civic Type R vs BMW M2 [Video]
Interested in buying an Audi TT?