By offering sizzling performance, surprising agility and practical, luxurious cabins, vehicles such as Audi's SQ5, Porsche's Macan and the Mercedes-AMG GLC43 are today's equivalents of '80s performance sedans. We spent a week with Ingolstadt's square-jawed newcomer to figure out whether it sets a new benchmark.
We like: Powerful and refined, rock-solid cabin, grip and agility
We don't like: Fake exhaust tips!
Alternatives
For the ultimate badge: The Porsche Macan S may be about R80 000 more expensive when comparing base prices, but if you want what is still perceived as a more exclusive vehicle, you may very well be okay with sacrificing some of the options on the SQ5 and stretching for a more basic Porsche (in terms of features). With similar power but less torque, the Macan still posts comparable performance figures. It's ultimately it not as practically packaged as the SQ5, but is still a very useful – and entertaining – daily runner. A Macan facelift comes next year (2018).
Something faster: The Mercedes-AMG GLC43 4Matic is cheaper and packs a harder punch courtesy of its charismatic 3.0-litre V6 turbopetrol, but it doesn't feel as solid as the SQ5 and Macan. The GLC's underpinnings don't offer as well-balanced a combination of ride refinement and dynamic ability, and inside, it lacks the almost excruciating attention to build quality detail of the Audi.
Compare the Audi SQ5 with the Mercedes-AMG GLC 43 4 Matic and Porsche Macan S by clicking here
What is it?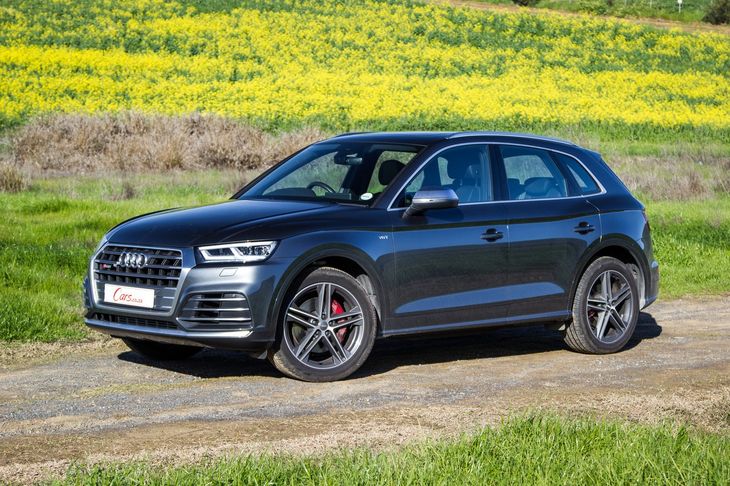 Fancy your premium SUV to have a high-performance bent? But don't want it too flashy? Audi's SQ5 is for you.
The fragmentation of (what started out as) the SUV segment, which initially exclusively catered for people who placed practicality and rough-road ability at the top of their list of requirements, continues unabated. But the SUV or crossover sales swell can no longer be regarded as a "trend" that will grow in significance in the future. It is the default, most-desired body shape of the moment and that means manufacturers must cater to whatever tastes or requirements there may be, whether it is to go off-road, to make a statement or... go fast in the lap of luxury.
Enter vehicles such as Audi's SQ5... high-performance, premium-badged and super-luxurious crossovers that seem far removed from their SUV ancestors, but very much in tune with the present. If compact crossovers are the most desired modes of personal transport of the masses, these are the halo products that feature at the top of the "when I've made it" wishlists... Could the SQ5 be the most desirable of all?
How does it fare in terms of...
Design & Packaging?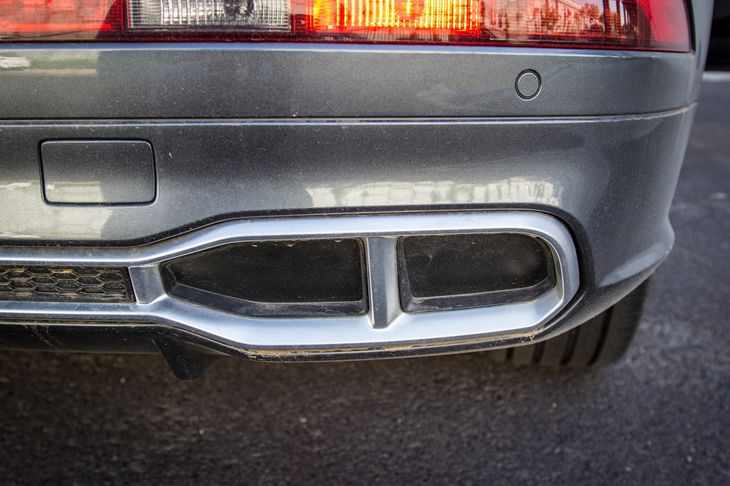 Fake, blanked out exhaust tips on a high-performance machine? No Audi... just no.
Audi's new Q5 has been criticised (from the moment the very first image emerged) for looking very similar to its predecessor. While the overall design has not moved on significantly, it is a far "edgier" car in its detailing and the differences are highlighted when you park the two generations of vehicles next to one another and make a direct comparison. During its test term, the SQ5, even in a conservative metallic grey paint, attracted a number of positive comments and most onlookers didn't seem to care all that much about its fake exhaust outlets, which were, however, an irritant to our (admittedly petrolheaded) test team.
As is to be expected, the über Q5 gets a number of distinguishing features, mostly centred around its more aggressive bumper treatments (front and rear), and striking standard 20-inch alloy wheels. Our test unit also featured an optional sunroof. We think the SQ5's design is quite colour sensitive, and that a brigher hue (or even white), would make it "pop" considerably more. That said, this is not a "shouty" design and, consequently, the SQ5 has considerable Q-car (flying under the radar) appeal.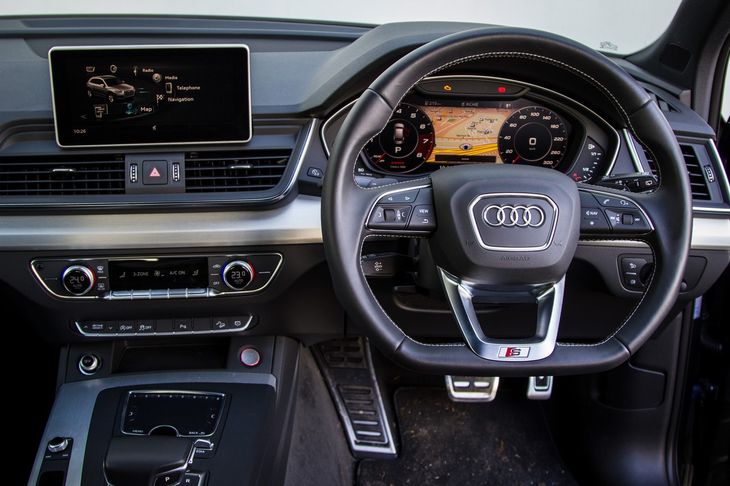 SQ5 boasts levels of fit and finish, as well as attention to detail that is easily best in class.
The cabin follows in the tradition of most recent Audis in being very minimalist in appearance, but with build quality and attention to detail that is beyond anything else in this class. There is a reassuring solidity to every button or switch movement, and the satin silver inlays, in particular, are both tasteful and lift the otherwise rather sombre cabin ambience (dominated by grey surfaces). The quilted sports seats are a real highlight, and the T-bar gear selector with its flat top, which doubles as a place to rest your wrist while using the touchpad, is an example of the great attention to detail in this cabin.
There really is no reason for complaint in the front, then, particularly because the SQ5 has the same generous steering rake/reach adjustability, combined with multi-way adjustable driver's seat, that Audis are so admired for. Occupants in the rear of the cabin are also well-catered for, with generous legroom and their own ventilation controls. Our test unit was further fitted with the optional Rear Seat Bench Plus, which affords greater adjustment, including fore/aft sliding to tailor legroom/luggage space as required. In this regard (rear passenger comfort), the SQ5 is considerably better than the Porsche Macan, for example.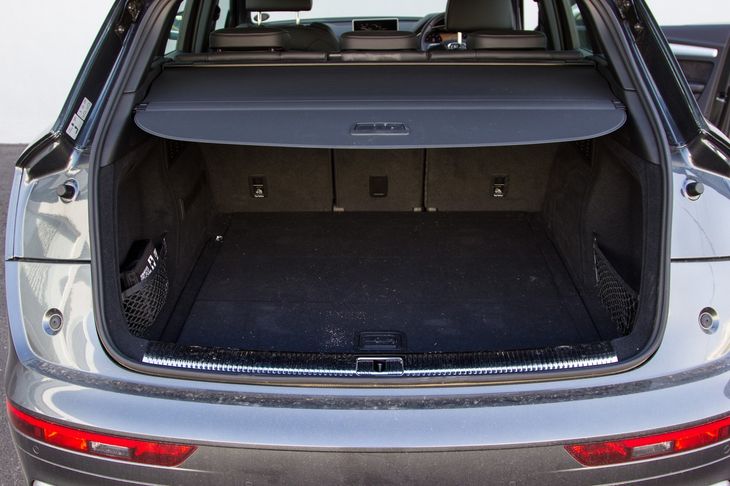 The luggage area is large and rear seats can be folded forward by pulling levers reachable by standing behind the vehicle. Automated tailgate is standard.
The SQ5's boot is rated at 550 litres in volume, which is identical to the GLC and slightly bigger than the Macan. The rear seatbacks can be tipped forward by pulling on conveniently placed levers in the bay and maximum utility space is 1 550 litres, slightly smaller than the Benz, but a bit more than in the Porsche. An electric tailgate is standard. Overall, then, this may be the "fast" Q5, but it's lost none of its practicality.
Performance & Efficiency?
Unlike the first SQ5, which was sold in South Africa exclusively as a turbodiesel derivative, the newcomer is powered by Audi's turbocharged 3.0-litre V6 petrol that delivers 260 kW and 500 Nm of torque. The latter figure may not be as impressive as its predecessor's, but remains very competitive, only being outpunched by the GLC43's powerplant to the extent of 20 Nm. The maximum torque is available from 1 370 to 4 500 rpm, which makes the car feel ever-keen and always responsive. Audi claims a 0-100 kph sprint time of 5.4 seconds, which is slightly slower than the GLC43, but which matches the claim for the Macan S. It's plenty fast enough, and the 8-speed transmission is a good match for it, generally providing decisive and slick shifts.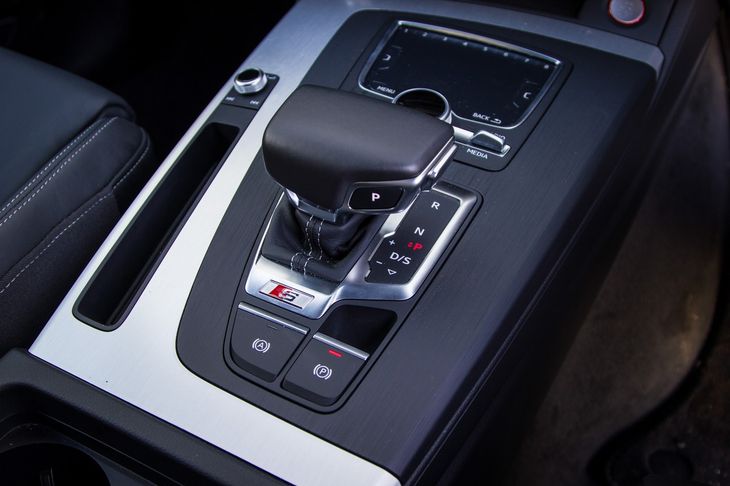 Eight-speed gearbox is well-matched to the engine's characteristics. Drive modes make a real impact on overall "feel" of the car.
Of course, as you cycle through the various drive modes the car's character changes noticeably, and so does the engine sound. It becomes quite vocal in its sportier modes, which is nice, but traditionalists will lament the fact that much of this sound is "fake". In the default driving mode the engine muted, and you'll marvel at the refinement of it all.
For the record, the engine is remarkably efficient and refined given its performance credentials. Audi claims a combined cycle consumption figure of 8.3 L/100 km, which you'll undoubtedly struggle to match, but, even so, it is significantly more fuel efficient in the real world than its Mercedes-Benz rival. We achieved a figure of around 10.0 L/100 km.
Ride & Handling?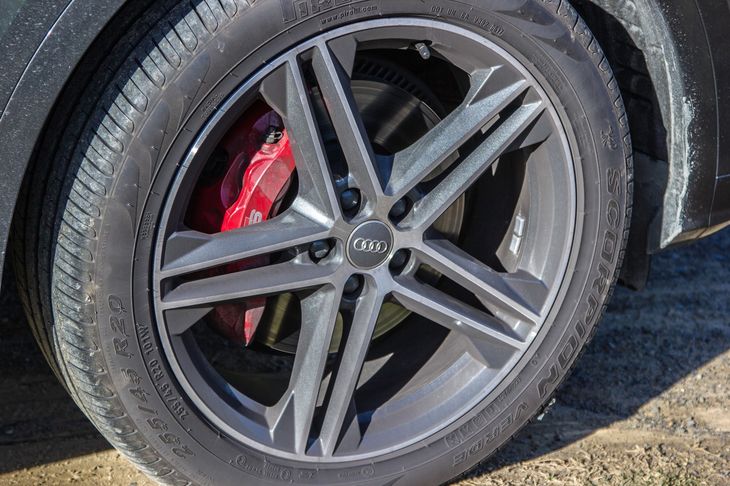 Standard 20-inch wheels do not negatively impact ride quality and composure.
Based on Audi's acclaimed MLB-Evo platform (which also underpins the A4), the Q5 rides with a mix of composure and agility that is quite rare in this segment. Fitted as standard with sports suspension and damping control, the SQ5 possesses downright remarkable ride comfort, especially given its uncompromising footwear. The SQ5 uses a relatively new type of quattro configuration, which is called quattro ultra. One of the main goals with quattro ultra was efficiency, and given the fuel-consumption we achieved during our test, we've got no reason to doubt Audi's claims.
For a high-performance vehicle such as the SQ5, some enthusiasts may be worried that the new system, which favours front-wheel drive operation in no-slip conditions, could be detrimental to dynamic ability. In our experience, however, the system operates so imperceptibly that few would notice the difference.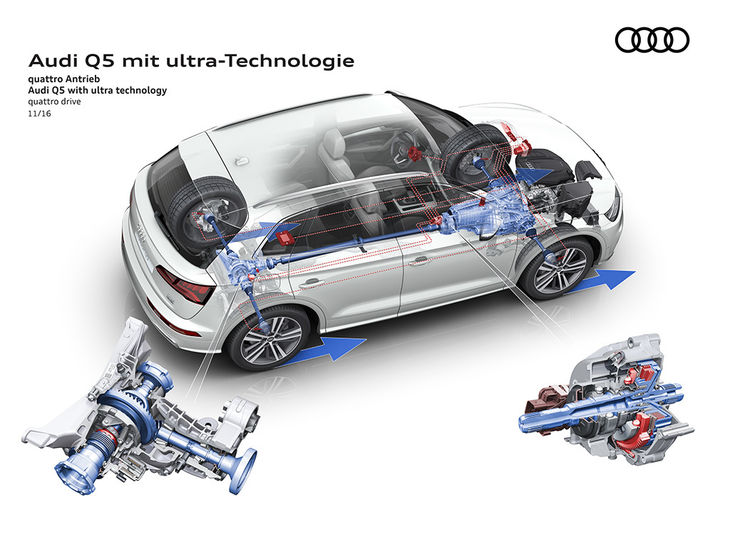 The SQ5 features quattro ultra, which brings major efficiency gains. It shifts power imperceptibly.
How does it work? Well, although the SQ5 starts off in all-wheel drive mode when pulling away, if no slip is detected it will switch to front-wheel drive. When slip is detected at the front, it will channel power to the rear wheels using two clutches (one behind the gearbox and another in the rear axle). The system also takes into account the drive settings and the manner in which the vehicle is being driven.
Does it all work? Well, in short, the SQ5 is as ruthlessly efficient in the roadholding department as it is in virtually every aspect of its package. Grip levels are high, it turns in well and body control is superb. It is not, however, the most engaging of vehicles to drive fast and the steering feel can be inconsistent in terms of its weighting and is generally devoid of real feedback. Nevertheless, when it comes to this type of fast SUV, we suspect that the ability to cover ground (of various surface quality) fast will rank higher on buyers' lists of requirements than the provision of driving engagement on a challenging ribbon of asphalt.
Pricing and warranty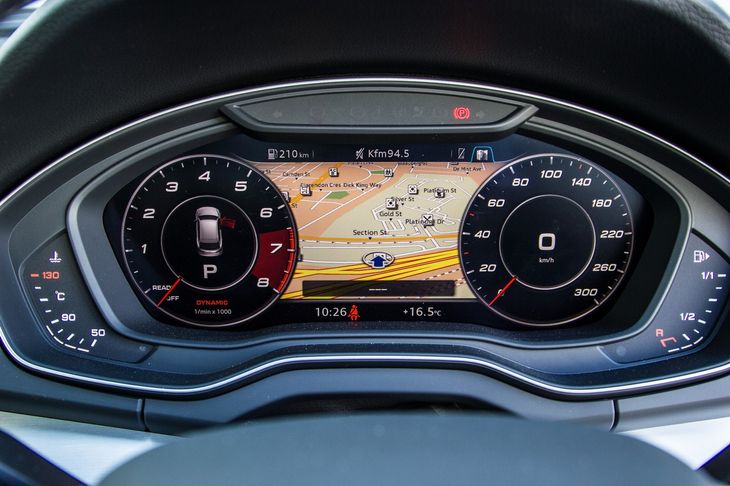 Sadly, the really smart Virtual Cockpit is not standard and costs R7 000 extra. Worth having, though.
The Audi SQ5 currently (September 2017) sells for R1 044 000 without options. The price includes a 1-year/unlimited km warranty and 5-year/100 000 maintenance plan. As the flagship of the Q5 range, this model is comprehensively specified with niceties such as three-zone climate control, electrically adjustable front seats, park assist (including parking plus), auto lights/wipers, cruise control, automated tailgate, LED head- and taillamps and MMI Navigation Plus with touch input, amongst other items.
Our test unit also featured the following options; panoramic glass sunroof (R19 900), trailer tow hitch (R13 950), Bang&Olufsen sound system (R11 850), virtual cockpit (R7 000), fine nappa leather (R6 960), Matrix LED headlamps (R6 200), Rear seat bench plus (R4 900) and Audi smartphone interface (R4 180). The additional R74 940-worth of options bumps up the price to R1 118 940 as tested.
Verdict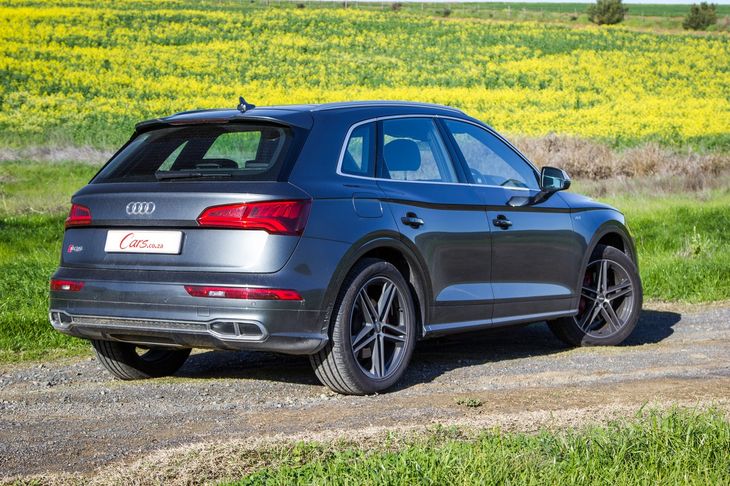 Ruthlessly efficient and excellent at what it does, the SQ5 is arguably the most-complete vehicle of its type.
At this end of the market, and in this niche specifically, there aren't really any bad choices and personal brand preference will largely determine which products buyers will choose. However, ignoring such subjective matters for a moment, we rate the SQ5 as a more refined and better-built offering than the Mercedes-AMG GLC43 4Matic, but the AMG has the edge in terms of practicality and outright performance. The Benz arguably also has the more charismatic engine. Add a number of high-cost options to the SQ5 and Jaguar's slightly bigger F-Pace also comes into play, as well as the Porsche Macan. So, ultimately, the SQ5 appears to straddle a middle ground, mirroring the best capabilities of its cheaper or pricier rivals, but seemingly without any of their (small) flaws.
But, it's almost robotic in the way that it ticks all the boxes. Does this mean the SQ5 lacks the personality or desirability a high-performance flagship should offer? That question brings us back into the realm of subjective matters, and that's something only the individual doing the buying will be able to answer.
You may also be interested in:
New Audi Q5 (2017) Launch Review
BMW X3 Revealed with video (2017)
5 Interesting Things about the new Jaguar E-Pace
Looking for a new / used Audi SQ5 to buy?