Audi's flagship sports coupe has arrived on South African shores, but it too is a victim of downsizing as the sonorous V8 has been replaced by a twin-turbocharged V6. Does a force-fed lump make up for a raw, naturally-aspirated V8? David Taylor joined Audi Sport in the Western Cape to find out.
Back in the day Audi really nailed its RS products. What was not to like? A rip-roaring V8 motor, which was an absolute peach, mated to a user-friendly quattro setup. There was something for everyone too, an RS4 wagon, an RS5 coupe, an RS5 convertible. Let's not forget that pearl of a B7 RS4 either, which was so good that even today it commands a premium and is highly sought after as a collector's piece. Rolling into 2017, we find ourselves at the mercy of downsizing, where car companies are forced to deliver performance with smaller and cleaner engines. It's a monumental task, yet the manufacturers have embraced it.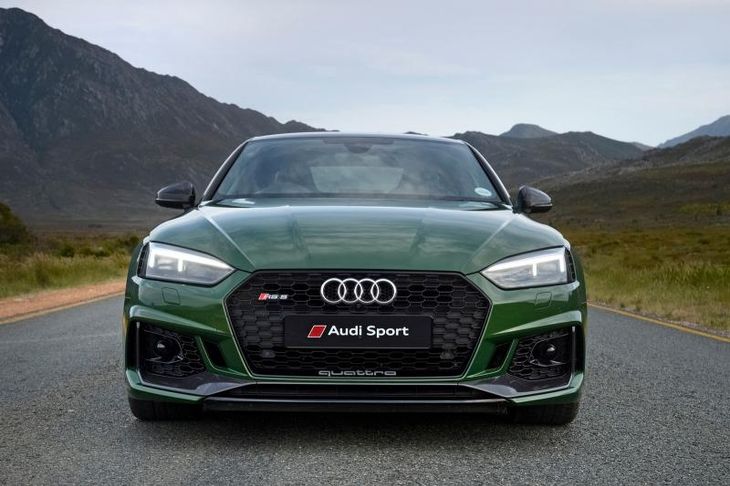 The looks have changed dramatically in the jump from Audi A5 to Audi RS5.
Small engine, big torque
Take this new Audi RS5. It had a thumping naturally-aspirated V8 motor under the bonnet, but now for the 2017 lineup, we find a 2.9-litre twin-turbocharged V6. Eh? The numbers restore some credibility, thankfully, and with 331 kW (matching the outgoing car) and a staunch 600 Nm (170 Nm more than the old V8), it looks like it's up to the task. Audi Sport claims it'll blitz to 100 kph in a shade under 4 seconds, which puts it squarely in the 'annoy supercar owners' club. Brisk indeed. Like all RS products, the vehicle is all-wheel drive and power goes to each corner via an eight-speed Tiptronic transmission. You'd expect S tronic in a vehicle of this nature, which would be great actually, but the reality is that it simply cannot handle the sheer torque of the motor.
As for this motor, it has an interesting origin because it's also used in sister brand Porsche, in the Panamera, but Audi has squeezed a bit more power out of it. We simply cannot have the new RS5 making less power than the old one, can we? This new engine weighs less than the old car and contributes to the overall 60kg weight reduction in comparison to its predecessor. It's also claimed to be more efficient, with a figure of 8.7 L/100 km. The result is a faster, lighter, more efficient Audi RS5.
How does it drive?
The Audi RS5 has an illustrious history. Its predecessor was a rip-roaring, snarling coupe that made a wonderful noise and thanks to its quattro setup, could sprint off the line. Dynamically it wasn't as direct and involving of say, a BMW M3, nor was it as much of a handful as an AMG offering. You got the feeling that while it was fast, it was geared primarily for daily driving. You could happily sit in traffic each day, in Comfort mode, and then light the afterburners when the road opened up and other road users had vanished.
New Audi RS5 follows this recipe. While it may be a tad harsh, to say it doesn't feel as raw as its rivals from Bavaria and Affalterbach, there's no denying its performance. Despite the lack of a launch control system, the car powers off the line and its sub 4 seconds to 100 kph is believable. We'd have to wait for a road test opportunity to confirm just how quick it actually is. Through the twists and turns of the Western Cape, we found the Audi RS5 to be relaxing mostly and it's only when you're really provoking it, do you feel that typical Audi safeness. Sure, the quattro system has been reworked to send a bit more power to the rear axle than the front, but you're never going to see the tail-happy antics that the purists adore.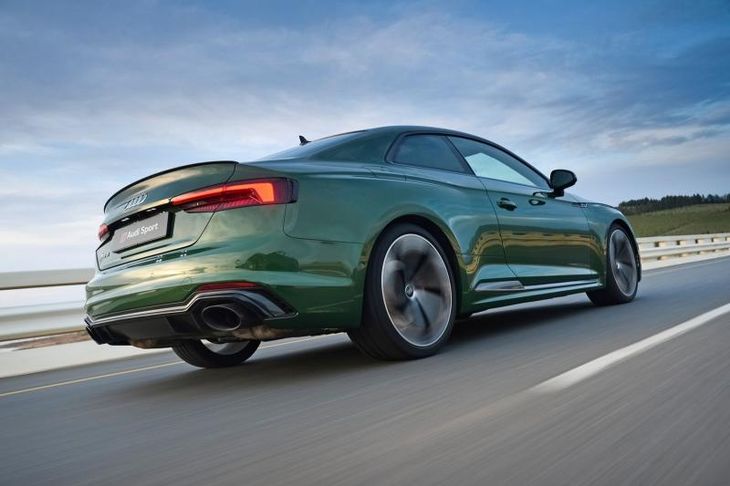 Big oval exhausts make a wonderful noise in Dynamic mode.
The engine, despite being down two cylinders, is terrific. Eager to please, responsive and free-revving all the way are admirable traits, and in true Audi fashion, bangs and thumps out the exhaust are appreciated and encouraged. While you can take command of the car using the steering-wheel-mounted paddles, the car is more than up to the task of thrilling in full automatic mode. Being the hands-on type, we utilised them right from the get-go and while it's not as direct as Audi S Tronic 'box, the Tiptronic setup has been mapped to feel as aggressive and responsive. Success, in other words.
Our launch units were equipped with adaptive damping (Dynamic Ride Control) and this is truly the business, with the ability to switch from firm and poised, to relaxed and comfortable. However, in its most hardcore setting and on less-than-perfect roads, the RS5 is still totally bearable and comfortable to live with. You can thank the excellent chassis for this. Herein lies the problem. Where we've always loved the sheer raw brutality of the C63 AMG and the ultra-direct responsiveness of the M3, we've quietly appreciated the RS5 for outright liveability. You'd love a weekend fling with either of the former, but you'd be thankful that the RS5 isn't an absolute handful and a hooligan.
Luxurious and tech-laden cabin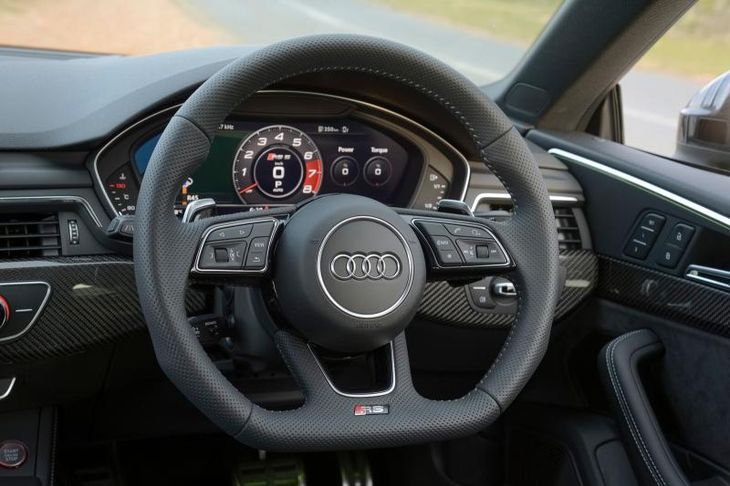 One of the most beautiful steering wheels in the business...
Audi has knocked it out the park again when it comes to cabin refinement and quality. It's brimming with technology and comfort features, as it should be when it comes to a flagship offering. The RS sports seats are benchmark examples of how to do car chairs well, the digital dashboard represents the best of tablet-like infotainment and the steering feel has a luxurious character about it. If there was one minor drawback, its that our low-down driving position meant that the rear legroom was severely compromised, which is fine. Children add weight and additional weight slows you down.
There are some nice performance touches to the infotainment screens and virtual cockpit dashboard. There's a G-Meter, power indicators and the rev counter has been configured to encourage you to stretch the car's legs. Approach the redline and the speedometer flashes red. Hook the next gear, rinse and repeat. There is also a lap timer if you're so inclined. Nice option to consider is the heads up display. Audi has gone all out to incorporate smartphones into the RS5's cabin. The car comes with Android Auto and Apple Carplay, there are numerous USB ports and there's also a wireless charging pad.
Audi RS5 features:
20 inch Audi Sport alloy wheels

4 way lumbar support with massage function

Audi Smartphone Interface

Audi virtual cockpit

Audi side assist and pre-sense rear

Bang & Olufsen sound system

Bluetooth interface

Cruise control

Comfort key

Deluxe automatic air conditioning

Driver and front passenger airbag with front passenger airbag deactivation

Electric seat adjustment for front seats

Front RS sports seats in Fine Nappa leather trim with diamond stitching and RS embossing

ISOFIX child seat mounting for passenger and rear seat

Leather-covered multifunction sports steering wheel, 3-spoke, flat-bottomed, with shift paddles

LED headlights with range control and rear lights incl. dynamic turn signals at rear

Light / rain sensor

MMI Navigation plus

Parking system plus

quattro® with self-locking centre differential

Rain sensor

Rear spoiler

Rear view camera

RS sports exhaust system

RS sports suspension

Side airbags at front and head airbag system

Start/stop system

Tyre repair kit and Indirect tyre pressure monitoring system
Verdict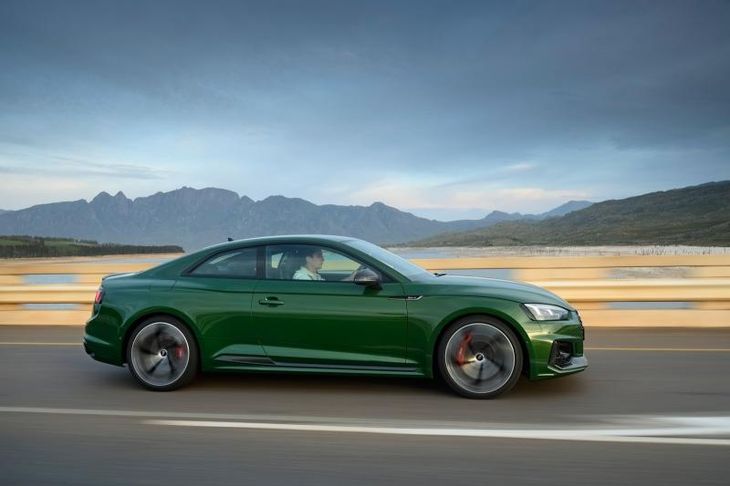 Not this colour. Any other colour is great for the Audi RS5.
As for the looks, we were pretty underwhelmed by the run-of-the-mill Audi A5 and even the S5 was lacking some visual oomph. However, in RS5 application and with the right paint finish like Nardo Grey or red (not this green colour you see in pictures), it really looks menacing and purposeful. So that's one big box ticked. The Audi RS5 is a big leap forward for Audi, but for the RS brand? We think the brand has grown up and realised that its clients are of the discerning, mature type. Sure, it's fun to light the rear tyres and drive the nuts off cars, but how often do we do that in reality?
The sad fact of life when it comes to fast, premium German execs is that most of the time they're driven to work and back, and very few are taken on journeys to find their limits. Audi has realised this and made its new Audi RS5 as comfortable and luxurious as possible. Sure, it'll deliver the goods when you're sitting at a traffic light and you want to blow away that youngster in his Polo GTI, but ultimately we think Audi Sport has cashed in its reality cheque by making this RS5 more about the comfort, luxury and drive.
Is it as fast and involving as its predecessor? Absolutely. Does it have enough going for it, for it to challenge the likes of BMW M and Mercedes-AMG? Sadly not. Would we happily recommend it as a grand tourer that'll seat two in comfort yet deliver 85% of thrills for the average owner? Absolutely.
Audi RS5 Price in South Africa
The Audi RS 5 Coupe is priced at R1 285 500, standard with the 5 year/100 000km Audi Freeway Plan.
Related content
New 331 kW Audi RS5 Coupe Shown
BMW M4 DTM & search for the perfect M car
BMW M4 CS (2017) International Launch Review
Mercedes-AMG C63 Coupe (2016) First Drive
Searching for a used Audi RS5?