As the asking prices of business-class-based performance sedans creep beyond the reach of so many aficionados, the RS3 compact sedan remains the most resolved way of getting your asphalt shredding 4-door car kicks this side of R1 million. Not only does the sonorous Audi offer surfeit accessible performance, it captures the essence of the B7-generation RS4.
We like: Improved ride/handling balance, characterful engine
We don't like: Options list remains long, dulled steering feel
Alternatives:
The consummate athlete: The BMW M2 M-DCT – the 2016/17 #CarsAwards champion in the performance car category – recently received a facelift and with that 3.0-litre straight-6 delivering 272 kW and 465 Nm to the car's rear wheels via a limited slip rear differential, the Bimmer has the quintessential sportscar packaging that appeals to purists. Its 2-door body limits versatility, however, and even if you're not looking for a compact sedan per se, the Audi's quattro drive offers more peace of mind of sure-footed all-weather performance and handling.
The rapid head-turner: Not everyone is a fan of the Mercedes-AMG CLA45's styling, but those who appreciate the Benz's looks are bound to revel in its rorty 4-cylinder turbocharged motor (280 kW/475 Nm) mated with a 4Matic all-wheel-drive system. The CLA45 is suitably powerful and wieldy, but some prospective buyers may find its stiff suspension, raucous exhaust and hardcore interior a bit too "boy racer".
For a full-fat sportscar: What if you could say "pah!" to practicality altogether? The 4-cylinder 2.5-litre turbo motor in the Cayman S is a little underpowered in this company (257 kW and 420 Nm), but the Porsche is over 100 kg lighter than the RS3 and sits 100 mm lower to the ground. The Cayman is renowned for its great chassis/handling ability but its lack of audible drama leaves much to be desired.
Compare the specifications of the Audi RS3 with those of its BMW and Mercedes-AMG rivals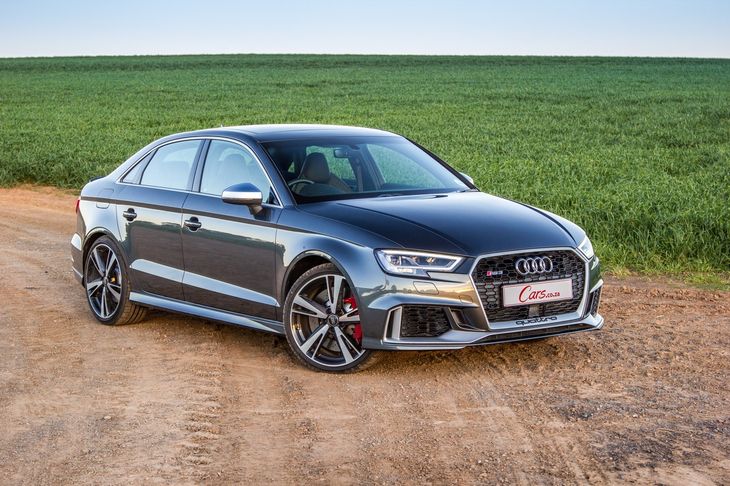 Stylistically, the RS3's exterior appearance is far from shouty, but note the ornate detailing in the front apron and the handsome alloys.
Quick Specs
Price: R925 000
Engine: 5-cylinder, 2.5-litre turbopetrol
Power: 294 kW at 5 850-7 000 rpm
Torque: 480 Nm at 1 700-5 850 rpm
Gearbox: 7-speed dual-clutch automatic
Kerb weight: 1 515 kg
0-100 kph: 4.1 sec
Top speed: 280 kph
Economy: 8.3 L/100 km
What's new?
In line with the recent update to the A3 Sedan and Sportback ranges, the flagship 4-door derivative in Audi's premium compact car line-up has undergone a number of updates, many of which aren't all that easy to notice. The big news, however, is the adoption of a lighter (by 26 kg), more powerful 2.5-litre, 5-cylinder turbocharged engine that delivers 295 kW and 480 Nm of torque (24 kW and 15 Nm more than the outgoing version). Over and above updates to the Audi's underpinnings, a new torque transferring system allows between 50 and 100% of the power to be sent to the rear wheels when required.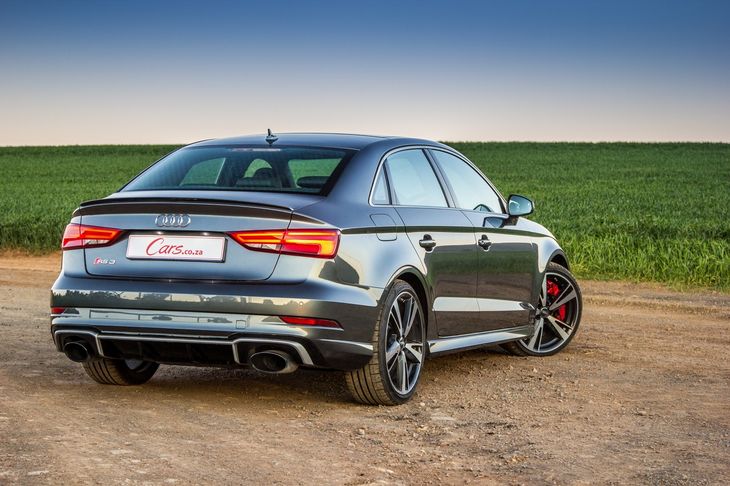 The subtle boot spoiler is almost invisible compared with the large-bore exhaust tips at either ends of the rear valance.
Otherwise, the updated RS3 features a few design tweaks, including new LED headlight units, a more angular surround on the single-frame grille, reworked bumpers (including a redesigned front blade and rear diffuser), a freshened taillight graphic and RS-specific spoiler lip on the boot lid.
Inside, Audi's Virtual Cockpit is offered as an option, but it's well worth a tick. Nappa leather front seats now feature a more contoured profile and customers can also opt for RS sports seats with sharply contoured side bolsters and integrated head restraints. An optional RS design package includes red accent rings around the air vents and contrasting stitching on the upholstery for maximum effect, while the door trim is finished in Alcantara and the footrest and pedals are in stainless steel.
The Good
Sonorous performance
Any compact car, let alone a sedan, that can dispatch the 0 to 100 kph sprint in around 4 seconds, demands instant respect, especially when the performance is delivered so seamlessly and without much effort. And, whereas so many direct-injection turbocharged motors sound either muffled or nondescript, the Audi's 5-pot motor evokes the wail of fabled Group B World Rally Championship Quattros with a characteristic and rewarding warm, textured soundtrack that thoroughly delights the ears. You can hear a soupçon of that delectable exhaust tone below:
Whether you're punishing the 7-speed S-tronic dual-clutch transmission with a scorching off-the-line acceleration run or slickly whipping through the ratios with the gearshift paddles when negotiating a challenging ribbon of asphalt, the RS3 responds with neck-straining, seemingly unburstable in-gear shove at the behest of your right foot. Yet the transmission never feels in danger of baulking and the brakes stop firmly and positively… such refined punching ability is virtually unheard of at this price point.
Ride/handling balance
All that aforementioned performance potential would have mattered far less if the RS3 sedan was the equivalent of an automotive bludgeon, or at least a performance car that would never quite feel settled or on song unless road conditions were near perfect. By virtue of widened tracks front and rear, a fettled suspension setup that feels taut, yet offers enough give to handle mid-corner bumps and ruts and/or sudden changes of direction with aplomb, plus an updated all-wheel-drivetrain that can dynamically direct drive to the ends of the Audi where it can be put to best use, the RS3 can be driven enthusiastically, with confidence, by drivers of average skill, on variable road surfaces.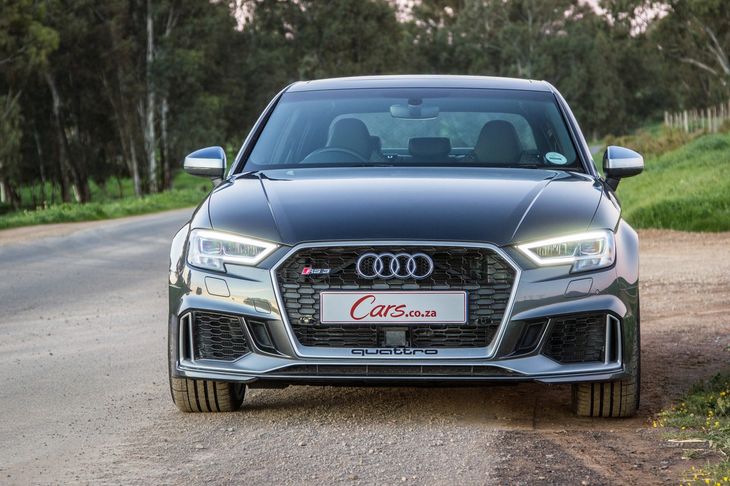 Without putting too fine a point on it, some of our most enticing back roads are in a poor state; not that it bothers the RS3 that much...
As probably the fastest product to be built on the Volkswagen Group's MQB platform, the innate forgiving nature of the RS3's on-road demeanour can be construed as a hint of bluntness by some enthusiastic drivers. Yes, the Audi is more resistant to understeer than its predecessor and it can direct up to 100% of its torque to the rear wheels if required, but the sedan won't oversteer/kick out its tail at the whim of its pilot. Instead, come rain (and perhaps sleet/snow) or shine, the RS3 will keep cornering with alacrity and is likely to astound its captain with the lofty exit speeds it can achieve, all with the ever-present willingness, of course, to save them should they run out of concentration or talent.
The Not-So-Good
Remote steering feel
Considering that the RS3 is packaged to offer a blend of engaging dynamics and autobahn-munching long-haul driver comfort, it should not surprise many that the Audi's steering wheel, though quick enough in action and accurate in its reactions to inputs, is not lively, nor particularly feelsome. By engaging Sport mode, the tiller weights up discernibly, but we feel that the assistance is a somewhat artificial modification to an electrically-assisted steering setup that favours everyday usability. In our opinion, it's a worthwhile compromise, but so-called driving purists may simply not accept it.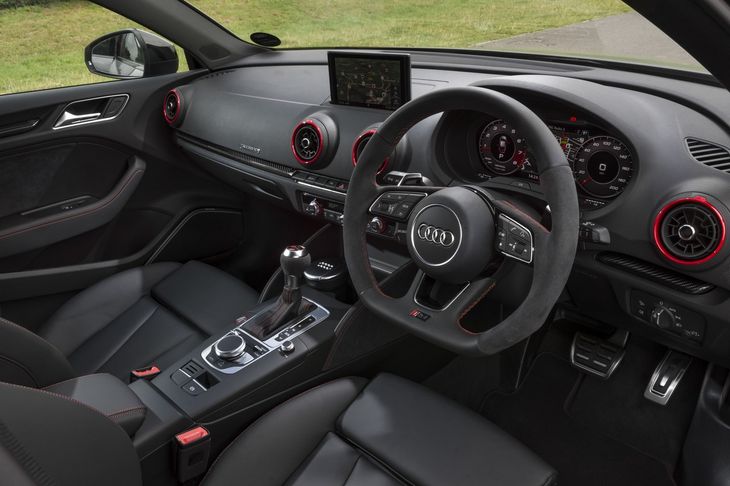 The minimalist Audi fascia design exudes solidity and good taste, but some of the nicer features are dear indeed.
Expensive options
When the price tag of a compact sedan nudges towards the 7-figure mark, values such as "metal for the money" go out of the proverbial window. To the RS3's credit, however, it features subtle aesthetic updates to its exterior execution (including aerodynamic addenda, 19-inch alloys and xenon plus headlights) to set it apart from its lesser brethren. As for its interior, which is, quality-wise, arguably still the benchmark for its class, that's adorned with RS detailing, fine Nappa leather and aluminium trim, a 3-spoke flat bottom multi-function steering wheel, Audi Drive Select, climate control, Bluetooth with audio streaming, Parking System Plus, cruise control and LED lighting.
The test unit, as supplied to Cars.co.za, was priced at R1 010 400 (December 2017), courtesy of additionally specified equipment that included MMI navigation plus with MMI touch (R24 000), adaptive cruise control (R15 300), panoramic glass roof (R11 100), Bang & Olufsen sound system (R9 200), a matt aluminium styling package (R9 050), front sports seats (R9 000), Virtual Cockpit digital instrument cluster (R7 250), smartphone interface (R4 870) and red brake callipers (R4 180).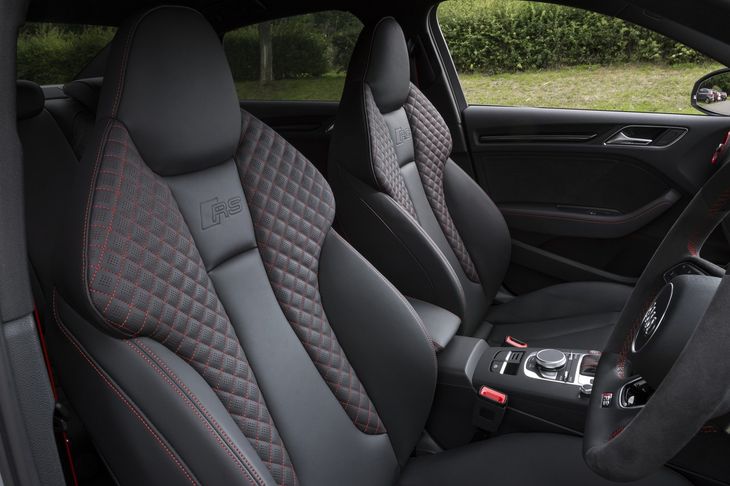 The contrast stitching of the optional sports front seats break the sombre dark interior somewhat; the driver's pew is very supportive.
Whereas one could argue that the panoramic roof, updated sound system and the trim packages are indulgences, the RS3 could certainly have a more comprehensive standard spec that befits the flagship derivative in its range. Testers especially bemoaned the RS3's bog-standard ignition key.
Price and after-sales backup
The Audi RS3 sedan retails for R925 500 (December 2017), which includes a 1-year/unlimited km warranty and a 5-year/100 000 km maintenance plan.
Verdict
The fact that the Audi RS3 sedan is 1 of 3 finalists in the performance car category of the 2017/18 Cars.co.za Consumer Awards – powered by WesBank, should speak for itself. To compete with the visceral BMW M2 and Mercedes-AMG CLA45 (with its benchmark 4-cylinder engine) is an unenviable task. Yet, the RS3's advantages over its chief rivals: another pair of doors and AWD, in the case of the BMW, and an extra cylinder and superior packaging, compared with the Benz, are significant. In the hands of mere mortals (average drivers), the RS3 is a match for its much-vaunted opposition, plus it holds the edge in terms of overall refinement, ultimate practicality and, unlike some of its fellow Audis, has a distinct personality.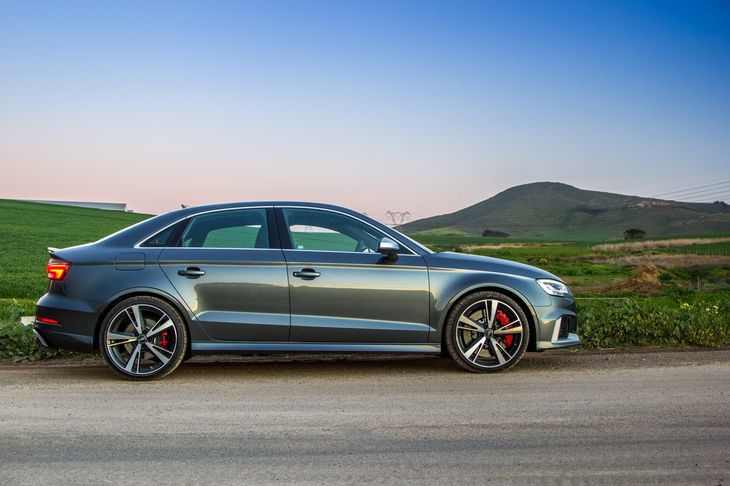 It this the most compelling, versatile and user-friendly potent performance machine that you can buy under R1 million? It just might be!
When we first tested the BMW M2, we proclaimed the diminutive Bavarian coupe to be one of the finest modern M cars because it made many of us wonder whether two-door sportscars with outputs far in excess of 300 kW (let alone 400 kW) had become overblown and obsolete. The Audi RS3, in turn, does exactly the same to the reputations of performance sedans based on business- or executive class models. The bellowing, all-wheel-driven B7-generation Audi RS4 (launched in the local market in 2006 and now regarded as a modern classic) encouraged enthusiasts to savour the elemental aspects of a performance car… The RS3 repeats that feat – and, compared with its spiritual predecessor, it's a much more multi-faceted product overall.
Watch a comparative review video featuring the BMW M2 and Audi RS3 Sedan below:
Related content
Audi RS3 Sportback & Sedan (2017) Specs & Price
Drag Race: Audi RS3 vs Mercedes A45 AMG [Video]
Track Race: Audi RS3 vs Merc-AMG A45 vs Honda Civic Type R vs BMW M2 [Video]
BMW M2 vs Mercedes-AMG A45 vs Audi RS3 vs Honda Civic Type-R: On-track analysis (Video)