The new Countryman range was recently expanded with the introduction of a turbodiesel derivative – marking the first time an "oil-burning" Mini has been made available in the local market. However, given how impressive the brand's turbopetrol powerplants are, is there space for something as seemingly "un-Mini" as a D version? We investigate.
We Like: Strong, yet frugal diesel powertrain; interior quality, practicality
We Don't Like: Pricey optional features
Alternatives
The fashionista's choice: The Mercedes-Benz GLA 200d auto is powered by a 2.1-litre turbocharged petrol engine with 100 kW and 300 Nm of torque. It's not as youthful as the Mini and perhaps not as playful to drive, but it's definitely an alternative worth considering. It is also quite pricey, coming in at R534 000.
The Swedish crossover: The Volvo V40 Cross Country D3 Momentum is a little smaller than the Countryman but offers a sleeker, more hatchback-like shape that seems less bulbous. The current generation V40 CC is getting quite long in the tooth, but it does have an admirable range of petrol and diesel engines and a comfortable interior.
The tiniest Q: The Audi Q2 2.0TDI Sport S Line Automatic has loads of styling appeal and a lower power output of 105 kW, although it has 20 Nm more torque (350 Nm). It's not cheap, but competes well in terms of visual appeal; it suits those looking to draw attention.
Compare the Mini Countryman D with its rivals here!
Facts & Figures
Price: R475 684 (November 2017)
Engine: 2.0-litre turbodiesel four-cylinder
Power/Torque: 110 kW / 330 Nm
Transmission: 6-speed automatic
Fuel consumption: 4.7 L/100 km (claimed)
0-100 kph: 8.8 secs
Top speed: 208 kph
Boot capacity: 450–1 390 litres

Although turbodiesel Minis have been a part of the European motoring landscape since BMW took custodianship of the brand, this is the first D derivative in South Africa.
What is it?
What is the world coming to? First Mini introduces a sensible compact family car called the Countryman and now it's chosen a turbodiesel engine to power it! Here we have a vehicle that could quite possibly be called the Anti-Mini. It's the Mini Countryman, tested in Cooper D automatic guise. The 2nd generation Countryman is a decisive leap forward for the Mini brand. The 1st generation Countryman was hindered by an overly firm ride and featured some questionable quality cabin plastics that critics felt weren't quite up to Mini's attainable-luxury brand image. Compared with the outgoing model, the new Countryman is bigger, longer, wider, better finished and, indeed, a relatively practical family car.
The addition of a turbodiesel engine mixes things up a bit. Whereas you'd assume that a fun and funky brand such as Mini would be hellbent on using nothing but zesty turbopetrol powerplants, a turbodiesel engine makes a fair amount of sense. The Countryman is marketed as a more mature proposition and the economy offered by a so-called oil burner could appeal to those seeking a more relaxed way of driving. But does it actually work?
This article focuses on the powertrain of this new Mini Countryman. For a comprehensive review and evaluation of the Countryman, click here.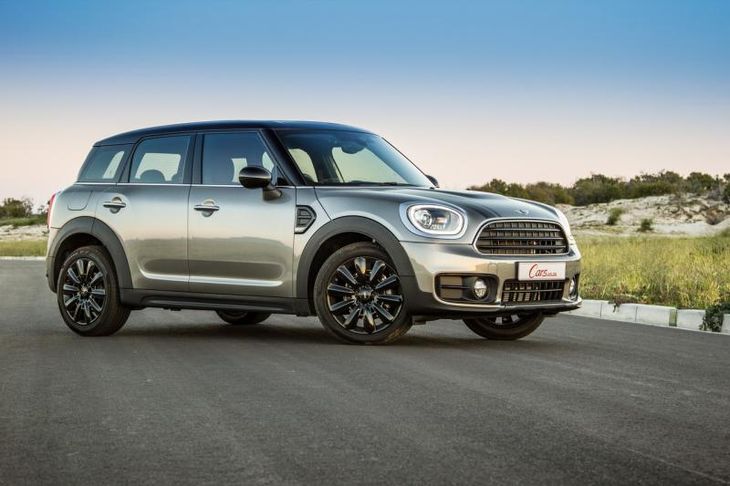 A turbodiesel engine makes more sense in the Countryman than you'd expect. Think of it as a cheaper, funkier and more stylish BMW X1.
The Good
The merits of the engine
The turbodiesel engine of choice is the N47 from BMW, which does duty in many products from the Bavarian manufacturer's Group. We've experienced this powerplant before in the BMW X1, but in that application, it has been tuned to deliver more oomph. On paper, outputs of 110 kW and 330 Nm are on par for the segment. It's not overly clattery like 'diesels of an older generation and the power delivery is reasonably smooth.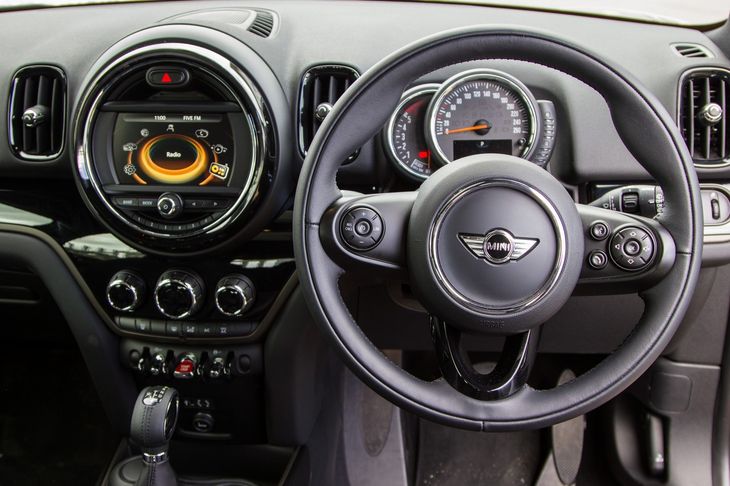 Quirky fascia architecture of the Countryman is still an acquired taste (especially the circular infotainment cluster), but build quality impresses.
Still-Engaging Ride and Drive
The Mini Countryman Cooper D undoubtedly retains its Mini-esque driving traits. The engine delivers all of its torque early in the rev range and liberal use of throttle will see the rev counter and speedometer needles climb almost in unison. It's only towards the top of the rev range that some rough engine noise translates to the cabin, but the newer-generation Mini cabins have super NVH suppression, which helps to drown out excess noise.
As we've sampled the Countryman's petrol-engined siblings before, we were quite relieved to find that the Cooper D drives in much the same manner, which is fantastic as some motorists regard turbodiesel cars as a trifle boring (if not controversial, but Dieselgate is another story).
Nevertheless, the Countryman drives well. The ride is a bit on the firm side and unlike its hatchback siblings, body roll is apparent, so you can't just pitch it into corners and plant your right foot on the loud pedal like the Minis of old. The steering is set up for more long-road comfort, so while the wheel is light to twirl, it needs more lock applied to turn in with urgency (compared with ordinary Minis, remember the Countryman has a wider track).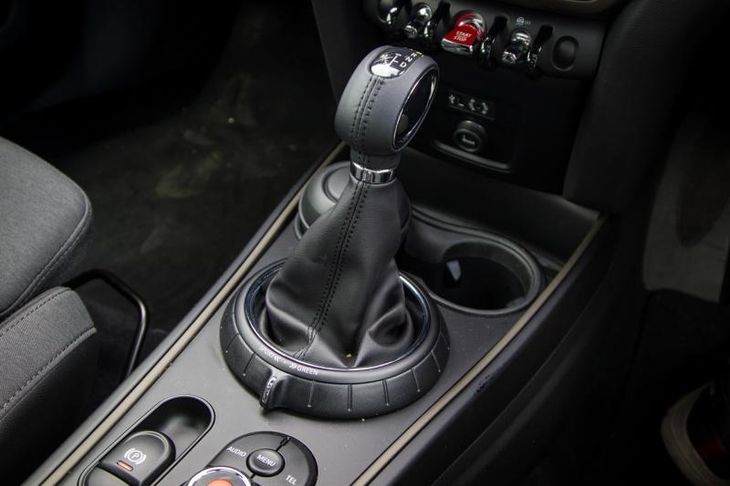 The six-speed automatic does a fine job of keeping the engine in the sweet spot as well as helping keep consumption down
The Not-so-good
Cost of options
Like all Minis, a vast array of optional features are on offer to customise your car to your preferences. For buyers, this is both an attractive and costly exercise. Fortunately, it's not as dire a situation as the Countryman flagship JCW whose price can rapidly inflate to crazy levels. With Countryman Cooper D however, the derivative's tantalisingly competitive price – it offers 50 N.m more torque than its Cooper S sibling, but costs about R44k less (November 2017) – means that, budget permitting, you could spec a few additional options while still coming in cheaper than its turbodiesel rivals and the aforementioned S derivative. May we suggest the Wired pack, which enhances the connectivity and navigation options at R28 000?
Price and warranty
This Mini Countryman Cooper D automatic is priced at R475 684 and is sold with a 2-year/unlimited km warranty and a 5-year/100 000 km maintenance plan with service intervals set at 20 000 km.
Buy a Mini Countryman on Cars.co.za
Verdict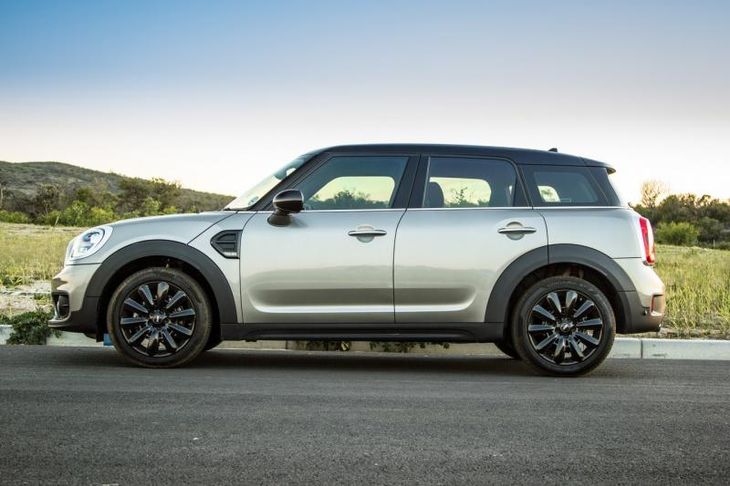 The diesel automatic combination of the Mini Countryman Cooper make for a refined and mature drive, but will anyone actually buy it?
What the Countryman Cooper D loses in driving fun compared with its petrol siblings (it has a more laidback throttle response, for what that's worth), it more than makes up for it in terms of value for money and fuel economy. A turbodiesel offering literally and figuratively sounds like the antithesis of what Mini stands for, but the reality is that greater choice and variety benefits the consumer.
We don't expect the Cooper D will be much of a threat to its petrol-powered siblings in terms of sales, but it makes sense for those who have a keen interest in consuming the lowest possible litres per 100 kilometres. The engine pulls well, offers plenty of in-gear overtaking shove and, while petrolheads may scoff at the idea of a turbodiesel family-friendly Mini, in reality, the D represents a sensible, value-for-money proposition.
Related Content
Mini JCW Countryman & Clubman (2017) Launch Review
Mini Countryman (2017) First Drive
Mini Countryman Cooper (2017) Review
New Mini Countryman Revealed [with Video]
Mini Countryman Plug-in Hybrid Announced

Mini Countryman JCW Revealed
Mini Countryman S sports-auto (2017) Quick Review
Mini Cooper S Clubman (2016) Review
Audi Q2 (2017) Test Drive & Review Video
Mercedes-Benz GLA 220d 4Matic (2017) Quick Review
Interested in buying a Mini Countryman?