We know the new Land Rover Defender is a very capable vehicle, but what's it like after you've hammered it over an 800-km route (of mostly gravel roads), in searing heat, for 3 days? Is the newcomer capable of taking a beating day in and day out like its predecessor... or is it now just a fancy SUV that can do a bit of weekend rock-climbing?
There are many large SUVs to choose from nowadays. If you want to spend a million bucks, all the German premium manufacturers will happily take your money, a few Japanese nameplates offer interesting alternatives and then there's Solihull-based Land Rover, whose entire portfolio sits around and above that mark. Many of the (what we classify as) Premium SUVs are pretty good, except the Mercedes-Benz GLE, which is a bit meh until you stick a 63 badge on it, but they all follow the same formula. They prioritise on-road handling and cornering poise, but offer a modicum of off-road ability if you need to access something down a panhandle, or traverse a gravel road to have a picnic under the trees on a wine farm.
That's how they're used most of the time; their drivers will hardly ever trouble the clever traction-control software of their vehicles' off-road modes.
Now, this may sound like a bit of a rant about Premium SUVs being useless purchases and that every manufacturer should do an about-turn and bring back the station wagon. Look, if this was Europe, I'd say, "absolutely, make the motoring world pretty again with svelte estate cars." But this isn't Europe, it's Africa: we like to travel to hard-to-access locations just for fun; we are happy to endure hours upon hours of gravel-road driving to reach areas where mobile phones are of little or no use. We are adventurous people, and for that, you need ground clearance and 4x4 capability.
Where to and why?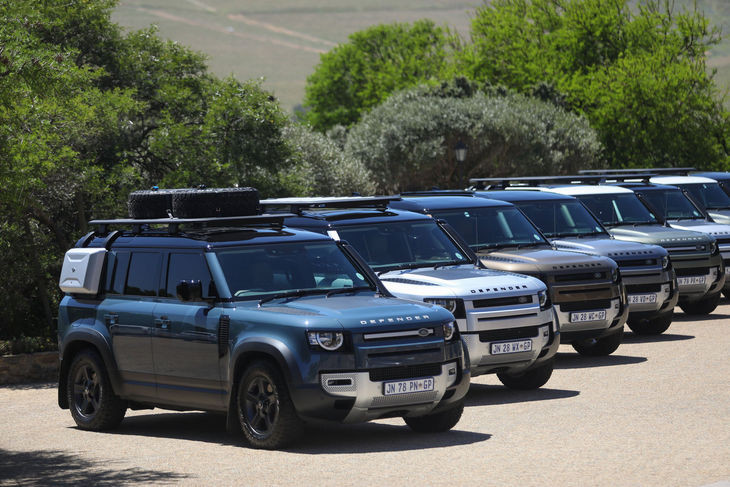 The starting point in Cape Town with stock Defenders, suspension in low mode.
2020 hasn't been great – for anyone, but particularly those with an adventurous spirit; prospective buyers who are most likely to consider a Land Rover Defender as a vehicle they might like to own. With restrictions easing slightly, it was time for a bit of adventure and Land Rover thought it a good idea to meet up with its very own adventurer and humanitarian Kingsley Holgate and his companions (mostly made up of younger Holgates).
While Kingsley has travelled to almost every country in the world in a Land Rover, his latest expedition restricts him to the confines of South Africa. Kingsley appears to have seen that as a bit of a challenge and is driving around the perimeter of the Republic to track its very border from Kosi Bay on the KZN/Mozambique boundary line anti-clockwise with the aim of being back at the start within 72 days.
It's a round journey of about a 5 200 km, during which he plans to venture no more than 50 km from the border fence line. Along the way, he and his team are visiting schools nearby to drop off food supplies, perform eye tests and hand out prescription glasses to those who need them. Our team of Defenders would intercept Kingsley on his way to the fishing-turned-potato-factory town of Lamberts Bay on the West Coast. We did this in the least direct way possible, finding as many dirt roads, mountain passes and breathtaking vistas as we could along the way...
Defender companions

Adventure packs are specced with this outside load box, perfect for muddy shoes/clothes or smelly things.
Our Defenders for the trip were not kitted out with any particularly fancy accessories, they were all as you can order them from Landy showrooms. Even the mud tyres, which are part of a partnership with Goodyear, can be optioned when you spec your Defender (more on these a little later).
We would start in the D240 turbodiesel derivative and then finish our trip in the high-end V6 mild-hybrid turbopetrol P400. Having only sampled the D240 a few months earlier, I was keen to see how the petrol version would stack up against my favourite form of SUV propulsion. A few of the Defenders were specced with the Adventure pack, which adds a small load box on the rear side window as well as a portable hose pipe, integrated air compressor and some mud flaps. There are other option packs available, but this one makes the most sense for outdoor enthusiasts – the ability to adjust tyre pressures on site is useful, as is being able to spray down anything muddy/filthy before packing it in the back of the (luxury) vehicle.
The route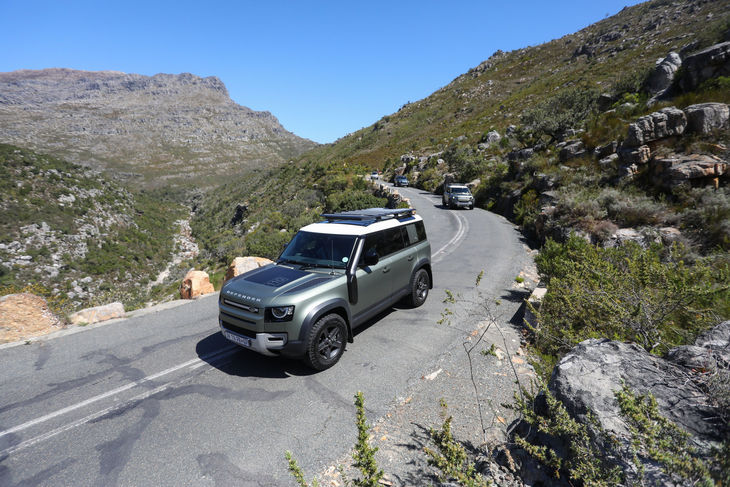 Bainskloof pass, a precarious stretch of tarmac in the smallest car never mind a 2-tonne and 2-meter wide Defender.
The conventional route from Cape Town to Lamberts Bay is a virtually straight road that hugs the western coastline of the Republic for about 230 km and, therefore, not conducive to having an adventurous journey. That's why we headed away from our eventual destination and straight for the mountains Paarl and Wellington, specifically Bainskloof Pass. If you've never driven on this pass, then imagine a narrow, bumpy ribbon of tarmac scythed into the side of a mountain with rocky overhangs and, should you take a wrong turn, huge drops with nothing (but fynbos) to cushion your fall. There is no Armco, just a few strategically placed bricks that a Land Rover would have no problem cresting before plummeting to its doom.
It's the type of road you would love to drive on in a small sportscar, like a Cayman GT4 or Megane RS, not a 2-tonne and 2-metre-wide SUV.
Taking it slow, we wound our way up and over the pass. That was where the Defender felt most out of its comfort zone during the whole trip. While it feels eminently stable on the road, it doesn't like to be swung into a bend with any vigour/excitement; besides, its steering is on the lighter side and doesn't offer much in the way of feel. The Land Rover is much better balanced once you get it on dirt... and that's where we were headed next.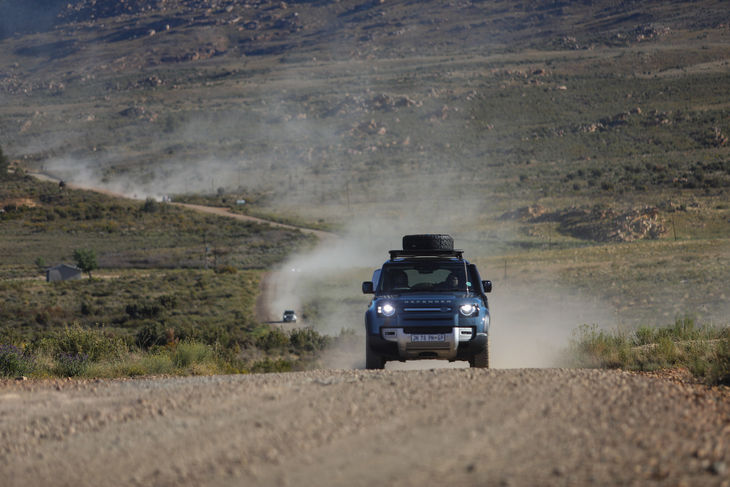 Somewhere between Die Dorp Op Die Berg milkshakes and Kromrivier brewery in the Cederberg.
After a quick stop in Die Dorp Op Die Berg for one of their world-famous milkshakes, we swung away from all signs of civilisation in search of rough gravel and soft sand. The Defender and its air suspension setup absolutely thrive on washboard gravel. This is where the biggest difference between an off-road vehicle with a purpose-built body and one with a ladder-frame chassis comes to the fore.
Bakkie-based Adventure SUVs like the Toyota Fortuner, Ford Everest, Isuzu MU-X and Mitsubishi Pajero Sport all track to the side, bump, jolt and chatter heavily on washboard gravel – it's symptomatic of a ladder frame/leaf spring setup. It's good for strength and towing heavy trailers and inexpensive to build, but it does come at the cost of ride quality. The Defender, by comparison, cruises across the stuff; it feels planted and secure. The passengers benefit most from the forgiving ride quality and let's face it: being bounced and shaken about is only fun if you're on an amusement park ride. You do pay for that pleasure though. At a minimum, the difference between a top-spec Everest and a base Defender is around R200k.
It's the air suspension setups of Land Rovers that sets them apart from the German SUVs, they are tuned for mixed surfaces rather than optimal cornering performance and that makes them much better to drive on gravel, or rocks, or any bumpy surface really. The mud tyres specced on our test units might make the Defender look like a pukka off-roader, but they have particularly staunch sidewalls and, given the ability of the vehicle already, the standard all-terrain tyre is better suited to long stretches of dirt road. The mud tyres might be nice to have for special occasions...
Heating up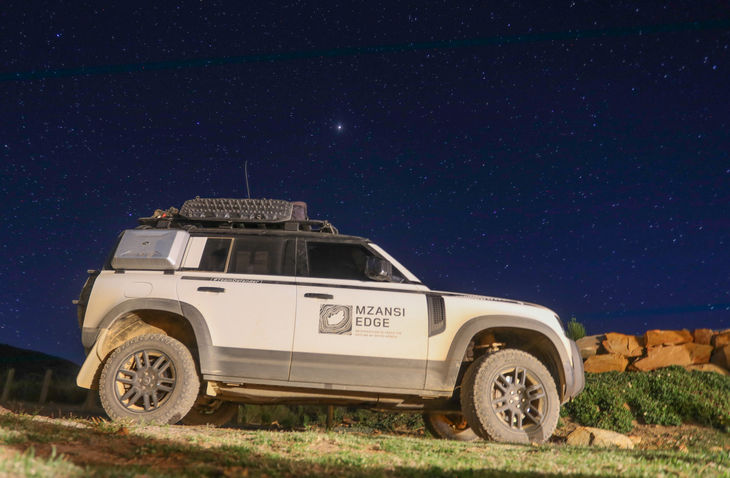 Meeting up with Kingsley Holgate on his expedition to trace the outline of South Africa in a new Defender.
As we headed towards our overnight destination at Kromrivier in the Cederberg, the ol' mercury hit 40-degrees, and for the next 3 hours, nobody was keen to step outside other than to grab a quick picture and then get back into the climate-controlled Landys. It's eerily quiet out in those parts... you can go for long periods without seeing another car, even in October when trucks, tractors and combine harvesters are out in force. The mountains don't offer any shade either, it's all shrubby fynbos, which is perfect for uninterrupted views of the red sand and whacky rock formations.
Kromrivier is a bit of an oasis in the middle of nowhere, they have great accommodation and a local brewery, as well as being set up for all the hiking, biking and river activities that take place in that part of the world.
The next morning, the dial on the heat was still cranked up as we took the spectacular back road into Algeria (the Cederberg campsite, not the country). The day was spent putting miles on the Defenders, delivering food packs to schools and visiting towns only accessible via dirt roads like Aurora, which appears to be a hideout for wealthy retirees who don't want to be bothered ever again.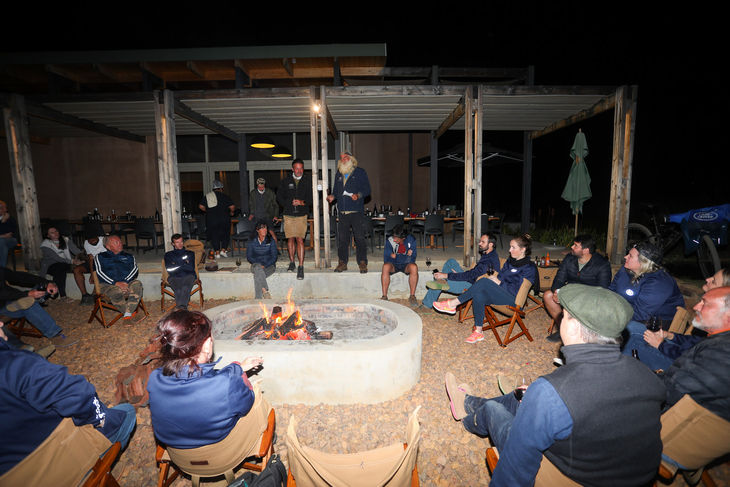 The Holgates recalling some of their adventures along the way on their current expedition.
We wound up in Paternoster, where the sea breeze had mercifully managed to beat the mercury down to a level that one would expect in late October. We parted ways with the Holgate clan as they continued south along the border in their troop of old Defenders and a brand new Defender, which was the lead vehicle for the expedition.
You might think that the Holgates' new Defender would be specifically set up for expeditions off the beaten path, but no, it's standard stuff you can buy from a Land Rover dealer. The only piece of off-road equipment I could see was the winch on the front of the vehicle. When I quizzed Ross Holgate about the performance of his new Defender he said it hasn't put a foot wrong yet. In fact, it made it over obstacles that it had to tow the old Defenders out of and proved to be the most capable expedition vehicle yet. You would kind of expect that from a newly developed car, but if you see how hard it works (replete with myriad gear on board) and often forging a path of its own, it's certainly not given special new-car treatment.
Homeward bound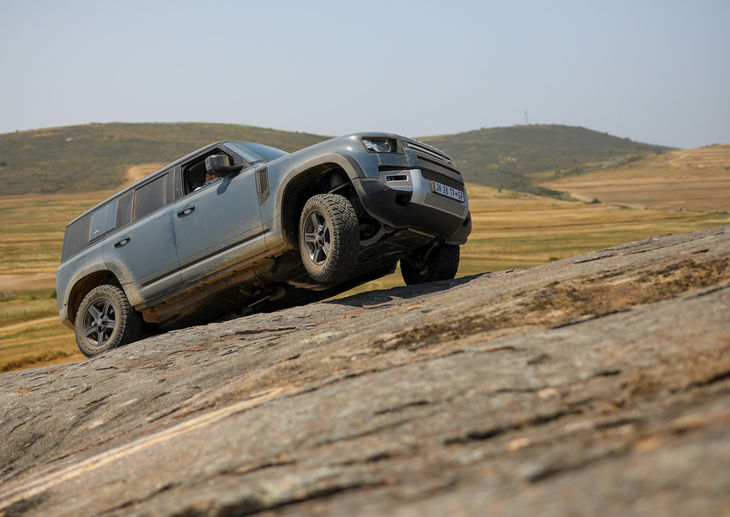 A random boulder somewhere south of Darling turned into a 4x4 playground for the Defenders.
The final stretch from the seaside-village-turned-culinary-destination of Paterenster back to Cape Town took the least direct route possible. First Velddrif then the dirt roads through Hopefield and Darling where we stumbled across a massive rock feature, which we used as a 4x4 adventure course. Finally, we got to scroll through the drive modes beyond sand/gravel and select rocks, low range and play around with all the settings that make difficult obstacles nothing more than easy. Nothing really challenged the Defender, but it's nice to know that the low-traction hill-start and cruise-controlled hill descent functions work perfectly well.
As we trekked our way back into the city, the 3 days of driving and taken zero physical toll on our group. The new Defender is certainly a great companion for long days on the road, it's comfortable, capable and equipped for the adventurer. I found myself leaning towards the petrol derivative with its mild hybrid low-down torque delivery. It drinks a fair bit more fuel than the diesel (around 5.0 L/100 km more, if our 3 days is anything to go on), but its power delivery is smoother and it has quite a nice V6 howl to back it up.
The 2.0-litre turbodiesel may be a little bit highly strung for use in the Defender, it surges a bit too vigorously when the torque comes in making it trickier to drive smoothly. There is a straight-6 turbodiesel on its way in 2021, so that could be the sweet spot in the range, if you're willing to wait.
I have to say that in the city, the Defender looks muscular and different. It stands out from every other car with its distinctive appearance. The rear has taillights that are a modern take on the original that adds a cool factor to an already cool car. It might not be the same nuts-and-bolts pure off-roader tailor-made for the wild and untamed anymore, but it's more capable now and fits in with the modern lifestyle so much easier than before. It's a lot like glamping – you're getting all the benefits of being out in the wilderness, but with modern amenities and your own ablution facilities.
Related content
All-new Land Rover Defender Video Review
Land Rover Working On V8-engined Defender