This is the updated 2021 Toyota Fortuner, which has undergone a mild update. Here are the changes.
The Toyota Fortuner is one of the most popular vehicles sold in South Africa and has just been refreshed for the 2021 model year. It already boasted pretty good looks so Toyota has given it only the lightest of visual updates. New slim headlights with LED daytime running lights dominate the front, while new-look tail lamps are at the rear. There's a new horizontal grille as well as a redesigned front bumper.
Also read: check out the facelifted Hilux which was released in tandem with this Fortuner.
Under the bonnet is an updated version of the 2.8-litre turbocharged diesel motor. It has increased outputs, which now stand at 150 kW and 500 Nm, 20 kW and 50 Nm more than the outgoing model. Toyota says that despite the increase in power, it has managed to improve the fuel economy by more than 17%. With this additional power, the tow-rating has increased to 3 100 kg. Toyota SA said that the tow rating calculation may not be carried over to SA models as it has always done its own tow-rating calculations and will only do so when the vehicles are available locally for homologation purposes.
The 2.4-litre turbodiesel unit will carry over unchanged from the current model.
Inside the 2021 Toyota Fortuner, the cabin has been given a light update. There's a new larger 8-inch infotainment system which sees Apple CarPlay and Android Auto make its debut into this vehicle. There are also some new-look cleaner dials with a 4.2-inch multi-info display between the speedometer and rev counter (it apparently incorporates a digital speed readout).
As for availability, Toyota will be launching its updated Fortuner in Australia in August 2020, which means we think we'll see an SA arrival before the end of the year. We'll update you as soon as we hear.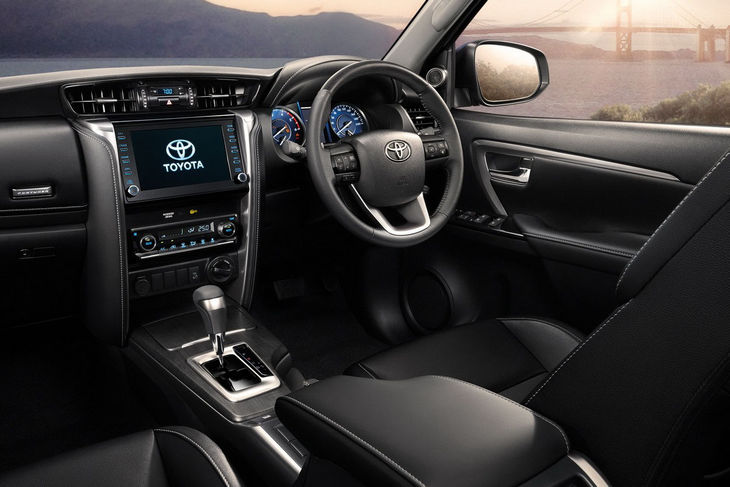 The cabin of the Fortuner sees the introduction of a larger and more capable infotainment system.
Further Reading
Toyota Fortuner Epic (2020) Spec and Price
Toyota Fortuner (2016) First Drive
Toyota Fortuner 2.4GD-6 (2016) Review