The MU-X 7-seater adventure SUV was recently updated for probably the last time before an all-new model, based on the new D-Max, is revealed. We put some long miles on the Isuzu's odo' to see how well it still stacks up in a market dominated by the Toyota Fortuner, which itself is due for a facelift.
We like: Quiet cabin, ride comfort on all surfaces, quick-thinking transmission.
We don't like: Engine on the slow side, interior finishes less than class-leading.
Fast Facts
Price: R712 200 (October 2020)
Model tested: MU-X 3.0 4x4 6AT
Engine: 3.0-litre turbodiesel
Transmission: 6-speed automatic
Fuel economy: 7.9 L/100 km (claimed)
​Power/Torque: 130 kW/380 Nm
Luggage capacity: 235/870/1 830 litres
Own an Isuzu? Tell us about your experience here.
SERIOUS ABOUT BUYING?
What is it?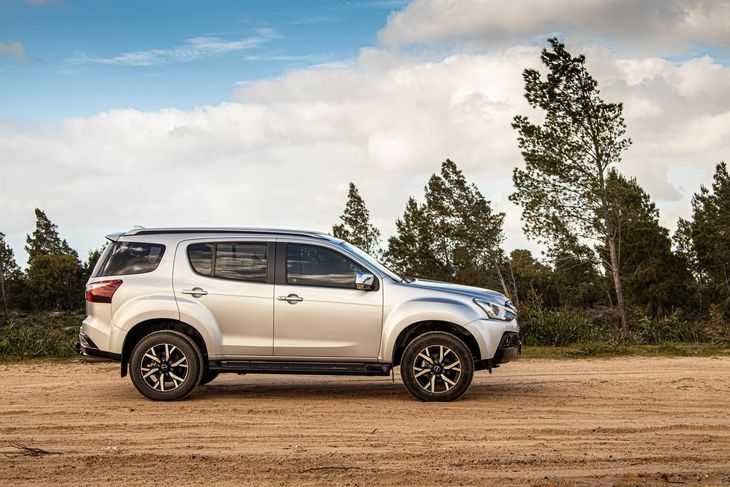 Bigger wheels and LED light treatment front and rear are the focus of the exterior update.
Many seem to have forgotten that Isuzu was returned to its Japanese parent company as recently as 2018 when General Motors exited the local market. Why? Probably because the brand has been quite successful since. The D-Max (formerly KB) remains a top-seller in its segment and often sneaks into the top 5 vehicles sold in the country (according to the monthly stats). While the D-Max bakkie has been a roaring success, its MU-X sibling hasn't gained significant traction in the market, which is strange, considering the MU-X is basically a D-Max with an SUV body on its chassis.
The lightly-revised model that's been introduced in 2020 incorporates a few improvements that are aimed at improving the adventure SUV's kerb presence, safety specification and interior packaging (including a few new interior design pieces and an updated infotainment system).
How it fares in terms of…
Performance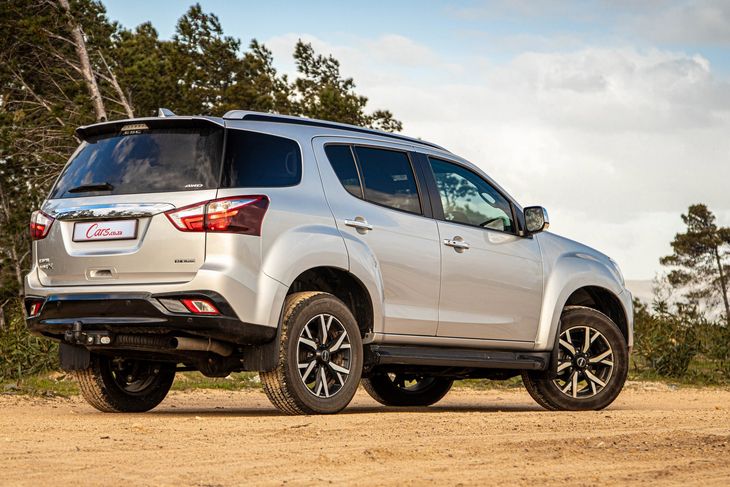 With recent updates to the Fortuner and Everest engines, the MU-X lags behind in performance.
There is no change to the power unit under the MU-X's bonnet, which means the tried and tested 3.0-litre turbodiesel soldiers on. Power and torque figures sit at 130 kW and 380 Nm, which are a little short of the major rivals (Toyota and Ford) that now produce around 150 kW and 500 Nm. While the MU-X doesn't feel ponderous, its powerplant does labour when it needs to muster overtaking acceleration at freeway speeds. It cruises at the national speed limit with ease, with the rev needle hovering nice and low around the 2 000 mark, which is good for fuel-efficiency. Our 1 000 km-plus tour of the Southern Cape yielded an 8.9-L/100 km return, which is decent for a vehicle of this size (and fitted with a bike rack on the towbar).
The Isuzu's quick-thinking 6-speed automatic transmission seems much more advanced than the engine it's paired with. It's quick to shift down when you need to accelerate and its upshifts are very smooth. We found it to be consistently in the right gear more often than many modern autos, which tend to prioritise quick-shifting to higher gears (or needlessly hanging on to them) for the sake of efficiency, often at the cost of drivability.
Comfort and ride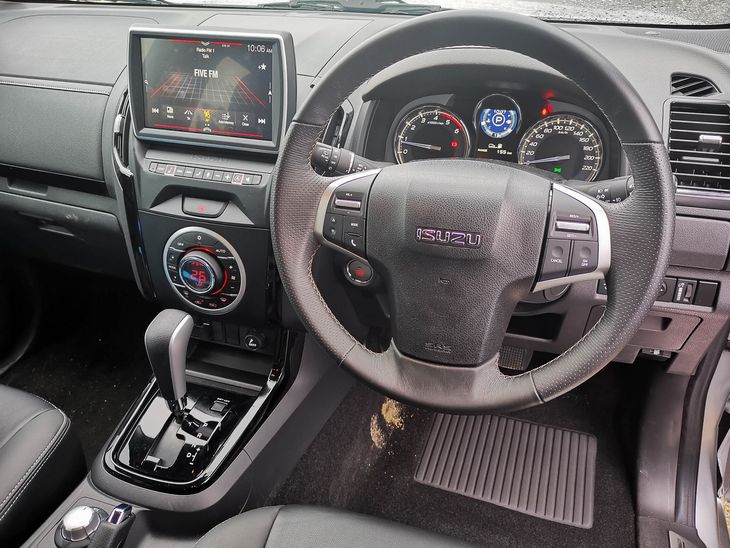 NVH and ride comfort are the strongest assets of the MU-X.
Despite being underpinned by what's arguably the most workhorse-like chassis in the segment, the MU-X rides comfortably. It's soft at the rear and deals with bumps and thuds in a lazy – but cushioned – way. There's a fair amount of body roll under cornering, but that's to be expected from a vehicle with a ladder-frame chassis – especially one that offers a lot of suspension travel in order to cope with traversing difficult off-road terrain when required. The steering is well-weighted in both road and off-road conditions; it instils confidence in "what's happening beneath you".
At speed, the cabin is quiet and peaceful, the grumpy diesel under the Isuzu's bonnet can't be heard (okay, perhaps just a light murmur) and the level of wind noise intrusion is low. In fact, we'd go so far to say that the well-suppressed NVH of the MU-X is one of its strongest assets.
Late in 2019, Isuzu added a locking differential to the MU-X in order to meet South African consumers' demand for the most capable off-road vehicle possible. The locking diff is available as an option on the MU-X, but most buyers will likely specify it just for peace of mind. The MU-X's off-road abilities have been put to the test many times (including by us) and it has proved as capable as its rivals when the going gets really tricky.
Practicality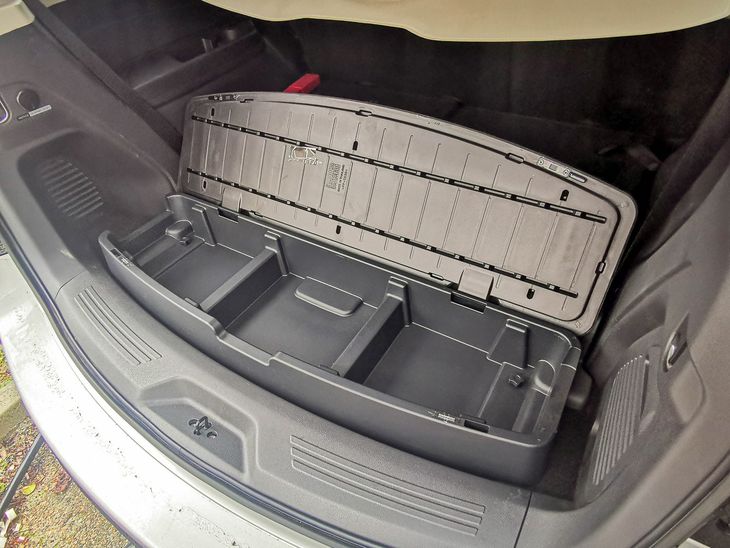 A concealed compartment within the load-bay floor is a nice-to-have optional extra.
Like its rivals, the MU-X is a 7-seater with 7 usable seats (adults can fit in the 3rd row). All of the rear seats can be folded flat to free up a vast load floor that can accommodate 1 830 litres of detritus. It's not quite as big as the class-leading Everest, but when it comes to outright practicality, the MU-X seems easier to live with than the Fortuner, which has rear seats that fold upwards and to the sides. The MU-X's load sill is quite high, but that's due to a hidden storage bin (optionally available) that's nice to have if you want to keep things from rolling around/remove items from sight.
The front door pockets are large (ideal to hold 1-litre water bottles) and although the centre console is a little on the small side compared with those of the Isuzu's rivals, it's big enough to hold house keys, a phone and a wallet. The storage space in front of the transmission lever is just about big enough to accommodate a new smartphone, but as phones continue to rival cement blocks in size, manufacturers are going to have to make those spaces bigger. Two glove boxes are specified for further space requirements and all 3 rows get cupholders, which, well should reduce spillages.
Interior specification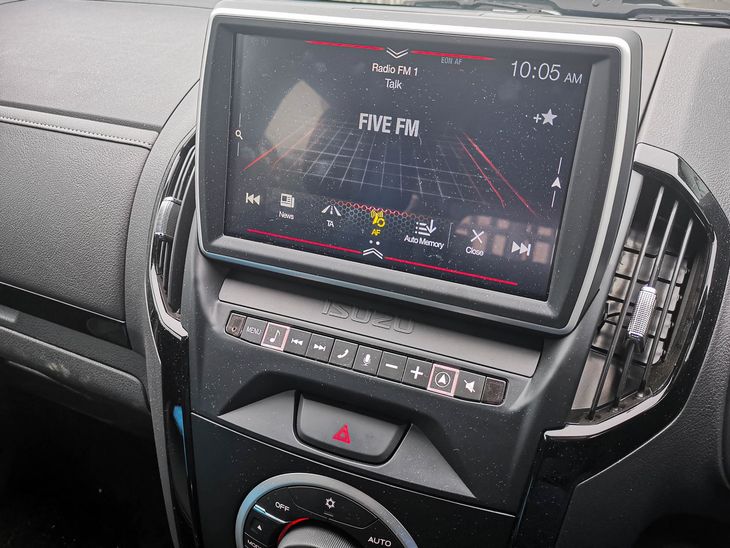 The infotainment system is Apple Carplay and Android Auto compatible but not as slick as the Everest's software.
Aside from the new exterior LED lights and 18-inch wheels, most of the MU-X's updates are inside. The door switches are now surrounded by a glossy Piano Black finish and the steering wheel buttons have a fresh silver-metallic finish. Interior door lighting has also been fitted to add a bit of ambience when the cabin goes dark.
Even though the seats, steering wheel and transmission lever are trimmed in leather, the MU-X's dash and centre console arrangement let it down. It has a hard-plastic feel and our test unit had developed a bit of a rattle somewhere behind the infotainment system, which was quite annoying.
The infotainment system is large and simple to understand. It's also Apple Carplay and Android Auto compatible via a front USB port, while another port is availed at the rear. The infotainment screen doubles as the display for the reverse-view camera, which has become an essential item in modern cars. While the infotainment system has all the functionality you'd want, it doesn't feel as slick or as modern as Ford's Sync3 system.
With the facelifted MU-X, Isuzu has added a brake override system to the model's safety suite. The system cuts the accelerator input if the brakes are applied at the same time, which both reduces the stopping distance and is likely to save panicked drivers who get their feet mixed up in emergencies (this is a real thing – even with advanced drivers).
After-sales service
In the 2019/20 Cars.co.za Consumer Awards, powered by WesBank, Isuzu finished runner up in the Brand of the Year category, which should provide peace of mind to prospective buyers. The MU-X is sold with a 5-year/120 000 km warranty and a 5-year/90 000 km service plan.
Verdict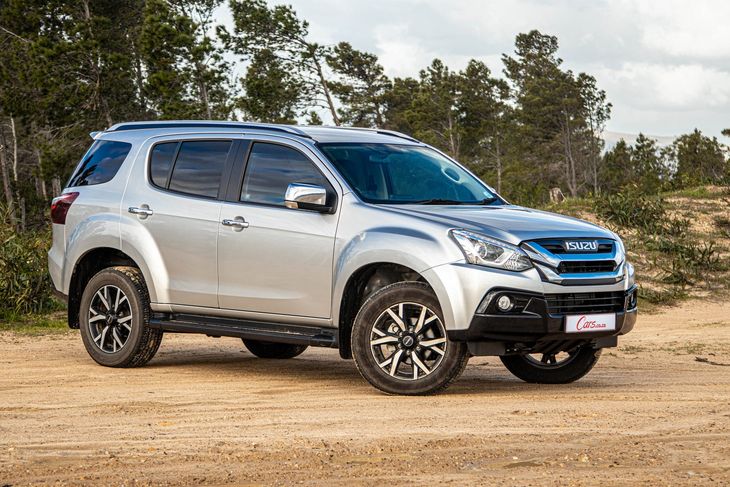 Prospective buyers may be holding out for the next-generation MU-X.
The facelifted MU-X is a small step in the right direction for Isuzu in its strategy to gain a bigger foothold in the bakkie-based SUV segment, which remains dominated by Toyota. The exterior enhancements, such as the bigger wheels and LED lights, give it a more noticeable appearance. The interior updates are subtle and to most potential buyers not a big enough step to really change their minds when comparing the Isuzu to its rivals. What's more, on-road comfort and refinement (especially noise suppression) are standout features; they make the MU-X so comfortable to drive.
There is, however, no getting past the ageing power unit that is underpowered compared to its competitors; the new engine that is being installed in the 2021 D-Max cannot come soon enough for the MU-X if it wants to consider itself as a true rival to the Fortuner and Everest. Even though the MU-X is around R30k cheaper than the rivals mentioned above, most buyers will see that saving as negligible over the course of a repayment plan.