Renault Sport – the celebrated producer of the world's fastest-cornering hot hatches – is back with its most potent variant: the limited-release Megane RS 300 Trophy. It's made for hardcore enthusiasts who want track-day thrills at the expense of everyday usefulness, but with just 7 units available in South Africa... not many aficionados will get the chance to unleash this machine on a track (or anywhere else).
We like: Rapid performance and track focus.
We don't like: The price, requires a lot of effort to drive.
Fast Facts
Price: R774 900 (August 2020)
Engine: 1.8-litre 4-cylinder turbopetrol
Gearbox: 6-speed manual
0 to 100 kph: 5.7 sec
Fuel economy: 8.2 L/100 km (claimed)
​Power/Torque: 221 kW/400 Nm
Own a Renault? Tell us about your experience here.
SERIOUS ABOUT BUYING?
What is it?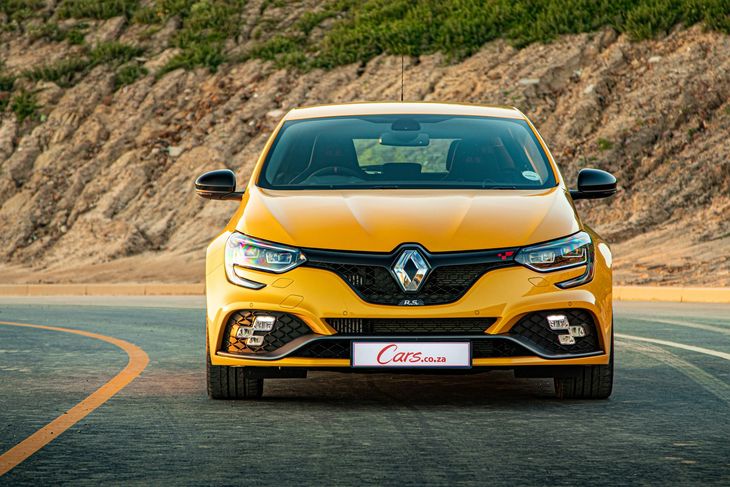 Renault's Trophy and Trophy R models are renowned for setting fastest hatchback laps at various circuits.
When la Régie goes about making a Trophy version of its Megane RS, you know you are in for a track-honed lap-time-chaser of a hot hatch. It's not going to comfortable on the daily commute and won't be to everyone's taste, but you can't deny that when it comes to making a hot hatch go around corners, nobody does it better than Renault Sport.
The Trophy edition will be limited to just 7 units in South Africa and Renault South Africa has hiked up the newcomer's asking price accordingly (to nearly R800k, which is pretty steep for a hot hatch). In return for the hefty knock to your wallet, however, the Trophy offers a heightened peak power output (221 kW versus the 205 kW of the Cup version), which is just a touch lower than the Civic Type R. There is also an extra 10 Nm of torque for the manual (400 Nm) and 30 Nm for the EDC dual-clutch version (420 Nm).
To make sure it's faster on track, the Trophy is fitted with 355-mm Brembo brakes up front and lightweight 19-inch wheels that reduce each corner's weight by 2 kg. Then there's a much louder exhaust system fitted as standard, a mechanical limited-slip diff and a stiffer suspension replete with bump-stop shock absorbers.
How it fares in terms of…
Performance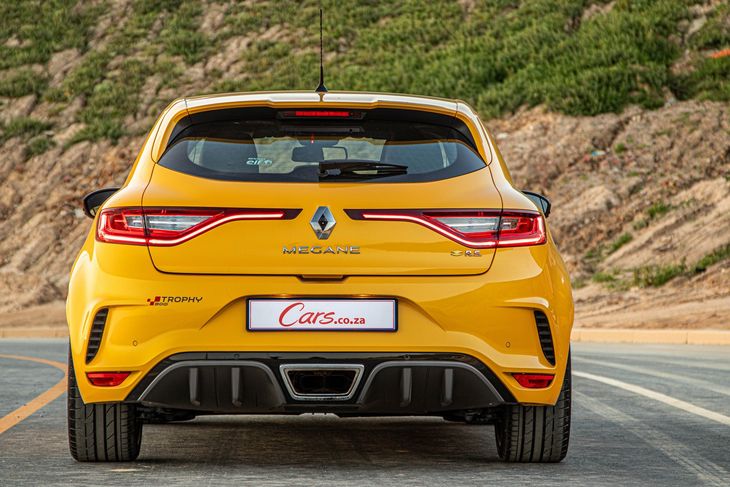 The Renault's exhaust system produces a series of pops and bangs on overrun, courtesy of the team at Akrapovic.
It's best to prepare yourself before attempting to explore the full performance of the Megane RS 300 Trophy... because the French hot hatch is a handful on anything but the most perfectly flat tarmac. Getting ready to drive the Trophy is a bit like steeling yourself for a fight – it's going to be brutal and you better be ready to take evasive action.
Once you've psyched-up yourself sufficiently to get to grips with the Renault you can toggle between the newcomer's trio of drive modes: Normal, Sport and Race, the latter two of which activate the louder exhaust (replete with pops and burbles on overrun) and sharpen up throttle response. When you pin the throttle, the 1.8-litre 4-cylinder turbopetrol motor races into action; it's ultra-responsive in the sportier modes and, for a forced-induction engine, it really doesn't mind being revved hard. The manual 'box feels similar to those of previous-generation RS models, but it's a little meatier at the engagement point, which makes it seem more durable/up to the task of being slap-shifted its entire life.
With a claimed 0-to-100 kph time of a mere 5.7 seconds, the RS 300 Trophy is evidently one of the fastest front-wheel-drive hot hatches ever produced. It's what you have to do during those 5.7 seconds that makes the Renault feel so much faster than it actually is. It torque steers under hard acceleration (it pulls from one side to the other, depending on the direction of the 'wheel) and the responses to steering inputs are so instantaneous that it's no simple task to keep the hottest Megane tracking "straight and true".
Overtaking manoeuvres can be hair-raising to execute if you're prone to jerking the RS 300 Trophy's 'wheel or stabbing at its throttle pedal in a fit of fury (or excitement). In fact, fellow road users could be forgiven for thinking you've entered some sort of slalom gymkhana event as you whip the steering wheel back and forth with one hand (while the other shifts gear) in a valiant attempt to keep the rapid Renault in line. This may be the first car that's more difficult to hold in a straight line than corner at breakneck speeds.
Handling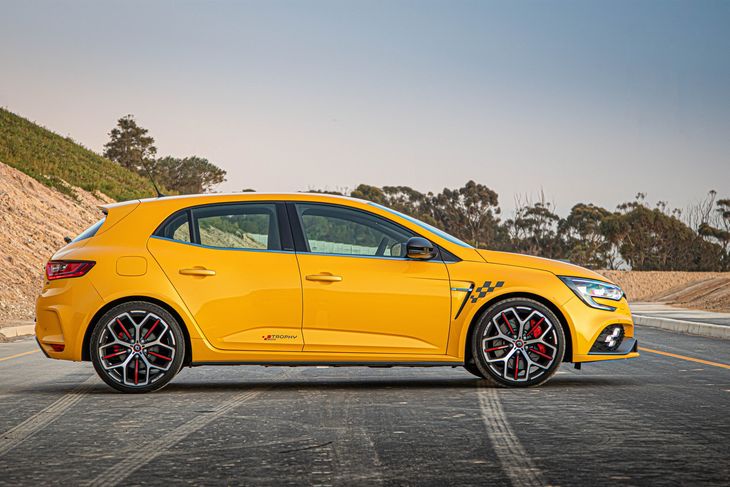 The special, lightweight wheels shed 2kg from each corner.
Like the RS 280 Cup, the Trophy is equipped with 4-wheel steering. At under 100 kph, the rear wheels turn in the opposite direction to the fronts to help you take tighter lines into corners and, above 100 kph, the rears turn in the same direction as the fronts to improve high-speed stability. It's a system that is widely used in a slew of performance cars (BMW and Audi are among the most notable proponents), but in the Trophy, it gives the car a bit of a split personality... and handling characteristics that require familiarisation.
In fast corners, the car handles more neutrally than the previous-generation Trophy; it seems notably less inclined to kick out the rear-end under hard braking or when the driver comes off the throttle before turn-in. It's something we weren't immediately prepared for... Renault's hot hatches have always had a tendency to exhibit lift-off oversteer (to provide a bit of thrill, of course, but also get the car rotated at corner entries). Out on a fast mountain pass, the added security allows you to push harder with confidence – safe in the knowledge that the rear won't break away if you have to suddenly back off the throttle. In this regard, it feels quite similar to the Hyundai i30 N we drove earlier this year.
By contrast, the aforementioned "Renault lift-off oversteer" comes back with a vengeance at lower speeds and, when that happens, it feels over-the-top and artificial. We found that the 4-wheel steering pushes the RS 300 Trophy's rear-end into corners, which obligates the driver to "correct" the deliberate pivot motion to ensure that the car doesn't apex too early. After a while, you get the hang of starting your turns a lot later to compensate for the "assistance". Plus, by virtue of the lightning-fast steering, the Megane whips across the tarmac faster than any hot hatch we've driven. That fast front-end is so typical of RS models; it makes all other hot hatches feel sluggish and bulky by comparison.
The steering has lost some of that "connected to your central nervous system" feel that the RS 275 Trophy had, but the weighting is meaty and still provides good feedback.
Everyday use?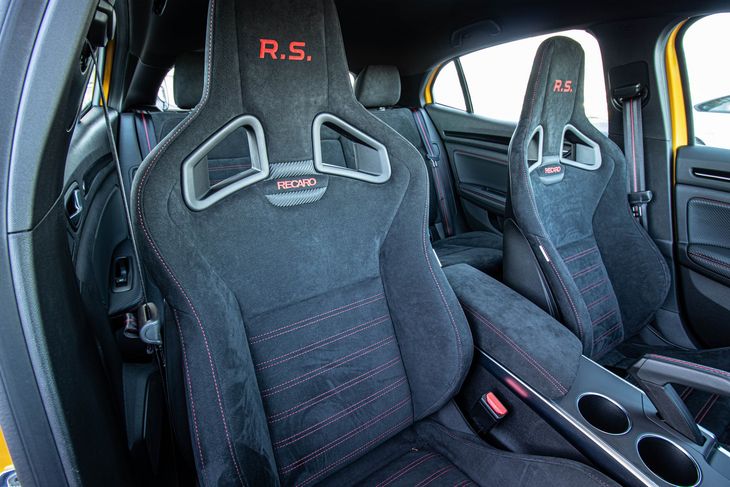 Alcantara seats are set 20 mm lower in the cabin to improve the centre of gravity.
The Trophy is based on the Megane RS 280 Cup's chassis, which means the dampers, springs and anti-roll bar are all stiffened. The ride quality is undoubtedly firm, but – contrary to our expectations – the newcomer proved more comfortable/forgiving to drive than its predecessor. Look, it's not a car you would want to be a passenger in (unless you are an unabashed RS fan) and certainly not something in which you'd want to undertake long journeys – unless you're driving it to a track. The Trophy is still very much a toy to be used for special occasions such as breakfast runs or track days; the standard RS is a much easier to live with and Renault RS' closest competitor to the Golf GTI yet.
Sporty interior execution
The RS 300 Trophy commands a R150 000 premium over the RS 280 Cup/Lux, but you aren't going to find much that differentiates the former's cockpit from those of its lesser siblings... The Alcantara-trimmed seats are the obvious addition and they are set 20-mm lower to improve the overall centre of gravity. The low seating position is perfect for those who are looking to eek out every last bit of performance (or get a track-car feel), but shorter drivers may need to sit slightly higher just to see over the instrument cluster.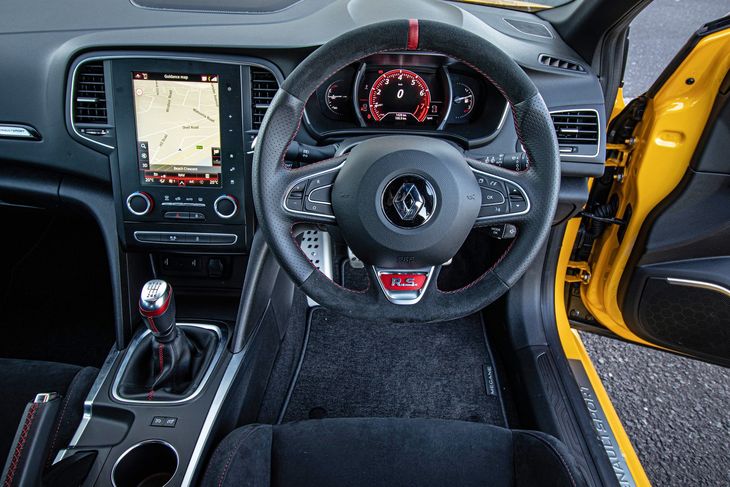 The RS 300 Trophy's interior is almost identical to the Cup version. Infotainment could do with a crisper screen and touch surface.
The metallic-finished pedals are drilled in order to look suitably sporty and we found them to be well-spaced and -positioned, although, under hard braking, the throttle pedal is set slightly too high to facilitate easy heel-and-toe inputs (in contrast with the aforementioned i30 N, the Renault's powertrain does not offer a rev-matching function).
Renault's infotainment system includes all the modern apps and supports Android Auto and Apple Carplay, but it's not the best-looking in terms of graphics or screen quality. When you touch the screen, it feels like it has a matt-plastic screen over it, which is in contrast with the pristine glass touchscreens we've become accustomed to in the Golf.
Pricing and after-sales
The Megane RS 300 Trophy is limited to just 7 units in South Africa and commands a hefty base price of R774 900 for the manual version and R799 900 for the dual-clutch automatic derivative. It comes with a 5-year/150 000 km warranty, as well as a 5-year/90 000 km service plan, included in the purchase price.
Verdict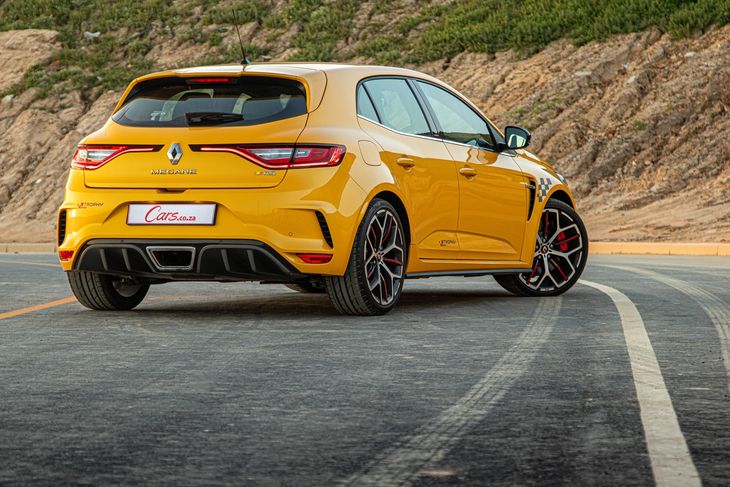 Get ready for a fight-or-flight experience every time you climb into the Trophy.
The Renault Megane RS 300 Trophy is a weapon, whether you're tackling a track, a mountain pass or just overtaking another car at anything more than half throttle. Unlike other hot hatches, it requires full commitment from its driver at all times. May we suggest some gentle MMA or kickboxing before flipping the drive modes into Sport or Race?
Indeed, the French firm's most focused hot hatch to date is a handful to keep in a straight line as you slap through the gears, but point it at a corner and you're bound to discover it's the fastest hot hatch to reel in an apex that you've ever driven. The Trophy's turn-in speed is nothing short of incredible and even if the 4-wheel steering takes some getting used to, the car's an absolute thrill to drive. It's not a hot hatch you'll want to live with every day as it's still too firm, but on the right road, it's the best hatchback of the lot.
Related content:
Renault Megane RS 300 Trophy (2020) Specs & Price
Mazda3 2.5 Turbo: More potent than a Golf GTI
Track Race: Audi RS3 vs Merc-AMG A45 vs Honda Civic Type R vs BMW M2 [Video]