Jaguar's eye-catching new premium compact family car brims with technology, but its arrival in the South African market coincides with the introduction of rival products such as the BMW X2 and Volvo XC40, all of which leaves buyers with some tough decisions to make. We recently tested the top-spec turbodiesel-powered D240 AWD R-Dynamic HSE derivative. How good is it and should you consider it?
We Like: Styling, good build quality, performance and handling, standard features
We Don't Like: Pricey, thirsty, harsh ride on poor surfaces
Alternatives (prices as of April 2018):
Swedish style: Consider the Volvo XC40 D4 AWD R-Design priced at R639 200.This XC40 is considerably cheaper than the E-Pace D240 R-Dynamic HSE, but it's not quite as powerful – the Volvo's 2.0-litre turbodiesel delivers peak outputs of 140 kW and 400 Nm. There are a number of options available, but you could spec them additionally and still undercut the baby Jag on price.
German class: Consider our Cars.co.za Consumer Awards - powered by Wesbank Executive SUV category champion, the Mercedes-Benz GLC250d 4Matic AMG Line priced from R782 590. The GLC is technically in another segment to the E-Pace, but its cheaper than its British rival in standard guise. The Benz's 2.1-litre turbodiesel engine offers outputs of 150 kW and 500 Nm. Its standard specification is not as comprehensive as its British rival, so you may have to spend extra to have nice-to-have features too.
Bavarian accessory: Consider the BMW X2 xDrive20d M Sport sports automatic priced from R702 792. The lower-riding X2 offers 140 kW and 400 Nm from its 2.0-litre turbodiesel engine and many desirable features are optional, so, again, you'll need to spend every extra penny to kit it out to the same level as the E-Pace.

Compare the Jaguar E-Pace D240 AWD R-Dynamic HSE with the Volvo XC40 D4 AWD R-Design and the Mercedes-Benz GLC250d 4Matic AMG Line
What is it?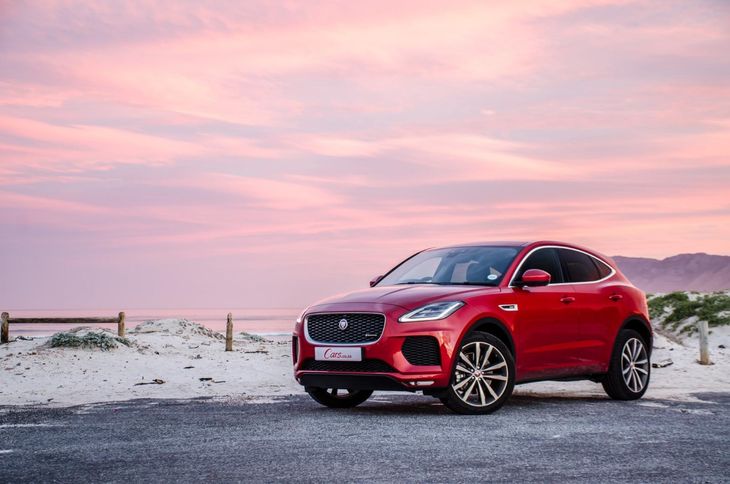 Jag's baby SUV joins a competitive segment where it will rival new models such as BMW's fashionable X2 and Volvo's suave XC40.
The new E-Pace is the latest addition to Jaguar's growing SUV family. It's a premium compact family car/small luxury SUV that slots in below the larger F-Pace and serves to not only bolster local sales and attract new clientele to the Jaguar brand, but to boost public perception of the famed Coventry-based marque, especially in a segment that's becoming increasingly crowded. The E-Pace has some convincing to do, however, as buyers are simply spoilt for choice with a range of attractive competitor products on offer, most notably the new Volvo XC40 and BMW X2. Should the E-Pace deserve to be on your shortlist? We sampled the sporty E-Pace D240 AWD R-Dynamic in HSE trim to find out...
How does it fare in terms of…
Visual attraction?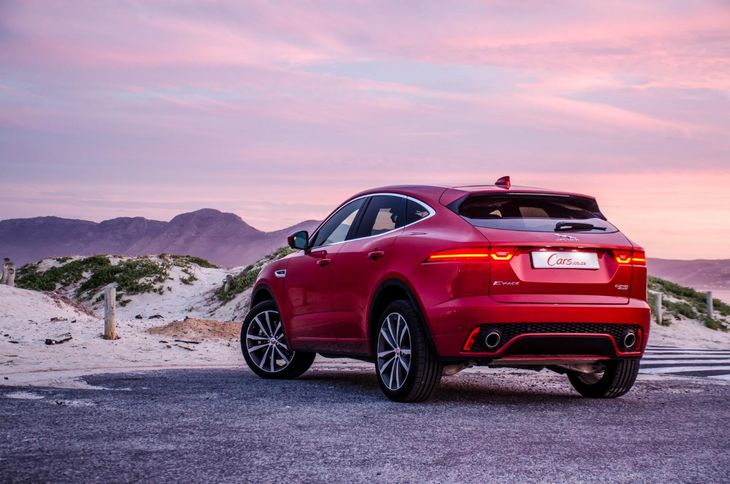 Slick and powerful styling makes the E-Pace a stylish choice in the compact luxury SUV segment.
The test team members were unanimous in their assessment: the E-Pace's design is strikingly attractive. It shares some design cues with the F-Type (which is a good thing) and it looks powerfully athletic with its high, bulging hindquarters. The E-Pace in R-Dynamic guise adds attractive touches such as an imposing gloss-black grille with the grille surround and side vents finished in satin chrome, while bumper-integrated twin tailpipes emphasise the Jaguar's sporty bent.
Products in this segment are associated with elegance, style and class – and the E-Pace is no different, but the newcomer also communicates power and performance better than any of its rivals... If overt sportiness is what you're looking for, the E-Pace hits the mark. This Jaguar will definitely draw admiring glances, which, some buyers may argue, is its primary purpose.
Performance and efficiency?
You may ask: Is the E-Pace as fast as it looks? The short answer is yes, but not in a "performance SUV" kind of way. This E-Pace builds its momentum quickly and confidently and it has more than enough shove to facilitate high-speed cruising and enable punchy overtaking manoeuvres. There is the initial lag when you hammer the accelerator, but with a claimed acceleration time of 0 to 100 kph pegged at 7.4 seconds, the Jaguar's quicker than most of its rivals in this segment, barring the turbopetrol-engined Alfa Romeo Stelvio.
That's because the D240 R-Dynamic HSE has a particularly powerful 2.0-litre turbodiesel engine that directs 177 kW and 500 Nm of torque to all 4 of the E-Pace's wheels via a slick 9-speed automatic transmission. The engine has a distinct turbodiesel note at start-up and at higher revs it's perhaps not the most refined engine in terms of noise, but it's not an overbearing bin.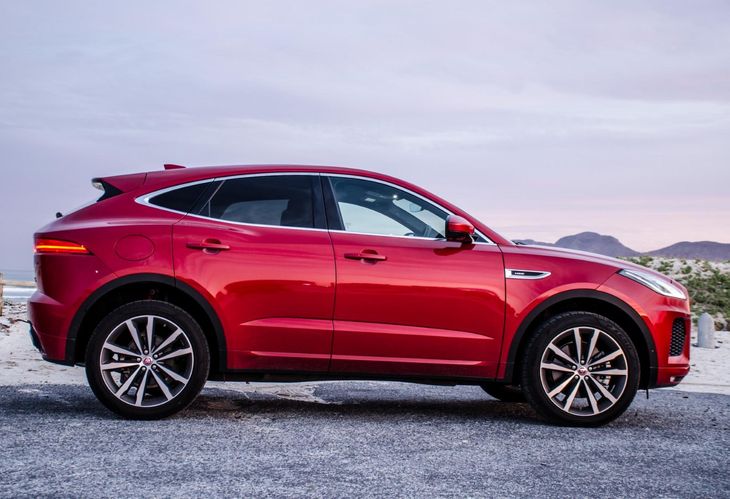 The E-Pace D240 offers powerful performance but it's a thirsty option.
The driver can use the steering wheel-mounted paddles to flick through the ratios on spirited runs or simply let the transmission do all the work, which it does well. There are various driving modes at your disposal such as Dynamic, Normal, Eco and Rain/Ice/Snow, the latter of which deals with extra slippery surfaces. The driver can also configure the settings for the steering, throttle and engine depending on their preference. A few added sporty touches include a G-force meter and a lap timer, because, well, why not?
This E-Pace feels brisk and largely unflustered on the road, but fuel efficiency is not its strength. Jaguar claims an optimistic 6.2 L/100 km, but we didn't see indicated figures below 11.0 L/100k m during our test, which was rather disappointing. We drove the rivalling BMW X2 xDrive20d recently too and it returned far better figures (in the region of 7.0L/100 km).

Ride and handling?
The E-Pace is built on the same platform as the ageing Range Rover Evoque and, consequently, employs less lightweight material in its construction than some of its contemporary premium compact family cars. Despite its relatively truncated dimensions, the Jaguar has some surprising heft (it weighs about 1 843 kg) which is, interestingly, heavier than its larger F-Pace sibling. That's also a good explanation for why it "drinks" so much fuel – the engine simply has to work harder to move all that mass. The weight is felt through the steering, but it's still pleasingly responsive with a solid, planted feel. It feels quite sporty and handles corners with assurance and poise.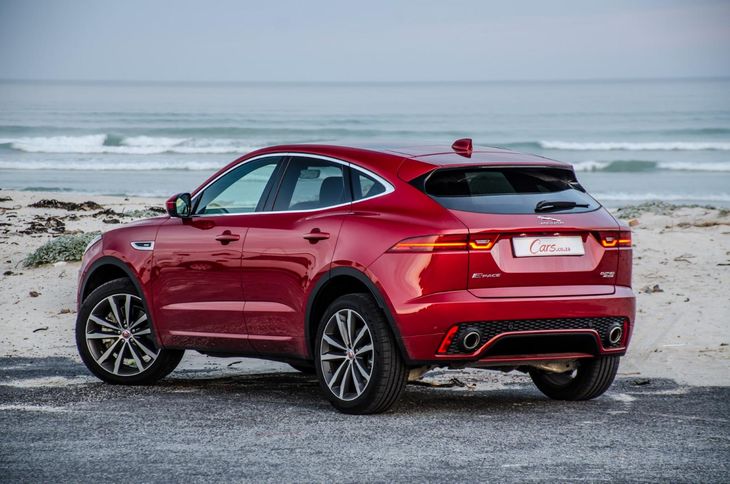 It might be compact but the E-Pace is not a lightweight, it weighs more than the larger F-Pace.
The driver's seating position is elevated and consequently, it feels like you sit on, and not in, the seat, which creates the sensation that the E-Pace is top-heavy, even though it remains mostly stable when cornering at higher speeds. Handling is optimised by virtue of Jaguar's Active Driveline AWD system, which can split torque between the front and rear axles depending on driving conditions – all torque can be delivered to the rear wheels if required. Under normal cruising conditions, the AWD disengages and the E-Pace is driven via the front wheels until its needed for cornering or slippery conditions. These changes happen quickly and are mostly imperceptible to the driver.
In terms of ride comfort, the E-Pace's suspension setup is on the firmer side, which suits its sportiness. However, riding on large 20-inch wheels, we did find the ride to be crashier/harsher on bumpy, uneven sections of tar, but, for the most part, comfort levels are good; the E-Pace is well suited to everyday driving on most surfaces.
Interior comfort and features?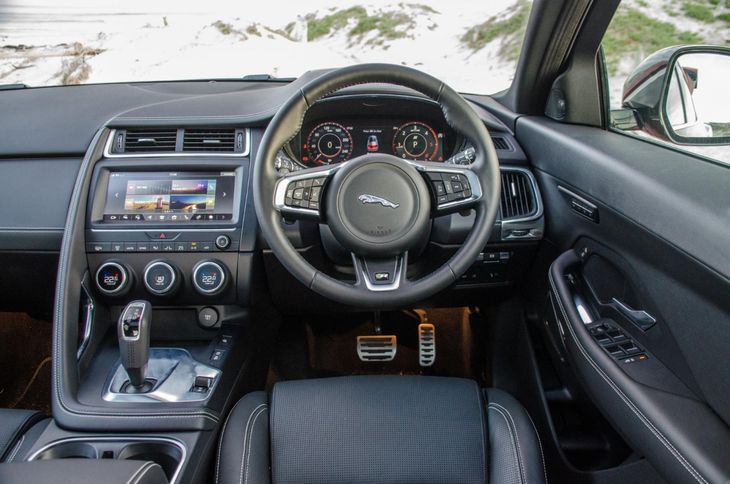 Standard specification is good but there's also a myriad of desirable options to choose from. The 12.3-inch digital instrument cluster is worth the extra spend.
The E-Pace's interior is solidly constructed and although much of the cabin is hewn from premium quality materials, some harder plastic trim elements (around the instrument cluster, for example) are a little less desirable, but that is perhaps where the criticism ends.

The leather-clad dashboard is vast in size and some might appreciate the passenger grab handle that's familiar from the F-Type. In terms of occupant comfort, the E-Pace does not disappoint; the 18-way electrically adjustable heated/cooled (optional) sports (front) seats, which are wrapped in Ebony Windsor leather, are a particular delight for weary bones. The steering wheel is also adjustable for rake and reach, which makes it easy to find a comfortable driving position.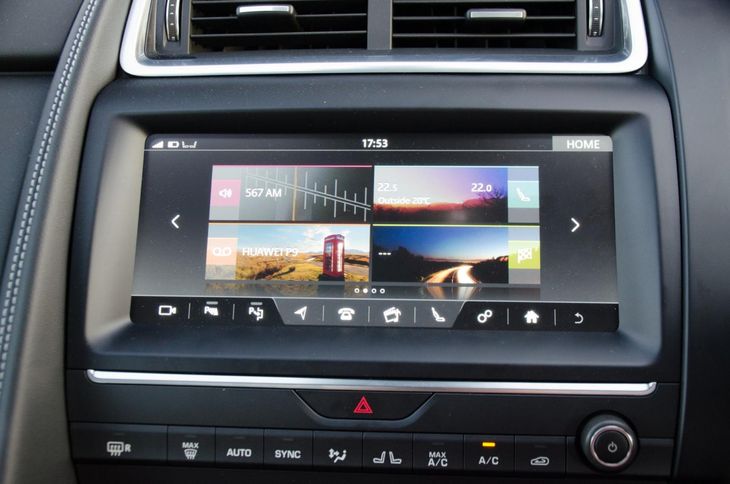 The infotainment system is easy to use but it can be slow to upload information.
The Jaguar's 12.3-inch digital instrument cluster instantly creates the impression of class and sophistication; infotainment comes courtesy of a 10-inch Touch Pro touchscreen with voice control and the interface has a tiled layout (much like a smartphone) and is therefore reasonably easy to use. Pinch and zoom functionality is also particularly useful when using the standard navigation. Although the system is intuitive and easy enough to use, it can be a bit slow to load information. Furthermore, a wifi hotspot can be created to connect up to 8 devices and up to 5 USB ports are on offer as an option (2 are standard).
Standard equipment includes dual-zone climate control, adaptive cruise control, front and rear park distance control with rear camera, parking pilot, lane keep assist, blind spot monitoring and a 380W Meridian sound system with 11 speakers as standard. Nice-to-have optional features fitted include a 360-degree surround camera system (R4 700), head-up display (R15 700) and panoramic sunroof (R14 900).
Practicality?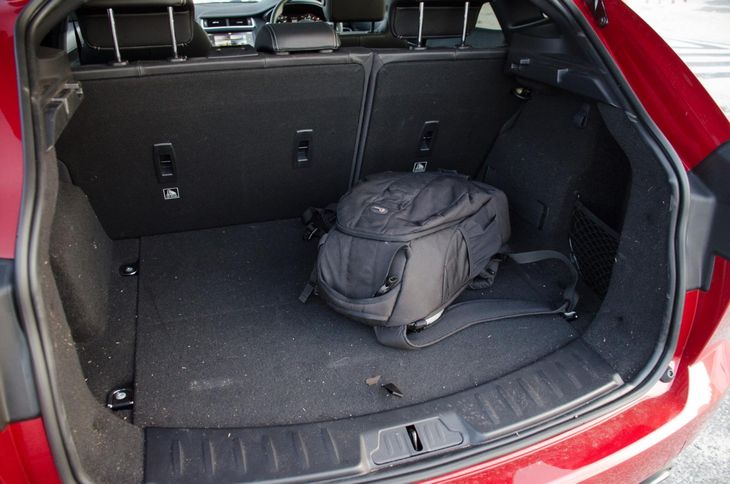 The E-Pace is a practical choice with a spacious loading bay, which expands substantially with the rear seatback folded down.
The E-Pace fares well in terms of practicality. Load space is claimed at 577-litres, which is substantial, while the 60/40 split rear seats can be folded down to access the full 1 234-litres of utility space. As part our test, we put the E-Pace to work by loading it to the brim with 15 bags of compost as well as larger items such as wooden pallets and surfboards. Needless to say, the E-Pace coped well with a variety of load sizes and the electrically-operated tailgate makes loading a bit easier too.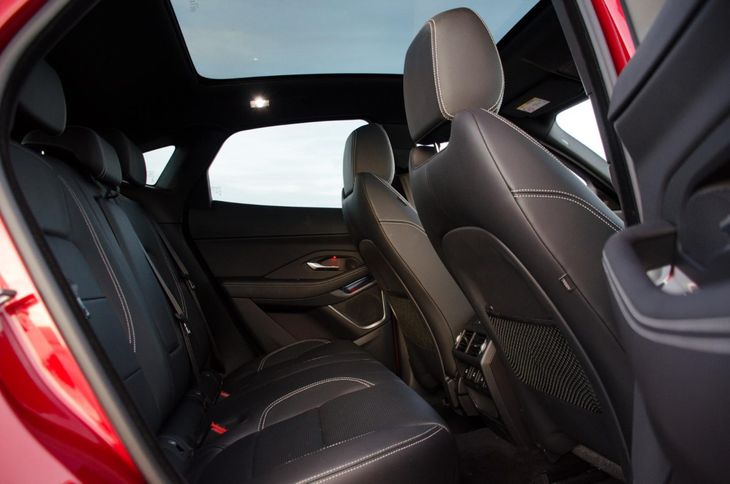 Passengers will find comfort in the rear, but taller passengers might find the head and legroom to be unsatisfactory.
Rear passenger space is average, with just about enough leg, head and shoulder room for an average-sized adult. What's more, the roofline slopes down towards the rear, which means headroom might be tight for taller aft occupants.
Ample storage spaces are availed around the cabin. The central storage bin is deep and capacious and so are the door pocket mouldings, which can store bottles and other goods. There are also 2 cup holders for front passengers, which can be removed for more oddment space. Rear passengers can also make use of the central armrest, which houses 2 cup holders and a small tray to place oddments while in transit.
Pricing and warranty
Although pricing for the E-Pace starts at a competitive R608 516 for the entry-level D150 AWD derivative, this E-Pace D240 AWD R-Dynamic HSE is priced from R858 213. However, with a number of optional extras fitted, this test unit's total price comes in at a heady R954 000!
The E-Pace is sold with a 3-year/100 000 km warranty and 5-year/100 000 km maintenance plan.
Verdict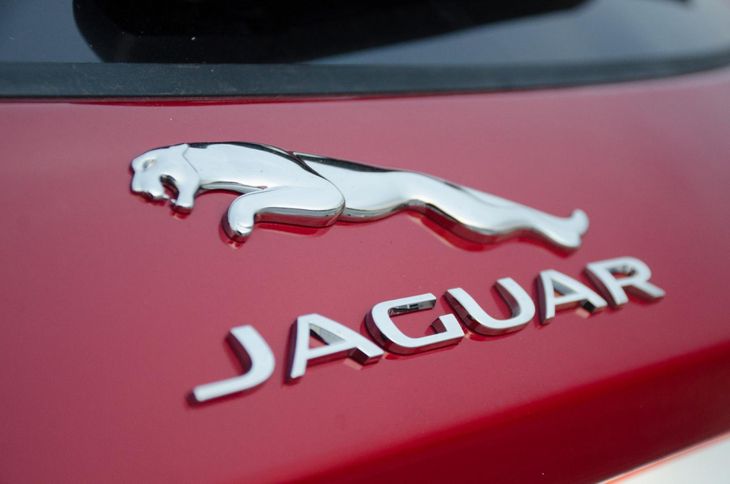 Th E-Pace D240 R-Dynamic HSE has its appeal, but its steep pricing might force buyers to consider other options.
This E-Pace D240 R-Dynamic HSE, from a product perspective, is quite difficult to fault as it does so much really well. It has attractive styling inside and out and delivers good overall performance and handling while also displaying relatively high levels of comfort and practicality.
However, its poorer-than-expected fuel efficiency is a drawback that buyers will have to factor in, but we also suspect that this engine might not represent the sweet spot in the E-Pace range. We have yet to test other engine derivatives in the E-Pace range so we reserve judgement in that regard for now...
The chink in this particular E-Pace's armour is its pricing. Although its standard specification is generous compared to those of its rivals, its base price is lofty and further compounded when you indulge in extra options. It's expensive, but bear in mind that its seemingly cheaper rivals will require a fair amount of speccing-up to match the of this E-Pace. However, if you are looking for a premium compact family car with an emphasis on performance and handling ability, then this E-Pace is well worth a closer look.
Buy a new or used Jaguar E-Pace on Cars.co.za
Related Content
Jaguar E-Pace (2018) International Launch Review
5 Interesting things about the new Jaguar E-Pace
Volvo XC40 (2018) Launch Review
BMW X2 (2018) Launch Review [w/Video]
Alfa Romeo Stelvio 2.0T Super Q4 (2018) Review [w/Video]