Given how the market has reacted to the Jaguar F-Pace and SUVs in general, it makes perfect sense for the Coventry-based brand to expand on its lineup to take advantage of market conditions. Meet the Jaguar E-Pace, a smaller SUV which is headed to South Africa in early March 2018. We drove it in Corsica and here's what we thought of the newcomer.
The F-Pace has been a huge success and we reckon that even the folk at Jaguar Land Rover were surprised at how warmly the market has received its svelte SUV, and it's understandable to see why. Here is a luxury product that ticks many boxes in terms of comfort, technology, practicality, but critically it drives like a Jaguar and unlike some of its segment rivals, it's actually enjoyable behind the wheel. In an attempt to replicate the F-Pace's success and broaden the appeal of a Jaguar SUV, JLR has created a compact SUV which targets the smaller, but no less premium segments. It's called the Jaguar E-Pace and we got under its skin for 2 days on the beautiful island of Corsica.
The Jaguar E-Pace is a looker and that comes as no surprise. With visual elements lifted straight from the F-Type sportscar, it's hard to ignore its motorsport heritage. However, a sports SUV it is not. Nor is it an electric car, despite the 'E' nomenclature. Internally, JLR affectionally dubbed it the 'cub', as in the baby cat of the family and this unofficial name has resulted in some cute Easter Eggs on the car. For instance, if you look closely at the base of the windscreen, you'll see a big cat and a little cat. Overall, the visual effect is that this is unmistakably a Jaguar product and thanks to some big alloy wheels (up to 21-inches), it has a credible street presence.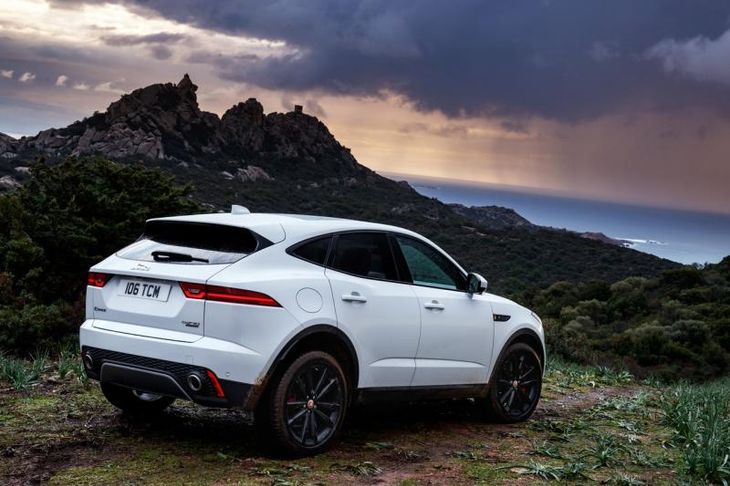 There's no mistaking the Jaguar E-Pace for any other vehicle
Under the skin, the Jaguar E-Pace rides on the Range Rover Discovery Sport/Evoque platform and surprisingly it's not built in the United Kingdom, but rather is a product forged in the industrial complex of Magna Steyr in Austria. This company builds many models for many brands, most famously the Mercedes-Benz G-Class. It has also assembled the Peugeot RCZ and Mini Countryman. While the decision to move assembly out of the UK may seem controversial, it's understandable as we're told that the UK assembly plants are at capacity.
Due to its smaller size, manufacturing the E-Pace was a challenge and while Jaguar likes to harp on about its extensive use of aluminium, in E-Pace application it was just not possible. It's still made from lightweight materials, but just a bit less of it. This has had an interesting effect, as the new E-Pace is heavy for its dimensions and is almost as heavy as its bigger brother F-Pace, which has implications when it comes to handling.
Where does it fit in?
The Jaguar E-Pace slots in comfortably under the F-Pace (see pricing for this vehicle at the bottom of the article). Its rivals are many as this segment is hotly contested. BMW's stylish and new X2, BMW X3, the Mercedes-Benz GLA, Audi's Q2/Q3, Alfa Romeo Stelvio, Porsche Macan and the forthcoming Volvo XC40 are all in this segment and vying for a slice of the pie.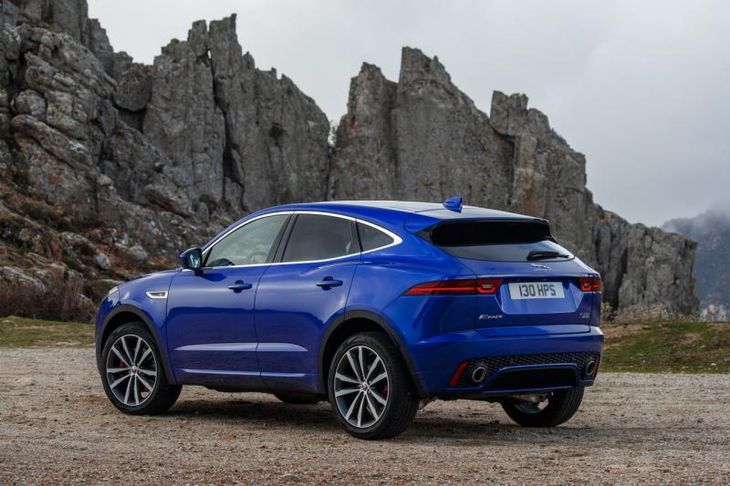 Arguably the Jaguar E-Pace's prettiest angle. Mind you, the colour is terrific too.
What engines does it have?
At this stage, Jaguar has imbued its E-Pace lineup with 2.0-litre turbocharged four-cylinder motors, in petrol and diesel flavour. The outputs for the diesel range from 110 kW / 380 Nm, 132 kW / 430 Nm and 177 kW / 500 Nm, with D150, D180 and D240 badging respectively. Petrol engine outputs are limited to 184 kW / 365 Nm and 221 kW / 400 Nm, with P250 and P300 badging respectively. All vehicles feature 9-speed automatic transmissions, with power going to all four wheels through Jaguar's new all-wheel-drive system.
Features, tech and space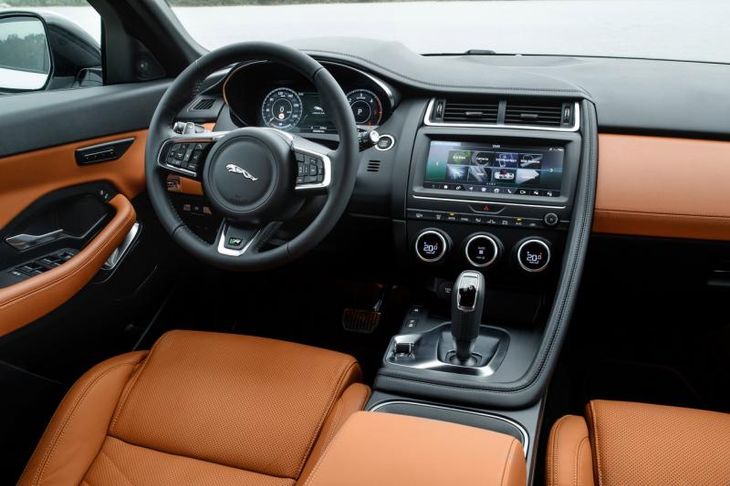 The Jaguar E-Pace interior is a mix of smart design and luxury materials. However, there some cheap plastics lurking around, like the doors
The Jaguar E-Pace rides on a platform that offers a fair amount of cargo-carrying capacity. Jaguar claims 577 litres of boot space. If you fold the 60:40 split seats down, you get 1 234 litres of space in total. Let's talk about some of the options fitted to our launch cars. The digital dashboard is 12.3 inches in size and that's definitely worth having. Our test units also came with 18-way adjustable, heated and cooled leather seats, 4G Wi-Fi hotspot for 8 devices, a waterproof activity key, an automated tailgate, fixed panoramic roof, matrix LED headlights, heads-up display, red brake calipers and a safety pack which comprises adaptive cruise control, blind spot assist and intelligent emergency braking. In terms of safety rating, the Jaguar E-Pace scored five stars in the European NCAP test.
There will be some First Edition units which come with a unique paint finish. They're also comprehensively kitted out with a fixed panoramic roof, exterior black pack, 20-inch 6 split-spoke alloy wheels, First Edition carpet mats, metal treadplates with First Edition branding, First Edition Ebony Windsor leather seats, 18-way heated front seats with memory, Ebony suede cloth headlining, loadspace storage rails with luggage retention kit, additional power sockets, head-up display, activity key, gesture tailgate and keyless entry.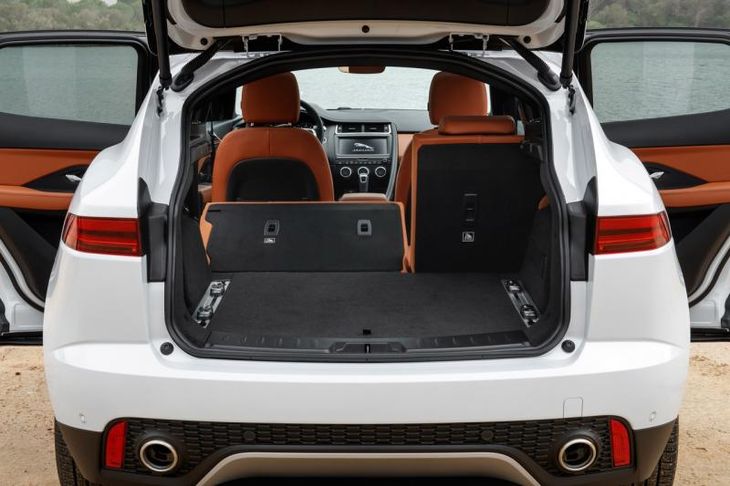 The Jaguar E-Pace showing off its practical side with its seats folded down.
What's it like to drive?
Jaguar has a good reputation with regards to the driving ability of its products and E-Pace is no exception. We appreciated the quick and linear steering, however, the ride quality wasn't perfect and it borders on the firm side of the spectrum. Look, we'd be prepared to cut it some slack as the launch units were riding on pretty 20-inch alloys which does the car no favours on poor quality, rural Corsican roads. We've love to drive an E-Pace fitted with smaller wheels and higher-profile rubber, before making a final call on ride quality. For those who want to maximise the E-Pace's look, you can spec 21-inch alloys for ultimate visual effect, but be mindful that potholes will be their Achilles Heel.
There are some useful driving modes in the Jaguar E-Pace too. Normal and Dynamic are self-explanatory, while Eco turns down the throttle response. Rain/Ice and Snow offers up more grip and adapts the stability control to the conditions. While there are sporty touches, like paddle shifters behind the steering wheel and a Dynamic mode, we found it best to just leave the car in Comfort mode and let the gearbox do its thing. The launch in Corsica gave us the opportunity to sample both the D240 and P300 in various trim levels, on some spectacular roads, some of which are part of the famous Rally De Corse.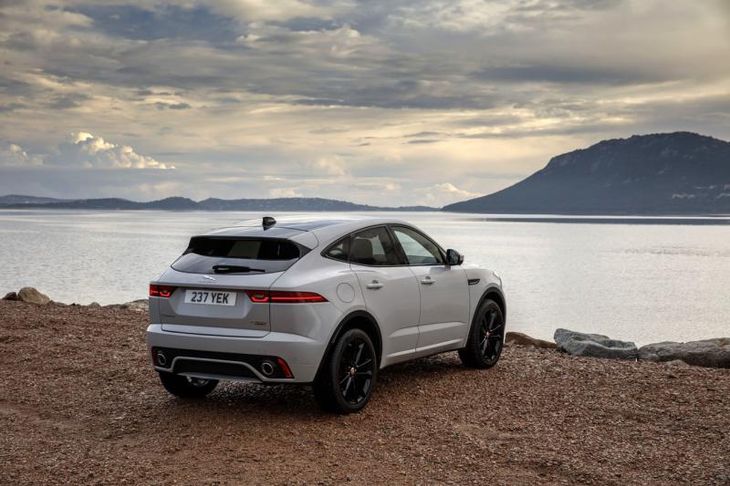 The island of Corsica provided spectacular driving roads and the views were equally impressive.
While the numbers talk a good game, like the P300's 0-100 kph time of around 6 seconds, this isn't a performance car and we suspect that its weight was the culprit behind it not feeling as lively and lithe as expected. On the other side of the coin, the solidity is comforting and you get that big-car feel. We also found that the engine sounds a tad harsh when pushing on through a particularly fast section. It's fine before 4 000 rpm, but going beyond that results in an unsatisfactory mechanical note. Sure, the majority of E-Paces aren't going to have their necks wrung and be flung around corners, but a brand that throws sporty metaphors into its marketing mix surely needs the sound to match the show?
It may not sound the part, but when it comes to corners, the direct and wholesome steering feel is reassuring and the all-wheel-drive system ensures maximum grip, which means you can actually throw it around if you're in a hurry. The tall SUV shape and ground clearance results in a higher centre of gravity and that means it'll lean in the corners when you're really trying, but by that point, you're operating out of the E-Pace's envelope anyway. The brakes are good too with credible stopping power when you stand on them. Jaguar claims its all-wheel-drive system can send much of the power/torque to the rear axle, but you'd have to be on gravel to really experience it.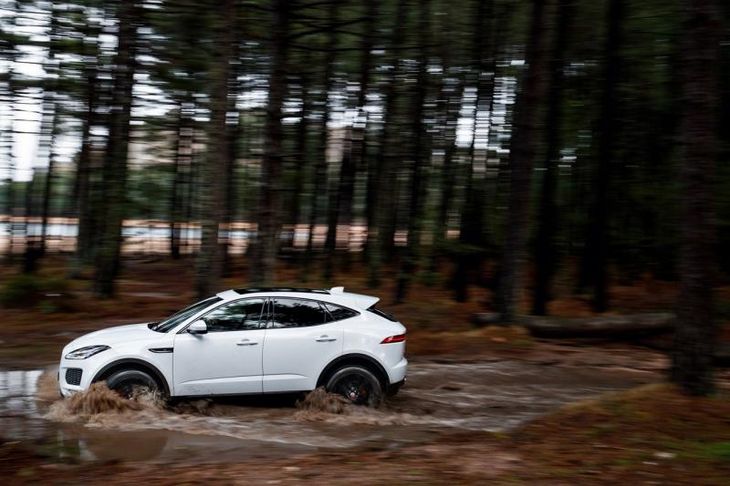 Even though the majority of E-Paces won't venture off the tar, it's reassuring to know it's actually pretty capable.
So, we did some basic offroading and the E-Pace tackled it all without hesitation. A combination of mud, gravel and even some water wading was thrown at the car and it passed easily. The car's clever enough to divert power and torque to the axle and wheel which needs it most, without any input from the driver. Interestingly, in normal driving conditions, the rear axle is disengaged in order to save fuel. In terms of ground clearance, the Jaguar E-Pace boasts 204 mm and it can wade through 500 mm of water.
Verdict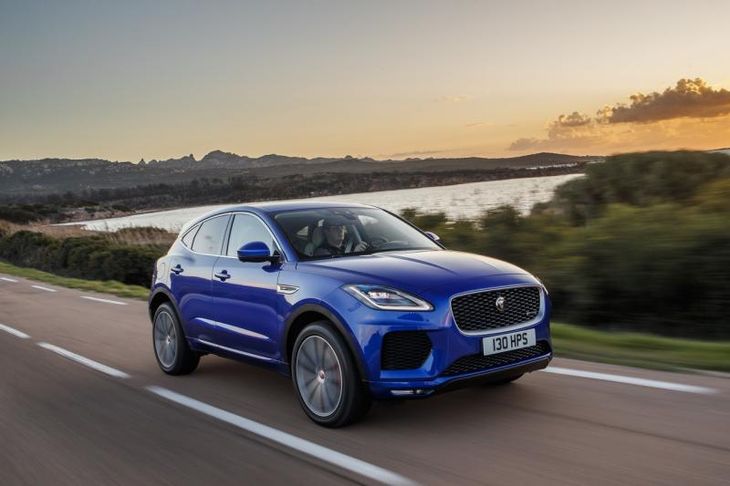 Jaguar's E-Pace was created to satisfy a market. There's nothing new and groundbreaking here, so it doesn't get both thumbs up.
We can imagine how the Jaguar Land Rover engineers reacted when the accountants walked in and said, "Right, everyone likes the F-Pace so we're building a smaller version. Please make an SUV with off-road capability using the existing parts bin and make it handle like the XE sedan?" It's not a nice position to be in and credit is due to the Jaguar team for trying to make the most of the situation and creating a vehicle that is indeed credible and satisfactory.
However, we don't think it pushes the boundaries or moves the segment forward substantially. It's good, but for it to succeed it needs to be flawless, and it isn't. The rear legroom isn't great for tall adults, our launch cars were packed to the hilt with optional extras which will surely push the price up considerably, and it desperately needs adaptive damping (which is coming later) to soften the ride. These are just some of the niggles that we experienced. Will it sell though? Given how the global and South African market has taken to the F-Pace, we think the E-Pace will replicate its sibling's success with ease.
We look forward to putting Jaguar's new E-Pace against its competition when the vehicle arrives in South Africa. At this stage, given the pricing and spec, the pick of the range looks to be in the diesel engine lineup. You can take advantage of the torque available almost from the get-go, the engine is quieter and more refined, and it'll be reasonably frugal too with most models claiming under the 6.0 L/100 km mark. South African cars will be available in various specification levels (S, SE, HSE, First Edition) and you can throw in some optional extras if you wish.
Jaguar E-Pace Price in South Africa
The Jaguar E-Pace arrives in South Africa in March 2018. All new Jaguar cars come with the Jaguar 5-year Care Plan including a 5-year/100 000km service plan, a 5-year/100 000km maintenance plan and a 5-year/100 000km warranty, as standard.
| | | | | |
| --- | --- | --- | --- | --- |
| E-Pace | Base | S | SE | HSE |
| 2.0 diesel 110kW (D150) | R598 500 | R659 900 | R698 900 | R734 900 |
| 2.0 diesel 132kW (D180) | R619 500 | R680 900 | R719 900 | R755 900 |
| 2.0 diesel 177kW (D240) | -- | R735 100 | R774 100 | R810 100 |
| 2.0 petrol 184kW (P250) | R667 800 | R729 200 | R768 200 | R804 200 |
| 2.0 petrol 221kW (P300) | -- | R783 400 | R822 400 | R858 400 |
| | | | | |
| E-Pace R-Dynamic | Base | S | SE | HSE |
| 2.0 diesel 110kW (D150) | R632 500 | R693 900 | R732 900 | R768 900 |
| 2.0 diesel 132kW (D180) | R653 500 | R714 900 | R753 900 | R789 900 |
| 2.0 diesel 177kW (D240) | -- | R769 100 | R808 100 | R844 100 |
| 2.0 petrol 184kW (P250) | R701 800 | R763 200 | R802 200 | R838 200 |
| 2.0 petrol 221kW (P300) | -- | R817 400 | R845 400 | R892 400 |
| | | | | |
| E-Pace First Edition | First Edition | | | |
| 2.0 diesel 132kW (D180) | R851 600 | | | |
| 2.0 petrol 184kW (P250) | R895 700 | | | |