While performance aficionados lick their lips in anticipation of the arrival of the Stelvio Quadrifoglio, the Super Q4 and First Edition derivatives spearhead Alfa Romeo's executive SUV offering in the local market. How does the entry-level 2.0 litre stand up to scrutiny?
We like: Eye-catching looks, ride/handling balance, practicality and refinement
We don't like: Uninspiring colour/trim combo, trim plastics, lively steering requires familiarisation
Alternatives (prices as of April 2018):
One of Audi's finest: The Q5 is a top-selling SUV in the Ingolstadt-based brand's stable and the latest version impresses as a well-finished product that exudes refinement. There's a limited line-up of derivatives in SA, but the 2.0TFSI quattro sport derivative is priced close to the Stelvio at R804 500.
Bavarian allrounder: The exterior styling of the new BMW X3 may seem too evolutionary for some tastes, but the Munich-based marque's executive SUV has been improved in many ways. We've yet to test a 2.0-litre version, but the xDrive30i M Sport auto (R812 031) is a great match for the Alfa, looks-wise.
Sinuous feline: The F-Pace has reinvigorated Jaguar's local product offering and apart from its fashionable appearance, the 185 kW 25t Pure comes closest to matching the power and torque of the Alfa. However, even though it's a base-spec derivative, the Jag's R33 000 dearer than its Italian rival.
The award-winner: The Mercedes-Benz GLC 250d 4Matic AMG Line won the 2017/18 #CarsAwards Executive SUV title courtesy of its prestigious image, smart interior and willing performance. Price-wise, the GLC300 4Matic Exclusive (R805 654) is a close match for the 2.0T Super Q4.
Full-house Lexus: The top-of-the-range NX300 F-Sport, which we recently tested, is very well specified and, therefore, looks good value at R797 500, but perhaps it lacks the requisite star appeal in this segment. It is well worth a test drive to those who seek premium luxury, but don't want to be flashy about it.
Compare the 2.0T Super Q4 with its rivals from Audi and BMW
Compare the 2.0T Super Q4 with its rivals from Mercedes and Lexus
Compare the 2.0T Super Q4 with its rivals from Jaguar and Range Rover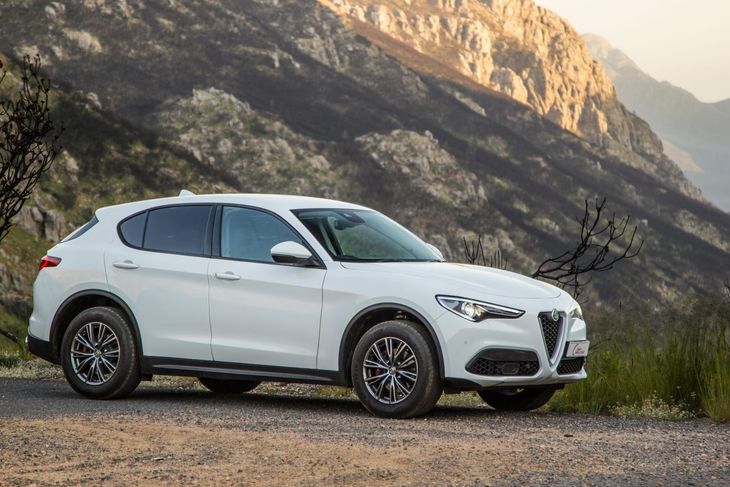 The head-turning Super Q4 begs for a smart metallic finish, but it's still quite a looker. Eighteen-inch rims and tyres are standard.
What is it?
The eye-catching Stelvio is based on the rear-wheel-drive Giorgio platform that underpins the Giulia business class sedan. That means that even without driving it, it is safe to assume that the newcomer is spacious, solidly-made and engaging to pilot. On the face of it, the default choices in this segment are the lauded Audi Q5, multitalented BMW X3 and award-winning Mercedes-Benz GLC, but there are more exotic offerings in the shapes of the Stelvio, the World Car of the Year-winning Jaguar F-Pace and recently refreshed Lexus NX. If you think more laterally, you can factor in the ageing Range Rover Evoque and Porsche Macan as well!
Whereas the German and British marques offer comprehensive derivative line-ups, there are but a pair of Stelvios to choose from at the moment (April 2018), the most affordable of which is the Super Q4 (Q4 is Alfa's equivalent of quattro). While we'll delve into its price-versus-spec value in due course, it's worth noting that, performance wise, the Alfa Romeo is powered by a 206 kW/400 N.m turbopetrol engine that bests any 2.0-litre rival priced around it. This motor will soon debut in the Giulia too.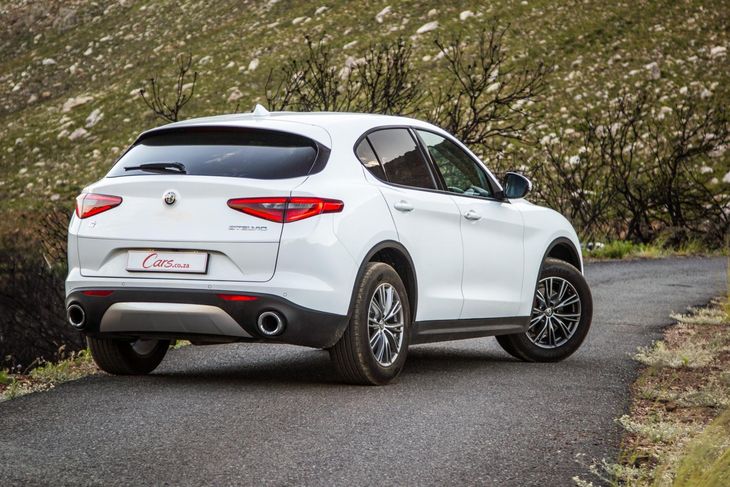 The rear spoiler with the integrated exhaust tips is stock standard. LED tail lamps complement the running lights at the front.
How does it fare in terms of…
Kerb appeal?
Check and mate. Even when shod with 18-inch wheels wrapped in plump tyres and finished in ho-hum non-metallic white exterior paint, the Stelvio is a looker ­– it draws plenty of admiring glances. Given that its (especially German) rivals are either comparatively conservatively styled, or plain looking if not specced up with Sport or Dynamic packages (in the case of the F-Pace or Evoque), the Alfa Romeo can still turn heads (again, it would help if it was dressed in a more imaginative colour).
Okay, 19- or 20-inch wheels are not pre-requisite and the red brake callipers and bi-Xenon headlamps (part of the standard Lighting Package) are welcome, but the Super Q4 could do with some roof rails, even if just subtle ones, tastefully flared wheel arches and sculpted side skirts, plus satin chrome-and-mesh-laced bumpers would really finish off the look nicely. Of course, for those who want a bit more bling on their Stelvio there's the First Edition, but that costs a whopping R137k more!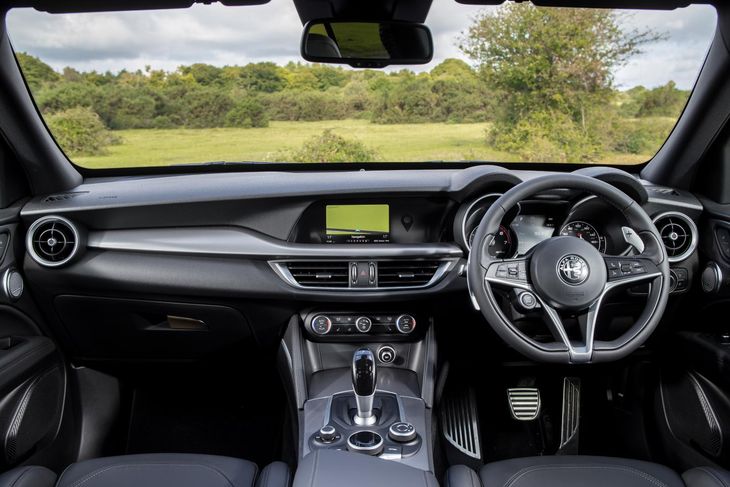 Even if the interior's a little sombre, the Stelvio's sporty driving position and tasteful dials and switchgear drew praise from testers.
Suitably luxurious interior?
The Stelvio's handsome leather-trimmed interior borrows heavily from the Giulia… In fact, the facia, centre console and infotainment system are transplanted from the business class sedan, which we applaud… Until the arrival of the Giulia, high-end Alfa interiors looked pretty, but they tended to be ergonomically challenged and didn't hold together very well. Testers praised nifty touches such as the monochrome Alfa badge and the racing-car-inspired starter button on the steering wheel. And while the Uconnect 8.8-inch 3D infotainment system's screen may not be as high in definition as some of its rivals' units, the system is comprehensive, including navigation.
It's not all good news, however. By virtue of a monotonous dark grey and black trim scheme, the interior lacks a sense of occasion (dare we ask: could it be a mite too Teutonic in execution?) and some of the cabin materials, particularly atop the dashboard and on the edges of the window sills, consist of a soft-touch (but rough-textured) moulded plastic that could have been trimmed in leather/leatherette, with some tasteful contrast stitching, instead.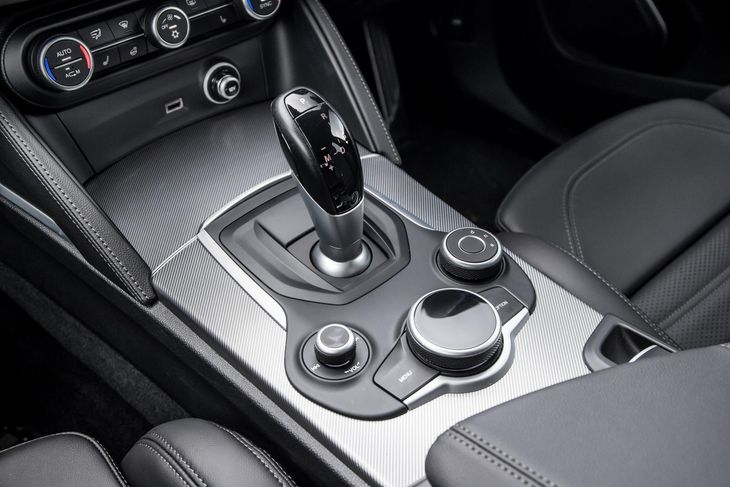 There's a pleasing weight to the dials on the centre console. Note the audio system's knob is separate to that of the main menu.
Comfort & Practicality?
In a market where Executive SUVs, such as the recently launched BMW X3 and upcoming Volvo XC60 (the 2018 World Car of the Year), are making well-heeled consumers think long and hard if they really need to fork out a million Rand for the privilege of transporting their families in a Premium SUV, the Stelvio is a case in point. The Italian newcomer offers generous head and shoulder room for all occupants and the rear bench affords enough legroom for a pair of adults, let alone children.
The driver of this family-friendly SUV is afforded the benefits of an Adaptive Frontlight System, rain-sensing wipers, front and rear PDC, a reverse-view camera (with dynamic park-assist gridlines), as well as electrically-folding and self-dimming side mirrors. There is a USB port located just below the climate control console (even if it looks a little lost there…) and in the centre storage bin, while rear passengers benefit from an extra headrest, dual cupholders in the armrest, a pair of ventilation outlets and two USB ports that can charge personal devices, such as smartphones.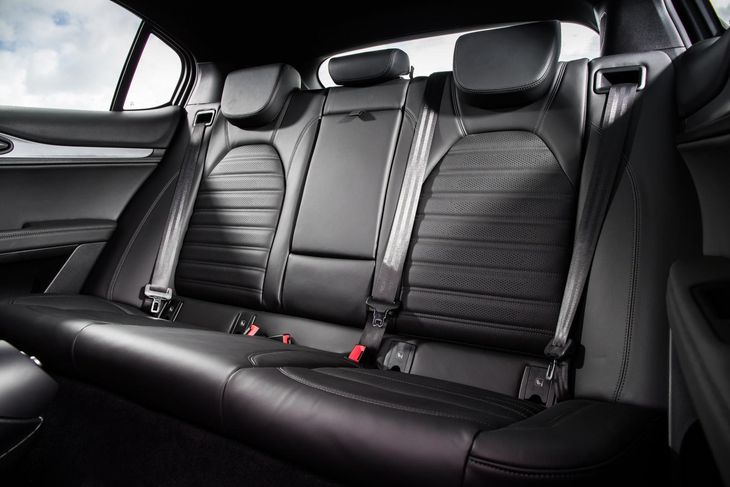 Executive SUVs aren't usually known to offer spacious rear accommodation, but the Stelvio does, plus other creature comforts.
All of which brings us to the luggage bay and, in that area, the Stelvio is generous. An electric tailgate is standard equipment and the loading space is particularly deep and long. Should additional utility space be required, the rear seatback easily splits in a 40/20/40 configuration. Alfa Romeo will even sell you a bicycle rack and dog net, if you're interested in those sorts of things… a lot of you are!
Performance & driving engagement?
Whereas some of the Stelvio's competitors may be able to get away with being smart-looking, luxurious and comfortable, while offering just a modicum of dynamism, the Italian marque pre-supposes spirited performance and dynamic handling ­– they're elements at the very core of the brand.
It's a very good thing, then, that the Super Q4 has an enviable ride/handling balance, measured body control and a crisp, darty steering, let alone a class-leading (for a 2.0-litre turbopetrol) engine mated with a superb 8-speed automatic and an easy-to-modulate integrated braking system. In terms of driving engagement, it is up there with the best that BMW and Jaguar can offer in this segment and, in terms of ride refinement, not far behind Audi, Benz or Lexus.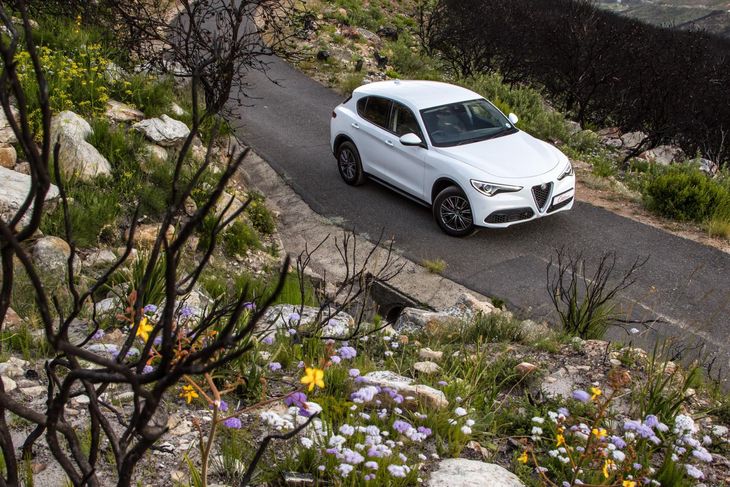 The Stelvio's engine produces more power and torque than its comparatively-priced rivals; its chassis is more than equal to the task.
Courtesy of a commanding seating position that still manages to be involving from a driving enthusiast's point of view, the Stelvio's refreshingly quick and pointy steering can be savoured while the well-calibrated transmission extracts the most of the 206 kW and 400 Nm produced by the motor (the Super Q4 is said to accelerate from 0 to 100 kph in just 5.7 seconds). Should you need to traverse a dirt road or encounter perilously wet roads, the dynamic (Q4) all-wheel-drive is a boon.
What's more, the Stelvio can effectively imitate a cruiser when it's simply pottering about town, even if that direct steering can feel a trifle too twitchy on freeways. The ride quality is firm but pliant and the cabin particularly well insulated from exterior noise. In fact, we spent hours (and hours) in this car in Cape Town traffic with three passengers and were all very comfortable... Click here to watch the Come Drive With Me episode featuring the Stelvio and Mi Casa.

Before Stelvio, the Q4 all-wheel-drivetrain last featured on the 3.2-litre V6 automatic derivative of the 159, the Giulia's predecessor.
Price and after-sales service
The 2.0T Super Q4 retails for R817 900, which includes a 3-year/100 000 km warranty and a very competitive 6-year/100 000 km maintenance plan. Apart from the usual array of airbags and integral braking and stability assistance systems, standard safety equipment on the Alfa Romeo includes forward collision warning, autonomous emergency brake, lane departure warning and hill descent control.
There are notable extra cost options, such as a self-dimming interior mirror, electric (and heated) front seats, full-grain leather, sports steering wheel with shift paddles, panoramic sunroof, blind spot assist and active cruise control and either a Sound Theatre- or Sound by Harman/Kardon Pack. Oh yes, and roof rails.
Verdict
There is much to like about the Stelvio 2.0T Super Q4. It might sound as if we're damning Alfa Romeo's admirable contribution to the Executive SUV segment with faint praise, but its design, packaging and – most notably – execution renders it a conventional rival, as opposed to a left-field alternative, to the volume sellers in the market. From the way it looks, feels and drives, to its benchmark 6-year/100 000 km maintenance plan, the Italian compares favourably with its peers.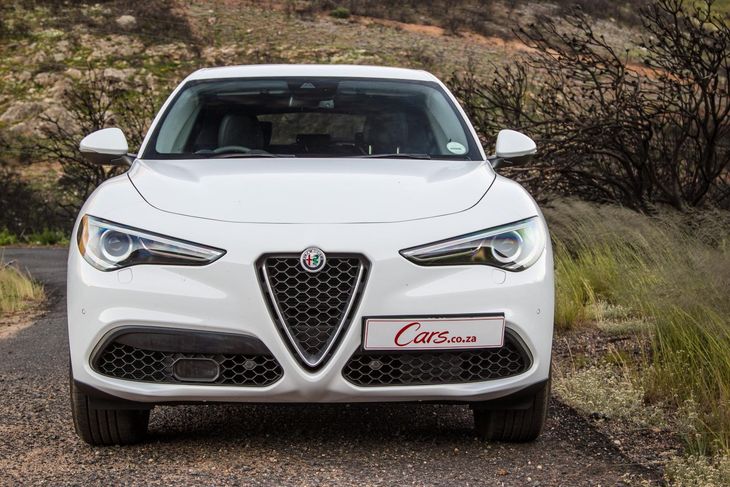 Although the lighting package, which includes the bi-xenon headlamps with AFS, was initially an option, all Stelvios now feature it as stock.
Given the new vehicle market's growing preference for SUVs over sedans, the Stelvio has better prospects that its largely underappreciated Giulia sibling. Having said that, Alfa Romeo continues to face a tremendous challenge to gain a foothold in the luxury end of the market. The same goes for Lexus and, to a lesser extent, Jaguar.
Some of our testers remarked, with merit, that this entry-level derivative, decked out in a rather dull trim and colour, is not the best representative of what a Stelvio could be. What's more, there are a few nice-to-haves on the options list, which, if included as standard, would sweeten the deal nicely.
However, the Stelvio undeniably makes a strong style statement and stands out in a crowded segment. That feat, cynics will argue, is its primary duty and one it executes with aplomb. The fact that Alfa Romeo's newcomer is well made, suitably practical and a thrill to drive (at speed and at a canter) are bonuses.
This derivative of the Stelvio, at its price-point, is a lot like the establishment in that, to put it quite simply, you get what you pay for. Like most petrolheads, we can't wait to test the flagship twin-turbo 2.9-litre V6-engined Quadrifoglio when it arrives later in 2018, but in reality, a prudently-specced Super Q4 (ideally in red, with 20-inch rims and a few other extras, if your budget can stretch that far) is probably all the Stelvio you're ever likely to need. Dismiss it at your peril.
Watch #CarsAwards judge Juliet McGuire review the 2.0T Super Q4 for Cars.co.za:

Further reading:
Alfa Romeo Stelvio 2.0T Super (2018) Video Review
Alfa Romeo Stelvio Quadrifoglio (2017) International Launch Review
Alfa Romeo Stelvio in SA (2017) Specs & Pricing
Audi Q5 2.0 TDI quattro (2017) Quick Review
BMW X3 xDrive30d M Sport sports-auto (2018) Review
Lexus NX300 F-Sport (2018) Review
Mercedes-Benz GLC 300 (2015) Review
Interested in buying an Alfa Romeo Stelvio?