Volvo's XC40 has landed in South Africa and we had a chance to sample the new premium compact family car in Johannesburg. Is it worth your attention and, critically, can it match some of the German offerings? Short answer? Yes, most definitely... let's find out why.
It seems that Volvo cannot put a foot wrong at the moment. Buoyed by investment from Geely and lauded globally (the brand has bagged several #CarsAwards category wins), Volvo's SUVs have elbowed their way into the limelight on sheer weight of merit. The XC90 took the premium SUV market by storm, its XC60 executive SUV sibling recently won the 2018 World Car of the Year title and the new XC40, which has been named the European Car of the Year, is now available in South Africa.
What is an XC40?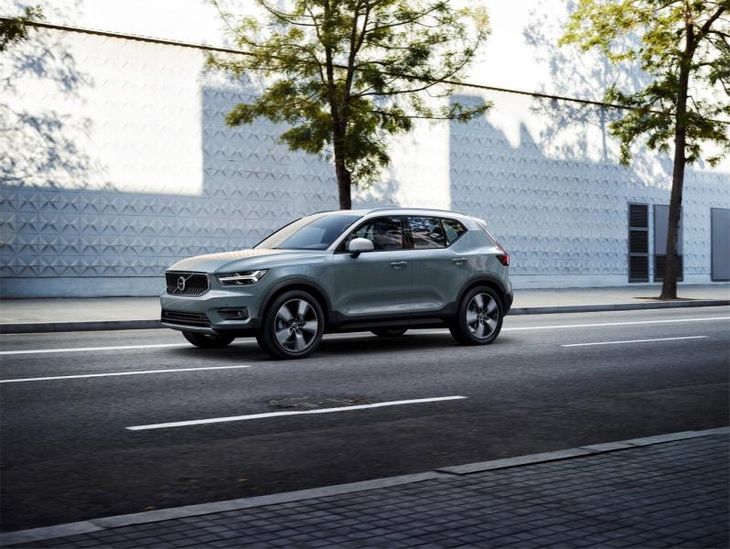 It's arguably one of the most stylish vehicles in the segment, yet it retains its Volvo identity.
Given how the market has reacted to the emergence of the premium compact family car segment, it makes sense for the Swedish brand to be playing in this space. However, Volvo is not alone; BMW (X2), Jaguar (E-Pace), Audi (Q2) and some various Mercedes-Benz SUVs also vie for their share of the pie.
It would be foolish to dismiss the XC40 as a shrunken XC60 or XC90, because while the vehicles share some elements, the newcomer is not built on Volvo's Scalable Product Architecture (SPA). The newcomer is the first vehicle to be assembled on Volvo's modular vehicle platform, named Compact Modular Architecture (CMA). This new platform will be underpinning future products and, based on our first impressions of the new XC40, we're keen to see how versatile this platform can be.
When you look at pictures of the XC40, it appears really compact but at almost 4 metres in length, it's bigger than you think. Volvo claims the new XC40 has the same height and width as the XC60. It may be the smallest SUV in the Volvo family, but it boasts 211 mm of ground clearance, making it suitable for some off-road excursions.
Personalisation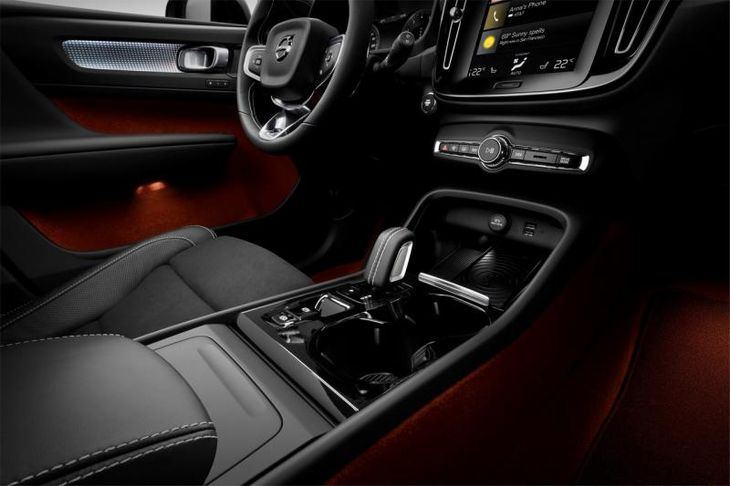 The Lava Orange inserts may not appeal to all tastes, but it adds some vibrancy to the cabin. Note the clever storage solutions dotted around the transmission lever.
Volvo South Africa has realised that image and personalisation options are key in this segment and, as a result, you can create an XC40 that is tailored to your individual taste and is likely to be one of a kind. There are 13 exterior colours, 9 alloy wheel designs, 7 interior themes and 3 interior trim inlays. We're quite fond of the Lava Orange floor colour, but understand that it could be too rich for some tastes.
Engines and trim
Volvo has ostensibly covered all the bases with regards to the new XC40's range line-up. There is a combination of turbopetrol, turbodiesel, manual, auto, front-wheel drive and all-wheel drive options. Admittedly they're not all available from the launch we attended this week, but we're glad to see there's an XC40 to suit the vast majority of customer requirements. The entry-level T3 derivatives arrive in the third quarter of this year and there'll be Inscription versions joining the range in future. This new T3 motor is a 1.5-litre turbocharged 3-cylinder unit producing 115 kW and 265 Nm, while consuming a claimed 6.8 L/100 km.
The rest of the lineup are engines we've experienced before in Volvo's other products. The D4 is a 2.0-litre turbodiesel 4-cylinder unit with 140 kW and 400 Nm, while the T5 packs 185 kW and 350 Nm, and is definitely the fastest model in the range. The turbodiesel engine will be the thriftiest of them all, with a claimed consumption figure of 5.2 L/100 km. At launch, the D4 and T5 will feature all-wheel drive and 8-speed automatic 'boxes, with the option of manual 'boxes and front-wheel drive coming later.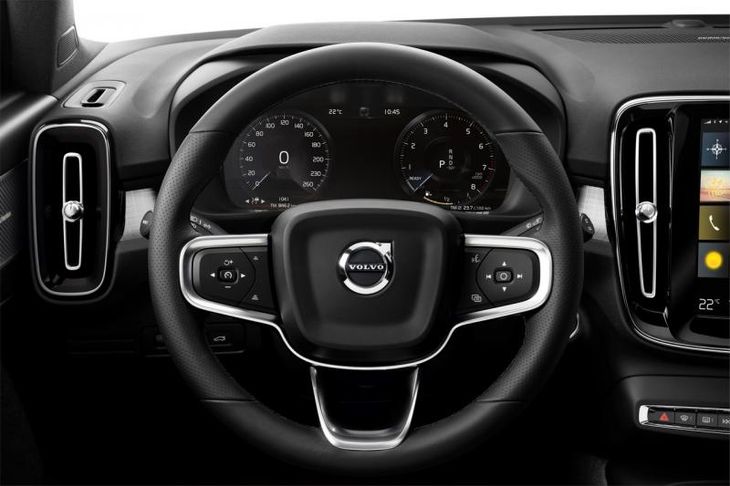 The digital display is crisp and clear, while the Volvo Sensus infotainment system features Android Auto and Apple Carplay - perfect for the modern generation
What's it like to drive?
As ever, first impressions count for much. Image is vital in this segment, arguably more so than in more moderately priced compact family cars. When we set eyes upon the Volvo XC40 for the first time, we were deeply impressed with how contemporary the car looks. For the Instagram generation, the car is remarkably photogenic, both inside and out, and as mentioned earlier, it's bigger than you think. We often receive comments that a new car looks like an existing product made by another brand, or it has elements from a rival. Here, the design is so unique yet familiar, there'll be no mistaking it for anything other than a modern Volvo.
The cabin retains that modern Swedish minimalism and the level of fit-and-finish is great, which is what customers in this segment are looking for. The driving position is set high, the seats are comfortable and supportive and once you're used to its workings, the Sensus infotainment system is a gem. Being a Volvo, safety specification is off the charts and there's a lot of autonomous tech that will intervene on your behalf. Rear legroom is a little tight for taller passengers, but that's on par for this segment.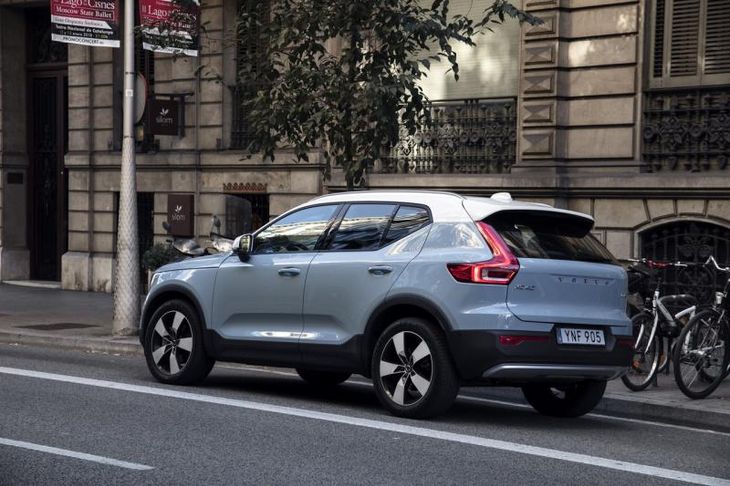 Photos make the XC40 appear small, but it's actually the same height and width as its XC60 sibling.
On the launch, we opted to drive the petrol-powered T5 R-Design and the D4 R-Design. Not only do they look good, but in the T5's case, it promises deceptively brisk performance. Both of these engines are 2.0-litre forced induction units from the DriveE series and we've experienced them both in other products from Volvo.
With 185 kW and 350 Nm, the T5 offers respectable off-the-line performance as well as commendable in-gear shove. Interestingly, Volvo SA claims this T5 will hit 100 kph from standstill in 6.4 seconds!. Even when in Comfort mode, there's no hesitation; the car can surge forward if you extend your right foot all the way down. However, when you do decide to stretch the car's legs, we found the engine note to be a tad unrefined. Granted, very few owners will be caning their XC40s, but its worth noting.
Our pick of the range has to be the turbodiesel, although we're eager to sample the compact 3-cylinder unit. The D4 2.0-litre turbodiesel has outputs of 140 kW and 400 Nm, making it pretty useful if you're perpetually in a hurry. But, despite those big numbers, the fuel economy is where the D4 really shines. While Volvo SA claims 5.1 L/100 km, we were quite happy to see 6.1 L/100 km on our test route through the urban Fourways sprawl. The engine pulls well from low in the rev range and the 8-speed transmission is responsive and smooth enough to keep the motor operating in its optimal range, but should you need power on demand, it's there when you need it. Unfortunately, the turbodiesel motor also suffers a bit in terms of mechanical noise and the sound can be intrusive and rough when pressing on.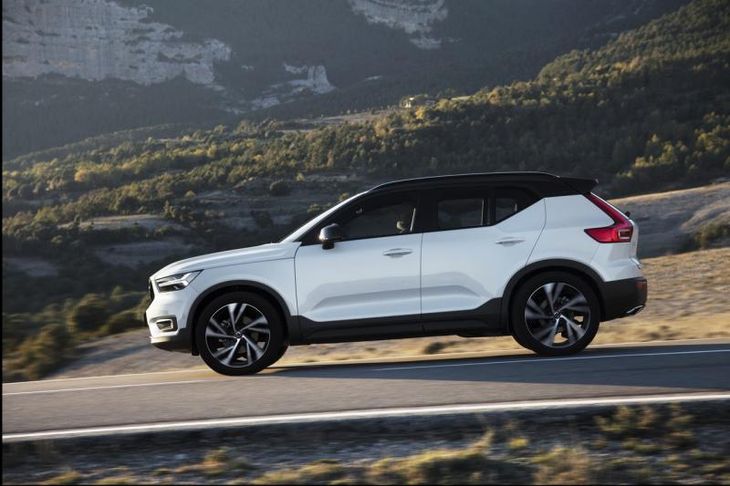 With all-wheel drive and decent ground clearance, you can actually go for a gravel drive without fear
Both the T5 and D4 share some pleasant driving traits. From behind the wheel, the driving experience is pleasantly upmarket. The steering is surprisingly light and despite the high driving position, the X40 drives like a luxury hatchback. Alloy wheels come in 18-, 19-, 20- and 21-inch varieties and our two test cars rode on the stylish 20-inch rims and tyres. While pretty to look at, we found that our launch route was peppered with potholes and rough surfaces that upset the smooth ride quality and the coarse bitumen elicits some loud cabin noise. To be on the safe side, we recommend the 19-inchers, as they'd likely offer a better ride thanks to a higher-profile tyre.
Is it worth your attention?
Volvo has struck a great balance of luxury and sportiness with its XC40. It's surprisingly spirited and agile to drive, yet exudes Swedish style and ingenuity. There are nifty cabin features that prompt us to say: "Why didn't we think of that?". The mobile phone cradle (with wireless charging pad), plastic bag shopping hook, removable bin and storage compartments under the seats are examples of what makes this a clever car. If you fold the rear seats down there's plenty of room for a mountain bike.
Given its luxury positioning, the XC40's pricing and specification is comparatively keen; it's pitched straight into the market where the BMW X2 and Jaguar E-Pace are already sparring for sales. The T3, for example, comes in at R486 500, which is impressive. With the car industry battling to find unique designs and brands typically playing it safe with conservative lines, it's great to see that Volvo can still produce head-turning designs that capture the buying public's imagination.
Indeed, this is no shrunken XC60 and even if you don't like the styling, you can't argue that it's not at least interesting. Volvo SA was happy to announce that it needed to stop taking pre-orders for the car because take up was so good that there were concerns stock supply would become an issue. The best problem in the world, in other words. We predict that this stylish newcomer will be the best-selling Volvo in South Africa. It is clearly in contention for the top spot in its segment. It's easy to see why.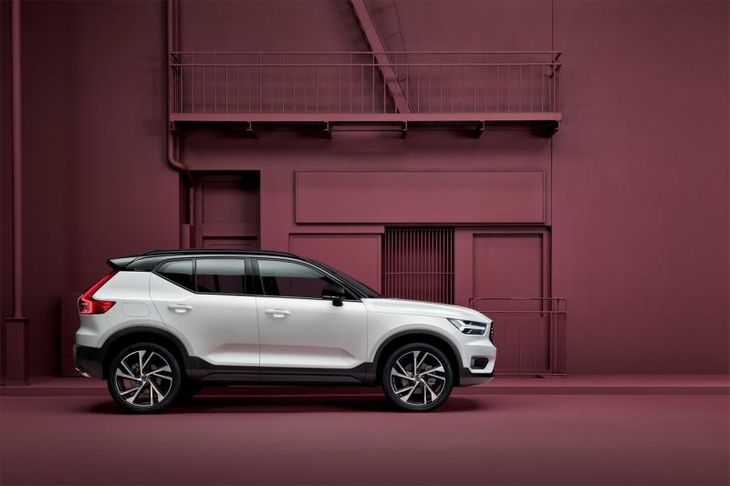 In contrasting white with black roof, the Volvo XC40 is one stylish newcomer to the premium SUV arena
Volvo XC40 price in South Africa
Every XC40 comes with a 5-year/100 000 km warranty and maintenance plan, 5-year/unlimited mileage roadside assistance (including a Skytrax track unit). The pricing below includes VAT, with the second amount being the CO2 emissions tax. Please note that the T3 entry-level models are only available from the third quarter of 2018.
Internationally, Volvo offers a subscription service called Care By Volvo, where customers can "subscribe to a car rather than buy it, for a fixed monthly fee which includes the likes of service, maintenance, insurance and other added value benefits". This plan is currently under consideration for introduction in the South African market and, if all goes according to plan, you'll be able to subscribe to Volvo ownership by the middle of 2019.
| | |
| --- | --- |
| T3 Manual Momentum | R489 500 |
| T3 Manual Inscription | R521 300 |
| T3 Manual R-Design | R528 400 |
| D4 Geartronic AWD Momentum | R600 300 |
| T5 Geartronic AWD Momentum | R610 900 |
| D4 Geartronic AWD Inscription | R632 100 |
| T5 Geartronic AWD Inscription | R639 200 |
| D4 Geartronic AWD R-Design | R642 600 |
| T5 Geartronic AWD R-Design | R649 700 |
Related Content
Visit our CarsAwards website for more details!
Read why the Volvo XC90 scooped an award from us.
Now's your chance to buy a used Volvo. Check them out here.