The visionary Elon Musk might have missed a trick with his new Model 3, while Volkswagen has hit the jackpot – presumably – with the electric reincarnation of their iconic Microbus. The Beetle is dead, long live the Buzz.
Electric Ladyland, The Electric Horseman, The Free Electric Band... The list goes on.
But from Jimi Hendrix's final studio album, through a cinematic tale of setting a thoroughbred free among wild canyon horses, to Albert Hammond's total rejection of suburbia, the pivotal word is "electric". It generates a certain frisson, a thrill, an excitement, a vibe, a buzz. It powers us to the next level; it delivers the future.
We had candles at one point. Now we can flick a switch, and – magically – have light. The cosmos ain't dark anymore and the revolution ain't restricted to illumination either. Hendrix could rasp on a string (or rip it with his teeth) and electricity would mysteriously amplify his Fender Stratocaster to set the universe in motion and rearrange it, just as Volkswagen's iconic Microbus did for a generation of people who identified with the Free Electric Band.
Volkswagen recently announced the return of the legendary Kombi, which will be reincarnated in 2022 as the I.D. Buzz, with I.D. denoting "intelligent design" or "iconic design".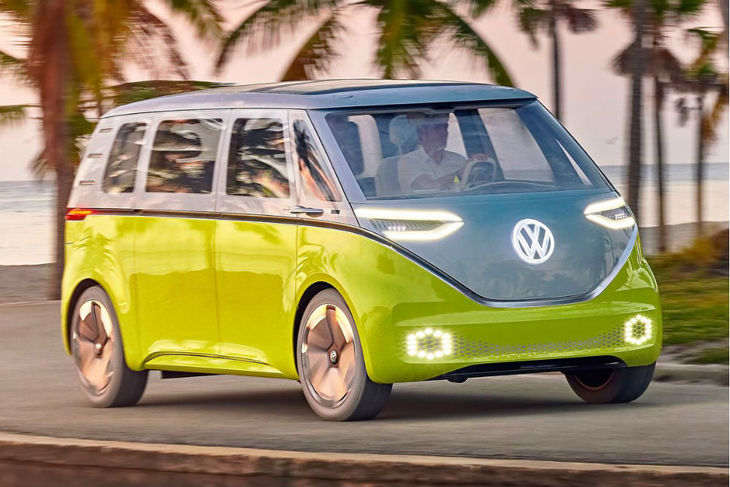 That's right, kids, the next-generation "Mystery Machine" will go into series production in five years' time.
Think tank keeps VW on cutting edge
Yet, it also sounds suspiciously similar to "idea", like in "great idea", of which Wolfburg's future electric portfolio boasts a couple: I.D. Crozz, for example, Volkswagen's upcoming electric cross-over (get it?) or perhaps even I.D. Luxzz, for a luxury vehicle, but who knowzz?
Yet, great ideas cannot live in isolation. That's why Wolfsburg has created an I.D. think tank of fresh young minds, not to mention experienced old souls, to perpetually keep the Volkswagen brand at the cutting edge of what's yet to come, when cars will be so much more than just cars, because people will be able to individualise and personalize vehicles to reflect how they view themselves (or, more to the point, how they'd like to be regarded).
It's quite clever then, the naming of the upcoming bus... it reminds me of how Toyota tried to be clever with the extreme form-follows-function shape of the Prius.
There's a rationale behind the latter, of course: it's in the best interest of aerodynamic efficiency. Coupled to a hybrid drivetrain, the Prius's Cd of 0.25 was set to save the planet and Hollywood unashamedly plugged in. Robert Redford might have been The Electric Horseman, but Brad Pitt and Leonardo di Caprio are The Electric Priusmen.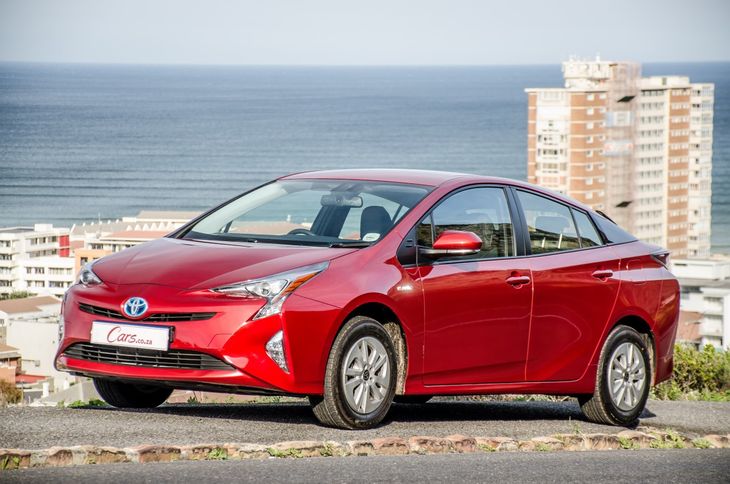 Not everyone's a fan of the Prius' acute wedge shape, but enhanced aerodynamics are key to achieving optimal fuel efficiency.
Yet, people didn't take to the unsexy flat-iron look. Was it really imperative that cars propelled by alternative fuels should look like a Prius or Honda Insight?
Tesla caters for top-end consumers
Enter Elon Musk. In 2008 one of his companies, Tesla Motors, put the first all-electric production car fuelled by lithium-ion batteries on the road. Known as the Tesla Roadster, it looked like a conventionally sexy sports car and for good reason: it was based on the Lotus Elise.
Lithium-ion was lighter than lead-acid and yielded a substantially better range, with the Roadster's ESS (Energy Storage System) able to deliver nearly 400 km on a single charge of its almost 7 000 lithium-ion cells, according to the United States' Environmental Protection Agency (EPA).
Impressive? Yep. But the battery range also plummeted when you exploited the raison d'être of a sportscar and drove the Roadster pedal to the metal. Combined with excruciatingly long recharging times – anything from 4 to 48 hours, depending on the available voltage and amp rating, plus the ESS's state-of-charge – the Roadster was in a spot of bother, notwithstanding massive torque delivered instantly, which made for electrifying, pollution-free acceleration.
But here was the real killer: the Roadster cost $100 000.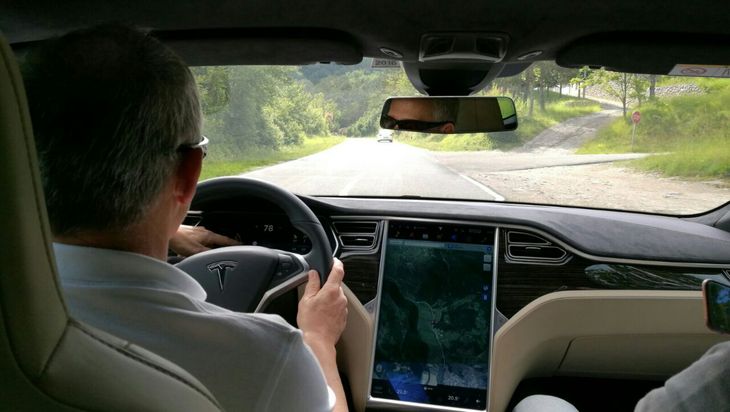 Cars.co.za published its first driving impression of a Tesla in 2016, with a contributor's write-up on the Tesla Model S.
The car exited stage left just as the Model S entered stage right, in 2012, also at prices which pitched the all-electric 5-door luxury sedan directly against Mercedes-Benzes, Audis, BMW's and Buicks, even on the styling front: the Model S looked like a fastback Jaguar, shattering the Prius' almost faceless facade for good.
Yet, at $100 000 for the P85D variant – with the price quickly inflating to $120 000 if ordered with air springs, a panoramic sunroof, high-capacity onboard chargers, hi-fi sound, Autopilot and the like – the question became: who splashes out like this?
Long-distance journeys still problematic
Certainly not people looking for cheap transport. In a recent test, America's Car and Driver magazine found Model S running, over long distance trips, to be as expensive as ICE (internal combustion engine) cars burning 6.3 litres/100 km.
That now, when you pay R8.25 per litre of petrol (August 2017), which is about two-thirds of local cost. Long trips in the Model S might thus make more sense on South African soil, except that you'll run into a different problem, namely the availability – or rather lack – of charging points, plus the long wait when you find one.
During a trip covering 5 600 km – the equivalent of two sojourns from Cape Town to Jo'burg and back – Car and Driver spent 57 hours behind the wheel plus another 15 hours and 20 minutes plugged in (not including overnight charging)!

Long distance driving isn't the Tesla Model S' forte, as a US publication found...
At the back end of 2015, Tesla at long last launched an SUV, yet again a conventionally styled looker with a hefty price tag. Like the Model S, the all-wheel driven Model X targeted rich, tech savvy, early adopting Californians and Norwegians, some perhaps with a bent for conspicuous consumption, others simply – and perhaps even blindly – buying into Musk's message of environmental concern.
Driving a Tesla to work and back – with recharges in between – will be cheaper and cleaner than a similar drive in equivalent ICE cars.
Production glitches
But you might encounter more build-quality problems: leaking sunroofs, for instance. Or unstable seat frames and attachments. The Model X's third-row seats unlatching during collisions. Windows not opening or closing all the way. Faulty parking brakes. Moisture in the taillamps. Hardware replacements. Or even outdated in-car technology with slow touchscreen responses.
Tesla quality, thus far, has been shoddy – and then there were a couple of cars catching fire plus last year's fatal accident in which a Model S operating on autopilot hit a tractor trailer and killed its driver.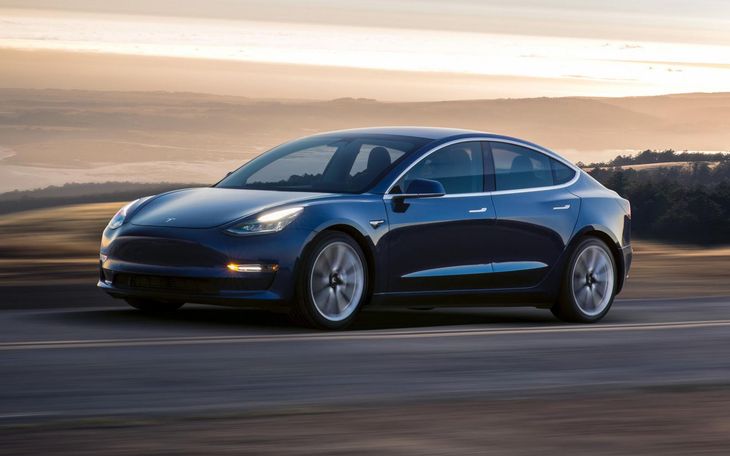 With the Model 3, Tesla hopes to achieve sales figures that will underpin the company's long-term goals.
Yet, despite these negatives, despite dodging bankruptcy and despite flirting on the edges of the law, Musk has been hanging onto his dream of using the profits gleaned from luxury car sales to fund the development of an affordable all-electric car, to support the planet in its fight against climate change.
That car is the Model 3, launched a month ago at the end of July to the tune of 455 000 pre-orders, Musk's zealous fan base perhaps not even realizing that a fully-specced Model 3 (with options like a home charger, long-range battery, 19" sports wheels, deluxe interior trim, enhanced autopilot and the like) will cost $60 000.
Cheap? Ya' better not bet.
Can Tesla deliver on its promises?
But here's the real problem: building and delivering all those units on time and up to quality standards, with little to no experience in real volume production nor large-scale global supply chains – not to overlook the need to expand Tesla's already overcrowded supercharging network.
Do-able? At a profit?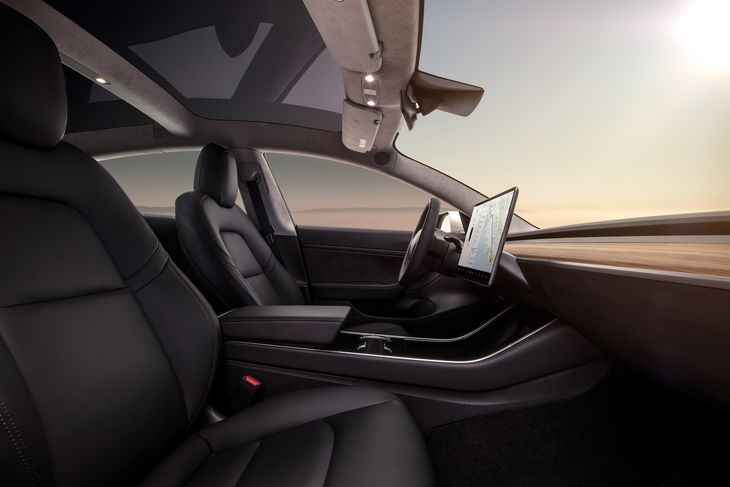 Tesla's brand new Model 3 is a stylish car, but has Elon Musk missed an opportunity to embrace the future in terms of packaging, by sticking with conventional sedan architecture?
Nissan and Chevrolet, for instance, have lots of ICE models to fall back onto, if their all-electric Leaf or Bolt backfires. They can even afford to sell these cars at a loss, just to build feel-good credits.
But a company lacking the funds to stop-gap will be in real trouble if and when the bread-and-butter model fails, like the Model 3 might, for a variety of reasons:
Tesla might not be able to build and deliver fast enough, which
might lead to dissatisfaction, even among the worshipping clan, and worse: Musk might be staring down the barrel of a number of compensation claims;
not least because of shoddy build quality and potential safety issues if the process is sped up beyond control in order to appease impatient customers; on top of which
Musk is a bit of an aesthete.
Because of the latter, and combined with all-electric versus hybrid car architecture, Tesla managed to break out of boring aesthetics like the Prius'.
Yet, at the same time, Musk has compromised not only his cars (the Model X SUV is space limited, for example), but also the company's future by locking product into well-established norms and patterns of design, the packaging of which limits seating to a handful of people, all facing forward, like passengers strapped into an aeroplane.
This limitation will not change soon, either, as Musk wants to play big with the Model 3; another conventionally beautiful car which will command all of Tesla's financial resources over the next 5 years, leaving not a dime to defend the company against the imminent onslaught of electric vehicles packaged to fully exploit the spatial possibilities freed up by autonomous driving.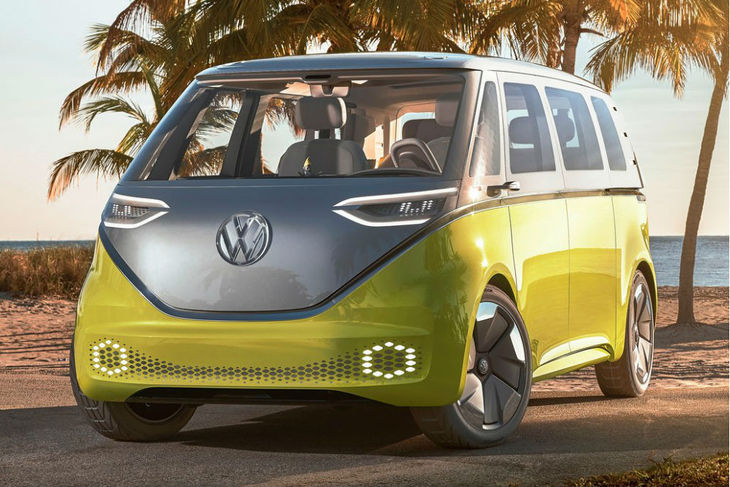 Yes, the I.D. Buzz concept seems like the fruit of good old California Dreamin', but its spirit still strikes a chord with throngs of motorists.
EVs' biggest drawcard – the option to forego driving
For let's face it: why would people want a vehicle to take command and drive itself? Well, so that passengers are enabled to do things other than concentrate on the road ahead. They can relax. Talk. Read Talk. Eat. Read. Sleep. Drink. Play games. Have conferences. Watch movies or TV. Stuff like that.
And what kind of space would best provide for this?
A lounge-like interior seating perhaps eight people via a wealth of seating arrangements, boasting a big panoramic roof plus windows on which one can write using a finger instead of crayon, plus a retractable steering wheel when the car is in autonomous mode and a centre console that can slide around on rails running down the vehicle's spine, serving different needs at different times; freedoms that will make the Model 3 feel cramped, fettered and old school.
The I.D. Buzz is back to the future, then, especially as one would also be able to rig it as digs on wheels, just like way back in the day when surfers jolled in J Bay or camped out on Bondi Beach or prepared for the Pipeline.

With its highly configurable interior packaging, the I.D. Buzz begs the question: "If you didn't need to drive, what else could you do?"
In simple terms: the Buzz will allow you to I.D. your vehicle by expanding the theatre of utilities way beyond the restrictions currently imposed by conventional car superstructures.
The cult of Kombi reimagined
In the light of Volkswagen's clout – it boasts decades of experience in mass production – Musk's Model 3 will face its stiffest competition, not from a couple of smart Audis, Beemers, Benzes and Buicks or even the Leaf and the Bolt, but from VW's Next Big Thing, plus others of its kind.
Not for nothing does the indomitable rise of the utility-and-lifestyle orientated SUV point to the future of motoring.
Musk has created a fan base that borders on cult, much as Donald Trump has been doing in the US political arena.
But don't forget that VW's Microbus was and is an icon with cult status all of its own, a full-on party on wheels that will be again; the buzz around the Buzz is, understandably, electric. So, beam me up, Scotty, to the next level, straight into the belly of that Buzz so that I can plug in my Fender Stratocaster.
Related content:
Tesla Model 3 (2019) Pre-Launch Review
Opinion: Ferrari & Tesla, which will survive the future?
Tesla Finally Launches Model 3