The Tesla success story has captured the imagination of many South Africans, yet sadly these groundbreaking vehicles are not (yet) on sale in the local market. So what is a Tesla really like to live with? Theo Calitz travelled to Croatia to take part in the annual Nikola Tesla EV rally, which saw him spend around 1 200 km behind the steering wheel of the Model S sedan. Herewith his thoughts:
In the past few years – and like a bolt from the blue, it must be noted – the name "Tesla Model S" has become iconic. In fact, the S has become the poster child for the future of the automobile. And it has all happened so quickly! My first memory of it came courtesy of Motor Trend magazine (the November 2013 edition). On the front page was the Tesla CEO – South African-born Elon Musk – sitting in the (still fresh) Model S. His creation had just won that magazine's Car of the Year award against some very stiff competition from vehicles produced by the most acclaimed brands in the industry. It was clear that Model S represented a major achievement, and I've been following its story ever since.
So, as I travelled to Europe to drive this "hero" car, my expectations were heady, to say the least. Perhaps that is why my first impressions were somewhat anti-climatic. To see my first Tesla Model S in Iceland was certainly exciting, although I am not quite sure why. The car is undeniably pretty, but in the metal it resembles many other "normal" sedans – there's a hint of Jaguar here, a touch of Mazda there, etc. Maybe it is the Tesla's reputation that caused all the hype rather than its looks... Either way, while driving through tourist-laden Croatia it was clear that the Model S's fame had spread widely – passers-by were pointing at (and taking photos of) it wherever we travelled.
What is a Tesla Model S?

The Model S's swoopy looks are the work of American designer, Franz von Holzhausen
But before we delve into the driving talents of the Model S, it may be necessary to position the vehicle. After all, very few South Africans would have seen one in the metal. In short, the Tesla Model S is a large executive sedan of about the same size as a BMW 5 Series or Mercedes-Benz E-Class. In terms of price, however, it compares (in America) with the 6 Series Gran Coupe and 7 Series. It is entirely electrically powered and was the world's top-selling plug-in electric vehicle in 2015. It was launched to widespread acclaim in 2012 and has won numerous awards, including Car of the Century by Car and Driver magazine.
Now back to the Model S and driving it in Croatia. There are many websites and videos where you can study the inner workings of this technological marvel in detail. What I will attempt to do here, however, is to present the 4 things about the Model S that made lasting impressions on me during my extended stint behind its 'wheel.
1. It is clever... but not intimidating
Even though the Model S is different to anything I have driven before it was easy to become familiar with it. As you walk up to the Model S with the key in your pocket, the handles jut out from their flush positions so that you can open a door with a tug. The car switches on immediately, returning to its last-used status. The air-conditioning starts working, the audio system fires up etc. Get in, select D or R, and just drive normally... it's that simple. Similarly, when done, select P, get out and walk away. The car shuts off and locks the doors automatically. The key, by the way, looks like a mini Tesla Model S. Press the "roof" twice and the car unlocks, the same with the boot and bonnet. Keep pressing down to open/close the windows remotely.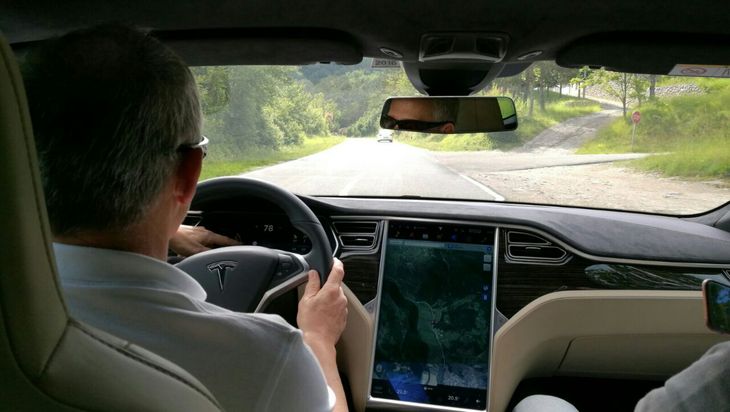 The author behind the wheel of a Model S in Croatia. Note the enlarged touchscreen.
Step inside and you are met with an elegant, if somewhat minimalistic, interior. There aren't many storage spaces (except the middle console which is devoid of a gear lever, handbrake or anything else). But drinks holders will be the last thing on your mind... You will be staring at the huge 17-inch touchscreen that dominates the central console and proved startlingly intuitive and easy to use. You can click, drag, pinch, minimise/maximise and select as you would on a tablet or smartphone. And there seems to be a lot to discover...
I loved using the Google Earth navigation, for example. The reverse-view camera spoils you with its resolution (also works well in low light conditions), but it was most exciting to explore the Spotify function, which allowed us to listen to any music track that we could think of, and Tune-in radio that had us listening to radio stations from all around the world. Because the interface is a screen with "soft" buttons it is changeable/upgradable and it allows Tesla to build their cars as standard as possible. Should an owner wish to "unlock" some of those features, they just pay extra and it's done. Want Autopilot? Deposit your $5000 and Tesla will download and/or unlock it for you – remotely. Hello the future!
The instrument panel is no less interesting with three areas that are customisable, but the coolest display was the little Tesla mimic that shows everything about the car and its surroundings. You can see if the fog lights are activated or the car changing lanes, for example. There is much to discover (view the video below).
2. It offers guilt-free performance thrills
Because the Model S is an electric car, most people will want to know about range and consumption, especially when compared with a traditional petrol/diesel or hybrid vehicle. But before we get to that... the driving experience itself is likely to leave the most lasting impression. You mostly drive the Model S with its accelerator – there is less need to use the brake pedal because of the car's regenerative braking (which is the case with most EVs), but it is the relentlessness and seemingly endlessness of the power delivery that raises eyebrows.
Outputs vary between derivatives, but start at around 270 kW and 440 Nm for the base model (a 0-100 kph sprint time of 5.4 seconds is claimed). Step up into the Model S P85, and that sprint time drops to 4.3 sec and the dual-motor P85D and P90D go even faster (3.2 sec), while adding Ludicrous mode to those models drops the benchmark sprint time to 2.8 sec!
That said, the car can also be enjoyed when driving efficiently (which can be important if charging opportunities are a challenge). The Model S displays the power consumption on a continuous graph and it is possible to drive at levels as low as 120 Wh/km, which, according to ecomodder.com translates to 1.35 L/100 km. But release your inner boy racer and use every opportunity to let the car zoom "to infinity and beyond", and the range drops quickly. Nevertheless, it is a great feeling to exploit the performance like a hooligan without feeling it in your pocket at the pumps. Just charge it up for free again... Of course, even if you have to pay for your recharge, your costs will likely be much lower than comparable fuel bills.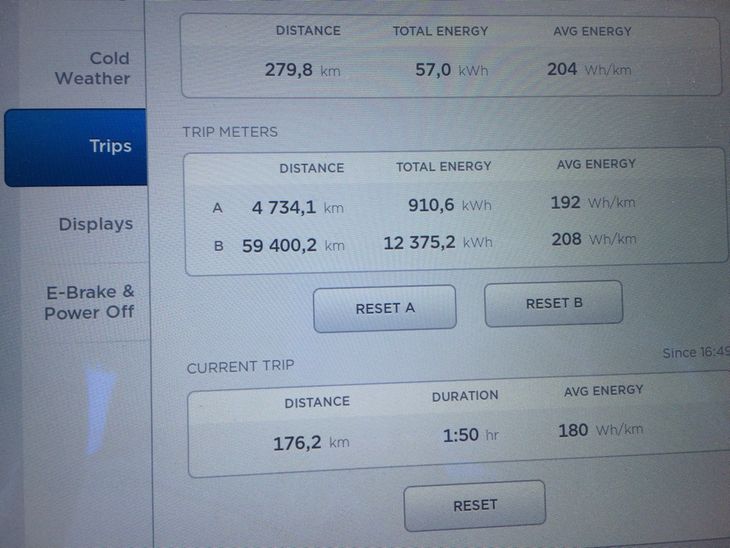 You can follow your energy consumption in real-time on the large touchscreen display.
The Model S also excels in terms ride and handling, which to some will be an even bigger surprise. Because of excellent traction control, a low centre of gravity and a good level of available grip, there is no burning of rubber or squealing of tyres under "full throttle". In terms of handling, I found the car responsive both in the ways it accelerated and braked, plus the manner in which it changed direction. The Model S is heavy, but feels planted and responsive, courtesy of its low centre of gravity. Still, given its size and weight it is better suited to a mountain road than a tight gymkhana course (like we did in a very-confined Poreć!). I enjoyed driving the car swiftly through the mountain passes; mostly controlling it with the throttle.
Oh, there is very little that can go wrong with the car from a drivetrain point of view. The motor only has one moving part and the systems protect it from overheating... for example, the air-conditioning is applied cleverly to cool the battery while it's being supercharged (fast-charged). With the Tesla Model S, it appears that you can have your cake and eat it.
3. The packaging is very, very clever
In spite of the sporty, streamlined looks, the Model S's cabin is surprisingly roomy, especially with regards to the rear legroom and the capacity of its boot cavity. There is the bonus of additional space under the boot (which is a practical hatchback with 33/66 folding seats) and because there is no engine at the front, there is an additional luggage space underneath the "bonnet". Tesla even offers the option of a rear-facing "jump seat", which is suitable for children. All in all not a bad car to have for your shopping trips to IKEA, then!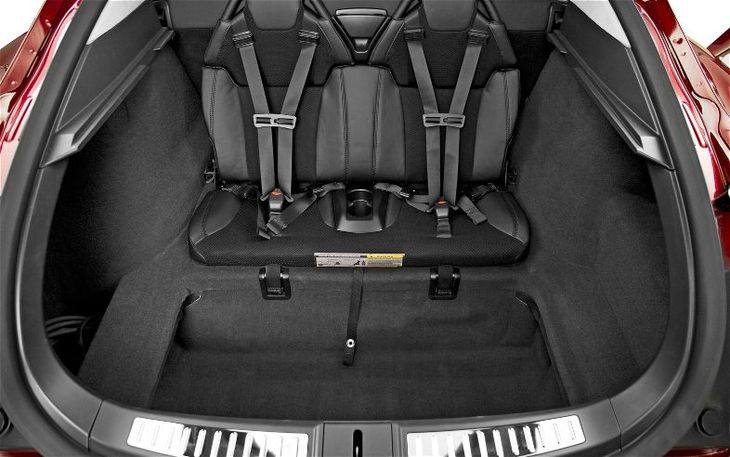 Optional rear jump seats make the Model S the world's only 7-seater luxury sedan.
But how did they do this?
The electric motor is made by Tesla itself. It is a 3-phase AC induction unit that does not need rare earth metals. The motor sits between the rear wheels with the inverter and is about the size of a watermelon, so it is totally out of the way and the power and torque it produces (for its size) is downright amazing. It is water-cooled, which helps it handle large current, but not indefinitely. Cooling will need to be upgraded for high-speed Autobahn driving. The motor runs at a higher speed than the wheels so there is a fixed ratio gearbox, but no shifting of gears is required because maximum torque is produced from standstill. My car was rear-wheel-driven (Model S 90). As soon as a D is added (e.g. Model S 90D), it means "dual motor" which adds a motor in front turning the Model S into an all-wheel drive car. In this case, a small amount of space is taken up in front. Besides that, you will not notice any space taken up by the battery, motor, inverter or charger. This is an example of electric car that was evidently designed from the ground up.
4. It makes autonomous driving feel natural
The Autopilot function seems complex and somewhat crazy, but again, it is amazing how easy it proves to use. At first it feels somewhat eerie to activate the system and experience the active cruise control, seeing the car steer by itself on roads with clear markings – even when they are quite twisty and narrow. You can also sense how the presence of cyclists make the car feel nervous and careful as compensates to avoid accidents. It will be very interesting to test this feature in a country such as South Africa, especially with our taxis, but I can confidently say that what feels creepy (at least at first) does instil confidence pretty quickly. CNET has done a video demonstrating the Autopilot function, which you can view below:
* Shortly following this article going live, news came of the first known Autopilot fatality which, of course, is tragic. However, while naysayers of the technology are viewing the incident as proof that the technology is flawed, it needs to be pointed out that statistically speaking autonomous driving has thus far proven immensely safe – safer, in fact, than human-piloted vehicles. Tesla reports the fatal accident as follows;
"What we know is that the vehicle was on a divided highway with Autopilot engaged when a tractor trailer drove across the highway perpendicular to the Model S. Neither Autopilot nor the driver noticed the white side of the tractor trailer against a brightly lit sky, so the brake was not applied. The high ride height of the trailer combined with its positioning across the road and the extremely rare circumstances of the impact caused the Model S to pass under the trailer, with the bottom of the trailer impacting the windshield of the Model S. Had the Model S impacted the front or rear of the trailer, even at high speed, its advanced crash safety system would likely have prevented serious injury as it has in numerous other similar incidents."
The accident is currently being investigated by the NHTSA (National Highway Traffic Safety Administration) in America.
Will it work in SA?
Now for the big question... It was recently announced (at the launch of the smaller Model 3), that Tesla is coming to South Africa. But will a car such as the Model S work here? After all, BMW i3s and Nissan Leafs aren't frequently seen on our roads, as opposed to countries like Norway, where there seems to be more EVs and plug-in hybrid vehicles than not.
Of course, range anxiety will still be a concern for many consumers, and I experienced it a few times in Croatia. Planning your trip is important when doing cross-country stints, but in the Model S it proved easier than what I would expect it to be with other EVs on the market today. The Model S has a range of between 400 and 450 km (depending on the model), but this will obviously depend on your driving style. The Model 3 will have a minimum range of 345 kilometres (the current Nissan Leaf and BMW i3 offer no more than 150 km), which should meet most people's daily requirements. Most EV buyers will have charging facilities at home and at work. Now we just need some Superchargers dotted along the country's main routes (to allow for super-fast and cheap recharging) and more shopping centres equipped with recharging facilities. Then there would be no reason for these cars not to be viable here.
In summary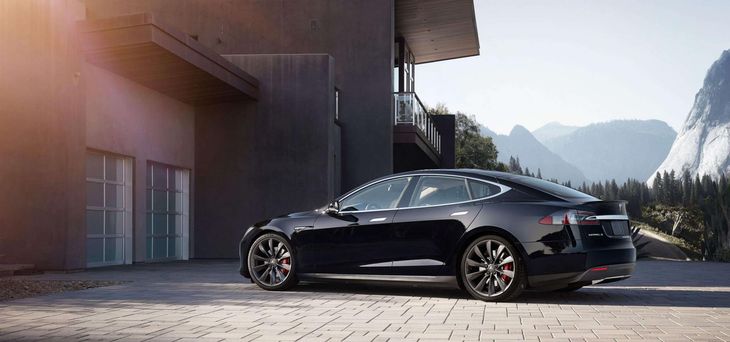 The Tesla Model S is an unlikely South African offering soon, but its smaller sibling could come relatively soon.
Now that we're accustomed to the abilities of modern smartphones, can you imagine going back to using an old cell phone that can only make calls and send SMSes? The Tesla Model S does the same to your perception of motoring. If you use the car for a while you'll be delighted with the raft of new features and abilities, but when you then you step out of it and into a "normal" car, and you will probably be instantly frustrated by the latter's comparatively antiquated technology. That's when you realise that the Tesla Model S has shifted what you expect from a modern car. South Africans are trend-followers (as we have seen with smartphones and many other things) and there is no reason why we won't follow this trend, too.
The Model 3 (the Model S's little brother) could apparently be here by 2018. Place your order now and pay your $1000 deposit, because the future's arrived – and it is good. Very good.
Related content:
The Problem With Electric Mobility
Volvo XC90 T8 Twin Engine (2016) First Drive
BMW X5 xDrive40e (2016) First Drive
BMW i3 - Game Changer of the Year
Drag Race: BMW i3 vs New Polo GTI - Electric vs Petrol