The official launch of Tesla's entry-level Model 3 took place at the tech company's Fremont facility in California at the weekend, where the first 30 customers of the business class EV took delivery of their vehicles.
Production of the Model 3 is expected to ramp up significantly during the remainder of 2017 with the bulk of orders being delivered during the course of 2018 and beyond. Last year, it was reported that Tesla added South Africa to its Model 3 order book and we have reason to believe that the Model 3 will only arrive in South Africa later in 2018 or most likely in 2019.

Watch Tesla CEO, Elon Musk, present the new Model 3 at its launch at the Tesla Fremont facility last week:

Key details
There are 2 derivatives of the battery-powered Model 3 on offer. The standard version offers a range of 354 km and can accelerate from 0 to 100 kph in 5.6 seconds with a top speed of 209 kph. Alternatively, the Long Range model has a range of 498 km with a zero to 100 kph sprint time of 5.1 seconds and a top speed of 225 kph.

As for charging, the standard Model 3 will gain 209 km range from a 30-minute charge using a Tesla Supercharger while a 240V household outlet at 32A will charge at a rate of 48 km per hour. As for the Long Range derivative, 30 minutes on a Tesla Supercharger will yield 274 km while a household outlet will charge at a rate of 60 km per hour.

A 15-inch touchscreen display is the main attraction in the Model 3 and controls all the vehicle's functions.
Standard specification for the Model 3 includes a 15-inch touchscreen display, dual-zone climate control and cloth seats. The interior can be further upgraded with an optional Premium Upgrades Package, which adds features such as 12-way electrically adjustable and heated front seats, open pore wood trim, 2 rear USB ports and a premium sound system, to name a few. Each car is equipped with autonomy equipment including 8 cameras, a forward radar and 12 ultrasonic sensors to enable collision avoidance and automatic emergency braking.

Tesla's Autopilot feature is offered as an option and allows the Model 3 to drive itself within a lane, conduct automatic lane changes, transition from one highway to another, exit a freeway and self-park when you reach your destination. Tesla says that more features will be added via software updates and full self-driving capability will be offered in the future.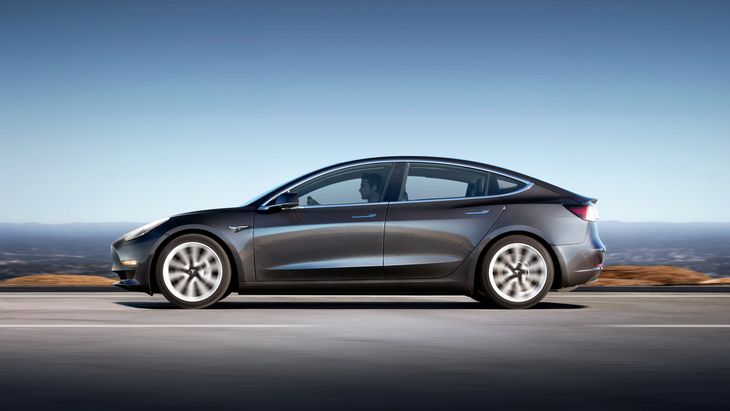 The Model 3's exact arrival in South Africa is yet to be confirmed, but 2019 is likely.
The Tesla Model 3 rides on 18-inch alloy wheels as standard while 19-inch wheels are offered as an option. A Solid Black exterior colour is standard while other colour options include Midnight Silver Metallic, Deep Blue Metallic, Silver Metallic, Pearl White Multi-Coat and Red Multi-Coat.

To give you an idea of price, the standard Model 3 is selling for $35 000 which equates to about R455 000 while the Model 3 Long Range is priced at $45 000 which is about R585 000.
Tesla's distribution model for South Africa is yet to be confirmed and considering the vast area that South Africa covers, charging stations for the Model 3 is something that will have to be addressed by the automaker.

We will keep you updated as more information becomes available. Are you excited to see the Tesla Model 3 in South Africa? Share your thoughts with us!
Related content
Is Tesla better than BMW?
Tesla Model 3 Coming to SA
Update: Tesla to Prove Autonomous Tech with Long Distance Journey (Video)
Opinion: Ferrari & Tesla, which will survive the future?
First Drive: Tesla Model S 90 (2016)