The Tesla Model 3 is making huge waves in the States, however it's only likely to be available internationally in 2019 and its arrival date in South Africa is yet to be announced. We sent US correspondent Mark Harris to give Tesla's smallest car a whirl and see what it's all about.
Unless you were born this millennium, Elon Musk did not build the Model 3 for you. He built it for kids just learning to drive who have never known a world without touchscreen smartphones, wireless internet and streaming video.
Slipping behind the wheel of Tesla's latest electric vehicle is like playing the world's most stylish racing game. The cabin is spacious and bright, thanks to a panoramic rear window arcing forward. There is nothing so clumsy as a key or even a start button – the Model 3 wakes and unlocks when your smartphone approaches. Small dials on the steering wheel let you adjust it to suit but almost everything else is controlled on the 15-inch touchscreen.
Screen overload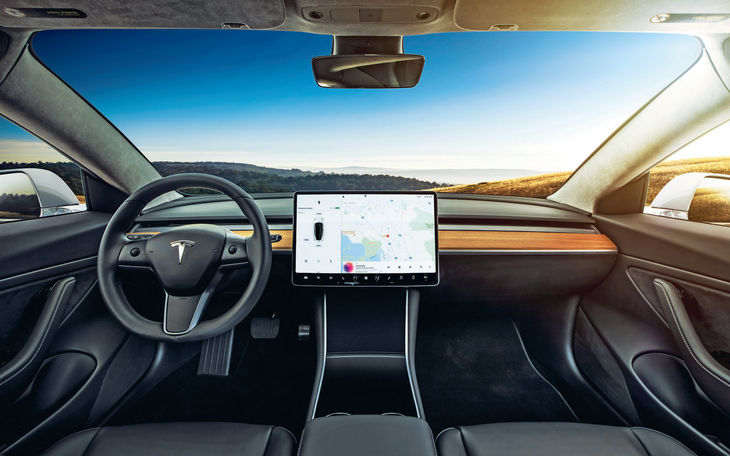 Huge 15-inch touchscreen controls absolutely everything in the car.
Even if you work on a laptop all day, finding an identical display in a car is a jarring experience. The place where your eyes naturally look for the speedometer is just a plain expanse of sanded wood. Instinctively reach for the climate or audio controls and there's nothing but plastic fascia. Maps look beautiful and streaming a podcast are effortless but no matter how clear the display or logical its menus, a touchscreen will never be as fast and intuitive as simply flicking open an air vent by hand.
Lucky, then, that nothing in the Model 3's price range is as fast and intuitive as its glorious electric drivetrain. Even without the raw adrenaline punch of the Model S's 'Ludicrous Mode' acceleration, the Model 3 is every bit as easy and fun to drive as its luxury predecessor. Floor the accelerator and the Model 3 springs into action with an enthusiastic hum. Steering is assured and road handling rock solid, the Tesla whipping around corners and shifting lanes with a mature confidence that belies its youthful styling.
Let up on the accelerator and the Model 3's electric motor automatically slows the car, feeding the energy back into the battery. If you're new to EVs, this strong regenerative braking can take a little getting used to, but it extends the car's range and lets you negotiate urban streets without ever tapping the actual brakes.
Upgradable systems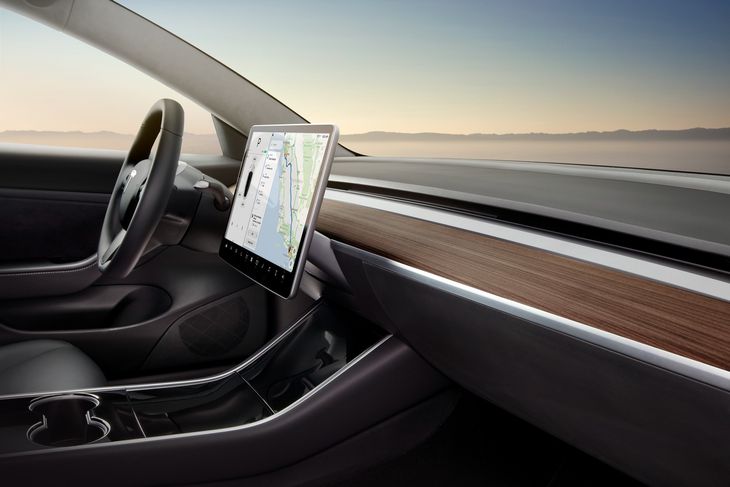 You won't find a less fussy interior anywhere else.
Of course, Elon Musk's ultimate aim is to have you moving around cities without touching any pedals at all. All Model 3s come with a suite of sensors to enable collision avoidance and emergency braking. If you've paid for the upgrade, a quick double-pull on the gear shift lever activates Enhanced Autopilot, Tesla's state of the art semi-autonomous driving system.
In my brief drive near Tesla's factory in Fremont, California, the Autopilot worked well rather than perfectly. Its radars and ultrasonic sensors detected some workers digging a hole by the side of the road but the car passed closer to them, and at a higher speed than I would have. The cameras also followed road lanes flawlessly, until the lane markings faded on the approach to a corner, forcing me to tap the brakes to take back control.
Tesla insists that today's Autopilot is merely a driver assistance system, requiring you to pay attention and keep your hands on the wheel at all times. But the stripped-back interior and central touchscreen suggest something different – that fully self-driving technology is on the horizon and that the Model 3 is eager to serve as one of the very first autonomous taxis.
There is even a driver-facing camera mounted above the rear view mirror. This is not currently activated but it might be used to ensure drivers are staying alert, or further out to monitor passengers in a futuristic autonomous ride-sharing scenario.
Future proof
Make no mistake. If you buy a Model 3 today, you are investing in the future – and not just because Tesla's notoriously sluggish production means you may not receive it for a year or two. Elon Musk has pioneered the idea of the car as something constantly evolving. Today's Model 3 is a hardware platform that will probably receive dozens of software updates in the years ahead. Expect the ability to unlock new features – perhaps even faster performance or longer range – as well as changes to the display, safety improvements, and eventually Musk's ride-sharing program to help you earn back some of the Model 3's sticker price.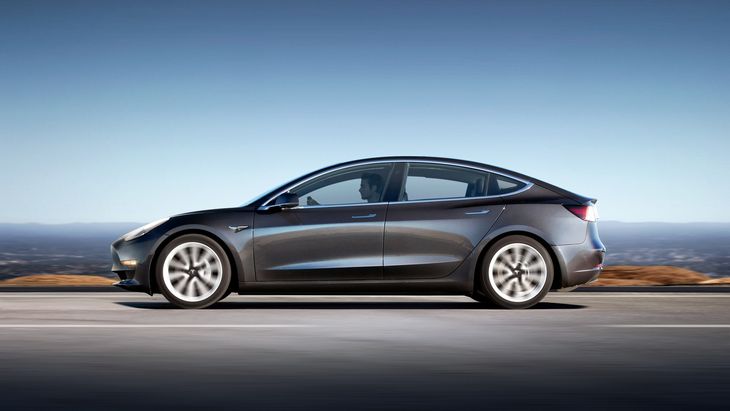 Tesla sells you the hardware, like a laptop and then the software the car runs is constantly updated remotely.
But for all this technology, Musk's smartest move might have been wrapping up the Model 3's mind-bending innovation in a modest, mass-market design. Anyone can appreciate the 3's graceful curves, and its short, even stubby, nose is about as unthreatening as can be. Splash out on Tesla's sporty wheels and metallic paint options and you've got a credible street racer but there is nothing here to scare off a suburban family. In fact, the generous rear seating, together with front and rear trunks, make the Model 3 a very practical choice for most.
More questions than answers
There are still many questions around the Model 3. What size are its batteries (Musk isn't saying)? How much will using its global networks of Superchargers cost? What will the story be with servicing? When will full self-driving actually arrive? And if you're fine coping with these uncertainties, there remains the biggest question of all: with around half a million pre-orders to fulfil, when will you be able to actually drive one home?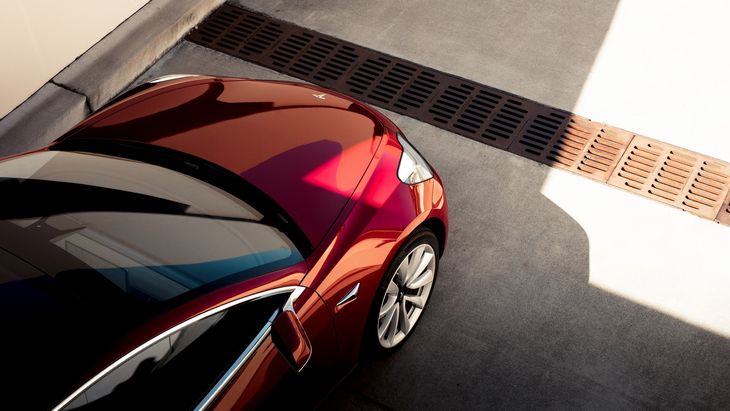 Musk hasn't given much in the way of details about the Model 3 or servicing or charging. People still flocked to buy one online.
Driving the Tesla Model 3 is like reviewing a shiny new laptop computer. The hardware is gorgeous, the finish is fine and it runs extremely smoothly. However, the Model 3's success will ultimately come down to the software it runs – and that is still a work in progress. One thing is for sure. This is already the mid-range electric car to beat, and it's getting better all the time.
Editor's note: Even though Elon Musk famously tweeted in 2016 that the Model 3 was earmarked for release in South Africa, the firm had not committed to an introduction date (and the establishment of local sales/service infrastructure) at the time this article was published. We have it on good authority that a handful of local motorists had put down deposits for the 3
Tesla Model 3 specifications
Engine: Electric motor, lithium-ion battery pack (kWh not stated)
Transmission: Single-speed direct drive, rear-wheel drive
Performance: Standard 5.8secs 0-100 kph, 210 kph top speed, 350 km range; Long Range version 5.3 secs 0-100 kph, 225 kph top speed, 500km range
Features: Wi-Fi/LTE, 15-inch touchscreen display, keyless entry, voice activated controls
Safety: Seven cameras, forward radar and twelve ultrasonic sensors (some features cost extra).
Weight: 1610 kg
On sale: 2019 (international)
Related content
Opinion: Ferrari & Tesla, which will survive the future?
Tesla Finally Launches Model 3