The Volkswagen Golf GTI is one of South Africa's most popular vehicles but it has become pricey, putting it out of reach of many consumers. However, what if there was something cheaper that could offer a comparable ownership experience, most of the performance, but importantly, consume half the fuel? We present you with the Golf GTD.
We like: Great power delivery, exceptional fit and finish, smooth ride quality, excellent fuel economy
We don't like: best features are optional, not a cut-and-thrust performance machine
Alternatives:
No compromise: If you don't want to drive a diesel, consider the petrol-powered Volkswagen Golf GTI priced at R545 800. It's one of the best compact hot hatchbacks and more powerful than the GTD, with 169 kW/350 Nm developed by its 2.0-litre turbopetrol engine.

For something with more style: Consider the BMW 120d M Sport. It presents a credible threat to the GTD as it arguably offers a more premium badge on the nose, while rear-wheel drive dynamics will entertain driving enthusiasts. It's priced from R524 100.

A premium proposition with its own flair: Volvo offers a V40 R-Design with a potent diesel motor and a sporty kit. Interestingly its performance runs the GTD very close, but the cabin feels outdated by comparison. The V40 D4 R-Design is priced from R510 100.
Compare the Volkswagen Golf GTD to the BMW 120d and the Volvo V40 D4 here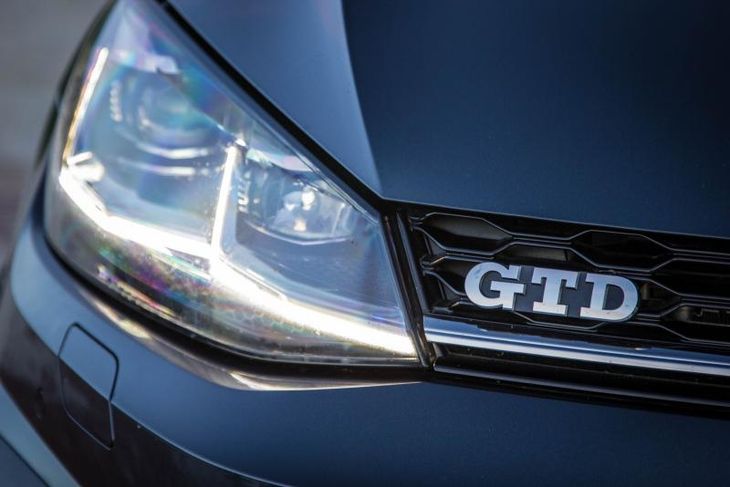 Subtle GTD badging on the front and rear separates the GTD from its petrol-powered sibling.
Facts & Figures
Price: R506 700 (August 2017)
Engine: 2.0-litre, 4-cylinder turbodiesel
Transmission: 7-speed dual-clutch gearbox
Power: 130 kW
Torque: 350 Nm
Fuel consumption: 5.0 L/100 km (claimed)
0-100 kph: 7.4 seconds (claimed)
Top speed: 230 kph (claimed)
A diesel GTI? Wait, what?
The concept of a diesel-powered Volkswagen Golf GTI may be foreign to South African consumers, but in Europe, the car's hugely popular. In fact, sales of the GTD are higher than that of the petrol GTI and, in some European markets, the GTD outsells the GTI 2 to 1. The recipe is simple. Take the remarkably versatile, composed MQB platform, then insert a potent-yet-frugal diesel engine, retain all the creature comforts plus luxury features from the double Cars.co.za Consumer Awards Premium Hatchback champion and voila: another quick-yet-refined upmarket hot hatchback.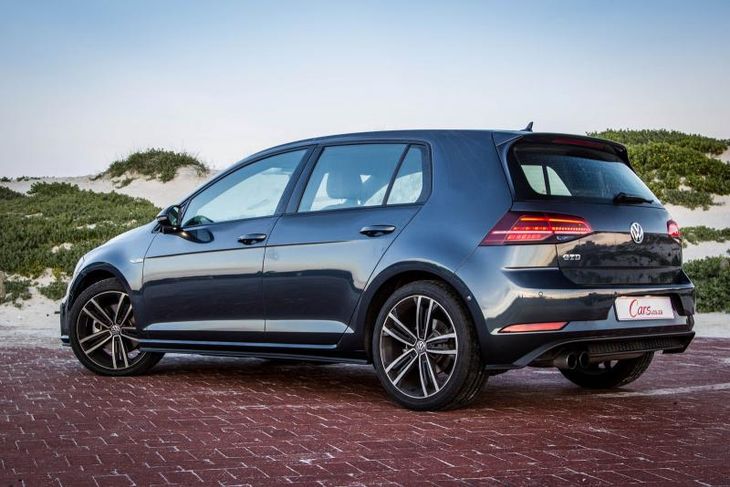 Twin exhausts? Check. Sporty alloys? Check? Discrete GTD badging? Check. No image problems here.
The good
Engine refinement
Turbodiesel engines are typically rougher-sounding than their petrol counterparts and have more leisurely responses to throttle inputs (even if torque delivery remains impressive), and it must be said, in the case of the Golf GTD this rings true, to a degree. Start it up first thing in the morning when its metal innards are cold and you might be forgiven for thinking someone had wedged a John Deere tractor engine into the Golf"s engine bay.
However, once the vehicle's engine and powertrain are warmed up to optimal operating temperature, the engine note settles and the motor spins up deceptively easily for a turbodiesel unit. Thanks to some clever work through the car's speakers, there's none of that trademark diesel thrum when accelerating either and instead you get a deep rumble, which is a subtle hint you're behind the wheel of something, um, "rather brisk".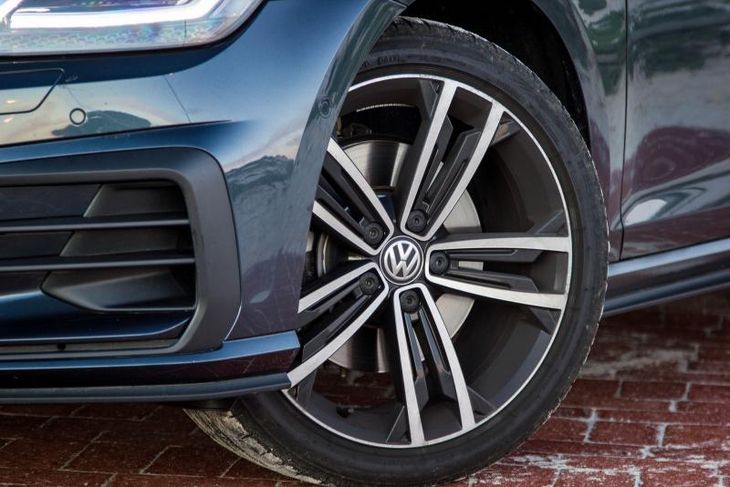 The ride quality delivered by the 18-inch Sevilla alloy wheels is firm, yet comfortable enough for the daily commute.
Impressive performance
Usually, the trick with a performance diesel engine is that because it delivers peak torque in a narrow power band (usually between 2 000 rpm and 3 500 rpm), it's best to keep the engine spinning in that range to extract optimal performance. However, things are a little different with the GTD.
The turbodiesel Golf's engine is a tad more responsive in that regard; you can feel the turbocharged surge coming earlier than expected and the 2.0-litre mill is quite happy to be pushed hard. Some detractors suggest the GTD is not deserving of the badge due to its relatively low outputs of 130 kW and 350 Nm, and, to be fair, even a (soon-to-be-replaced) Polo GTI boasts higher peak power. However, the GTD has a party trick: launch control. With the GTD in attack mode, it'll hit 100 kph from 0 in under 8.0 seconds, but it's the way it launches off the line that is astonishing and satisfying.
The strength of the GTD is its in-gear acceleration. Thanks to a dual-clutch automatic transmission that is smartly calibrated to the engine's performance characteristics, the turbodiesel Golf almost always operates in the sweet spot of its power unit and the car gets a real move-on with very little fuss. It'll even spin its wheels in 2nd gear if you try hard enough, so while many say the GTD's not really a performance car, it tries hard.
Oh, and did we mention fuel efficiency? Volkswagen claims an average fuel consumption figure of 5.0 L/100 km for the GTD, which is a tad unrealistic in our opinion, but we're happy to speculate that even if you're driving the newcomer with wanton disrespect for efficiency, you're most likely never going to see returns of higher than 9.0 L/100 km, whereas the Golf's turbocharged petrol rivals will all be sitting in the 11s...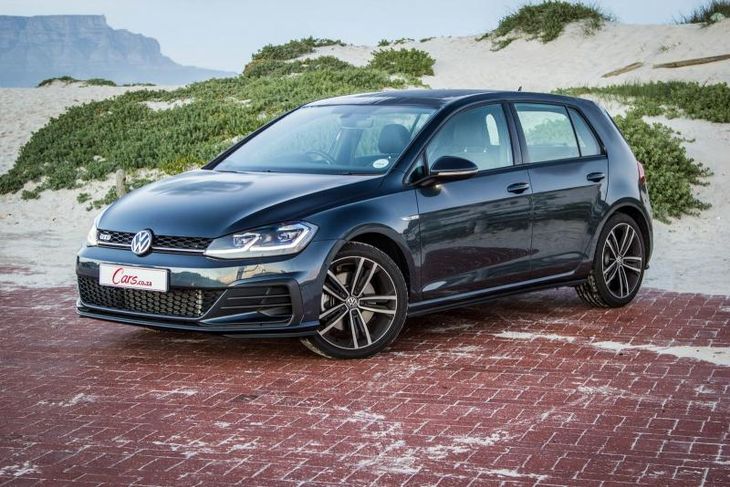 Although the GTD lacks outright performance, it does offer sufficient punch and lower fuel consumption is its strength.
No chance of mistaking it for a run-of-the-mill Golf
Although GTI fanboys (and -girls) will argue that version 7.5 of the iconic hot hatchback still holds a slight upper hand in the looks department, there should be no quibble that the GTD offers more than enough kerb presence in its own right. Eye-catching exterior adornments include a sports front bumper with C-signature air-curtains, LED headlamps and daytime running lights (replete with "Light Assist" automatic high-beam control), 18-inch Sevilla alloy wheels, dark-red LED tail lights (with dynamic turn signal) and a twin pipe exhaust system. It all looks tastefully purposeful.
As ever, the GTD's interior is supremely comfortable, sufficiently spacious, plus it is nothing short of a study in upmarket build quality... the look and feel of the trim finishes, even if they're a tad conservative, would not be out of place in a more expensive business class vehicle. Over and above the 8-inch Composition Media touchscreen infotainment system, which feels bang up to date in terms of functionality (such as Apple Carplay/Android Auto connectivity), cruise control, dual zone climate control, heated sports front seats and classy white Interior ambient lighting have been availed.
The bad
The infernal options list
Yes, the GTD is smart inside, but for consumers who are expected to fork out more than R500k of their hard-earned Rands, the good stuff is still just out of reach. The digital dashboard (R8 000) is such a desirable feature, but it can only be had in conjunction with satellite navigation (R20 200). The adaptive chassis control will please performance aficionados, but again, that costs an extra R12 700. The plus side of all of this is that you're likely to be able to walk into a dealership and see a GTD on the floor with some of these features added on already; perhaps there'll be some haggle room.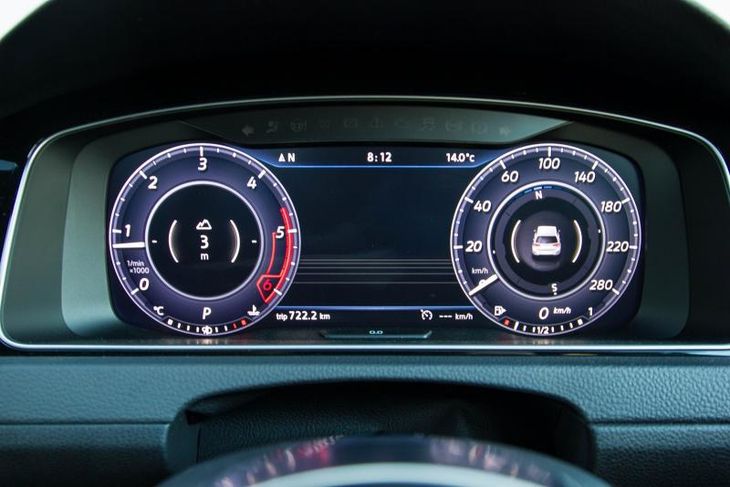 Volkswagen Active Info Display... Lovely, but you pay extra for the luxury.
The inevitable comparison
With a chassis that is stiffer and sits lower than your standard Golf, a special electronic slip diff, the steering setup from the GTI and uprated brakes, the Volkswagen GTD goes all-out to deliver driving thrills. There is surfeit handling prowess courtesy of oodles of front-end grip, a well weighted and accurate steering configuration, and, when the Golf is tasked to attack the twisties, admirable, measured body control.
However, in terms of outright excitement, it's just not as compelling as the GTI. Yes, it's slightly heavier than its petrol-powered sibling, but that is not the problem: whereas the GTD has given you all its torque by 3 500 rpm, the GTI will keep delivering the same level of peak engine twist up all the way to 4 600 and, more importantly, in cut and thrust driving conditions, the former's throttle responses feel a bit blunt and dopey by comparison.
Pricing and warranty
The Volkswagen Golf GTD retails for R506 700 (August 2017). It comes with a 5-year/90 000km service plan, 3-year/120 000km warranty and a 12-year anti-corrosion warranty. Service intervals are set at every 15 000 km.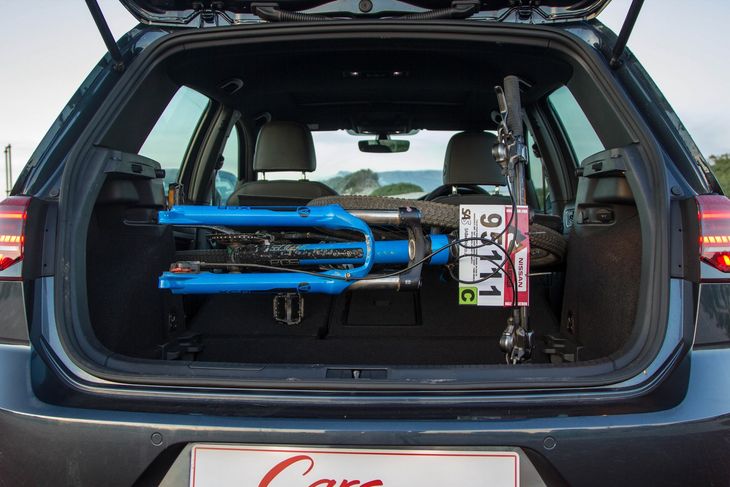 A mountain bike fits nicely into the Volkswagen Golf GTD, but you will have to take the bike's front wheel off.
Verdict
Does a diesel hot hatchback work? In a way, yes, it definitely does. However, the GTD is not a new concept as there are potent offerings from BMW and Volvo in the forms of the 120d and V40 D4 respectively. The GTD's cabin and features effortlessly top that of the BMW, the Volvo's cabin feels outdated by comparison and the Volkswagen's arguably "better dressed". The fact that it has launch control further underlines its sporty credentials.
It may not have the outright performance of its petrol-powered brother, but there's certainly enough off-the-line shove to elbow lesser performance hatches out the way. Once rolling, and with the DSG transmission in its most aggressive setting, the in-gear punch is unrelenting. Don't expect the same levels of driving fun as in a GTI, but on the other side of the coin, the refinement and relaxing cruising nature of the car is a major highlight.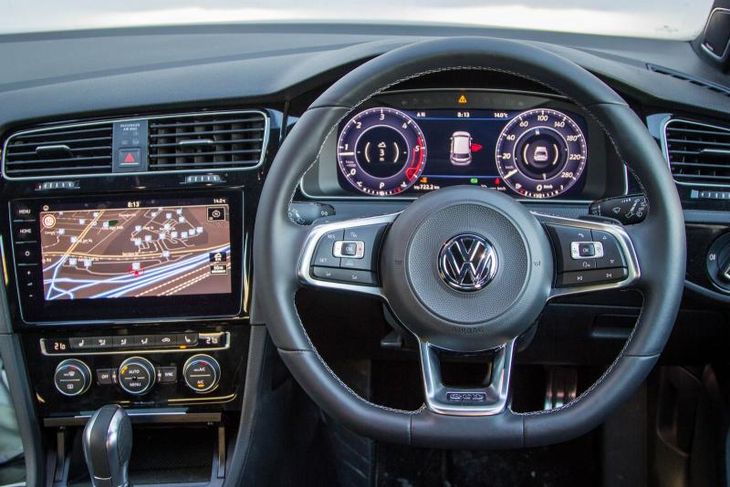 A well-assembled and well thought out cabin with plenty of luxury features. This is what Volkswagen does best.
Ultimately, the GTD is a jack-of-all-trades, but master of none. It's refined, offers credible performance and has enough space and practicality to still qualify as a sensible buy. We think mature buyers who may see the GTI as a "too showy" offering may easily take a liking to the GTD. It was a valiant and brave decision to bring it to our market, and while the Golf offers something different, it's hard to imagine it will sell in large numbers.
Given how the European market has cooled towards diesel engines due to emission concerns, we think the "diesel performance vehicle" is on its way out/plug-in hybrid hot hatches will be the next big thing. Still, we're happy the GTD's here. Its few shortcomings are relative to the immense breadth of talent of its GTI sibling, which is high praise in itself. As a standalone ownership proposition, the GTD is very unlikely to disappoint...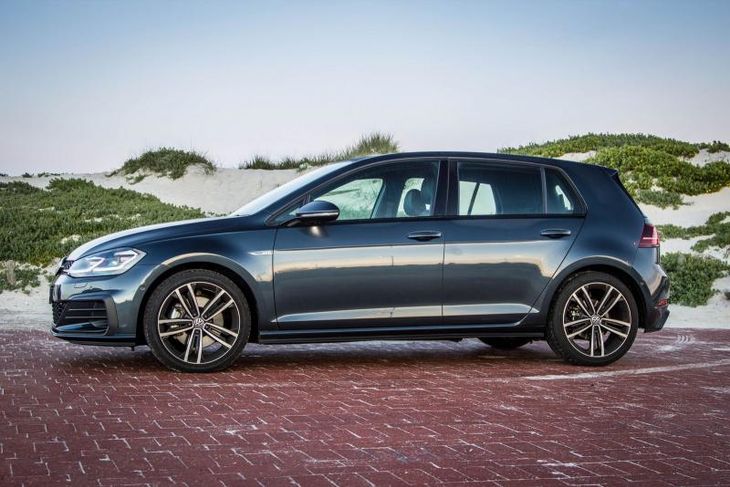 It's hardly likely to dent the GTI sales, but it makes for a more mature drive. We're fans of the power delivery and refinement, but would look elsewhere for outright driving thrills.
Related content:
Drag Race: Volkswagen Golf GTI vs Golf GTD
Volkswagen Golf R, GTI & GTD (2017) Track Comparison Video
Volkswagen Golf 8 Details Emerge
Rendering: VW Golf 8 & GTI coming in 2019
5 Cool Things About New Volkswagen Golf GTI
Volkswagen Golf GTI (2017) Quick Review
Volkswagen Golf R + GTD (2017) Launch Review
Revealed: Performance Pack for 2017 Volkswagen Golf GTI
Interested in buying a Golf GTI or GTD?