The local Volkswagen Golf product range has been expanded with a pair of performance offerings. Version 7.5 of the flagship Golf R is here, but it has been joined by a fast-yet-frugal GTD – the first time a performance turbodiesel Golf has been offered in our market. We attended the local launch and here's what we thought of the newcomers.
The Volkswagen Golf R is a massive favourite amongst the petrolheads in South Africa, which, along with the GTI derivative (a reigning Cars.co.za Consumer Awards category champion, continue to dominate the sales. Volkswagen regularly points out that R and GTI models make up nearly 60% of Golf sales in South Africa.
What's new?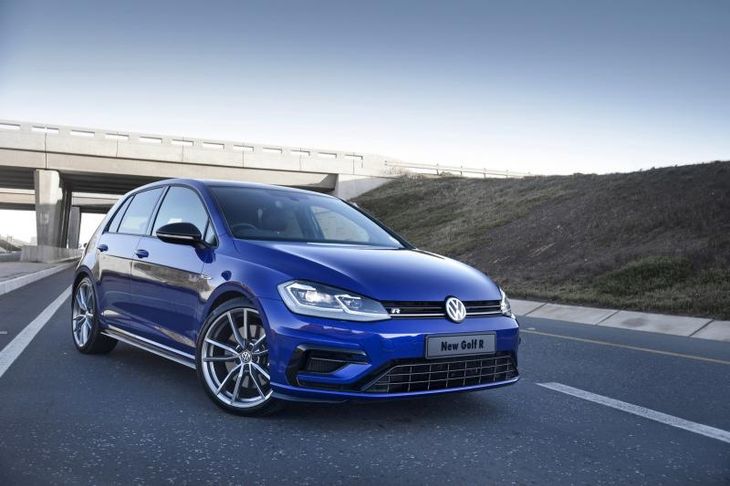 The new Volkswagen Golf R has not changed dramatically in the visual stakes, but keen-eyed spotters will note the refreshed bumpers, LED headlights and LED tail lamps. Carbon fibre wing mirrors and 19-inch "Pretoria" wheels are nice visual touches, but unfortunately, they're optional. The car comes standard with 19-inch "Spielberg" alloys and the quad exhaust tips have been retained, but Volkswagen claims they've been slightly repositioned. The cabin has seen some changes too and you now get the Active Info Display digital dashboard as standard, as well as the panoramic sunroof, which is a nice-to-have item!
There are some under-the-skin tech changes too, in the form of gesture control for the infotainment system and safety features such as Adaptive Cruise Control and autonomous emergency braking. Other than these changes, it's unmistakably a Golf R. Oh, and you can now get it in that garish shade of yellow that Volkswagen offers. We can't see there being much interest in that colour, with white and the trademark blue being the popular hues.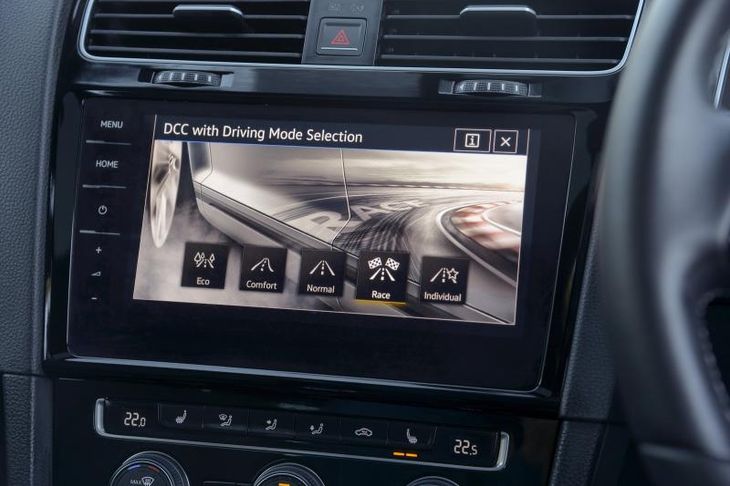 Is it fast?
You bet! The new Volkswagen Golf R features a 2.0-litre turbocharged petrol engine as before, but power has been increased slightly to 213 kW and 380 Nm. Due to our hot climate, our vehicles are detuned for reliability, which is a pity as the full-fat European-spec Golf R packs a tremendous 228 kW. Volkswagen is claiming a brisk 4.6 seconds for the 0-to-100 kph sprint, which puts it squarely in the Mercedes-AMG A45 and Audi RS3 class.
With power going to all four wheels and a new ultra-responsive 7-speed dual-clutch gearbox at your disposal, the Volkswagen Golf R is a sharp road-going weapon. It's agile, precise and supremely quick. While that time of 4.6 seconds is claimed, we wouldn't be surprised to see it go under 5 seconds with ease.
Dial in Race mode and the car primes itself for maximum performance with the steering, transmission, suspension and engine all armed. An unfortunate side effect of this is the cabin fills with a faux induction noise, which can get mildly annoying on longer drives. Fear not, as a quick dive into the Individual setting means you can retain some of the sharpness while turning the noise off.
Make no mistake though, as while the cabin noise will be subdued, the exterior noises continue and we're happy to report that the trademark Vrrr Phaa with each gear shift is still present. The grip is phenomenal and it's only when you're driving beyond your abilities will the vehicle ís bound to come unstuck... or at least feel as if it is about to let go. It's one of the few performance cars that is so confidence inspiring and each corner encourages to press on a little further and further... Thankfully, the big brakes are more than up to the task when things get out of hand.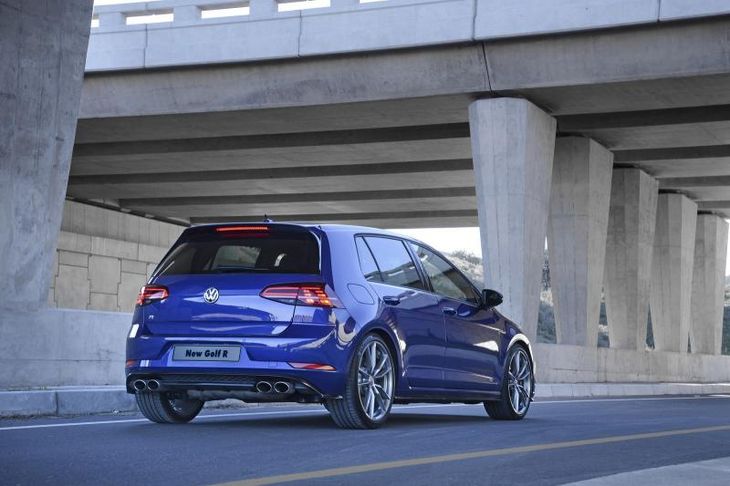 Diesel performance
Volkswagen also launched its performance diesel offering, alongside the R. Unfortunately it was completely overshadowed by the mighty R and driving the GTD after the R, felt distinctly underwhelming. Fortunately, this author can recall his first taste of the GTD at the international launch of the Volkswagen Golf 7.5 in Europe and once you get used to the powertrain's delivery, it is an accomplished cruiser.
While the concept of performance turbodiesel sounds a bit like a contradiction, the idea is not new. The GTD's 2.0-litre turbodiesel motor pushes out 130 kW and 350 Nm, the same torque peak as the GTI. Performance is brisk (7.4 seconds from 0 to 100 kph), as opposed to breathtaking, and the vehicle's real strength lies not in its off-the-line acceleration, but the copious mid-range punch that it offers.
As mentioned in the international write up, we wouldn't like to be in a GTI at 80 kph if a GTD pulled alongside it, the latter might leave the former red-faced! The massive bonus with the GTD is you can happily drive it hard all day and you don't need to push the motor to its redline to get the best out of it; there's a wonderful sweet spot between 3 000 rpm and 4 000 rpm where you simply ride the wave of torque. The fuel consumption benefits of a turbodiesel over a -petrol will be the big drawcard and while Volkswagen claims a bit optimistic figure of 5.3 L/100 km, we can't imagine consumption going over 8.5 L/100 km.

Summary
Let's start with the all-new offering, the GTD. While we predict the real seller will still be the petrol performance derivatives, the GTD offers something different. If you fear being judged harshly by your family and friends for buying a "boy-racer" Golf GTI, then perhaps you can get the GTD, which is a bit more subtle, offers credible performance, should consume less fuel than its petrol sibling AND it's more affordable.
Unfortunately, the launch day was dominated by the consummate package that is the Volkswagen Golf R. Not only does it perform like a bona fide sportscar, but it offers practicality and technology galore. It's one of those true multi-disciplined cars, one that can do (virtually) everything and do it well. It lends itself as ideal weekend-away transport, because there's plenty of space in the cabin and luggage bay, plus the (optional) 10-inch infotainment setup is a joy to use. Combined with superb build quality and performance, the Volkswagen Golf R is likely to continue to win hearts and much favour with South African customers.
Purists may suggest that the R lacks that level of driver involvement that more performance-focused products such as the Honda Civic Type R and Ford Focus RS offer, but we couldn't see ourselves driving to and from work in those – they're just too compromised for the daily commute. The Volkswagen Golf R, for those who can afford it, gets two thumbs up: its performance is compelling and comfort/luxury on point.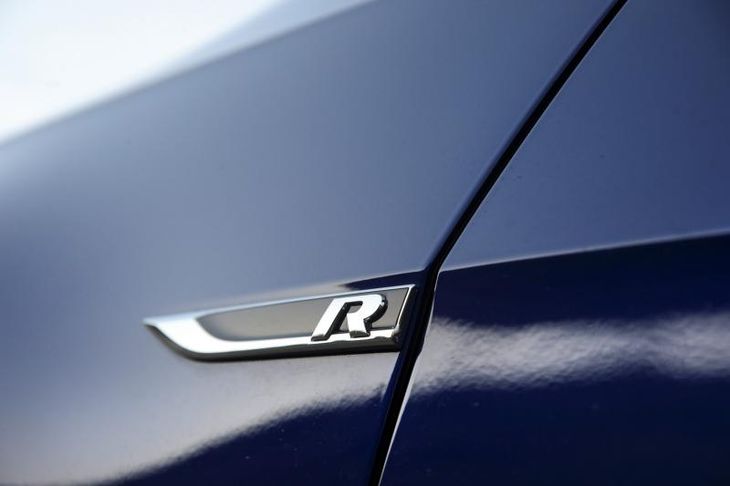 Volkswagen Golf R and Golf GTD Price in South Africa (20/7/2017)
These new Volkswagen Golf products come standard with a 5 year/90 000km Service Plan, 3 year/120 000km warranty and a 12-year anti-corrosion warranty. Service Interval is 15 000km.
2.0 TDI 130 kW GTD DSG R506 700
2.0 TSI R 213 kW DSG R647 300
Further reading:
Read a first drive of the GTD and GTI here
Volkswagen Golf Facelift Revealed [with Video]

Volkswagen Golf GTI Clubsport S (2016) First Drive

Volkswagen Golf GTI Clubsport (2016) Video Review

Volkswagen Golf GTI Clubsport (2016) Review

Is The Golf Segment Dying?

Comparative Review: Opel Astra vs Volkswagen Golf 7
Would you like to buy a Volkswagen Golf?