Our reigning premium hatchback champion in the 2016/17 Cars.co.za Consumer Awards, the Volkswagen Golf GTI, has had a mid-life facelift. How has Volkswagen managed to refine an already class-leading product? We find out...
We like: Impeccable build quality, premium feel, effortless performance, ride/handling balance, practicality, advanced features
We don't like: Pricey, but... you get what you pay for
Alternatives:
A rear-wheel drive BMW: The BMW 1 Series is a nicely balanced competitor these days, offering an admirable mix of performance, status and dynamic appeal. Still, until its next upgrade at least (happens soon), the VW arguably has the better cabin. As is the case with the VW, you really have to delve deeply into an extensive options list.
A "warm" Mercedes: With slightly less power, but similar performance, the Mercedes-Benz A250 Sport is a real threat, given the inherent appeal of the Three-pointed Star badge on the nose. But it can't match the Golf's refinement, interior build quality, practicality and ride/handling balance.
For something cheaper: Until the all-new RS derivatives are added to the Renault Mégane line-up, you could still consider the Ford Focus ST. It's a more old-school hot hatch in its positioning, with relatively wild looks and cheaper finishes all-round. Fun to drive, but not the all-rounder the Golf GTI is.
Compare the specifications of the VW Golf GTI with the BMW 125i M-sport sports-auto and Mercedes-Benz A250 Sport
Facts & figures
Price: R545 800 (base spec, June 2017)
Engine: 2.0-litre, 4-cylinder turbopetrol
Transmission: 6-speed dual-clutch
Power: 169 kW
Torque: 350 Nm
Fuel consumption: 6.4 L/100 km
0-100 kph: 6.4 seconds
Top speed: 248 kph
What is new?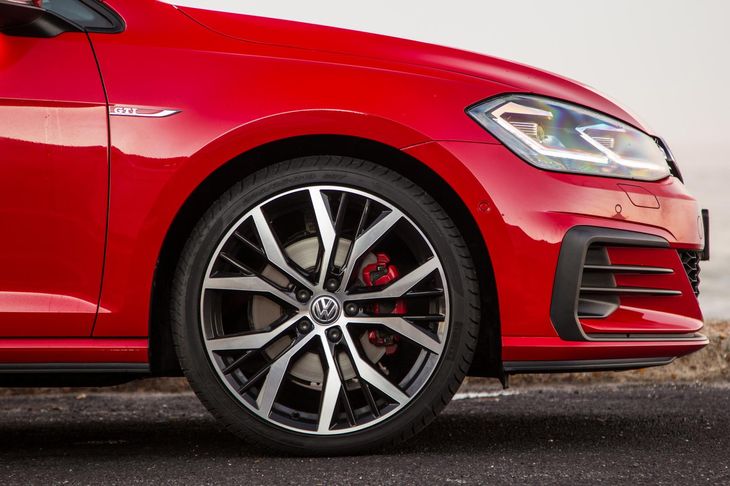 Subtle styling revisions for the new GTI – note changes to headlamps and optional 19-inch Santiago alloy wheel (R8 100).
When a product as good as the VW Golf 7 reaches the half-way mark of its lifecycle, one could argue that the traditional mid-life facelift needs not be anything more than the fresh application of some "make-up". There's no such luck for the world's carmakers, however... Things have changed dramatically in recent years, particularly in the area of on-board technology (infotainment and safety systems, mainly). So, while the mechanical changes to the Golf 7.5 are minimal, Volkswagen has made its full bouquet of advanced technologies available in the modern-day "peoples-car", some as standard, but most as optional extras. Oh, and yes, there are indeed some small cosmetic changes...
The good
Ride & handling balance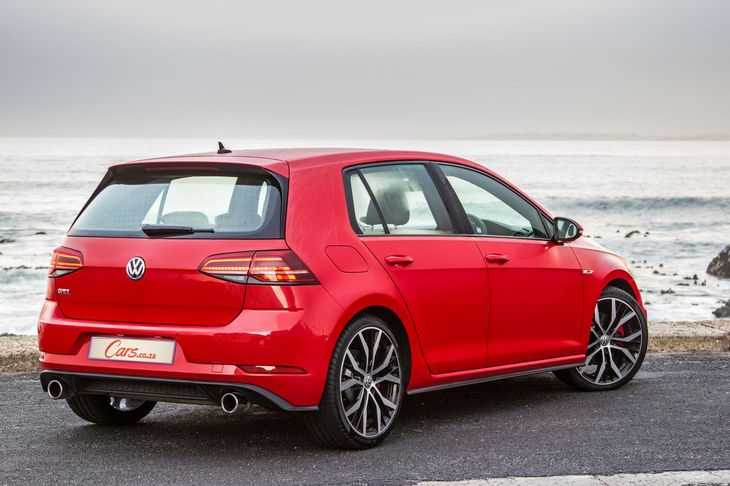 The GTI suspension's ability to entertain (when demanded) and yet be comfortable enough for the daily drive remains unmatched.
While the rest of the car world still seems to think that the term "hot hatch" should automatically mean lurid paint schemes, a bone-jarring ride and heavily bolstered seats that only racing drivers can fit into, Volkswagen has for years been refining a more mature approach. Even on this test unit's optional 19-inch wheels the GTI possesses a suppleness that most other hot hatches can only dream of. Yes, it's firmer than a non-GTI Golf, but you could easy drive this every day. This explains to a very large degree why the GTI accounts for more than half of all local Golf sales... It is a no compromise sports & luxury hatchback.
Our test unit also featured the optional (R12 700) Adaptive Chassis Control system that allows you to toggle between several ride set-ups. Indeed, there's a marked difference between Comfort and Sport, for example, but we also know from experience that the standard suspension set-up is probably class-leading already.
Head for the twisties and the GTI serves up crisp responses, good body control and excellent grip. It feels like the underpinnings can handle much more power – Volkswagen knows this as well (see Clubsport S) – so while fun can be had and the limits are high, the GTI never feels ragged or unsafe. It is effortlessly fast in most conditions. For some traditionalists, that like their steeds to put up a bit of a fight, and who craves a more hardcore driving experience, the GTI, may in fact, be too polished. Look at the sales figures, however, and you'll quickly understand Volkswagen's reasoning.
Premium & practical cabin

Some small trim revisions for the Golf range, but star attraction is the tech – note digital display and large info-tainment screen.
Inside, Volkswagen has made a number of small trim changes as part of the model-year upgrade, but you're unlikely to notice them. Instead, your eyes are likely to be drawn to some of the advanced new features (if fitted). We'll delve into the costs of these items later, but the star attractions are the 12.3-inch, configurable digital dashboard (similar to what we've already seen in the VW Passat) and a striking 9.2-inch touch-screen embedded into the centre of the facia. Note that a less fancy, 8.0-inch Composition Media system is standard.
So, while you have to pay extra for most of the fancy items that have been added to the Golf package as part of this facelift, the point is that they're available. Most of the Golf's competitors (even the premium German-brand ones) can't offer these items, even as extra-cost features. When specified, these advanced features further add to a cabin ambience that is arguably unmatched in this segment, and certainly as far as hot hatch offerings go. The subtle use of top-notch materials, gloss black and satin silver finishes, as well as red stitching, make one feel special in the Golf GTI.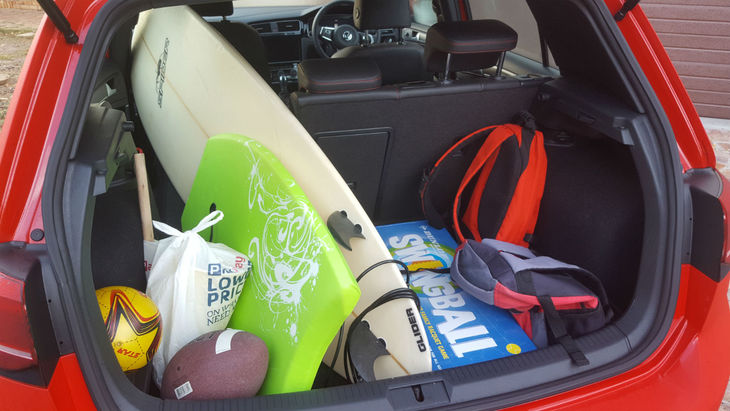 Want a hot hatch that can double as a family car during the weekends? Look no further than the Golf GTI.
Volkswagen is often criticised for not making the more overtly sporty 3-door GTI available in South Africa, but we suspect most serious buyers would opt for the 5-door model anyway. Overall, the GTI is every bit as practical as its siblings, with good rear legroom (unhampered by the sporty profile of the front seats) and a boot that can easily swallow a family of four's paraphernalia. The rear seat can split/fold in a 60:40 configuration, further adding to the practical nature of the car.
Potent performance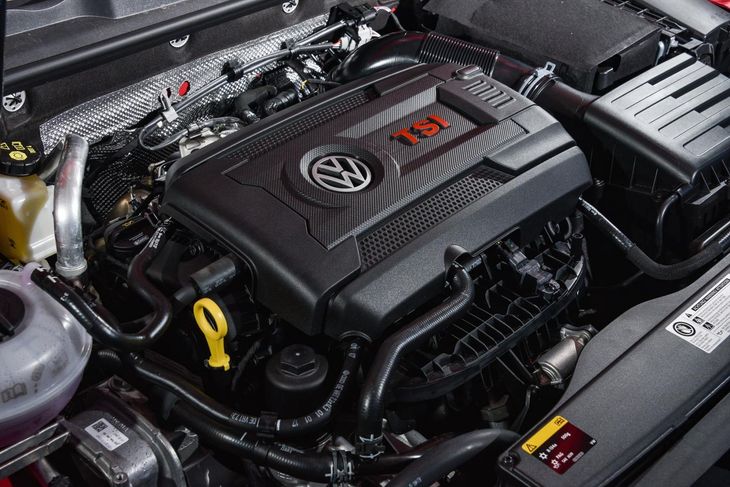 The 2.0-litre turbopetrol now punches out the same power as the pre-facelift Clubsport variant.
In its latest guise the Golf GTI has had a slight bump in power, with 169 kW and 350 Nm being similar to what was offered in the previous (and highly acclaimed) Performance Pack variant. It retains the firm's 6-speed DSG dual-clutch transmission (one of our favourite 'boxes) and has a built-in launch-control function. Used effectively, you can launch the GTI to 100 kph in around 6.4 seconds.
Ultimately, there are faster hot hatches around, but its the accessibility of the GTI's performance that makes it such a devastatingly fast ground coverer. The maximum torque figure is available from 1 500 to 4 600 rpm, so there's always oodles of grunt available at the flext of the right ankle. Select Sport mode, and the responsiveness is further sharpened. That said, because the entire drivetrain is so refined and the power seemingly so seemless, the GTI never feels as fast as it really is, which may be a disappointment to some.
Also, the now famous "Vrrr Phaa" exhaust sound could be a little louder to add to the excitement levels – perhaps the GTI needs an "exhaust sound" button similar to what can be found on Mercedes-AMGs and some Porsches? Another minor complaint is that the gearshift paddles are slightly too small behind the steering wheel, but in terms of the gearshift quality itself, the DSG 'box remains a leader in terms of delivering slick, rapid changes.
Fuel economy? It's unlikely to be a major concern for the target customer, but with a claimed figure of 6.4 L/100 km you're looking at a real-world consumption of around 8 L/100 km.
The not-so-good
The best things in (GTI) life... cost extra

The really smart 9.2-inch Discover Pro infotainment system (with navigation), costs R20 200 extra.
The Golf GTI has been our Premium Hatchback of the Year two years running (Cars.co.za Consumer Awards), clear evidence of its ability to not only be an entertaining hot hatch, but also a luxurious vehicle of not inconsiderable status. As such, it is perhaps understandable that Volkswagen plays a similar game to the "other Germans" when it comes to the long list of optional extras on offer for this model.
For the base price you do get some nice items, including; cruise control, leather upholstery, climate control, heated front seats, 7 airbags, auto lights/wipers and the 8.0-inch Composition Media infotainment system that does boast a full suite of connectivity possibilities, including Apple CarPlay and voice control. Visually, you also get the 18-inch Milton Keynes alloy wheel design and LEDs all-round.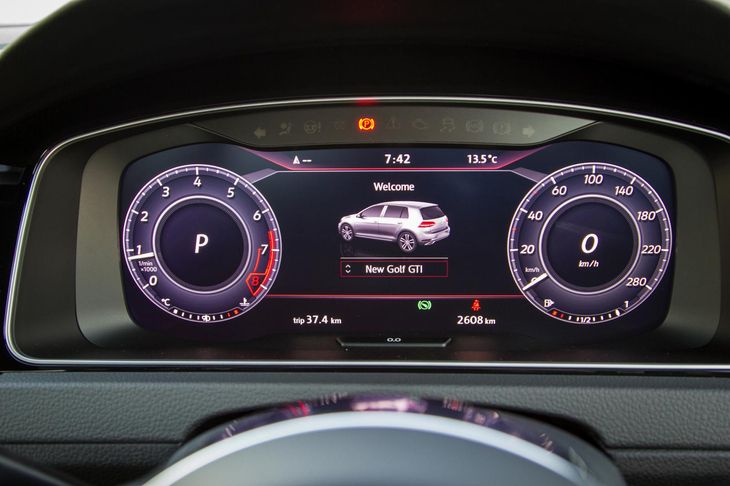 The digital instrumentation boasts configurable displays and costs R8 000 extra.
However, to get the full benefit of the facelift, you simply have to delve into the optional extras list, and potentially go for the digital instrumentation (R8 000), the attractive 19-inch wheels (R8 100), Discover Pro with its comprehensive list of features, including Gesture Control (R20 200) and front/rear park distance control (R4 750). Automatic Cruise Control (ACC) with Front Assist, which includes autonomous emergency braking, is also optional (R5 000). In total, around R120 000-worth of options are available, so choose carefully...
Pricing & warranty
Although the VW Golf GTI's base price is R545 800, you're unlikely to end up buying such a car. The options list is truly vast, and our car had almost R100k of extra-cost features fitted! The base price includes a 3-years/120 000 km warranty and 5-years/90 000 km service plan.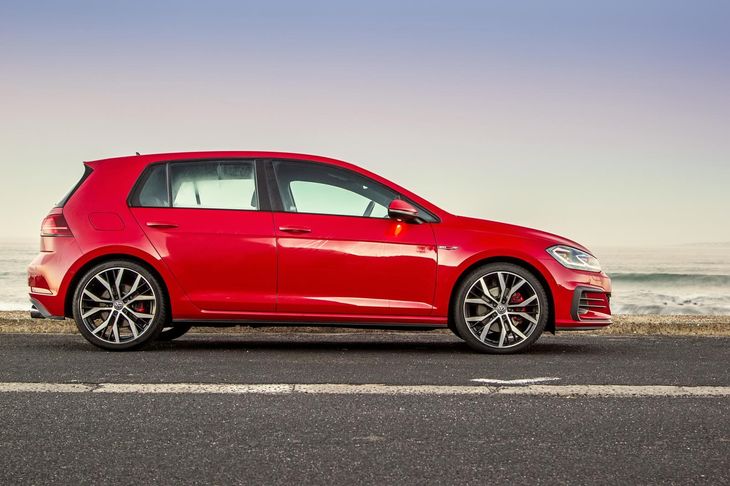 The Golf 7 GTI remains one of the best all-rounders on the market, at any price.
Verdict
Priced similarly to offerings from more prestigious German brands, the VW Golf GTI appears pricey at a first glance. But the reality is that it remains the most complete offering of its kind offered on the local market. There are more affordable, faster hot hatches out there, but those are compromised daily drivers that lack the polish of this Volkswagen. At the same time, the prestige-branded products are nowhere near as complete as the GTI. Fast? Yes. Fun? When you want it to be. Practical? Always. Luxurious? Indeed. Given the breadth of the VW Golf GTI's talents, perhaps once could even, ultimately, consider it a bargain.
You may also be interested in:
Preview: What we know of the 2018 VW Golf 8 and GTI

5 cool things about the new VW Golf GTI

Cars.co.za Consumer Awards - Powered by WesBank: Best Premium Hatchbacks
Looking for a new / used VW Golf GTI to buy?