The facelifted Volkswagen Golf GTI has only just been launched in South Africa, but already there's a hotter derivative that's potentially coming to South Africa. Meet the Volkswagen Golf GTI Performance Pack.
The Volkswagen Golf GTI is an accomplished product and you can read about our thoughts here. With peak outputs of 169 kW and 350 Nm, it's certainly not pedestrian, but what if you wanted a bit more go from the 2-time Cars.co.za Consumer Awards-champion? The previous-generation (pre-facelift) Golf GTI line-up included a Performance Pack derivative. The latter featured a tad more power and sharper dynamics, but some critics felt that the gap between 162 kW and 169 kW was not enough to differentiate the two models.
Now Volkswagen has announced a Performance Pack version of the facelifted Golf 7 (or Golf 7.5, as some have named it) GTI and this time there's a bigger power hike between the standard and uprated versions. With the new GTI developing the old Performance Pack's outputs, a considerable increase was needed and now sits at 180 kW and 370 Nm (compared with the stock GTI's 169 kW and 350 Nm). The new GTI Performance Pack is claimed to accelerate from zero to 100 kph in 6.2 seconds, going on to a limited top speed of 250 kph.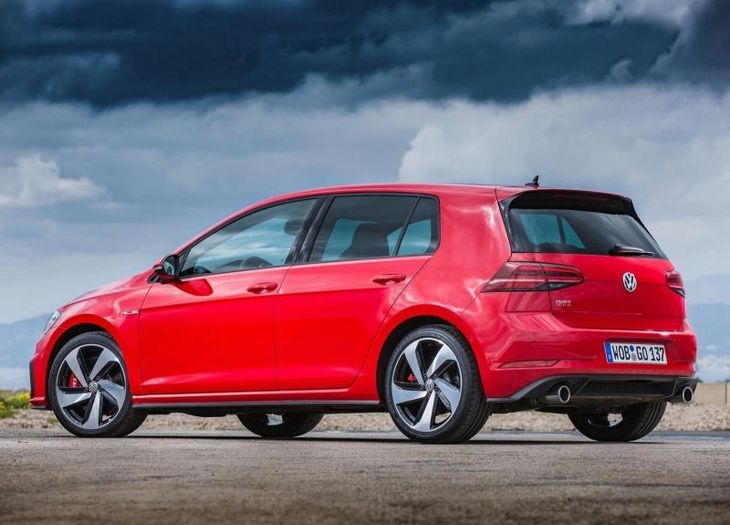 Red GTI badges on the front and the rear plus GTI on the brakes make this a Volkswagen Golf GTI Performance Pack.
It'll look a bit different too; the Golf GTI Performance Pack features red GTI badges on the front and rear, GTI logo on the red brake calipers and, speaking of stopping power, enlarged, internally ventilated discs are fitted to the newcomer and we suspect these items (front: 340 mm, rear: 310 mm) come straight from the flagship Golf R derivative. On the mechanical side, apart from the engine upgrade, a limited-slip differential has been fitted as standard, which will help the GTI Performance Pack put down its power in the twisties.
In terms spec, the Volkswagen GTI Performance pack has more features as standard. European spec cars will have Active Info Display and the new Composition Media radio as standard. Will it come to South Africa? Given how much we love the Golf GTI brand, it would not surprise us if the vehicle did eventually make it to South Africa.
When approached for comment on the matter, a Volkswagen SA representative said, "we are evaluating whether to bring the Performance Pack but no decision, either way, is finalised."
Further reading
5 Cool Things About New Volkswagen Golf GTI
Volkswagen Golf 7 GTI & GTD (2017) First Drive
Volkswagen Golf 1.0 Trendline (2017) First Drive
Update: VW Golf Facelift (2017) Specs & Pricing
Volkswagen Golf Facelift Revealed [with Video]
Volkswagen Golf GTI Clubsport S (2016) First Drive
Volkswagen Golf GTI Clubsport (2016) Video Review
Volkswagen Golf GTI Clubsport (2016) Review
Is The Golf Segment Dying?
Comparative Review: Opel Astra vs Volkswagen Golf 7
Would you like to buy a Volkswagen Golf?