Three-cylinder hybrid leads the range of Jaguar's smallest SUV.
Jaguar has confirmed the specification of its revised compact crossover. The British luxury car brand's smallest gravel travel capable vehicle has received an assortment of slight exterior styling updates and some cabin refinements too. But the most impressive feature is its new lead powertrain.
Jaguar's design department has deployed a new mesh grille to the front-end of E-Pace, framed by revised pattern LED headlights and a new bumper moulding. At the rear E-Pace also features a reprofiled bumper and slightly different taillights.
The design updates continue inside, with the cabin architecture benefitting from Jaguar's latest 11.4-inch touchscreen infotainment system, the same as system as the Defender and updated i-Pace. There is mention of better soft- and hard touch materials inside new E-Pace, but by far the most noticeable cabin upgrade is the presence of a conventional transmission shifter, which replaces the more subtle rotary dial selector.
Beyond the exterior and interior design evolution, E-Pace carries over most of its familiar engine structure. All models are powered by a 2-litre turbocharged four-cylinder engine, burning ether petrol or compression igniting diesel fuel.
The petrol engines are denoted by their imperial horsepower nomenclatures, with P200 equally 147 kW, P250 good for 183 kW and the P300 peaking at 221 kW.
For those E-Pace buyers seeking distance driving endurance, it all starts with the 120 kW/380 Nm P160, which will unfortunately not be offered in SA. Jaguar has then consolidated the D180 and D240 with a new D200 variant, boosting 147 kW and 430 Nm.
By far the most impressive powertrain on offer with this updated E-Pace is its new P300e. It combines a 1.5-litre three-cylinder petrol engine, with a rear axle electric motor. Total system output is 227 kW and 540 Nm.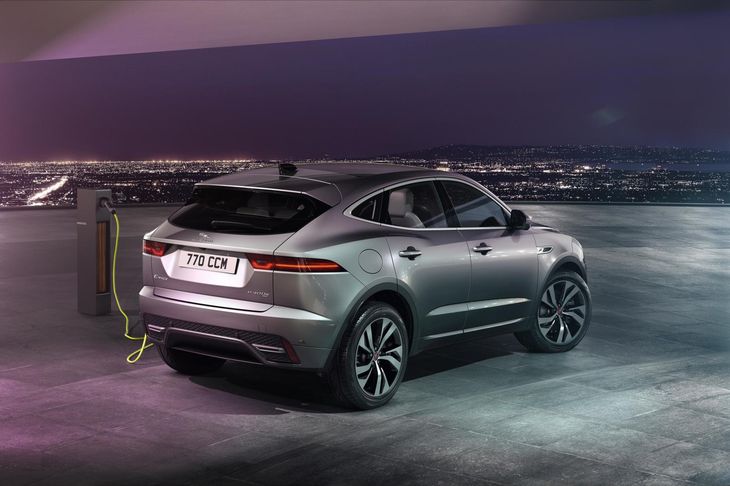 The new 3-cylinder PHEV with 227 kW has been confirmed for SA next year.
Jaguar claims an all-electric driving range of 55 km, for its P300e, and a rather swift 0-100 kph time of only 6.5 seconds.
As part of Jaguar's broader product strategy, the revised E-Pace becomes an important volume model, alongside XE sedan.
The new E-Pace will go on sale in South Africa, during the first half of 2021 with prices and local pricing to be determined closer to launch. The local engine lineup has already been confirmed with the P300e destined for SA.
SA model lineup
Diesel
D200 147 kW 2.0-litre four-cylinder turbo, nine-speed automatic, AWD
Petrol
P250 184 kW 2.0-litre four-cylinder turbo, nine-speed automatic, AWD
P300 221 kW 2.0-litre four-cylinder turbo, nine-speed automatic, AWD
P300e 227 kW PHEV 1.5-litre three-cylinder turbo, eight-speed automatic, AWD
Related content
Jaguar I-Pace Vlog - Will Electric Cars Work in South Africa?
Jaguar E-Pace vs Volvo XC40 Video Review