The new Volkswagen Polo impressed our team of testers in range-topping Polo Highline guise, but what does the mid-spec Polo Comfortline have to offer... and does its 70 kW 1.0-litre turbopetrol engine deliver adequate performance? Let's take a closer look…
We like: Excellent ride quality, willing performance, refinement, interior build quality, fuel efficiency.
We don't like: Some more power would be nice, pricey with options.
Alternatives
For more power: Consider the Ford Fiesta 1.0T Trend priced from R253 100. It's powered by a 3-cylinder, 1.0-litre engine with 92 kW and 170 Nm and is arguably the most entertaining car to drive out of this trio. It offers similar standard spec to the Polo Comfortline, but it can't beat the Volkswagen's superior interior fit and finish. Note that the all-new Fiesta is due in SA very soon, which means you might be able to negotiate a good deal on the current-gen car.
French style: Consider the Renault Clio 66 kW Turbo Dynamique priced from R246 900. It offers perky performance from its 66 kW/140 Nm 0.9-litre, 3-cylinder engine and comes well-specced for a car at this price point. For roughly the same money as the Polo Comfortline, you can also consider the more powerful Clio 88 kW Turbo GT-Line priced from R269 900.
A German option: The former Cars.co.za Consumer Awards Compact Hatchback category winner is still worth considering. Priced from R256 429, the Opel Corsa 1.0T Enjoy offers 85 kW and 170 Nm from its perky 3-cylinder, 1.0-litre engine. Standard specification is good and its interior execution is both upmarket and tasteful, but admittedly not as sophisticated as that of the Polo.
Compare the VW Polo Comfortline with the Ford Fiesta 1.0T Trend and Renault Clio 66 kW Turbo Dynamique
What is it?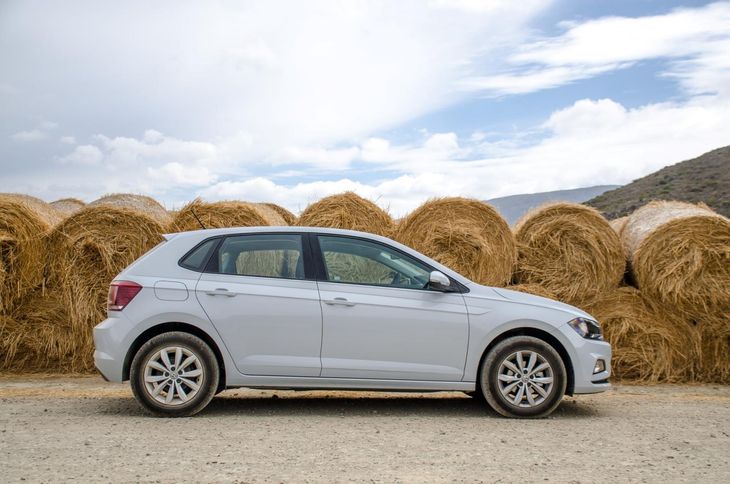 The new Polo not only looks better than before, it's also more practical thanks to its larger dimensions.
The new 6th-generation Polo was recently introduced in South Africa and buyers looking to purchase this stylish new Polo can choose between 2 turbocharged 1.0-litre engines and 3 trim levels (Trendline, Comfortline, Highline). While the more powerful 85 kW/200 N.m engine is reserved for the range-topping Polo Highline we tested recently, most buyers will probably consider the more affordable mid-spec Polo Comfortline derivative first.
Is the new Polo Comfortline the one to go for in the Polo range and does it offer enough value to warrant a purchase? Read on...
The Good
Engine performance and efficiency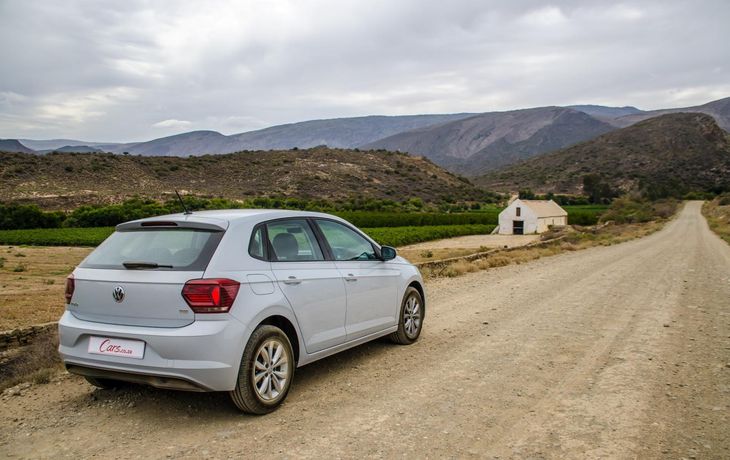 Punchy performance and low fuel consumption are what you can expect from the Polo Comfortline.
Many buyers might be sceptical of the performance of the Polo's new 3-cylinder, 1.0-litre turbocharged engine and while we found that the 85 kW Polo Highline had more than enough power to silence the naysayers, the Polo Comfortline's 70 kW looks less flattering on paper. The reality on the road, however, is a different story.
We took the Polo Comfortline on a weekend jaunt into the Cape countryside and we were pleasantly surprised by how much urge this engine has to offer on the open road. That relatively demure 70 kW is backed by 175 Nm of torque, which is channelled to the front wheels via a 5-speed manual transmission.
The engine delivers its power in a refined manner and although a slight hollow thrum at higher revs serves as a reminder that there's a 3-cylinder engine under the bonnet, the motor performed better than we expected. The Polo surges forward with composed intent and although it can't be described as a "warm (as opposed to hot) hatch", it's definitely quick enough to deal with everyday cut-and-thrust traffic conditions with ease.
Indeed, this Polo feels quicker than its claimed 0-to-100 kph sprint time of 10.8 sec suggests. The transmission has a pleasingly smooth, positive action and overtaking on the highway is a cinch as the engine's power band is always close-to-foot, even in 5th. You can, however, expect a momentary lag in acceleration when shifting up.
Apart from offering solid performance, we are pleased to report that the Polo Comfortline can return an excellent fuel consumption figure too. Volkswagen claims 4.5 L/100 km and we averaged 5.7 L/100 km, which is very impressive given that the Volkswagen was driven with intent, in and around town, during its test tenure.

Ride quality and handling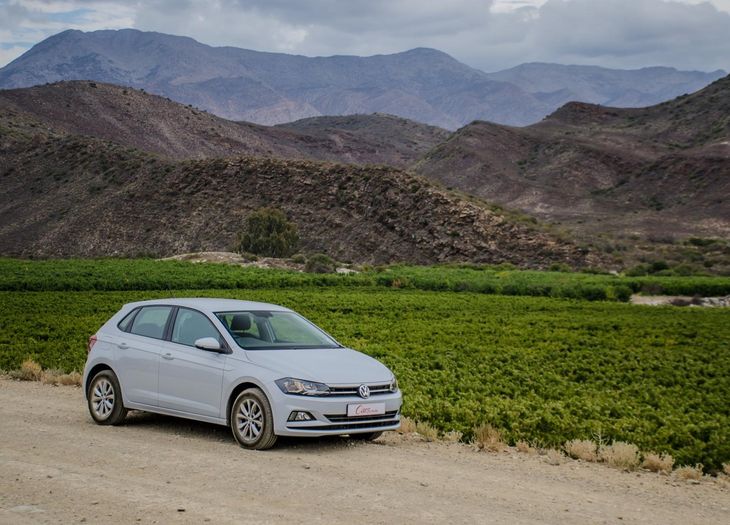 The Polo's ride quality is to be commended and it performed admirably on gravel.
The Polo's ride and handling is a major highlight; Volkswagen's newcomer excels in delivering lofty driving comfort and we think it's the class leader in this regard.

Most road imperfections are smartly absorbed and even though the suspension is sprung for optimal ride comfort, it still has a degree of firmness to it, which makes the Polo's responses to steering inputs feel direct and responsive. The steering is evenly weighted and because grip levels are high, the Comfortline can tackle corners with confidence. We also drove the test unit on gravel, where it fared surprisingly well. You are unlikely to be disappointed by the ride this new Polo delivers, it's that good.
Interior styling and features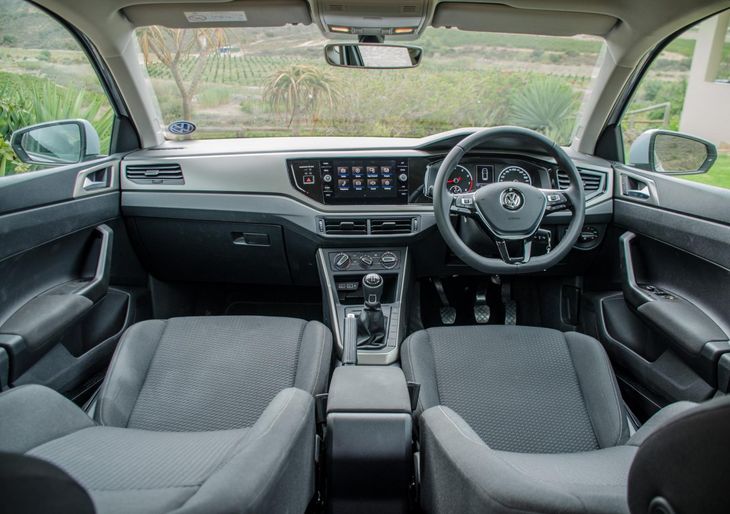 The Polo's interior exhibits excellent build quality – its simple and modern design will find favour with buyers.
The Polo's interior is equally impressive; its elegantly simple, yet thoroughly modern cabin design drew unanimous praise from our testers. It looks and feels genuinely premium with a combination of both soft-touch and harder plastics. The cabin is solidly constructed and it's hard not to notice the new, slick 6.5-inch touchscreen infotainment system, which has a perfectly logical layout and is very easy to use. It offers, inter alia, Bluetooth connectivity, MP3 playback and 2 USB ports to connect devices. The shiny screen does, however, attract fingerprints over time, but it's easy enough to clean with a soft cloth. Navigation is offered as an option…
A multi-information display is located in the instrument cluster (Active Info Display is optional) and you can toggle through its menu using the steering mounted controls. The steering wheel itself is adjustable for rake and reach and combined with the manually height-adjustable driver's seat, it's easy to find a comfortable driving position.
The Polo Comfortline comes standard with cloth upholstery and we found the seats to offer average comfort. This test unit was also fitted with optional cruise control, which costs an additional R1 579. In terms of safety, this derivative is equipped as standard with 6 airbags, ABS with EBD, brake assist, electronic stability control and traction control. A host of additional driver assistance features is optionally available.
Practicality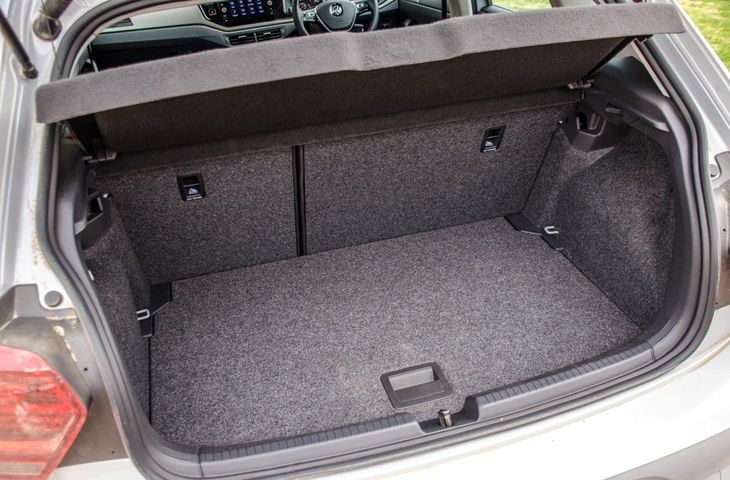 A major increase in load bay capacity will prove useful on out-of-town excursions...
Thanks to its larger dimensions (courtesy of riding on the Golf's sophisticated MQB platform), the new Polo is more practical than the model it replaces and the first major benefit is the enlarged load bay, which is said to measure 350 litres (previously 280 litres), which represents a significant improvement. Furthermore, the rear seatback can split and fold forward in a 60:40 configuration, which allows you to access more space should you need to accommodate larger, bulkier loads.
There's adequate space for rear passengers (even a pair of average-sized adults will fit in the back) and bottle holders are availed in each and every door moulding. There is also a pair of cup holders for the driver and front passenger, which is always handy for those in-car coffee breaks.
The Not-so-good
Can become pricey due to options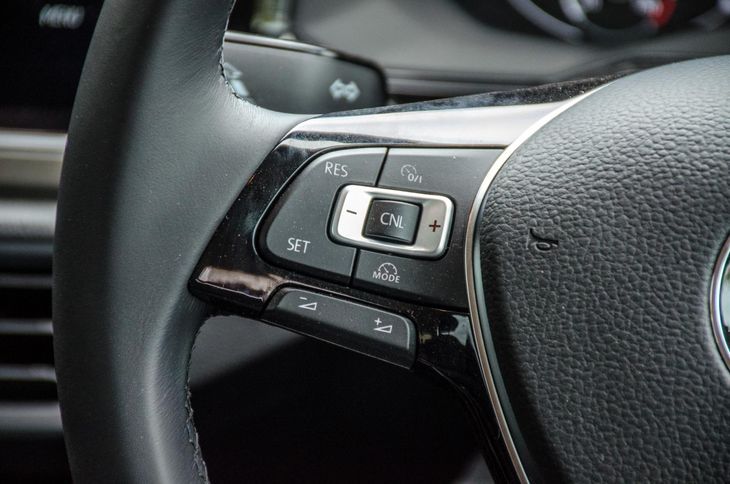 Although standard specification is fair, adding nice-to-have options can prove to be costly
The new Polo Comfortline is difficult to fault as an overall product, but some criticism can be levelled at its price and specification when compared to its main rivals, some of which offer more comprehensive standard feature lists for less money.

Features such as cruise control (R1 579), front and rear park distance control (R2 763), a reverse-view camera (R2 851) and satellite navigation (R10 526) are offered as options, which, if selected, will see the asking price soar to more than R280 000. Then, if you tick off some of the more luxurious optional features such as Active Info Display (R7 544) and panoramic sunroof (R9 211), you are looking at a total price of closer to R300 000!
The Comfortline, if generously specced, is an expensive proposition, albeit a quality one. Buyers are therefore advised to choose optional features prudently.
Price and warranty
The Volkswagen Polo 1.0 TFSI Comfortline manual is priced at R264 700 and is sold with a 3-year/120 000 km warranty and 3-year/45 000 km service plan. If you want the convenience of an automatic, the Polo Comfortline DSG is priced from R280 700.
Buy a new or used VW Polo on Cars.co.za
Verdict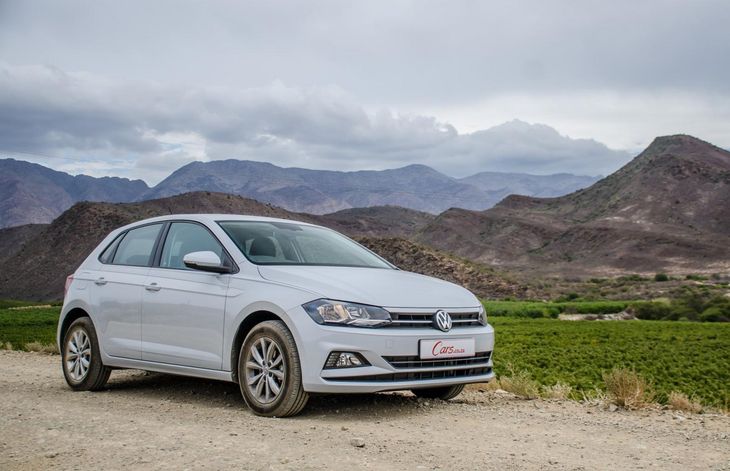 The Polo Comfortline is a capable all-rounder that deserves consideration, but quality comes at a price.
The new Polo is a quality product – perhaps the best in its segment – courtesy of an impressive ride/handling balance and an admirably designed and -produced interior. Buyers should find the Comfortline derivative's performance adequate for most daily tasks and its excellent fuel efficiency is a bonus. Although it's not underpowered, we suspect that the sparkle of the Volkswagen's performance will lessen somewhat when it's fully loaded with passengers and luggage... It could do with a little more power.
Furthermore, the Polo Comfortline strikes a good balance in terms of standard specification, but it can become pricey once you start ticking boxes on the extensive options list. The Volkswagen will, however, hold its value longer than most and its price and can be partly justified by robust resale values in the used car market.

Some rivals, such as the Renault Clio, for example, offer a longer warranty and more comprehensive standard spec, so buyers will have to weigh up their priorities. Be that as it may, the Polo Comfortline is a well-rounded product that's likely to claim the lion's share of local sales... It should most definitely be on your shopping list.
Related content:
Volkswagen Polo 1.0TSI Highline auto (2018) Review [w/Video]
Video Comparison: 2018 Volkswagen Polo & 2017 Volkswagen Polo
New Volkswagen Polo Vivo: Detailed Review and Buying Advice (2018)
Old Volkswagen Polo vs new Polo Vivo: How different are they?
Volkswagen Polo (2018) Launch Review
Volkswagen Polo (2018) Specs & Pricing
Volkswagen Polo GTI (2018) International Launch Review
New VW Polo GTI: 5 things you need to know