Volkswagen recently unveiled its ID.4, the second all-electric model from VW. Already the digital artists are hard at work, giving it a bit of a rejig. One such render caught our eye, the Volkswagen ID.4 bakkie.
The talented folk at KDesign AG move fast and this Volkswagen ID.4 bakkie was one such model they created, along with a wagon, sedan and coupe.
At first glance, this Volkswagen ID.4 bakkie looks good and dare we say, production-ready? Those big wheels look ready to take on rocks and sand, and ground clearance looks useful. For those of you that know your Volkswagen concepts, we're sure you'll agree there are shades of Tarok here.
Would it actually work and just how feasible would it be? The electric platform makes provision for all-wheel drive so that helps the credibility of an offroader, but the jury is still out on loadbay capacity. That second illustration shows a loadbay that doesn't look very generous in capacity.
We know Volkswagen intends to maximise the array of vehicles underpinned by its MEB electric architecture. The Volkswagen Group already has the ID.3 and ID.4, while Audi, SEAT and Skoda have the e-tron, Cupra el-born and Enyaq either in production or near production, while there are at least 5 Volkswagen concepts previewing production models. What's impressive is the size of the vehicles. On one hand there's the ID.3, a Golf-sized hatchback, while on the other, the Volkswagen Buzz is essentially an electrified Kombi bus.
The South African market missed out on the Saveiro single-cab bakkie due to it being left-hand drive only as well as being an old platform. If the motoring future is electrified, then its only inevitable that bakkies will be electrified too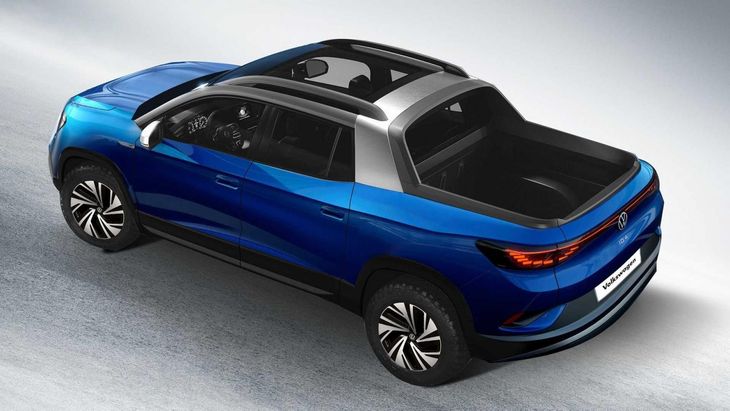 Further Reading
Why VW Should Build this Electric Bakkie
Drive along in our fully electric Volkswagen e-Golf