It's not a Volkswagen, but actually a Seat.
Cupra, the performance arm of the Spanish brand Seat, famous for having sold cars in SA for a particularly short time, has revealed the first hot hatch based on its EV architecture. The Cupra el-Born, which after a quick Google appears to be a historical place in Spain famous for jousting, is built on the MEB platform, the same platform used by the VW ID 3 that was revealed last year.
Cupra has been making some fantastically styled cars of late (just look at the Formentor in this article) and the el-Born appears to be another jaw-dropping design. If electric cars are going to look like this in the future, sign us up!
Performance figures aren't available yet, but the el-Born is powered by 77 kWh battery, similar to the top-spec ID 3 Pro S (the one with 550 km of theoretical range) which produces 150 kW and 310 Nm from its electric motor. Obviously, the battery would be tuned to deliver more power for the el-Born hot hatch at the expense of some range. For it to be deemed a hot hatch, we would expect a 0-100 kph time of around the 7.0-second mark or under. Remember electric cars are a lot heavier than combustion engines so struggle to push through the midrange like a petrol engine does.
The Cupra el-Born will also offer convenience features such as an Augmented Reality Head-Up Display and full connectivity. The interior comes with sports bucket seats, the new Cupra steering wheel with mode buttons and sustainably-sourced material choices throughout.
This does ask the question as to what VW will do with the ID 3? There are reports of an ID 3 R on the cards, but will there also be a GTI or will that nameplate be reserved for petrol-powered cars?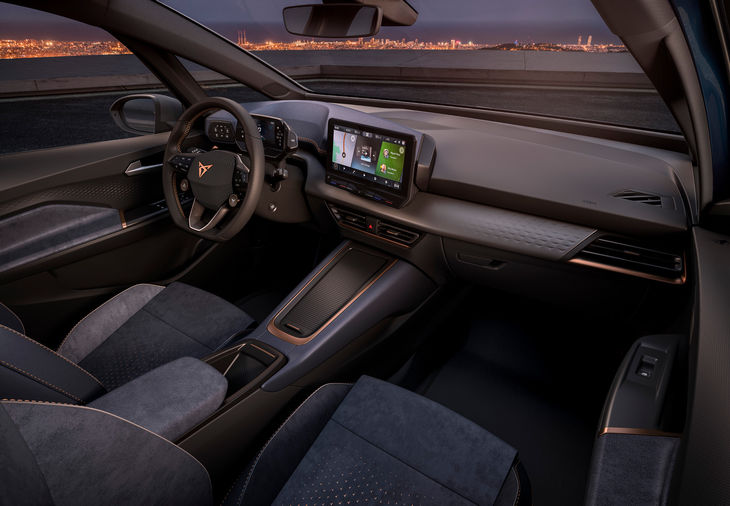 Uncluttered interior with what looks like suede seats, although certainly something more sustainable.
Related content