Audi has built an electric car that's designed for more than inner-city use. This is an all-electric executive SUV with real-world range and space, and it's coming to SA in 2019. We were excited to get behind its wheel in Abu Dhabi.
Firstly, why Abu Dhabi? We know that modern batteries don't perform optimally in hot conditions – think of what happens to your cellphone when it gets hot or you leave it in the sun. Also, Abu Dhabi is a city built on the proceeds of oil, the very antithesis of what the all-electric e-tron stands for.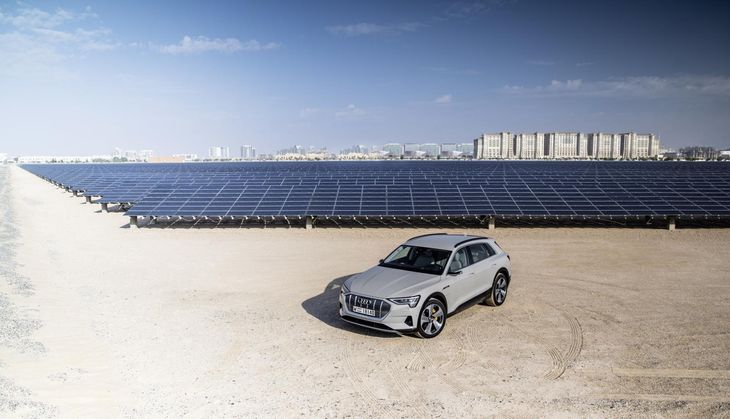 Abu Dhabi's solar farm and the all-electric Audi SUV – things are starting to add up.
The reasoning behind it became apparent when we were shuttled to Masdar, which is 15 mins' drive from Abu Dhabi. A line-up of e-trons, resplendent in bright paint finishes (such as Antigua blue and Catalunya red), were parked neatly in the middle of the city. Masdar operates almost entirely off the grid. It has a 10-megawatt solar farm that feeds into the grid and the roofs of the buildings are covered in extra solar panels that provide power and shade to the city below, cooling it – so it uses less electricity on air-conditioning. Ahh, now it starts to make sense why you would launch an all-electric car here. Abu Dhabi sees a bit beyond its dependence on oil – as are many of the middle-eastern countries for that matter.
Own an Audi? Tell us about your experience here.
Back to the car
As I mentioned in a previous article, the e-tron will be coming to the South African new vehicle market in 2019, albeit in the 3rd quarter and probably not in that fancy shade of blue... that's limited to launch editions internationally. Aside from that, the e-tron is difficult to size from photos so I can tell you it's somewhere between the Q5 and Q7 in terms of its kerb appearance. It's based on the MLB platform that is being used extensively throughout the VAG group (Bentayga, Urus, Touareg, Cayenne, Q8), but tips the scales at around 2.5 tonnes, making it a lot heavier than a Q7.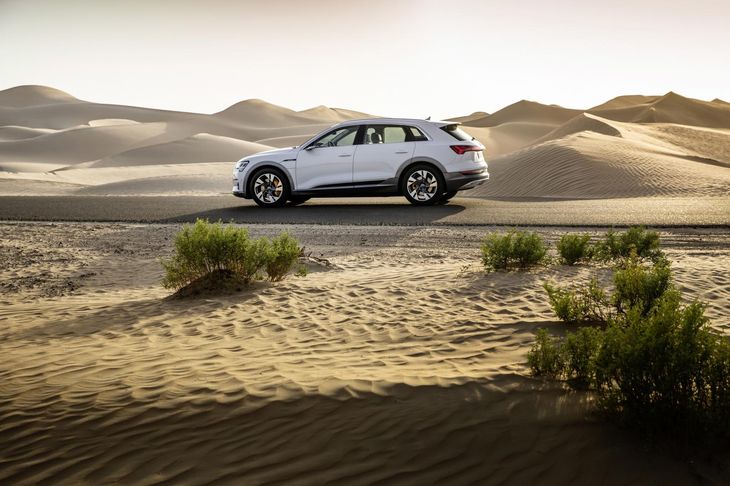 Size wise the e-tron sits between Q5 and Q7.
In order to shift that weight effectively, the e-tron has some potent electric power. Two electric engines (1 at the front and another at the rear) can deliver a maximum of 300 kW and 664 Nm of torque when in Dynamic mode. Mind you, in the Normal driving mode, Audi's newcomer still offers a healthy 265 kW and 561 Nm of torque. That maximum torque is available the instant you floor the throttle, which makes the e-tron very reactive to throttle inputs. It never feels brutally fast; the instant surge is noticeable but beyond that, there's no wow factor to the way it builds speed. It's silent, bar the feint whizz of the electric motors. You have to stare at the speedo to really understand what sort of acceleration you're experiencing.
Low-down weight
The Audi engineers at the launch were very excited to tell us that even though the car weighs 2.5 tonnes, all the weight is packed down low because the battery packs are locked away in a crash protection tub under the seats. This gives it a low centre of gravity and theoretically, great handling.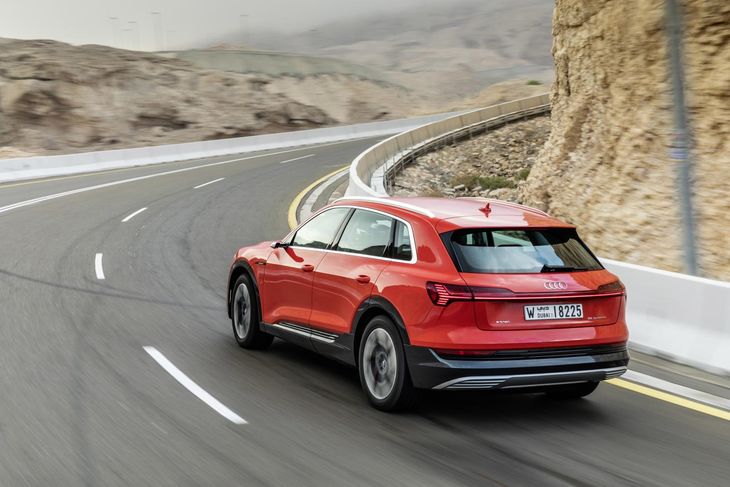 With the batteries mounted so low, the e-tron has very little body roll in corners.
You can't, unfortunately, get away from that weight and as we time-trailed our way up the 1 000 meters high Jabbal Haffet mountain pass... The e-tron lumbered as it changed direction; it struggled to tuck its front end into tighter corners. The lower centre of gravity (as a result of where the batteries are positioned) means that body roll is reduced significantly compared with its MLB-sharing counterparts. The steering, in Dynamic Mode, is on the heavy side and doesn't provide much in the way of feedback. The e-tron then, as a whole, is much more suited to being driven in is Normal mode, where the tiller is lighter and the air suspension ably cushions the ride, providing that creamy but supple ride that Audi SUVs currently have.
How's the range, in the real world?
Audi claims a theoretical range of over 400 km on a full charge, and that is on the WLTP test, which is a more real-world representation of consumption than the old NEDC test that produced unattainable consumption figures.
As electric cars become more prominent, we are going to have to adjust our driving styles to get the most out of them. Regenerative braking and coasting actually add to your battery charge and increase your range, but at higher speeds (freeway speeds) you're not going to get the best out of it. We pulled in for a recharge after 250 km and had 95 km left on the range, much of which was spent out on the 140-kph freeways of Abu Dhabi.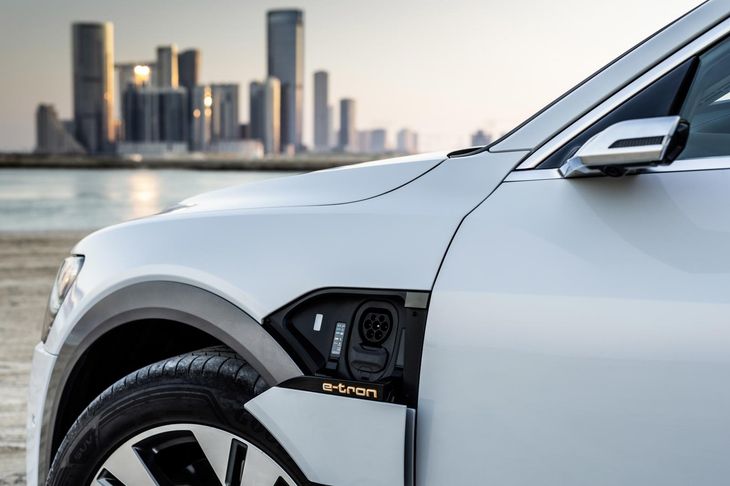 The charging port on e-tron is capable of taking 150 kW and charging from 0-80% in 30 minutes.
The charging system we plugged the e-tron into is one of the most powerful on the market: a 150 kW charger that will recharge a flat e-tron to 80% in just 30 mins. The bad news is that they are very costly and highly unlikely to be installed anywhere in SA. In fact, we will have to do with 60 kW chargers, which will require a much longer wait (over an hour) to achieve the same result. If you think about it more realistically, on a daily basis, you're unlikely to run out of charge during your daily commute and can then just plug it in at work or at home for 6-8 hours and never worry about empty batteries. And, because you drive electric, you're going to get the best parking spots at shopping centres and refuelling garages too...
It's like a spaceship to drive right?
Not exactly. It feels very much like a brand new Audi when you get in. The infotainment system is transplanted from the latest A7 Sportback and the Virtual Cockpit digital instrument display is the same system we're used to in current Audi products. The steering wheel has the same controls and the switchgear is all familiar. There's a menu within the instrument cluster that shows you current battery consumption and there's a high gloss e-tron badge in front of the passenger, but beyond that, the e-tron's interior looks the same as that of any other Audi.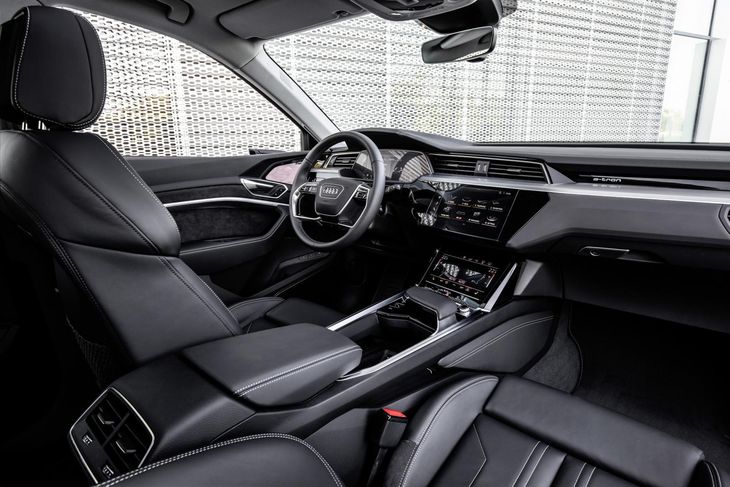 A fairly standard Audi interior that exudes quality and refinement.
That is until you look into the side mirrors. They take some getting used to and you will need to give them more than a test drive to be convinced by their usefulness. Instead of conventional mirrors, there's a rearward facing camera that produces an image of what's behind into the door panel just in front of the door handles. It adjusts via a touchscreen so you can move it around to get a decent view. You do have to look a little further down and take your eyes off the road to get a good look at them, but the resolution is excellent and they are pretty damn clear at night as well.
It's just as spacious as most SUVs in its segment and its luggage bay is claimed to measure 600 litres. There's also a smaller boot at the front that stores the charging cables (but could also take a laptop or small bag), which accounts for a further 60 litres of space.
It can go off-road
We had the opportunity to do some light off-roading over some of the compacted dunes and rocky areas outside Abu Dhabi. The Audi coped fine with the terrain and has a special Off-road mode that adjusts the air suspension to deal with trickier conditions. In effect, the e-tron is probably as capable off-road as a Q7 and does a good job of smoothing out a long dirt track, which is probably as far off-road as most SA consumers venture.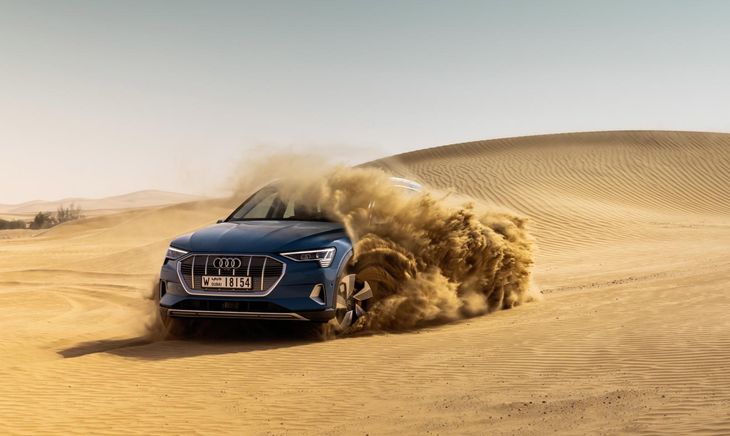 The e-tron is equipped with an off-road mode and adaptable air suspension.
Summary
There is a perception that electric cars are wildly futuristic and very different to drive compared to our current internal combustion-engined cars. However, to drive, the e-tron feels like the medium-sized luxury SUVs we are used to. It handles like a modern Audi and has the same tech inside as the latest Q8 first-class SUV and A7 Sportback. Apart from the charging cable and digital mirrors, there's very little to distinguish this as an electric car. The e-tron's outputs and performance are more than acceptable for an SUV, even if it doesn't feel as fast as the numbers on the box suggest.
It seems that the plan from Audi all along was to make an electric SUV that harnesses all the things we love about SUVs, but with a modern electric drivetrain, making it not such a big departure from what we know. Those that can afford the estimated R1.6-million price tag won't find any drawbacks other than South Africa's underdeveloped electric vehicle infrastructure. Still, things look like they are progressing locally and the co-introduction of the Jaguar i-pace in 2019 should kickstart the electric car revolution locally. Then it will just be up to Government to catch up.
Related content:
Jaguar I-Pace (2019) Specs & Price
Jaguar I-Pace Concept (2018) International First Drive