The facelifted Volkswagen Amarok has arrived in South Africa with the 3.0-litre V6 turbodiesel Amarok headlining the range. We took it for a drive this week at the local launch in the Free State and herewith our findings...
The leisure double-cab bakkie market is an important segment locally and the recent influx of new or facelifted product has broadened the spectrum for buyers looking for a capable, hard-working lifestyle bakkie. Buyers are spoilt for choice with Toyota Hilux, Ford Ranger, Isuzu KB, Nissan Navara, Mitsubishi Triton, Fiat Fullback and Volkswagen Amarok being key players in the segment.
A few years ago, there were some double-cab stalwarts who made light of the Amarok's "tiny" 2.0-litre turbocharged engine, but now the Wolfsburg-based brand looks to shake up the segment by offering a range-topping 3.0-litre V6 turbodiesel engine, which is, significantly, the only V6 turbodiesel bakkie listed on the South African new vehicle price list.
It's also worth noting that sales of the Amarok single cab will be discontinued as Volkswagen aims to focus on its leisure double cab offering. The local launch of the facelifted Amarok took place this week and we had a chance to get behind the wheel of the 3.0 V6 TDI Amarok on tar and dirt.
What's changed?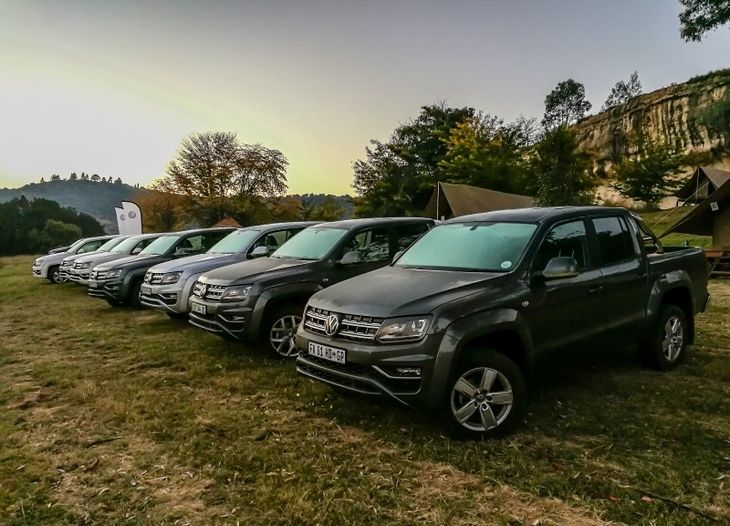 The big news is the arrival of the 3.0-litre V6 turbodiesel engine, it offers outputs of 165 kW and 550 Nm of torque.
In terms of exterior design, the latest Amarok features a revised bumper and grille design with a choice of new alloy wheels. In our opinion, the Amarok is one of the best-looking double cabs on the market and it also happens to be the largest in terms of its exterior and interior dimensions.

The interior, however, is where the Amarok shows off most of its changes, which include a new dashboard design that incorporates a comprehensive touchscreen infotainment system. The Amarok differs from most of its rivals by offering an SUV-like interior that is attractive to the eye and kitted out with a range of comfort features that you may not expect to find in a bakkie, such as height-adjustable seats for the driver and passenger, for example.
Read the Volkswagen Amarok (2017) Specs & Pricing article for more details on the rest of the range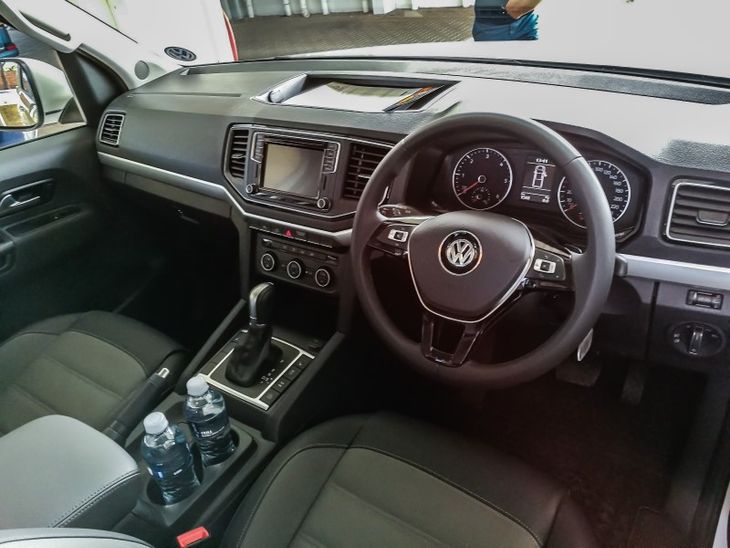 A new dashboard design and infotainment system gives the Amarok upmarket appeal with a host of comfort and convenience features on offer.
The new 3.0-litre V6 turbodiesel engine sits atop of the Amarok range and offers peak outputs of 165 kW and 550 Nm of torque. An overboost function will also increase outputs to 180 kW and 580 Nm for about 10 seconds for additional shove when it's needed.
The 3.0 V6 is offered with Highline, Highline Plus or Extreme trim and an 8-speed automatic transmission and permanent all-wheel drive are standard. All 3 engine derivatives are equipped with an electronic differential lock (EDL).
What's it like to drive?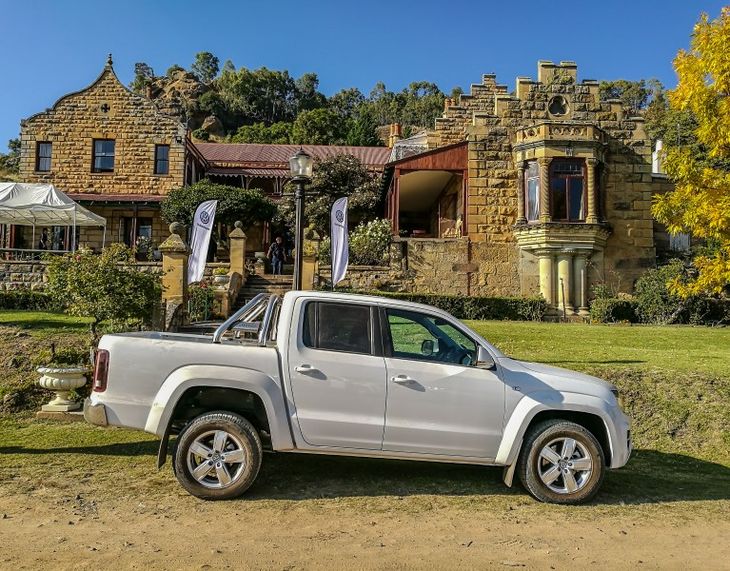 The Amarok 3.0 V6 delivers brisk performance while returning decent fuel consumption figures. Ride quality is good too...
After arriving in Bloemfontein, the media contingent were shuttled to Lindsay Saker VW where a fleet of Amarok V6s and 2.0-litre bi-turbo models awaited us. We buckled up and set off for our final destination at Prynnsberg Estate near Clocolan in the eastern Free State (some 155 km away).
Volkswagen didn't have the range-topping 3.0 V6 Extreme on hand, so we drove the Amarok 3.0 V6 Highline derivative instead. Finding the correct driving position was easy thanks to the height-adjustable seats and telescopic steering column. This derivative was also fitted with optional features such as leather seats (which were quite comfortable with heating function), front/rear park distance control with reverse-view camera (must-have feature), a navigation system, bi-xenon headlights with daytime running lights as well as automatically activated headlights and rain-sensing wipers.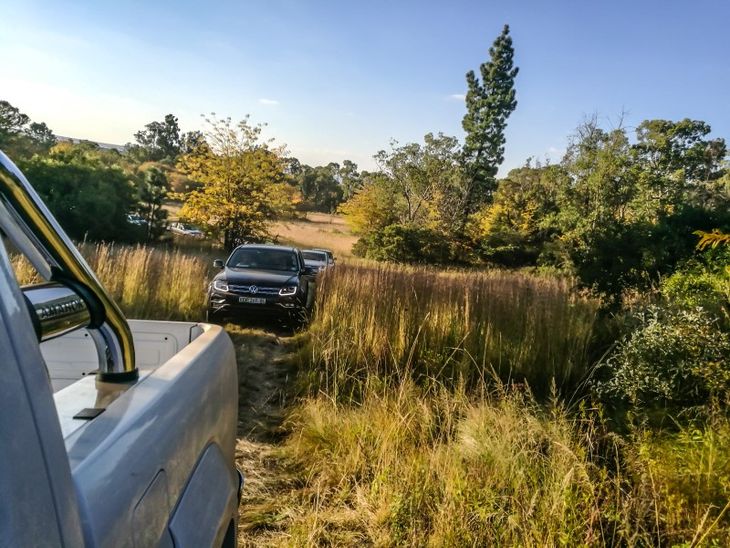 Tackling rough terrain is well within the Amarok's means and the 3.0 V6 has a maximum towing capacity of 3.3 tonnes with a 1-tonne payload.
The 3.0-litre V6 turbodiesel engine is relatively quiet and refined in operation and only becomes marginally noisier under harder acceleration. We were particularly impressed by the power delivery of the 3.0 V6... It can easily be driven sedately, but when you need to get a move on, it doesn't hesitate and it accelerates with pace, which is particularly useful if you need to initiate a quick overtaking maneuver on the highway.
The full 550 Nm of torque is available from around 1 500 rpm, resulting in brisk acceleration and Volkswagen claims the 0 to 100 kph sprint will take 8 seconds, which is rapid for a double-cab bakkie! You have to check your speed regularly because the Amarok 3.0 V6 is much faster than it feels.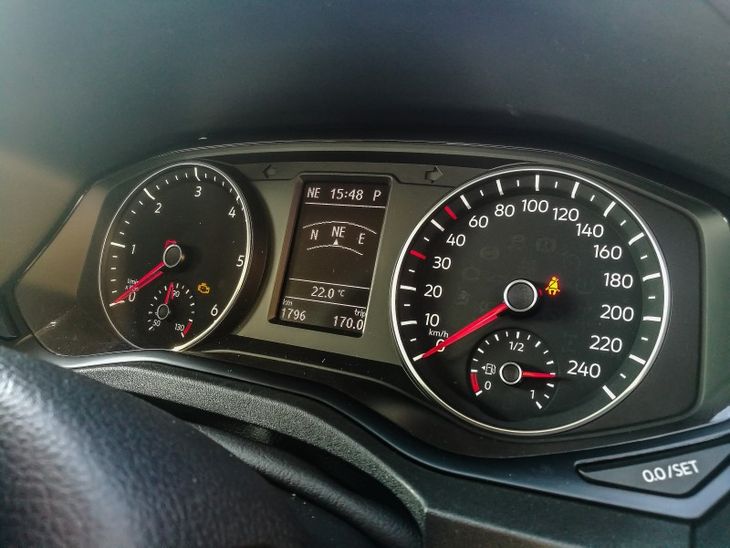 The Amarok 3.0 V6 hides its speed well and you would be forgiven for thinking you are driving an SUV.

Another impressive feature on this 3.0 V6 is its standard 8-speed automatic transmission. It's arguably the best automatic transmission in the double-cab segment and it operates unobtrusively, delivering smooth shifts while seemingly always being in the best gear suitable for the driving situation. Buyers can also opt for mounted paddle shifters, allowing the driver to manually shift gears to further manipulate the power and torque delivery.

We also found the Amarok's ride quality to be good, so much so, in fact, that you have to keep reminding yourself that you are actually driving a bakkie and not an SUV. It copes well with bumps and ruts in the road and the positive steering feel makes the Amarok particularly pleasurable to drive on longer journeys. Interior build quality is good too and although there are few soft-touch surfaces, the interior is sturdy and rattle-free.
Volkswagen claims a fuel consumption figure 9.0 L/100 km for the Amarok 3.0 V6 and during our drive, we averaged 9.6 L/100 km, with other motoring scribes reporting figures as low as 8.6 L/100 km, the latter of which is quite impressive.

Safety has also been enhanced with the addition a Post-Collision Braking System which automatically applies the brakes in the event of a collision to prevent the vehicle from having a secondary collision. Off-road ABS is also useful when driving on dirt and it reduces the braking distance considerably compared with normal driving conditions. Other standard safety features include ABS with EBD, 6 airbags, Electronic Stability Control, Hill Descent Assist, Electronic Trailer Stabilisation and Hill Hold Assist.
How capable is it off road?
The short answer is: You can venture off the beaten track with great confidence! After arriving at the historical Prynnsberg Estate, we set off into the surrounding mountainside to get a feel for the Amarok's off-road ability. When you press the off-road button next to the transmission, the Amarok alters the throttle calibration (by holding the gears for longer periods), automatically engages hill descent control and activating the off-road ABS.

Although the off-road route was relatively mild, the Amarok easily traversed the sandy and rocky terrain. The wealth of torque available low in the rev range made light work of the route and the Amarok felt both composed and comfortable in the rough stuff. A rear differential lock can be engaged for more difficult obstacles, but it was never required during the press event evaluation.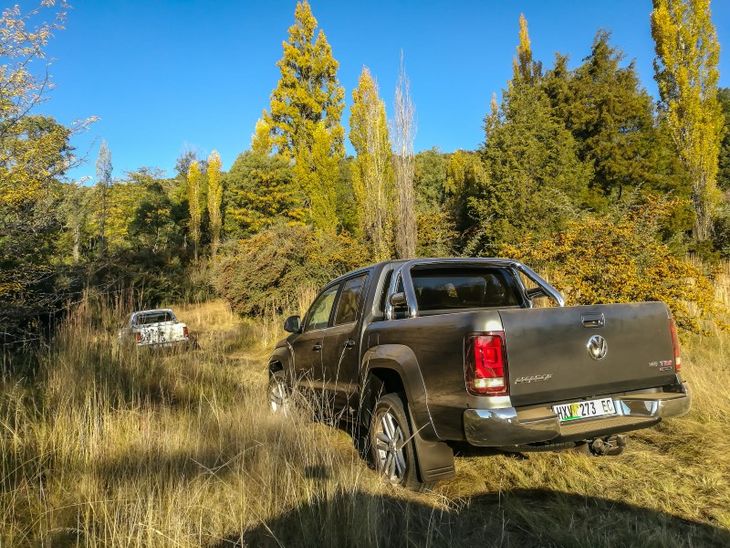 The Amarok 3.0 V6 is a robust off-road vehicle capable of tackling rough terrain and it's adequetly equipped with safety features.
Even though the off-road route didn't offer major obstacles for the Amarok to tackle, we were still impressed by the Amarok's composure on the trail and we have reason to believe that the Amarok is capable of tackling much more difficult terrain. For those of you who will be putting your Amarok 3.0 V6 to work, you will be pleased to know that it has a towing capacity of 3.3 tonnes with a 1-tonne payload.
Final thoughts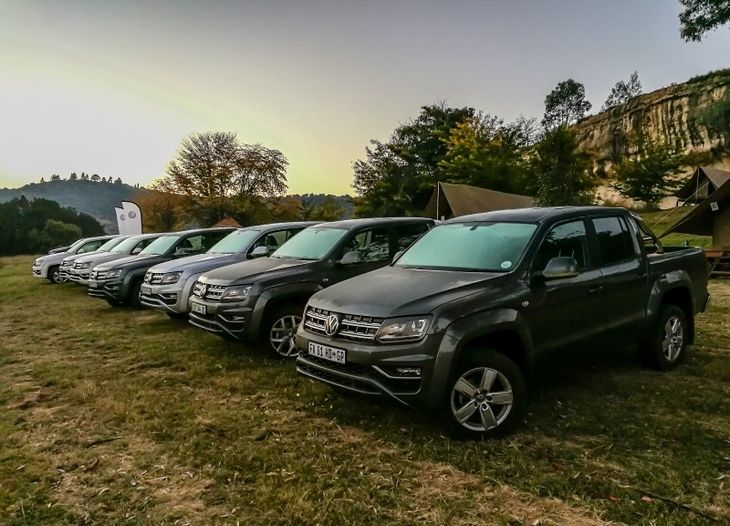 The Amarok is a quality, premium product, perhaps the best on the market, but its pricing may dissuade buyers.
The facelifted Amarok will appeal to buyers looking for a more upmarket leisure double-cab bakkie. Compared with its rivals, the Amarok is the more sophisticated offering and the addition of the 3.0-litre V6 turbodiesel engine to the range should be well received by buyers. The newcomer is powerful, both on and off-road, and its 8-speed automatic transmission class-leading. The Volkswagen's road manners are particularly impressive and the interior execution leaves little to be desired. We think the Amarok sits at the top of the segment in terms packaging, design and comfort.
The main issue of contention, particularly from a buyer's perspective, is the price. The Amarok 3.0 V6 Highline we drove has a starting price of R665 700 before options, while the top-of-the-range V6 derivative is priced from R748 600, which may force buyers to consider other options. You can obviously opt for the 132 kW 2.0-litre derivatives too, which start from R521 900.

At present, the V6-engined Amarok is way ahead of its rivals in terms of pricing, but if you consider that the upper-end of the leisure double-cab bakkie segment will grow further when products such as the new Mercedes-Benz X-Class and Renault Alaskan come to market, then perhaps the top-of-the-range Amarok will find itself in a favourable price environment when those competitors arrive. As ever, quality comes at a price...
Nonetheless, if you decide to buy the Amarok 3.0 V6, you're unlikely to be disappointed. It's a formidable, quality offering that sets a new benchmark.

We will have the Amarok 3.0 V6 on test soon, so look out for our full review in the near future.
Volkswagen Amarok – prices in South Africa
2.0 TDI 103kW 4x2 Manual Comfortline R487 700
2.0 TDI 103kW 4MOTION Manual Comfortline R544 900
2.0 BiTDI 132kW 4x2 Manual Highline R521 900
2.0 BiTDI 132kW 4MOTION Manual Highline R573 000
2.0 BiTDI 132kW 4x2 Auto Highline R539 400
2.0 BiTDI 132kW 4x2 Auto Highline Plus R591 900
2.0 BiTDI 132kW 4MOTION Auto Highline R590 600
2.0 BiTDI 132kW 4MOTION Auto Highline Plus R643 100
2.0 BiTDI 132kW 4MOTION Auto Extreme R673 600
3.0 TDI V6 165kW 4MOTION Auto Highline R665 700
3.0 TDI V6 165kW 4MOTION Auto Highline Plus R716 600
3.0 TDI V6 165kW 4MOTION Auto Extreme R748 600
The Amarok is sold with a 3-year/100 000 km warranty, 5-year/90 000 km service plan and a 6-year anti-corrosion warranty. Service intervals are set at 15 000 km.
Related content
Volkswagen Amarok 3.0 V6 TDI 4Motion (2017) First Drive
VW Amarok 3.0 V6 TDI: 5 Things We've Learnt
Volkswagen Amarok-based SUV Coming?
Why Navara shakes up the double-cab market
Nissan Navara (2017) First Drive
Nissan Navara (2016) International First Drive
Mitsubishi Triton (2017) Video Review
Mitsubishi Triton 2.4DI-D Double Cab 4x4 Auto (2017) Review
Fiat Fullback Double-Cab 2.5 Di-D 4x4 LX (2017) Review
Toyota Hilux 2.8GD-6 DC 4x4 Raider Auto (2016) Review
The World's Most Badass Toyota Hilux [with Video]
Toyota Hilux and Fortuner Enhanced [Video]
Ford Ranger Fx4 (2017) – a Raptor Kit with a Warranty
Spec upgrades to Ford Ranger & Everest
Ford Ranger 2.2 XLS 4x4 Automatic (2016) Video Review
Ford Ranger 2.2 XLS 4x4 Automatic (2016) Review
Extended Test: Ford Ranger 3.2 4x4 Wildtrak [with Video]
Ford Ranger 3.2 4x4 Wildtrak (2016) Review
2016 Toyota Hilux vs Ford Ranger – Offroad & Review
Ford Ranger 3.2 XLT (2016) Review
In-Depth Comparison: New Hilux vs Ranger vs KB vs Amarok (video)
Toyota Hilux vs Ford Ranger vs Isuzu KB vs Volkswagen Amarok (2016) Comparative Review
Want to buy a Volkswagen Amarok?