While the allure of competing in the South African double-cab market must be strong because of the (potential) big volumes, cracking this segment is tougher than you may think. Fiat is attempting to do just that with its Fullback pick-up. We review the flagship model to see whether it merits your consideration.
We like: Feels well-built, proven and powerful engine, spacious cabin, good looks
We don't like: Lacks a comprehensive safety package, not as refined as biggest rivals, service network
Alternatives:
Hilux looms large: We are big fans of the latest Hilux, particularly because of their refined, powerful and efficient new turbodiesel engines. Recently Toyota slightly upped the spec of its 2.4-litre SRX derivative, making it even more appealing by adding the wider body and alloy wheels. It is priced at exactly the same point as the Fiat... which is a rather large hurdle to overcome given the Toyota's reputation and overall excellence. It is priced at R468 800 (February 2017).
Ranger options: Ford's massively popular Ranger is another major rival, but at the Fiat's price level, only the less powerful 2.2-litre engine is really an option. The Ranger can be had for less money (XL), or for around R40 000 more (XLS). The XLS more closely matches the specification of the Fullback. In reality, the Fullback, in this flagship guise, appears well-priced against the Ranger – excluding considerations such as service network footprint etc.
Don't forget Isuzu: It is also worth looking at the recently facelifted Isuzu KB. Sure, the 2.5-litre engine powering the similarly priced KB250 D-TEQ LX is significantly down on power, but if that's not a concern, what you have here is a solid all-rounder that's unlikely to go wrong and which is less car-like than some more modern rivals – so you won't mind as much using it for work.
Compare the specifications of the Fiat Fullback with the Ford Ranger and Toyota Hilux by clicking here
Stepping into Bakkie battle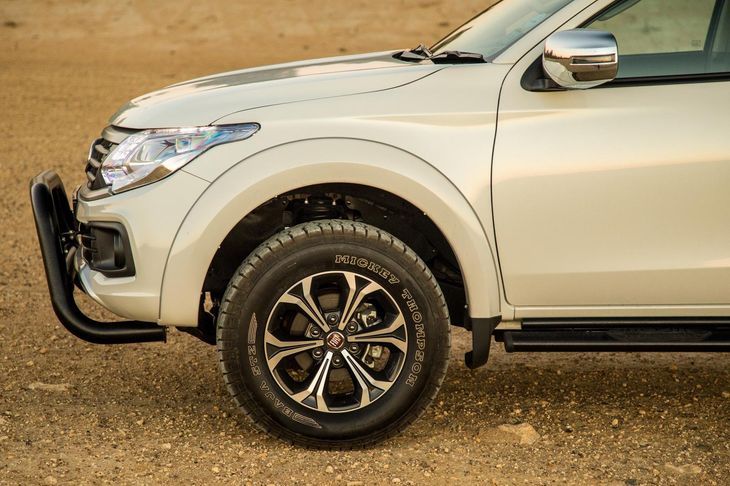 The flagship Fullback features attractive, macho looks further enhanced by a range of Mopar-branded accessories.
Globally the leisure pick-up market has been identified as a segment of expansion, with the likes of not only Fiat, but also Renault, Hyundai and Mercedes-Benz preparing to launch models. In those global markets, where there is little bakkie legacy, the playing field will be fairer to the newcomers, but in South Africa the Fullback (and others) face a very uphill battle. The Fiat brand doesn't have a history in South Africa for competing in the ultra-competitive 1-tonne pick-up segment, but a Fiat-branded bakkie is also not new locally – remember the smaller Strada? With the Fullback, however, Fiat is taking on South African darlings such as the Toyota Hilux, Ford Ranger and Isuzu KB – a colossal challenge if ever there was one! As a product, however, we found the Fullback rather more impressive than you'd probably anticipated...
How does it fare in terms of...
Design & Packaging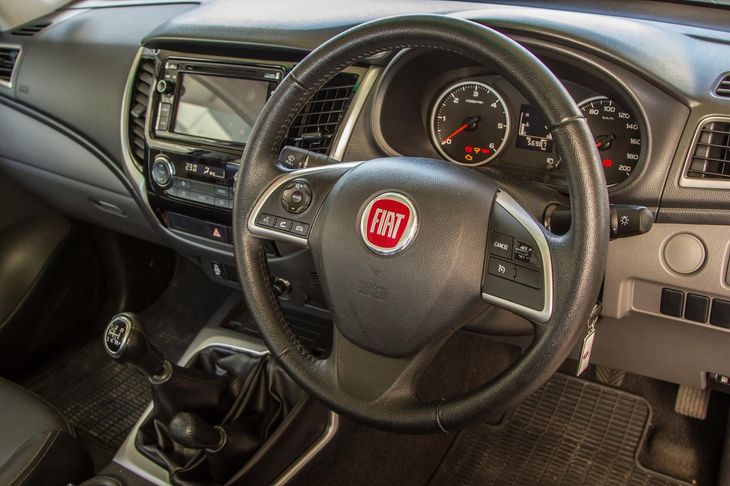 Cabin is well-made but not quite as upmarket in looks and feel as rivals from Toyota, Ford and VW.
The Fiat Fullback is based on the new-generation Mitsubishi Triton and, as such, looks rather similar to its Japanese "parent". As standard, it rides on attractive 17-inch dual-tone alloy wheels and at the front there are bi-xenon headlamps, LEDs and, of course, a different grille treatment to what you'd get on the Mitsubishi. Our test unit, however, featured a number of the company's approved Mopar-branded accessories, including a nudge bar (R3 284), "roll/sports bar" (R4 355), rear-step (R3 598) and side steps (R3 445). Riding on rugged-looking Mickey Thompson Baja STZ tyres, the Fullback got a thumbs-up from the team (and some on-lookers) in terms of its appearance.
More importantly, however, there is a sense of solidity and good build quality that is reinforced by the solid-feeling fittings, doors, tailgate etc. This perception of good build is reinforced further in the cabin, but it's not quite as car-like in appearance (or to the touch) as rival products from Ford and Toyota. The surfaces are generally a bit shinier and harder, pointing towards a vehicle that was conceived to still do a fair degree of hard work. Worth mentioning is the slightly old-fashioned "second gearlever" to operate the four-wheel drive transfer case with. Most rivals have moved to a more modern push-button system.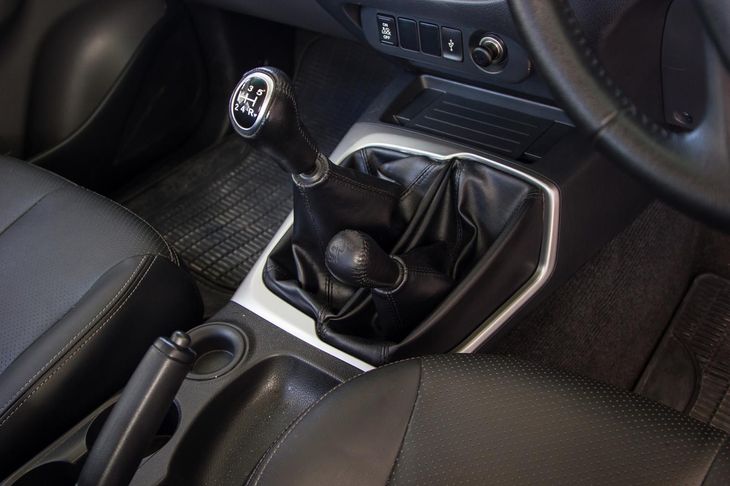 Secondary lever used to operate the four-wheel drive transfer case – slightly old-fashioned.
Nevertheless, the driving position is good, with the steering wheel offering generous rake and reach adjustment, while the driver's seat features electric adjustment (including height). Neither of these items can be taken for granted in this segment, and especially at this price. In the rear, the vehicle's lengthy wheelbase translates into good occupant space. It's a pity Fiat (or Mitsubishi) didn't include grab handles at the rear, because the Fullback stands tall – less mobile passengers or children may struggle to get into the back. Once seated, there is a fold-down centre armrest for added convenience.
With regards to its more traditional bakkie talents, this Fullback is claimed to offer a payload rating of 1 000 kg on its 1 520 mm-long loadbed (protective coating applied as standard). It can also tow an up-to-3 000 kg (braked) trailer.
Convenience and Comfort Features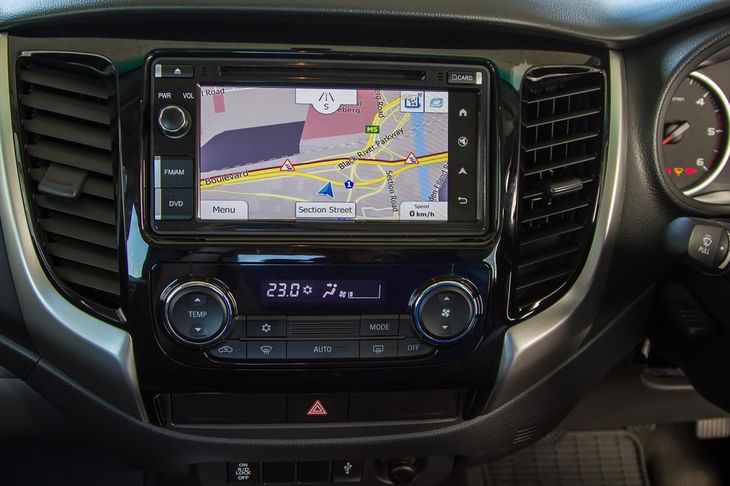 The navigation-capable info-tainment system featured here is a R11 394 option.
Though the Fullback's cabin appears "traditional bakkie" in some respects, there are a number of modern conveniences that add to its lifestyle appeal and general comfort levels. Digital climate control is standard, as are cruise control and the previously-mentioned electrically adjustable driver seat. You also get leather upholstery, which is really a must for a vehicle that's probably going to be treated a fair degree rougher than most family cars.
A highlight in our test unit was the optional info-tainment system, which is priced at R11 394. It's a comprehensive piece of kit with smart graphics and satellite navigation. As standard you still get a rear-view camera display as well as USB and Bluetooth support, so it's really up to you to figure out how much having on-board navigation is worth when purchasing your Fullback.
Performance and Efficiency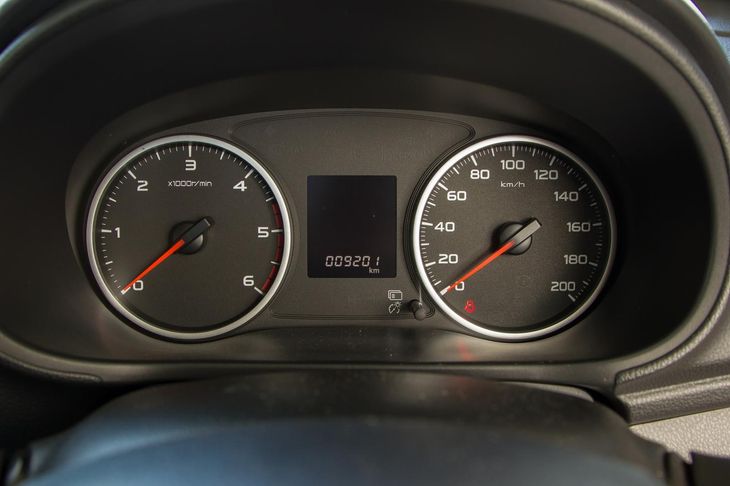 Instrumentation is simple but effective enough. Engine revs surprisingly eagerly.
This flagship Fullback is powered by Mitsubishi's proven 2.5-litre turbodiesel engine that delivers a still-strong 131 kW and 400 Nm of torque. These figures are very much competitive with the rival Toyota and Ford products sold at this price level. As an aside, it is interesting to note that Mitsubishi's decision to delay the introduction of its new Triton was because it wanted to move to its new 2.4-litre engine, which is reportedly significantly more refined – we will report on this soon. You may consequently expect the 2.5-litre to be a bit rough and unimpressive, but we found it has actually aged well. It still feels eager to rev and there's enough shove to get a move on. It's only really at the upper edges of its rev range that it starts to show its age, and it is quite a noisy mill – a sixth gear would've been appreciated for more refined cruising.
The engine is mated with a 5-speed manual gearbox that offers a precise, mechanical shift action that also feels reassuringly robust. In short, it feels like a Mitsubishi... ready for years of off-road action.
In terms of fuel economy, Fiat claims a combined cycle consumption figure of 7.7 L/100 km, and during our test term with the vehicle we achieved an average of just over 9 L/100 km, which is very acceptable for a vehicle of this type which did a lot of short stints around town, too.
Ride and Handling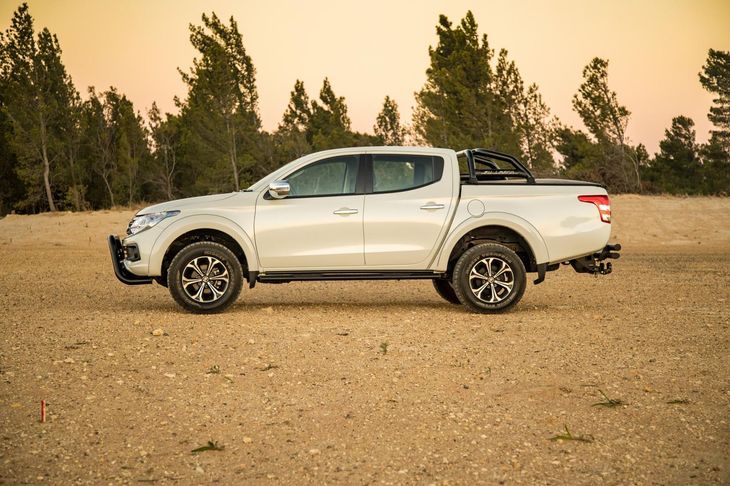 Good ground clearance contribute to a confident off-roader. Ride quite firm on tar.
In many ways the Fullback drives like a bakkie from a generation ago. Whereas many of its rivals these days appear to emphasise the leisure and comfort aspects of the modern bakkie experience, the Fullback's firmer ride, heavier steering and more mechanical gearshift make it feel a bit old-school on the road. This is not necessarily a negative for everyone, however. It "feels" like it won't mind carrying a heavy load and traversing bad terrain. And in reality, with all seats taken and some leisure equipment on the back, the Fullback felt more than comfy enough to play the family car role with conviction.
Of some concern, however, is that unlike most of its rivals, the Fullback doesn't offer an electronic stability system as standard, in addition to its ABS- and EBD-equipped brakes. And while we're on the subject of safety... it is somewhat disappointing to note the inclusion of only 2 airbags (driver and front passenger) in this model.
Head off-road and the Fullback is as good as you'd expect it to be given its Mitsubishi origins. The ground clearance (claimed 205 mm) is nowhere near class best, but the approach and departure angles are good. The torque delivery is impressive, too, so in most off-road conditions (in 4L) it happily just canters along with almost zero throttle input. If you're not in 4L, then it may be a bit trickier to apply the right amount of throttle for the prevailing conditions given some turbolag prior to to around 1 500 rpm. A diff-lock button is located on the facia, ahead of the gearlever, to further assist with traction in challenging conditions.
Pricing & Warranty
The Fiat Fullback Double-Cab 2.5 Di-D 4x4 LX sells for R468 900 (at the time of testing, February 2017) and comes backed by Fiat's 3-year/100 000 km warranty and an impressive 5-year/100 000 km service plan.
Verdict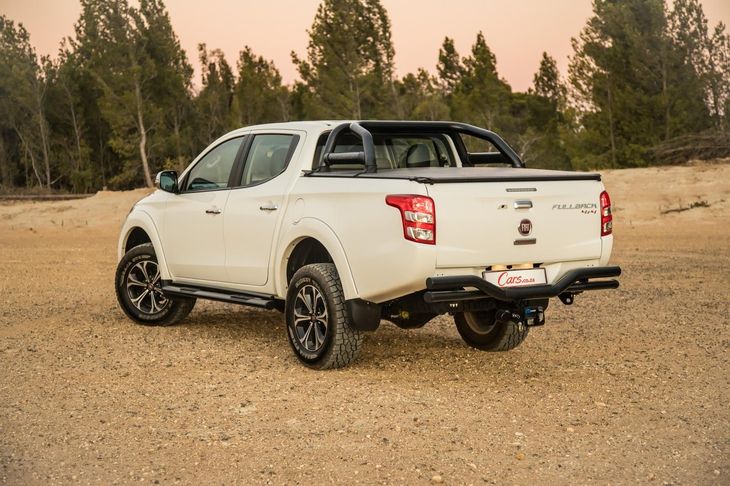 Attractive, well-built and offering good features, the Fullback ticks many boxes.
The Fullback is one of those vehicles that arguably won't get the sales support it warrants, simply because of brand footprint and a lack of legacy in the market segment. What we have here is a very good bakkie, and so it should be, given it was designed and is built by a company that has done this type of thing for a very long time (Mitsubishi). The Fullback feels solid, drives well, offers a high-value specification level given the price and strikes a good compromise between being a typical hard-working bakkie, and a modern leisure tool. So, what's the problem?
Well, Toyota's very refined, recently upgraded Hilux 2.4 GD-6 SRX is as tough an opponent as you're likely to find, and that product is backed by a brand that has an almost fanatical foothold in the bakkie market. It's going to be a long, hard slog for Fiat to gain momentum in this segment, but with the Fullback at least we're sure that any lack of sales cannot be blamed on the product.
Further Reading
Cars.co.za Consumer Awards - Best Leisure Double Cab
7 New Double-Cabs to look out for in 2017
Most fuel-efficient Double-Cabs in South Africa (2016)
5 Things to know about the new Fiat Fullback
Fiat Fullback specs & pricing in SA (2016)
Interested in buying a Fiat Fullback?