Toyota has produced the (frankly bonkers) GR Yaris so that it can enter its hot hatchback in WRC... and it's coming to Mzansi! International correspondent, Matt Robinson, drove the pocket-sized rocket on twisty British back roads.
Punch home 3rd with the sweet, mechanical 6-speed gear lever, flatten the throttle. Laugh out loud as the car you're driving deploys a massive 360 Nm of torque to the tarmac with minimal fuss, propelling 1 280 kg of bodywork forward with startling speed and 0 drama. Bang home 4th, pour in the power again and listen to a 3-cylinder engine eagerly snarling away up front as the needle on the speedometer sweeps easily past 160 kph.
The truth is, despite the fact you've looked at the outside of the car long before you've got to this point in proceedings, your brain will still struggle to comprehend that the hilarious, wonderful and thoroughly brilliant driving experience you're having is at the wheel of a Toyota Yaris. A Toyota. Yaris. What's even stranger is that Toyota SA actually plans to bring this pint-sized pocket rocket to the local market at some point during 2021; if the exchange rate can hold out at current levels (R15.50 to the dollar, as of November 2020), perhaps the wait won't be all that long...
What is it?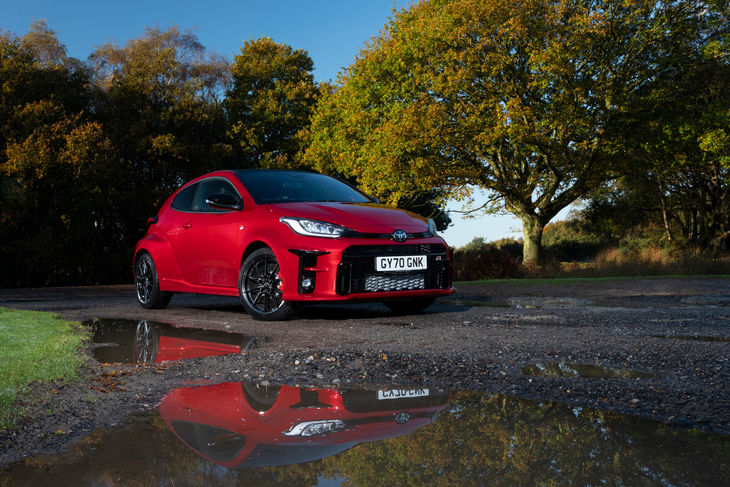 Homologation specials tend to make for some of the most iconic cars in history.
Admittedly, this new GR Yaris is not a Yaris supermini, at least not as we know it. It has been built for homologation purposes, allowing parent company Toyota to enter the World Rally Championship (WRC) from 2021 and beyond by the simple expedient of preparing a run of road-going versions of the WRC car for sale to the general public. So while the GR (it stands for Gazoo Racing, Toyota's race-prep team, which also added its initials to the GR Supra) Yaris' chassis at the front is indeed shared with the GA-B platform of regular Yaris derivatives, at the back the car utilises the GA-C underpinnings from a Corolla. Furthermore, the GR Yaris has a 3-door body shell, when the normal Yaris line-up is exclusively 5-door.
Therefore, while it might say "Yaris" on the back and the interior of the GR may be familiar if, you've sat in the 4th generation of Toyota's affordable run-around, this homologation special is a car entirely apart from the rest of the Yaris range. In fact, Toyota is suggesting the GR Yaris is not a compact hot hatch in the mould of the Ford Fiesta ST and the Volkswagen Polo GTI, but is, in fact, a serious enough piece of engineering to challenge the larger, full-fledged hot hatchbacks such as the Honda Civic Type R, Hyundai i30 N and Renault Sport Megane RS 300 Trophy.
Those are bold claims, but the GR Yaris has the hardware to do it. Its specialised 1.6-litre turbocharged 3-cylinder engine develops not only that mammoth 360 Nm, which we've already mentioned, but also 192 kW at 6 500 rpm. Extensive use of carbon fibre and aluminium in the GR Yaris' construction keeps the kerb weight down to 1 280 kg, making it lighter by 100 kg, 149 kg and 163 kg than the Civic Type R, i30 N and RS Trophy, respectively. It also results in a power-to-weight ratio of 150 kW-per-tonne, which is mighty impressive.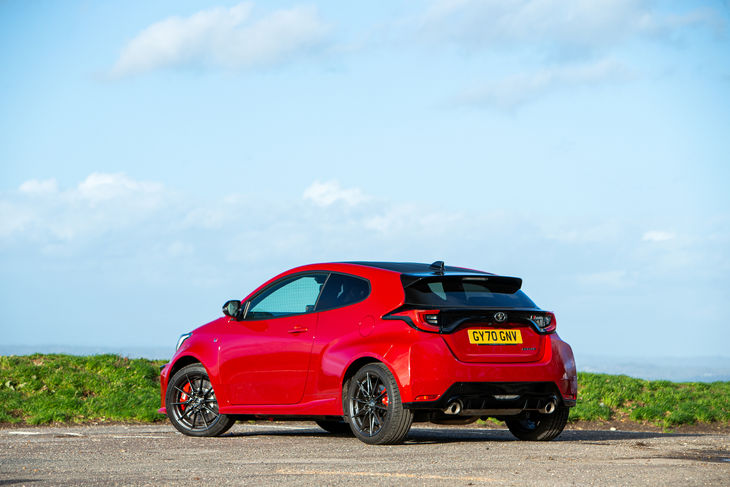 Part Yaris part Corolla and weighing just 1.2 tonnes, it's a recipe for excitement.
This wide-body Yaris has 4-wheel drive, called GR-Four, which sets it apart from any other performance hatch on sale right now, save for the far more expensive Mercedes-AMG A 45 S and BMW M135i xDrive. The Toyota's system splits torque 60:40 front-to-rear in Normal, 30:70 in Sport and then adopts an even mix (50:50) in Track; these respective modes are adjusted by means of a rotary dial ahead of the gear lever.
As standard, the GR Yaris will run on 18-inch alloy wheels with Dunlop SP Sport Maxx tyres and a firmly-tuned suspension, but an optional Circuit Pack switches the 18s for lighter, forged alloys wrapped in improved Michelin Pilot Sport 4 rubber, paints the brake callipers red, upgrades the fixed-rate, passive suspension again to a GR Circuit-Tuned level of stiffness and, finally, equips 2 Torsen limited-slip differentials – one on each axle.
All of this is packed into a superb body, complete with wide, flared arches and aggressive air intakes up front, while inside are a pair of bucket seats and read-outs in the cluster, which relate to the GR Yaris' seriousness. An Intelligent Manual Transmission (iMT) function also smooths out up- and down-shifts through automated rev-matching, although you can switch it off and enjoy the Yaris' talents all the more.
What's it like to drive?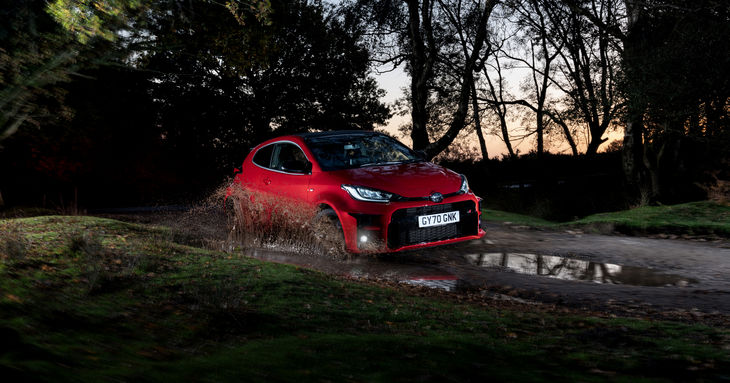 Probably more the scene of the rally car Yaris, but there are very few surfaces the GR Yaris doesn't feel confident.
This is a sensational little car: it's claimed to run 0-100 kph in 5.5 seconds but, if anything, feels far faster and more intense than that. On a dry asphalt road, the GR Yaris' tenacious grip seems virtually unbreakable, and yet if it is slightly damp under the tyres (and the car is in Sport), it will slide its back end out under heavy throttle provocation out of tighter turns. The steering is exceptional, rapid in response and beautifully weighted.
The suspension is firm at low speeds, but allows a degree of softness to its actions once the GR Yaris picks up speed. The lightweight and tiny road footprint of the GR – it's less than 4-metres long – makes this car agile, nimble and a riot on public roads, where it never feels oversized, even when you're threading it down country lanes.
And it sounds good. The engine is amazingly strong. The brakes will never wilt during hard driving. Suffice to say the GR Yaris is a homologation model to sit right up there with all the other legendary made-for-motorsport specials of the past... a Yaris in name only, but a rally car in outlook and purposefulness. It might well be priced at an expensive level for a compact car like this, but the level of engineering genius which has gone into making something this hilariously engaging is surely worth such expense, isn't it?
Summary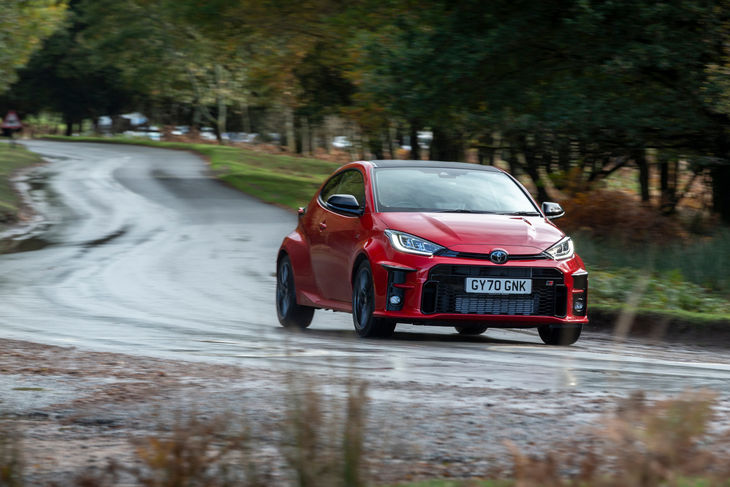 It seems like the GR Yaris has become an instant classic.
The Toyota GR Yaris isn't just a great compact (B-segment) hot hatchback. It's not even merely a great hot hatchback, of any size or value. No; it's a truly exceptional, extraordinary performance machine in the grander scheme of things. There are few cars available today, and not many more that were sold in the past, that can provide more driving thrills on the right roads than this Japanese pocket rocket. Now, if you'll excuse us, we haven't got time to be sat here talking to you about it; we've got to get back out there and drive it some more. Right up until the gas runs out.
Related content:
Yaris GR Still on the Cards for SA - Toyota SA
Toyota Yaris Cross Gets GR Treatment