The new 1 Series flagship marks a number of departures for BMW's performance hatchback: power is no longer sent exclusively to its rear wheels and its inline-6 motor has been replaced with a transversely-mounted 4-pot. Its brand promises the ultimate driving experience – can the M135i xDrive make good on that promise? We give it a thorough assessment.
We like: Straight-line performance, excellent cabin for a 1 Series (good build quality and low NVH levels).
We don't like: Choppy ride. Boring to drive. Can't justify its price tag.
Fast Facts
Price: R711 452 (R886 350 as tested)
Engine: 2.0-litre turbopetrol 4-cylinder
Power/Torque: 225 kW/450 Nm
Transmission: 8-speed automatic
Fuel consumption: 7.5 L/100 km (claimed)
​​​​Load capacity: 380 litres
Own a BMW? Tell us about your experience here.
SERIOUS ABOUT BUYING?
Where does it fit in?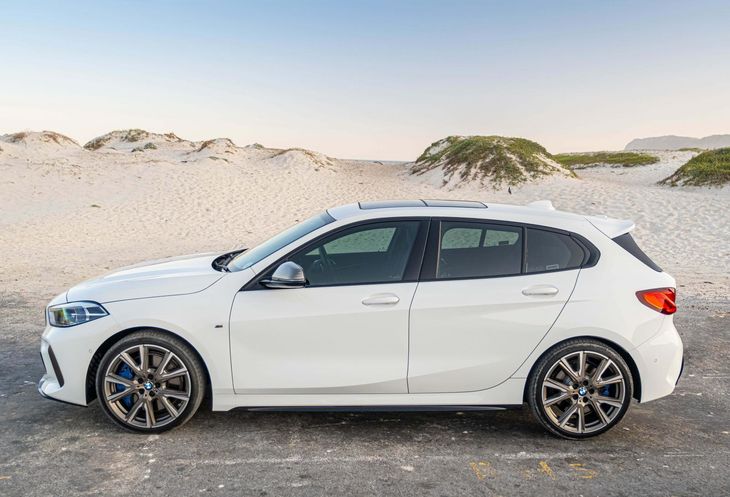 BMW's performance 1 Series is now all-wheel-drive as opposed to rear-wheel-drive.
The all-new 1 Series was launched in mid-2019 and arrived in South Africa towards the end of the year. The F40-generation premium hatchback remains the entry point to the brand and the top-of-the-range M135i xDrive is purported to offer performance kicks to match those of the Mercedes-AMG A35. This generation of the 1 Series differs from the last; like the X1, X2 and Mini Cooper, it's built on a front-wheel-drive platform (so is the 2 Series Gran Coupe). BMW has also replaced the previous-generation M140i's 3.0-litre turbopetrol with a lighter, more efficient 2.0-litre turbopetrol. Furthermore, the firm has fitted the M135i with xDrive (its all-wheel-drive system) and some go-faster exterior addenda. Previously, the BMW M135i/M140i stood out from the rest of the hot hatch rabble with its 6-cylinder engine and rear-wheel-drive configuration. Now that things have changed, is it a case of "if you can't beat them, join them?"
How it fares in terms of...
Performance
In the world of performance cars, manufacturers rarely replace models with less-powerful variants. Well, BMW has done just that here: the 2.0-litre turbopetrol 4-cylinder in this M135i produces 225 kW and 450 Nm, compared with the preceding M140i's 250 kW and 500 Nm. In truth, 225 kW is enough for a hot hatch! The new model doesn't lack for straight-line performance; it hits its marks with a 0-to-100 kph time of 4.8 seconds and a top speed of 250 kph.
The other prerequisites are there too: the 8-speed auto 'box rips through shifts rapidly, even if there's a deliberate fake kick in the back every time you flick a paddle in manual mode. The shifts are also accompanied by a fake-sounding braahp. The mid-range torque delivery is responsive and in-gear shove excellent. The torque-pull tapers off towards the top of the rev range, but the engine sound isn't appealing at higher revs – there's no real need to play in that zone.
Ride and handling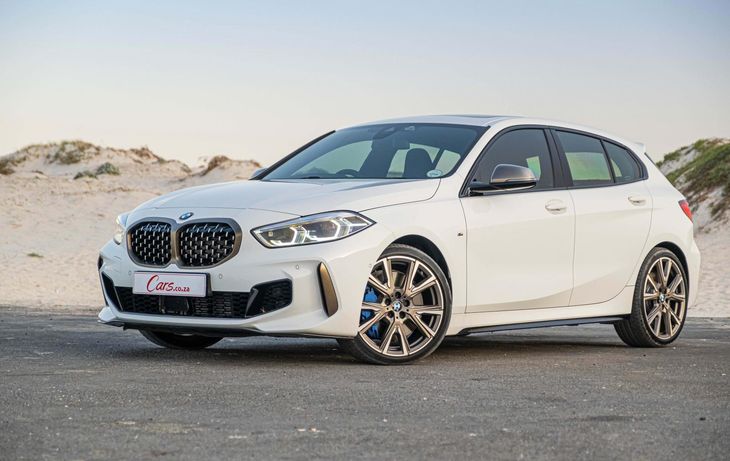 19-inch wheels mean you can't have adaptive suspension.
In terms of the M135i's suspension, buyers have to choose between specifying smaller wheels (18-inch) with optional adaptive suspension or 19-inch wheels with M-Sport springs that lower the car's ride height by 10 mm. Our test unit came shod with the latter: 19s in conjunction with the M-Sport suspension, which regrettably firms up the ride to such an extent that the BMW feels choppy and harsh to drive on a bumpy tar road.
The M135i is front-wheel-driven for the most part – xDrive does allow for up to 50% of the power to be sent to the rear wheels when required. Compared with the previous model, there's less lean in the corners and the steering feel is better, as is the speed of the rack. It's an easier car to manipulate in the corners and it changes direction quicker and flatter than the previous M, which had a tendency to want to pendulate when switching from one direction to another.
The test unit did exhibit a tendency to understeer, however, which is unusual for a BMW. It was most noticeable when coming off the power and turning in the front-end. In fact, there's noticeable front-end push; not the usual pin-point accuracy you get from other BMWs. Add in some throttle and the differential will task the rear wheels to take some of the load, which allows the M135i to pick up a later apex, with tremendous grip available when exiting the corner.
The BMW is nimble enough – it's not an ill-handling car by any means... it's just not particularly exciting to drive. All the ingredients are there, but the dish it serves up is decidedly bland.
Interior plushness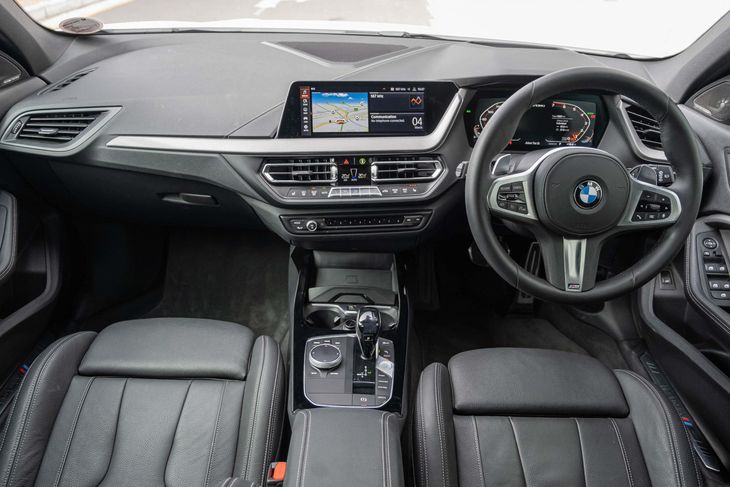 Who wouldn't want an upmarket 3 Series interior in their 1 Series?
If one considers that this is a 1 Series – and the entry point to the Bavarian brand – it's certainly equipped with a lot of kit. It almost seems as if the newcomer's interior architecture was copied directly from the 3 Series and plonked in its smaller sibling. If that's not a win for the "budget BMW", then nothing is. The materials are of premium quality and the new screens look as hi-res as those of brand-new smartphones. There is more good news: those smartphone users who have berated BMW for the lack of Android Auto will be pleased to know it will be coming to the 1 Series (and other newish models) midway through 2020. Apple Carplay is also said to be free when the update rolls out "over the air".
The M135i gets sports seats as standard, whereas our M-Sport model was equipped with the (R8 100) optional M-Sport seats. They're a bit bigger and cut into the rear legroom a little, but provide ample support and appreciable comfort for the Bimmer's front passengers. Where the A-Class' interior feels glitzy and eye-catching on the surface, the 1 Series is somewhat understated, but has more substance to it in terms of material quality and finishes.
Street cred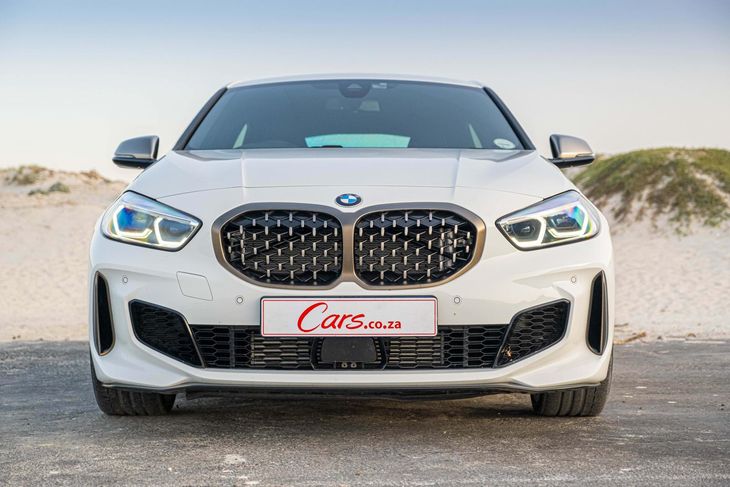 That grille is a certain conversation-starter.
It seemed that wherever we drove and parked the M135i, its front-end treatment became a major talking point among onlookers. Most spectators felt that the elaborate grille gave the premium hatchback added road- or kerb presence, but as a single element of the design, it's not particularly attractive. Those most offended by it appear to be long-time BMW fans and fellow motoring journalists – make of that what you will. Overall, the 1 Series' best angle is its side profile with the M-Sport kit that gives it definition and sporty pretensions. The Bimmer's rear often got mistaken for that of an MPV and some even mentioned the 2 Series Active Tourer when likening the M135i to other BMW products.
As for its competitors, the A35 is a clear winner in the looks department, it's certainly less polarising; we eagerly wait to see what the next-generation Audi S3 will look like.
Price and sales support
The BMW 135i xDrive price starts at R711 452 (March 2020) and comes with a 2-year/unlimited km warranty and a 5-year/100 000 km maintenance plan.
Verdict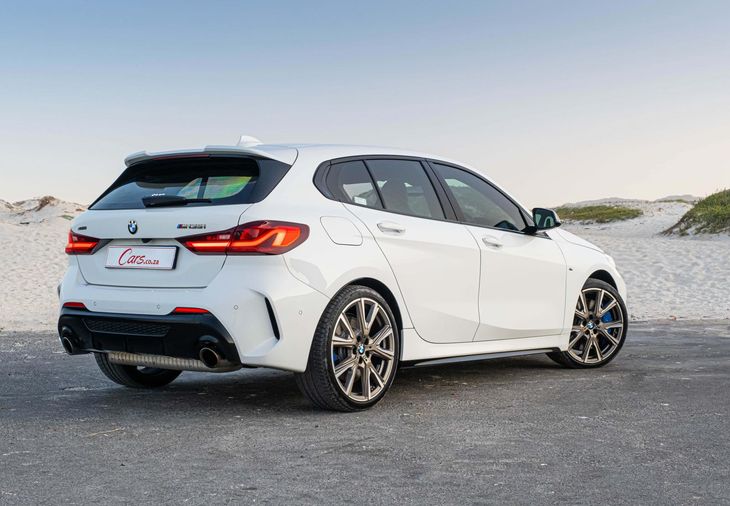 Despite sporty intentions, the 135i falls flat on the excitement scale.
Rear-wheel-drive dynamics and a straight-6 motor used to be the unique selling points of BMW's top-of-the-range 1 Series hatchback. By producing a fundamentally more practical 1 Series on an existing FWD platform, BMW has lost that uniqueness. The M135i is fast enough, has a great gearbox and there's abundant traction under power. Even the steering has good feel and feedback to it. But, it doesn't feel like a fast BMW that becomes livelier the more you ask of it.
To put it another way, the BMW underdelivers in terms of its driving experience... even though it handles like a lot of other all-wheel-drive hot hatches. It's just not exciting to pilot on your favourite set of twisties; it gets through them fast enough, but there's no big smile at the end. To put it in a way that millennials would, "the drive is a bit meh!"
And then there's the price: R700k before options. We don't think the M135i offers anything that you couldn't get from a Volkswagen Golf R (heck, even a GTI) and that's before you start bringing in driver's hatches like the Renault Megane RS or Honda Civic Type R. The other bad news is that this is as good as it's likely to get: BMW will not be making a 1M and its smallest M car offering will remain the M2 Coupe.
Related content:
New BMW 118i Review - Has Front-Wheel-Drive Ruined The 1 Series?
BMW 2 Series Gran Coupe (2020) International Launch Review