After a long delay, the Mercedes-AMG 45 range has finally touched down in South Africa. We headed to the Mercedes-Benz Advanced Driving Academy in Pretoria to put the newcomers through the ultimate test: a high-performance track-driving session. Was the new Mercedes-AMG A45 S 4Matic+ worth the wait?
South Africa is an important country for Mercedes-AMG; did you know that Mzansi is the Affalterbach-based brand's 3rd biggest market... in the world? Evidently, we're obsessed with Mercedes-AMG's wares and, these days, there is something for everyone's needs and tastes. The Mercedes-AMG A45 S and its CLA 45 S sibling were due to be launched locally in March 2020, but Covid-19 came along and ruined all the plans, but finally, the dynamic duo is here.
What is it?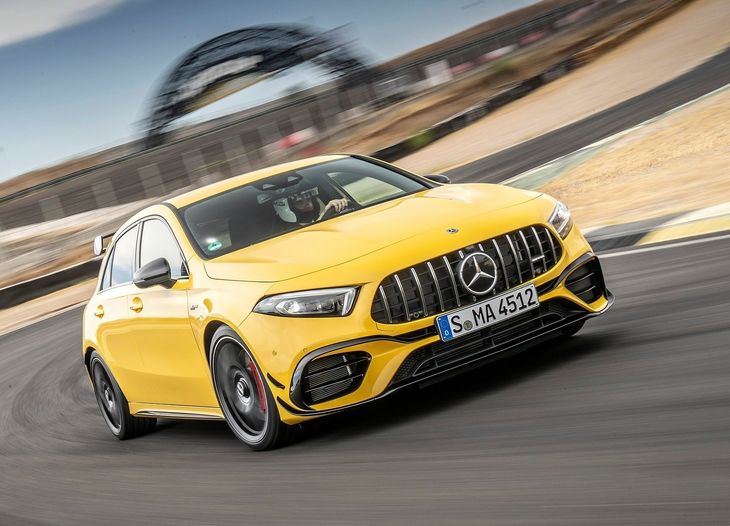 With that grille and the optional AMG Aerodynamics package fitted, the new A45 S 4Matic+ looks menacing.
The Mercedes-AMG A45 S is the fastest compact offering from the Three-pointed Star's performance division. Powered by the most powerful 2.0-litre turbocharged 4-cylinder petrol motor in series production (yes, that's still the case), the flagship is available as a 5-door hatchback, with the CLA 45 S batting for the sedan side. Mercedes-AMG is not trying to hide its ambitions of offering the hottest hot hatch – you'll be able to spot the flagship A-Class offering by virtue of its Panamericana vertically-slatted grille, quad exhausts and specific wheels. We reckon many customers will opt for the AMG Aerodynamics pack, which gives the car additional wings, spoilers and splitters for a hardcore visual look.
For detailed specifications on this vehicle, click here.
Is it fast?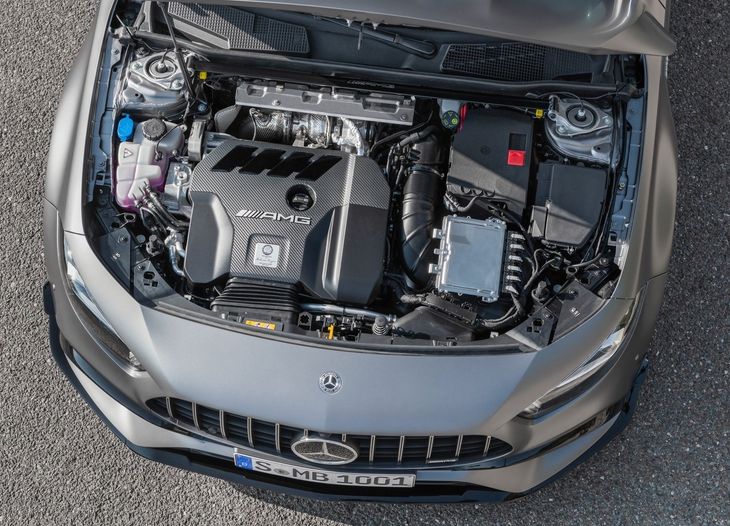 310 kW and 500 Nm from a 2.0-litre 4-cylinder are insane outputs for such a small car.
Underneath the bonnet of both the A45 S and CLA 45 S is a substantially revised 2.0-litre turbocharged motor. It delivers a staggering 310 kW and 500 Nm, and Mercedes-AMG claims a 3.9-sec run from 0 to 100 kph for the hatchback, with the CLA 45 S a fraction slower at 4.0 sec. We had the chance to sample the new Race Start function and, with the car primed and crouching like a hungry predator, we stepped off the brake... then all hell broke loose. First gear at full throttle is over in a blink of an eye and the Mercedes-AMG Speedshift 8-speed dual-clutch 'box slams the next gear home without any hesitation whatsoever. Rinse and repeat. You can shift gears yourself, but you're likely to be slower than the car's computer. The 4Matic+ all-wheel drive provides excellent levels of grip and there's precious little wheelspin when conducting a Race Start. As for top speed, the AMG Driver's Package will let you hit a top speed of 270 kph.
What's it like to drive?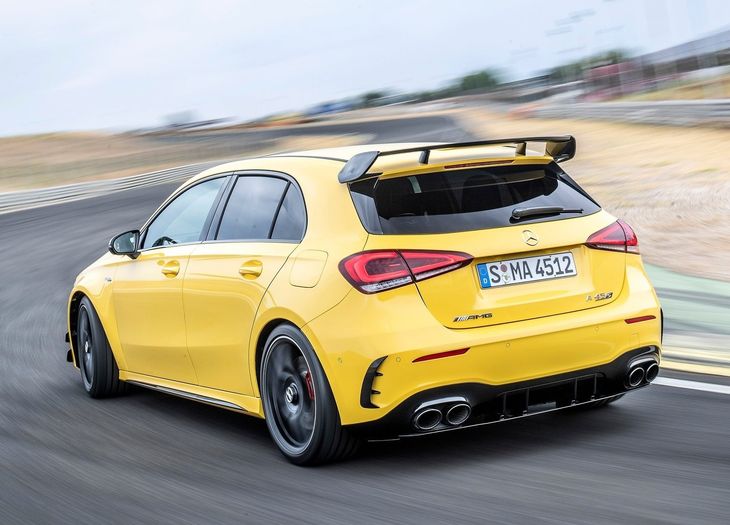 Thanks to the clever 4Matic+ all-wheel drive, trick differentials and dual-clutch transmission, the A45 S is a riot on a racetrack.
The media launch took place at the Mercedes-Benz Advanced Driving Academy located at Zwartkops Raceway. Having warmed up and refamiliarised ourselves with the track's layout behind the wheel of a Mercedes-AMG A35 4Matic, it was time to unleash the hardcore A45 S. Prior flings with the previous-generation A45 S at its international launch event at the DTM circuit of Lausitzring proved that, yes, it was quick in a straight line, but it was prone to understeer and it didn't quite have that cornering finesse that dyed-in-the-wool track addicts crave. The good news, however, is that Mercedes-AMG has worked some magic on the car's handling prowess and the results represent quite a leap forward.
The Affalterbach-tuned hatchback's steering is light and doesn't offer much in the way of feel, but it's more than adequate for hustling the A45 S around the twisties. Ultimately, it's the 4Matic+ all-wheel-drive system, trick mechanical differential at the front and electronic rear differential that work wonders and impress the most. Typically, most all-wheel-drive vehicles tend to understeer when barrelling into bends at heady speeds, but the magic of the A45 S' setup means that it cleverly dials that out and, as you power out of corners, the 4Matic+ directs most of the torque to the rear axle to induce a touch of oversteer. There's precision cornering... and then the A45 S takes it up another notch!
The levels of grip at the driver's disposal are deeply impressive and it's going to take some ham-fisted careless or excessive aggro on the part of the driver to upset the balance of the car. Believe us – we tried! With each successive lap, we tried to brake later and accelerate earlier out of a particular corner and every time the A45 S just gripped prodigiously and clawed its way out. We think that most A45 S drivers will run out of bravery before they find the vehicle's limit.
And what about that engine? Wow, what an incredible feat of engineering. Few would have believed an output in excess of 300 kW from a 2.0-litre 4-cylinder motor (covered by a full manufacturer warranty) would be possible, yet here we are. Some clever turbo wizardry has resulted in minimal lag from the get-go (there's plenty of torque at low revs), yet the motor is quite happy to be spun up all the way to the redline too.
Then there's that soundtrack; something that's so important in AMG products. Most turbocharged direct-injection 4-cylinder motors emit a tuneless mechanical drone, unlike the characterful 5-pots and V-configuration engines. The A45 S doesn't disappoint, however. It's loud and purposeful in Race mode, but the active exhaust muffles the cacophony in Comfort mode (so you won't upset your neighbours) and yes, of course, there are lovely pops, bangs and crackles.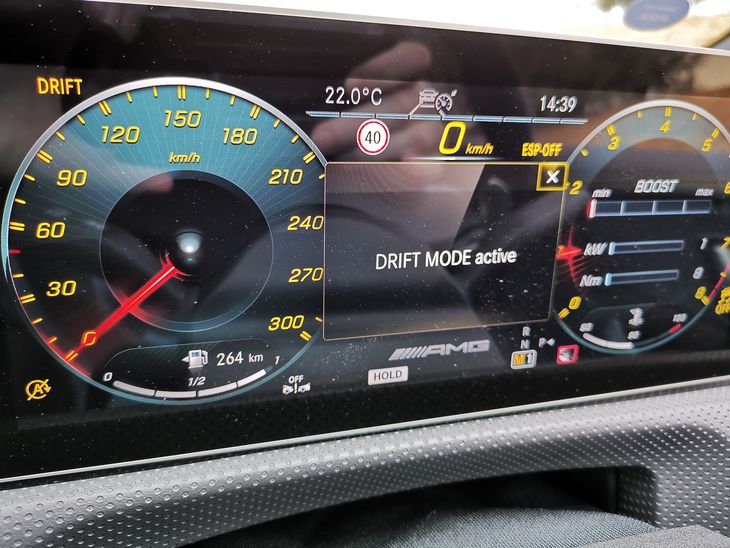 With Drift Mode, you can really hang the tail out and slide to your heart's content. Where you'd do such a thing remains to be seen.
Drift mode is now offered in the Mercedes-AMG A45 S and CLA 45 S for the first time. Essentially, it disables the front axle and directs all the motor's available torque to the rear wheels. When the system is enabled (and the A45 S is traversing a sufficiently slippery surface), oodles of tail-sliding happiness is indeed at your disposal. We had a chance to drive both the A45 S and CLA 45 S on a wet skidpan, and nothing can quite prepare you for how quickly the cars' rear-ends can break away – we found ourselves using the side windows to see where we're going! Given the CLA 45 S's longer shape, it felt even more capable of big-angle slides. It's hilariously good fun as you hook 2nd gear, plant the accelerator pedal to the floor and turn the 'wheel. After a few practice runs, we soon got the knack of "hanging the tail out". As fun as it was, we do wonder where 45 owners would get a chance to try it out (other than a wet skidpan)?
We'd love to discuss the ride quality, but seeing as this launch event was conducted on a race track, we're unable to pass judgement on that. We'll have the vehicle on test soon and will put it through a thorough on-road assessment then.
Summary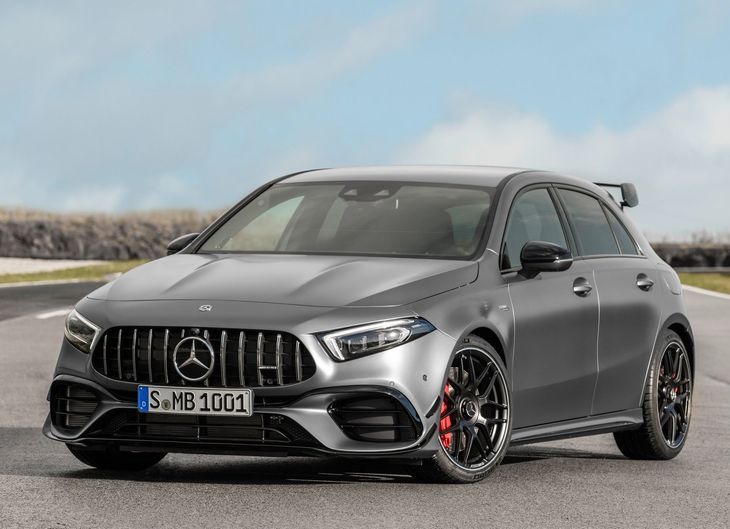 The king is dead, long live the king. Meet your new hyper hatch champion...
We knew the new Mercedes-AMG A45 S was going to be an absolute scorcher in a straight line, but we are impressed by how AMG has righted many of the predecessor's wrongs. It's an incredibly precise and entertaining driving tool, but if corners aren't your thing, that Race Start will ensure that it's going to take something special to pull away quicker than a A45 S. The cabin layout and design is great – it really looks the part and imparts the racing motif well.
The MBUX infotainment system, meanwhile, has been given an AMG look and feel, but there's information overload. With 6 driving modes and custom graphics, different themes as well as something called TrackPace, which has the world's race tracks loaded onto it, the digital razzmatazz does get a bit much. If you buy one of these, you're going to have to spend hours exploring the depths of the infotainment system before you've even switched the engine on.
All of this magic comes at a price, of course. At R1.1 million for the Mercedes-AMG A45 S and R1.2 million for the CLA 45 S, both of these offerings have been priced out of reach of most enthusiasts. However, we suspect we may see a few C63 S owners downsizing to a CLA 45 S and we'd completely understand if they did. If you had your heart set on an A45 S and are put off by the price, Benz has introduced the A35, which offers "2/3rds the fun" for "2/3rds the price".
Now we wait in anticipation for Audi Sport to reveal its new RS3 Sportback and then we'll have one of the biggest showdowns on the cards. Your move, Ingolstadt!
Mercedes-AMG 45 Price in South Africa (September 2020)
All 45 models are sold with a 2-year/unlimited km warranty and a 5-year/100 000 km maintenance plan.
Mercedes-AMG A 45 S 4Matic+ R1 101 000
Mercedes-AMG CLA 45 S 4Matic+ R1 211 000
Further Reading
Mercedes-AMG A45 S (2019) International Launch Review
Posaidon Pushes AMG A45 to 324 kph
Mercedes-AMG A45 S Takes on the Nurburgring w/video