An all-new Toyota Corolla sedan recently arrived in South Africa and while it can surely be regarded as a near-perfect Uber car, we reached into our imagination bank to envision something a little more exciting for one of the world's most popular nameplates. Enter the Toyota Corolla GR sedan!
Render courtesy of Duwyne Aspeling - Cars.co.za
Toyota has a rich motorsport heritage that stretches over 60 years and its Gazoo Racing performance arm has experienced notable success in events such as the Dakar Rally, World Rally Championship (WRC), 24 Hours of Nurburgring Endurance Race and 24 Hours of Le Mans.
Led by Toyota Motor Corporation President, Akio Toyoda, Toyota Gazoo Racing aims to harness its vast motorsport experience and transfer its learnings into Toyota's road cars. To do this, Toyota Gazoo Racing developed a multi-tiered product strategy that can be applied to a wide range of road-going Toyota's while also appealing to a broader customer base.
The Toyota Gazoo Racing tiers include GR-Line (cosmetic upgrade), GR-Sport (suspension upgrade), GR (power upgrade) and GRMN (high-power upgrade).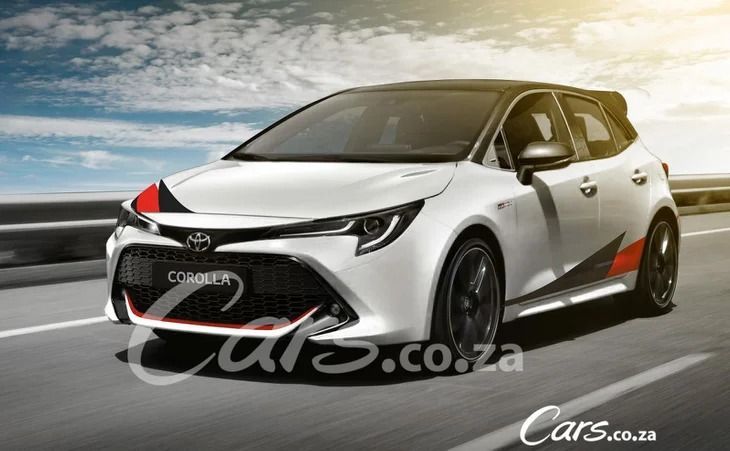 A GR Corolla hatchback is reportedly on the way, but will Toyota release a GR Corolla sedan?
You will recall in 2018, Toyota brought just 3 Yaris GRMNs into the country and we took great pleasure in putting this potent firecracker of a compact hatchback up against a range of rivals in a series of track and drag race battles (which you can watch on the Cars.co,za YouTube channel) and its performance was mind-blowingly good. Toyota has since revealed the new rally-bred Yaris GR, which will surely offer tons of fun behind the wheel, as well as the formidable GR Supra.
Even the Hilux bakkie has received some Gazoo love in the form of the Hilux GR Sport and a fully-fledged GR Hilux is likely to be in the works following a trademark application and there are more exciting products in the pipeline, which brings us neatly to the subject of this article, the Corolla sedan.
See specs and pricing for the new 12th-generation Toyota Corolla sedan
Corolla GR sedan in the works?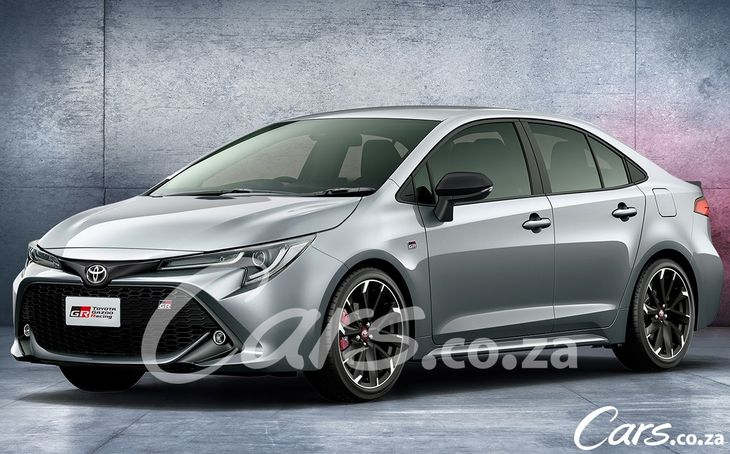 A potent GR Corolla sedan would bring some excitement to the C sedan segment.
The new Corolla hatchback came to market last year and Toyota has already revealed the luke-warm Corolla GR Sport and a patent has been filed for Corolla GR which implies that the boffs at Gazoo Racing are working on a hot Corolla hatchback that can be expected in 2023.
But, what about the Corolla sedan? This week, news from Taiwan revealed a Corolla Altis GR Sport and even Thailand released its own version of the Corolla Altis GR-Sport featuring different styling elements.
While there hasn't been outright confirmation of a Corolla GR sedan, we believe it's just a matter of time and the render above imagines what it might look like.
In terms of what could power the Corolla GR sedan, we suspect that the new Yaris GR's 1.6-litre, 3-cylinder turbopetrol engine with 192 kW and 360 Nm of torque (a 200 kW/370 Nm version is also a possibility) would offer sufficient performance in the sedan's application and mated with a snappy 6-speed manual transmission that would lay the power down via the larger front wheels shod with sporty rims and lower profile rubber.
Since Toyota doesn't have its own rapid-shifting transmission, perhaps the Japanese powerhouse will employ the services of the 8-speed ZF automatic transmission which does duty in the GR Supra, or look to Lexus to send over a unit from its performance RC-F. Neither of those are great options as they are built to deal with far more torque than a Corolla GR could ever muster.
The Corolla GR sedan would also feature a revised suspension and braking setup to enhance dynamic handling ability and in terms of styling, it would follow on from the latest-generation Corolla with GR-specific details to set it apart from the standard Corolla sedan. Interior features would likely include GR-embroidered sports seats, a GR sports steering wheel and sporty pedals.
If the Corolla GR sedan does come to market at some point, it will go head-to-head with the forthcoming Hyundai Elantra N which will make for an exciting showdown in the relatively conservative and dare we say, boring, C sedan segment.
Do you think there's a strong enough case to be made for a Corolla GR sedan?
Buy a Toyota Corolla on Cars.co.za
Related Content
Toyota Corolla Hatch Updated for 2020

Toyota Corolla Quest 1.8 Exclusive Auto (2020) Review