The return of the Toyota Supra has been one of the most widely-discussed topics in petrolhead circles. Developed alongside the BMW Z4 roadster in partnership with the Munich-based firm, the new Supra has an enviable reputation to uphold. Does the 5th-generation coupe deliver sufficient driving thrills and, does it live up to expectations?
We like: Headturning styling, generous spec, power delivery, soundtrack, ride quality, performance
We don't like: We'd have liked a few more Toyota cues in the cabin, there are many BMW bits in there.
Fast Facts
Price: R1 072 300 (August 2019)
Engine: 3.0-litre 6-cylinder turbopetrol
Gearbox: 8-speed auto
Fuel economy: 7.7 L/100 km (claimed)
Power/Torque: 250 kW/500 Nm
Performance: 0-100 kph in 4.3 seconds (claimed)
Own a Toyota? Tell us about your experience here.
SERIOUS ABOUT BUYING?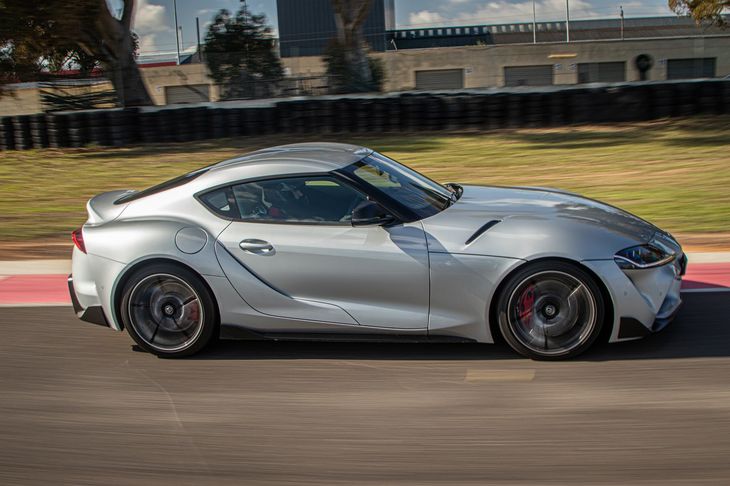 The GR Supra's exterior design appears muscle-bound but sinuous at the same time; its profile is unmistakable.
Where does it fit in?
Toyota's revival of the Supra name for a product developed in partnership with BMW was always going to be controversial. The Supra recipe calls for a 2-seater coupe, with a straight-6 engine and rear-wheel-drive, which is non-existent in Toyota's current product line-up, so the Japanese turned to specialists in this area, BMW. The collaboration has resulted in a new iteration of the Z4 and the introduction of the GR Supra. GR is the abbreviation for Gazoo Racing, which is Toyota's motorsport division; it has achieved numerous successes, most notably in the 2019 Dakar Rally.
The application of Gazoo Racing branding in roadgoing Toyotas works as follows: GR is standard fare, GR Sport adds mild suspension and cosmetic upgrades, while GRMN is reserved for the most hardcore applications. We've had our first taste of GR, with the Hilux GR Sport and the fiery Yaris GRMN. So seeing as there's GRMN, does this mean the GR Supra will get an even faster version? It's too early to say, but perhaps so.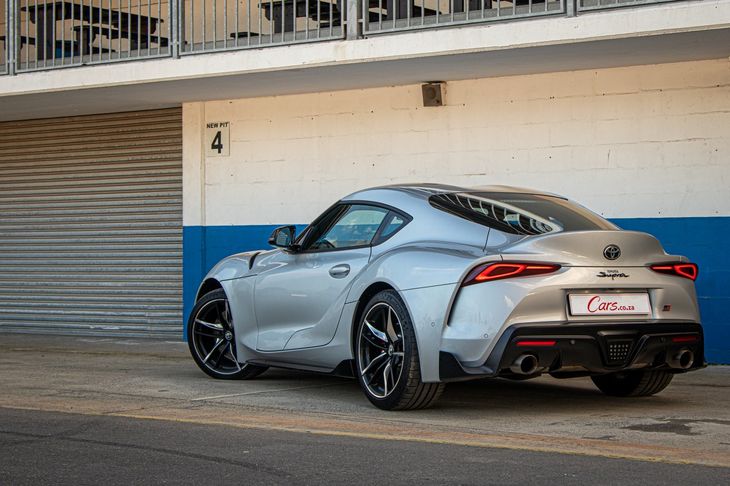 The rear 3-quarter aspect presents our favourite view of the GR Supra. It's rear-end styling is particularly resolved.
How it fares in terms of...
Performance & Efficiency
First things first: Does the GR Supra deliver the goods in terms of performance? With a mighty B58 3.0-litre 6-cylinder nestled in the engine bay, the numbers make for good reading. The motor produces peak outputs of 250 kW and 500 Nm and Toyota claims its newcomer will sprint from 0 to 100 kph in 4.3 seconds. The 3.0T is also equipped with a launch control system. However, given the cool and damp weather in the Cape area during the test period, we found that dialling up launch control would result in tremendous wheelspin, negating performance. It's far easier and more efficient to launch the car using your right foot to modulate the accelerator, otherwise, the straight-6's sheer torque delivery just overwhelms the rear tyres.
Once the Toyota's moving, its engine revs beautifully and quickly until it reaches the redline just before 7 000 rpm. You don't need to wring the motor's neck either to get the best out of it, either – the turbocharged mill delivers plenty of shove throughout the rev range. But given the glorious noise it produces, it's worth revving it out now and again... There's a majestic howl on the uptake, with plenty of pops and burbles on downshifts. Okay, so it doesn't sound any different to a 6-cylinder BMW performance model, but we don't care. There are only 2 drive modes: Normal and Sport. Sport can be configured to adjust the engine's responsiveness, the damping, the steering wheel – and it most certainly makes the car louder.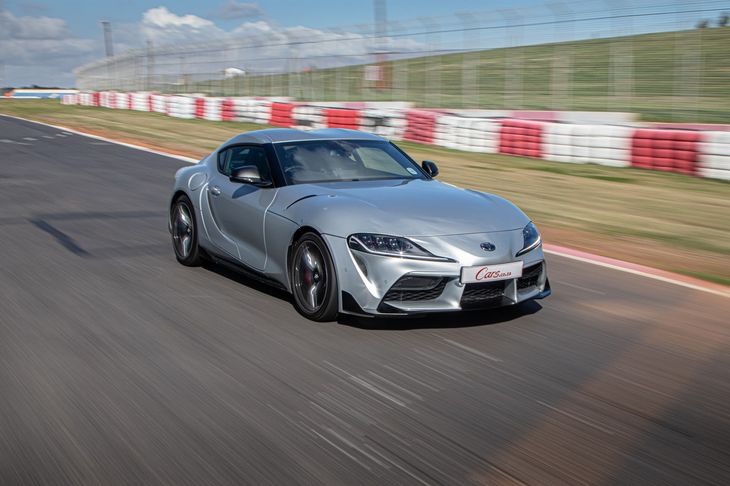 The in-gear acceleration of Toyota's newcomer is particularly impressive; its engine and transmission are superbly calibrated.
While Toyota claims a sub-5-second 0-100 kph sprint time, we think the real strength of the Supra's powertrain lies in its sheer flexibility. With 500 Nm on tap and negligible turbo lag, the Supra is a potent weapon when it comes to overtaking. It's spectacularly quick when accelerating from 80 to 120 kph, for example. There's no need to frantically bang down the gearbox either, as the car starts pulling the moment you mash the throttle pedal. When the 'box is in automatic mode, it will kick down predictably, but we did relish shifting manually (with the mounted paddles) for most of the test.
The 8-speed transmission shifts briskly, considering it is not a dual-clutch setup, but a torque converter unit. Thanks to its clever calibration, the 'box shifts crisply and promptly. Interestingly, the shift patterns change as you climb through the rev range in manual mode. Reach for the right shift paddle at low revs and the gears will melt into each other, but when you're pressing on, the shifts engage sharply, along with a reassuring thud.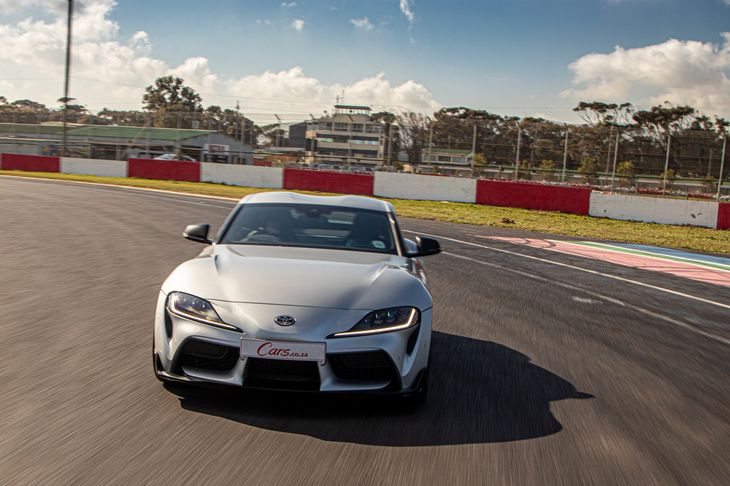 Oodles of front-end grip and excellent rear-end stability under hard acceleration make the GR Supra particularly wieldy.
Ride & Handling
If there was a recommended recipe for a perfect driver's car, it would need the following ingredients: a 50/50 weight distribution, rear-wheel drive (if only to please the purists), a responsive powertrain and a communicative steering setup. Toyota brand loyalists will be pleased to know that the GR Supra 3.0T comes awfully close to the perfect mix, but, alas, its steering is not perfect. Perhaps as a sop to cruising comfort, the tiller is a touch too light and lacking in feel. To its credit, the rim of the wheel is not as thick as standard BMW M Sport examples; it fits most hands perfectly.
When it comes to tackling a challenging ribbon of asphalt at (let's say) enthusiastic speeds, the GR Supra offers surfeit front-end grip and plenty of sticking power under power, courtesy of its Michelin Super Sport tyres. It instantly instils driver confidence. There's a pleasant directness about the car's cornering characteristics: we noticed little body roll thanks to the new coupe's good torsional rigidity (Toyota claims it's stiffer than the Lexus LFA hypercar) and, thanks to the short wheelbase, the 3.0T feels particularly agile and nimble. For the average driver, that "innate predictability" is a boon: the GR Supra is unlikely to snap into sudden oversteer, unless you deliberately seek it, but even then, it takes some monkey business to get the rear to step out. It's also important to note that the Toyota is around 100 kg lighter than its BMW relative, which helps in the handling stakes.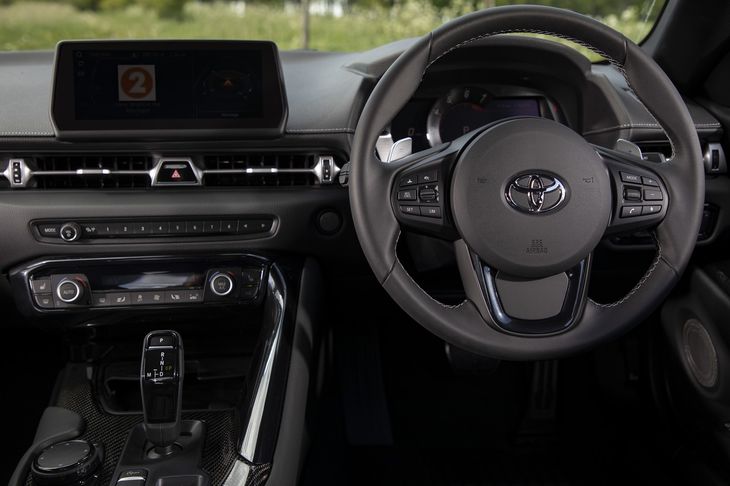 The GR Sport offers an engaging, yet comfortable driving position and the steering wheel rim is of just the right thickness.
Ride quality is a critical factor in sportscar ownership. While we may dream of putting performance cars through their paces on near-perfect stretches of tarmac every day, the sad reality is that we'll often drive those machines on iffy road surfaces. And while it's important for sportscars to handle direction changes positively (that's why they need firmly-tuned suspensions), cars that regularly jolt or jar their occupants are far from ideal. Well, the GR Supra's ride quality is excellent, compared with other performance cars with similar outputs. We were honestly expecting a crashy, overly-firm ride from Toyota's newcomer, but it's more comfortable to drive daily than some of the hotter, more focused hot hatches on the market.
The GR Supra's overall performance, ride quality and handling dynamics are very well balanced, but what's most impressive is its day-to-day usability. Many times performance cars have dazzled when it comes to the speed, only to come unstuck in stop-start traffic. This is one of the best aspects of the Supra experience: it's comfortable, quiet and refined, irrespective of speed. What's more, is it's one of the few cars that makes you feel that you're driving briskly even when you're barely caressing the throttle. Your drives, be it on back roads or highways, will always be involving.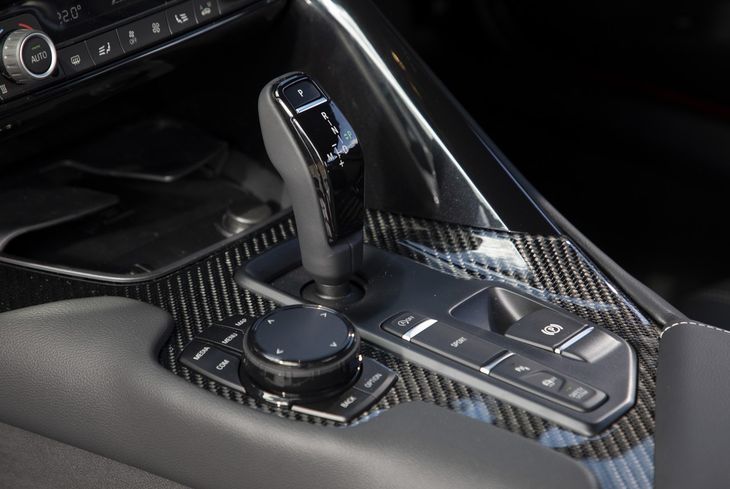 The Toyota's transmission lever, driving mode- and infotainment consoles will look very familiar to owners of contemporary BMWs.
Design & Packaging
Styling is always going to be a subjective issue – "one man's art is another's trash," as the saying goes... However, there is no denying that the exterior execution of the new GR Supra is utterly distinctive and head-turningly attractive. It thankfully retains some of the design language introduced in the FT-1 Concept from a few years back and Toyota's newcomer looks striking, regardless of which angle you view it from. We're particularly fond of the rear 3-quarter look, which shows off those hips and derriere. It's a strict 2-seater though (there's little chance of anyone fitting in behind the front seats). Commendably, the boot is usefully sized (290 litres); you can squeeze a lot more cargo in there than you think.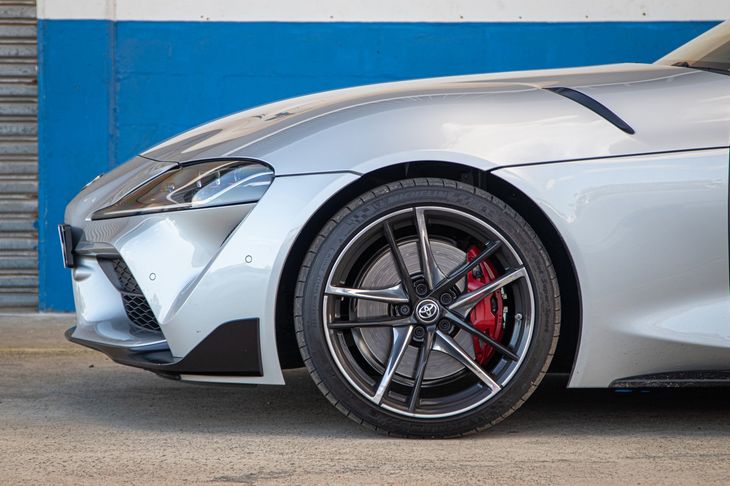 Handsome 10-spoke alloys are shod with 19-inch Michelin Pilot Sport tyres. The front-end detailing is subtle, but effective.
Comfort & Features
Available in 2 trim levels for South Africa, the GR Supra we tested was the higher-spec derivative. Also available is the Track version, which does away with some of the luxury features and focuses on further weight saving (ostensibly to ramp up its appeal to driving aficionados). Spec-wise, the top-spec Supra comes liberally equipped with niceties such as navigation, a wireless charging pad, 8.8-inch touchscreen infotainment system, 12-speaker JBL audio setup, a head-up display, adaptive cruise control and leather sports seats (heated and electrically adjustable). In terms of safety, a tyre-pressure monitoring system, reverse-view camera, PDC, blind-spot monitoring as well as pre-collision- and rear cross-traffic alert are fitted.
The driving position is well-balanced: it's suitably engaging (as it should be in a sportscar) yet a driver could easily spend longer journeys behind the 'wheel without suffering too much discomfort. The cabin is neatly laid out and we like the retro-inspired instrument cluster, which looks like it's from an early '90s video game. However, if you're familiar with the interiors of contemporary BMWs, you're bound to recognise many of the GR Supra's buttons and minor controls. The infotainment system, for example, looks like a reskinned version of a previous-gen BMW unit, while much of the Toyota coupe's switchgear (such as the transmission lever and the exterior lighting controls) come straight from the German firm's parts bin.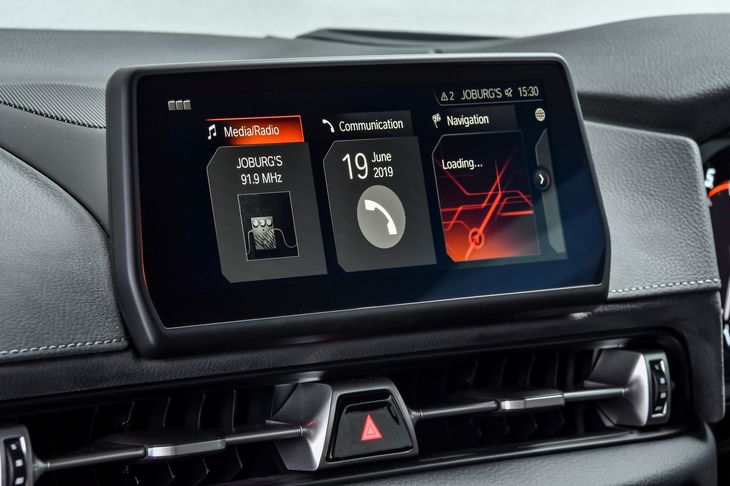 The infotainment system is very user-friendly, even if its menu system has a certain Teutonic crisp orderliness about it...
While we understand that platform sharing is cost-effective and an integral part of product development for so many car companies, the interior commonality between the Japanese model and its German relative does rob the GR Supra from a distinctly Japanese (JDM, if you will) ambience. Surely there are some nice Lexus/Toyota buttons lying around to give the car a more "Oriental feel" inside? While we're slightly disappointed by a bit "too much BMW" in the newcomer's cabin, the chances are that the vast majority of owners will not care about that and see what the car for what it is: a pure driving tool. That being said, there's nothing wrong with BMW cabin componentry, it exudes a luxury feel and the cabin feels well-made.
Price and warranty (August 2019)
The Toyota GR Supra costs R1 072 300 (Prominent Red), R1 082 300 (Metallic Silver) or R 1 092 300 (Matte Grey), which includes a 4-services/80 000 km service plan and 3-year/100 000 km warranty. Customers can also purchase extended service plans via their Toyota dealer.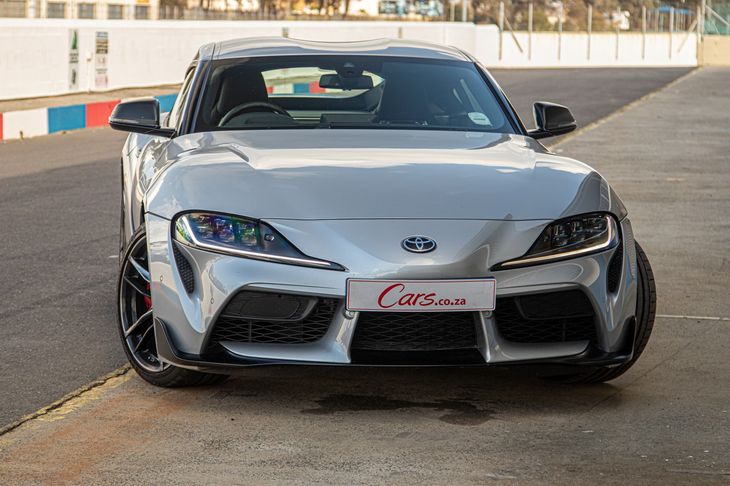 When you view the GR Supra from front-on, its gaping, sculpted front spoiler and indented roof instantly add to its kerb appeal.
Verdict
Has Toyota taken BMW's recipe and made it even better? In some ways, yes. While this article focuses on the GR Supra, comparisons with its Z4 relative are inevitable. Past experience with the latter's M40i derivative suggests it's a brash and twitchy proposition when you pile on the pace; it requires dexterous steering inputs and vigilance with the throttle pedal, particularly on damp tarmac. By comparison, the GR Supra, thanks to its lighter mass and greater rigidity, tends to hunker down, grip and go, with minimal fuss, even in less-than-ideal conditions. The balance is superb – at no point do you sense the GR Supra is about to "turn around and bite you" – a fear that did lurk at the back of our minds when piloting the Z4.
While we can accept the use of a BMW straight-6 motor and the ZF-sourced 8-speed transmission (a match made in heaven), it's hard to ignore the plentitude of BMW switchgear in the Toyota's cabin. It's true that the Toyota 86's interior looks much like that of the Subaru BRZ and the Abarth 124 Spider's cabin closely resembles that of the Mazda MX-5. However, the GR Supra is not a rebadged clone of the Z4, that's abundantly clear from its striking and sinuous exterior styling. We just wish that more of the Toyota's distinctiveness could have spilled over into its (albeit smart) interior...
Should you buy one? If you're in the market for a gorgeous, engrossing new sportscar, one that provides an abundance of driving thrills and allows you to rediscover the lost art of driving, then go for it. The GR Supra is an eminent all-rounder. Past experience with performance vehicles suggests that while many of them are adept at tackling mountain passes or racetracks, they're often awful to drive on a daily basis. By contrast, the Toyota is refreshingly refined and happy to potter along at 40 kph in early-morning traffic jams. Its levels of specification and occupant comfort make it more than bearable and, as this reviewer's partner pointed out, "there's enough boot space for a weekend away, and it's not that bumpy". Praise indeed.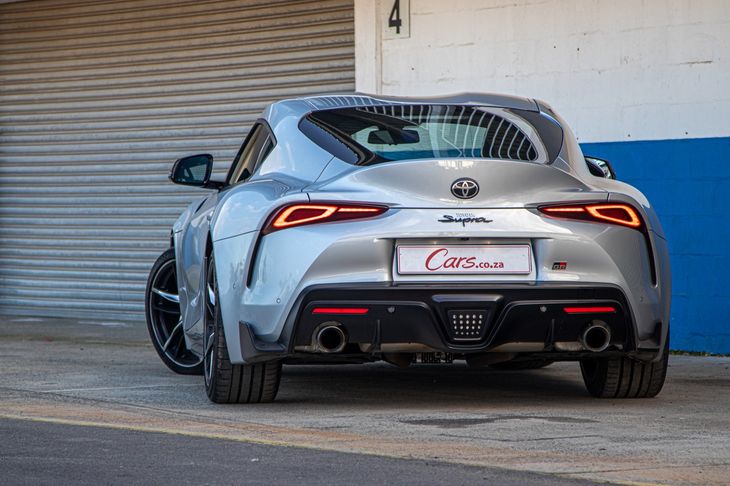 Enlarged dual exhaust ends emit a magical mechanical crescendo and the elaborate diffuser creates a delicious race-car look.
In conclusion, Toyota has created an attractive yet potent performer in the GR Supra. The car's easygoing nature made us want to drive it again and again and it notably reminded us that you don't need astonishing power at your right foot's disposal to have a jolly good time behind the wheel. We pitted the 3.0T against the BMW M2 Competition for a video shoot at Killarney and afterwards, our test team members were clamouring for the Supra key – everyone wanted to drive it home. If that doesn't speak volumes for how this car makes you feel, then we don't know what does.
Looking to buy a new/used Toyota Supra?
Find one on Cars.co.za by clicking here