Toyota has released a high-performance Yaris that's imbued with the Japanese brand's World Rally Championship know-how.
Toyota has been doing the most to shake off its predictable image over the past few years. Now it has revealed the Toyota GR Yaris, a homologation model which will serve as the basis of the next-generation Yaris WRC racecar. This one is completely road-legal and will be going on sale to the public. Toyota has a commendable rally heritage and we can all recall the gorgeous Castrol-liveried Celica from way back.
The numbers make for exciting reading. The engine is a 1.6-litre turbocharged 3-pot, with 192 kW and 360 Nm, which Toyota claims is good for a sub-5.5 second run to 100 kph. The trick here is the all-wheel-drive setup, providing exceptional traction off the line. Top speed is rated at 230 kph. There's no fancy dual-clutch transmission here, instead a 6-speed manual gearbox is on duty.
This new all-wheel-drive system can transfer torque completely to the front or rear axle, so the potential for big rear-wheel drifts on gravel is completely plausible. There are driving modes which set the bias accordingly. In Normal, it's 60:40, Sport is 30:70 and Track features 50:50. Customers can opt for a Circuit Pack, which comprises a Torsen limited-slip differential on both the front and rear axle, performance-tuned suspension and 18-inch forged alloy wheels with Michelin Pilot Sport 4s 225/40R18 tyres.
At this stage,it's too early to tell if Toyota South Africa will be bringing this exhilarating little number to our market. Fingers crossed a few units make their way here as its predecessor, the Yaris GRMN was simply sensational to drive.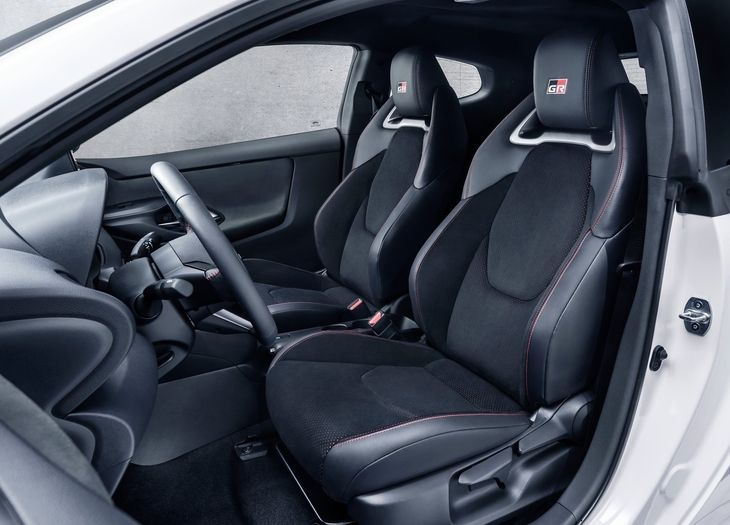 The rally-inspired Toyota Yaris GR looks to be one of 2020's most exciting performance cars.
Further Reading
All-New Yaris to use Toyota TNGA platform
Drag Race: Volkswagen Polo GTI vs Toyota Yaris GRMN