The Baleno offers big-car comfort at a small hatchback price, but can it lure buyers away from top-selling hatchbacks or compact family cars/crossovers? We put Suzuki's newcomer to the test.
We like: Exterior styling, good performance, handling, economy, lots of space.

We don't like: Interior design is a bit bland, infotainment system a little clunky to operate.
Alternatives:
Like for like: Consider the Ford Focus 1.0 Trend priced from R272 900. Yes, it's more expensive, but the Focus offers more power with 92 kW and 170 Nm of torque from its turbocharged 1.0-litre, 3-cylinder engine. The Baleno, however, has a bigger luggage bay, more spec and is considerably more affordable.
For a high-spec B-segment hatch: Consider the recently facelifted Renault Clio 66kW Turbo Dynamique priced from R244 900. It offers 66 kW and 140 Nm of torque from its 0.9-litre turbocharged engine, is undeniably good looking and comes well-specced, but it's not nearly as spacious as the Baleno.
For a crossover: For R249 900, you can hop into the Renault Captur 66 kW Turbo Expression. It has a bigger loading bay at 377 litres, expanding to 1 235 litres with the rear seats folded down and it offers similar specification to the Baleno. The comparatively conservative Suzuki feels a more substantial product, though.
Compare the Suzuki Baleno with the Ford Focus 1.0T Trend and Renault Clio 66kW Turbo Expression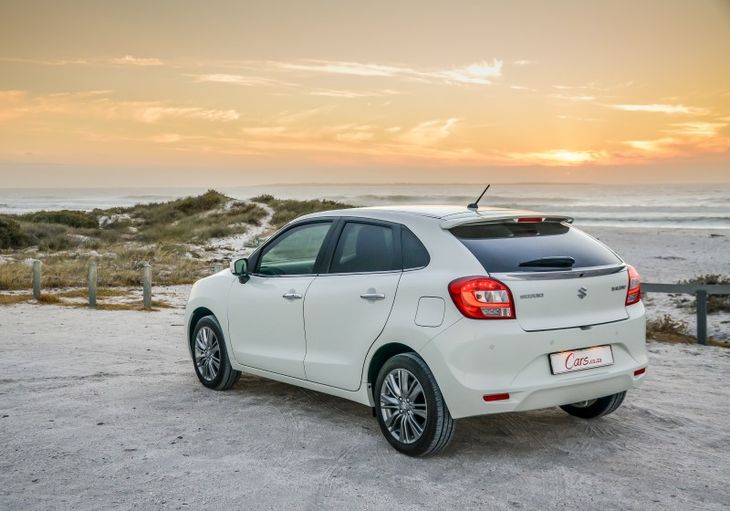 Spacious, practical and affordable best describes the new Suzuki Baleno.

An analysis of new vehicle sales figures shows South African private buyers and fleet companies have a predilection for B-segment hatchbacks: products such as the Volkswagen Polo, Ford Fiesta, Hyundai i20, Toyota Yaris... there are several other examples... Suffice to say, consumers are spoilt for choice. But for motorists who seek more practicality than those models can offer, C-segment hatchbacks, such as the Golf, Focus, i30 and Auris (just to expand on the previous examples) may just be out of reach price-wise – and they vie for the same slice of the market as compact family cars/crossovers.
Those aforementioned offerings are all compelling, but their ranges' pricing starts in the late-R200k-to-early-R300k range. The new Baleno, by contrast, tested here in 1.4 GLX manual guise, effectively offers C-segment practicality while offering attractive B-segment pricing (R229 000, including a service plan). Could the newcomer's practicality and strong value package convince buyers to forego volume-selling smaller hatchbacks (or digging deeper in their pockets to jump on the compact crossover bandwagon) and opt for a conventional hatchback from a workmanlike brand? Perhaps. Read on...
How does it fare in terms of…
Kerb appeal?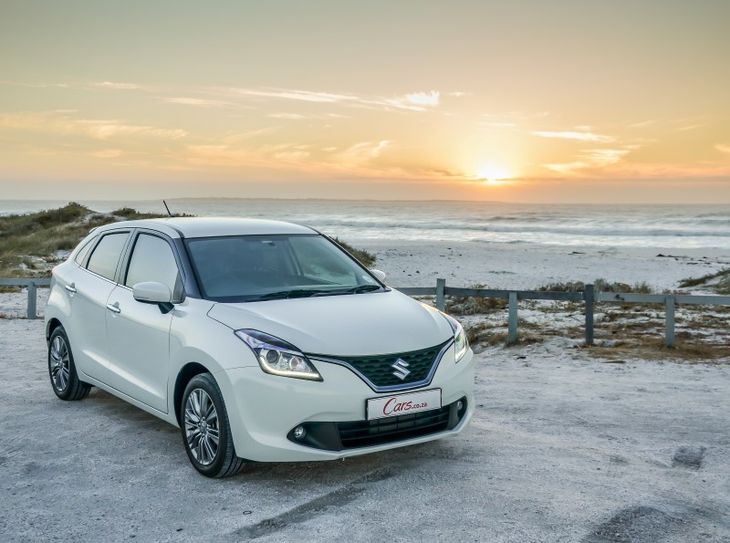 The Baleno features typical Suzuki design cues, but its design is more refined. It looks distinguished, if unremarkable.
The design of the Baleno is unmistakably Suzuki. It's reserved, yet seems to exude an air of sophistication that you wouldn't typically associate with the brand. The newcomer's built on a new platform that emphasises increased rigidity and lower overall mass (the Baleno's kerb weight is only 915 kg); even though it's bigger than its Swift sibling, it looks less dumpy.

This GLX derivative rides on dark grey 16-inch alloy wheels and comes fitted with a rear roof spoiler, adding a dash of sportiness to the overall design. We think the Baleno is a smart casual-dressed hatchback and for a brand that's traditionally viewed as being, dare we say it, a bit bland and conservative, the Baleno's design represents a progressive step in Suzuki's bid to convince the public its automotive products are "fun-loving". The photographs of the Baleno speak for themselves…

Practicality?

Previously, buyers seeking a more practical hatchback than the Swift needed to consider the SX4 or Vitara (from the Suzuki stable) or products made by other brands. With the arrival of the Baleno, the drawbacks of a small loading bay and scant rear legroom (which are inherent to most B-segment hatchbacks, to be fair) have well and truly been addressed.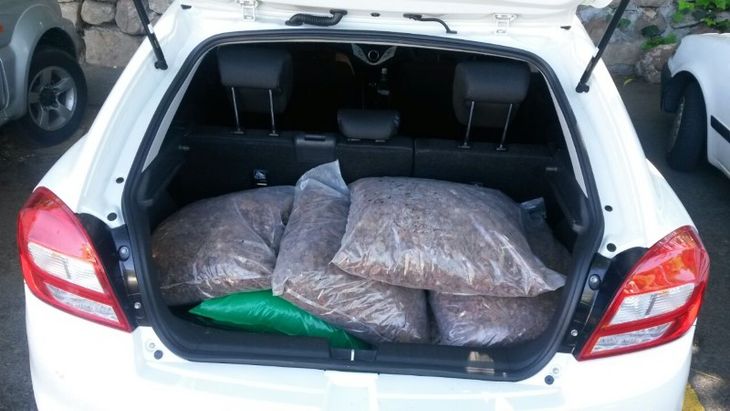 The loading bay is large and deep, capable of swallowing luggage and whatever else you might need to transport.

The Baleno has a sizable loading bay (a claimed capacity of 355 litres). That's substantially more than the rivals at its price point and with the rear 60:40 split seat folded down, utility space increases to 1 085 litres. We tested the Baleno's loading capacity with a trip to the nursery and 10 large bags of compost and wood chips were easily packed into the hatch. In fact, there was still space for more goods. It's quite impressive! It must be noted however, that when you fold the rear bench down, it's not completely flat, as the seat forms a pronounced lip in the loading area. Nonetheless, the space is welcome.

In terms of rear leg-, head- and shoulder room, the Baleno is generous; it can comfortably seat a pair of average-sized adults and rear passengers further benefit from 3 headrests, a 12V socket and bottle holders in the door mouldings.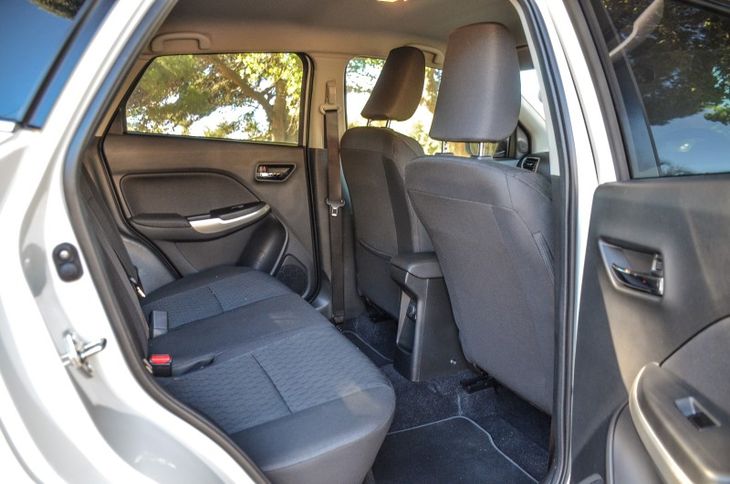 The Baleno affords rear passengers with excellent legroom, which is typically not expected at this price point.

The driver's seat offers height adjustment, the steering column can be repositioned for optimal rake and reach and the leather-trimmed 'wheel features audio, cruise control and Bluetooth toggles. There is a pair of cup holders (located in front of the gear lever), along with a small storage tray. The centre bin is rather small, but it's big enough to store your cell phone and house keys out of sight. Additional storage space in the door mouldings can accommodate bottles and other items.

The Baleno also benefits from keyless start and all the windows are electrically operated – as are the side mirrors. A USB port and auxiliary audio input jack are availed to the driver and front passenger, as is a 12V socket. Overall, the Baleno offers most of the essentials and its space offering is by far its biggest asset, making it more practical than most of its rivals.

Performance?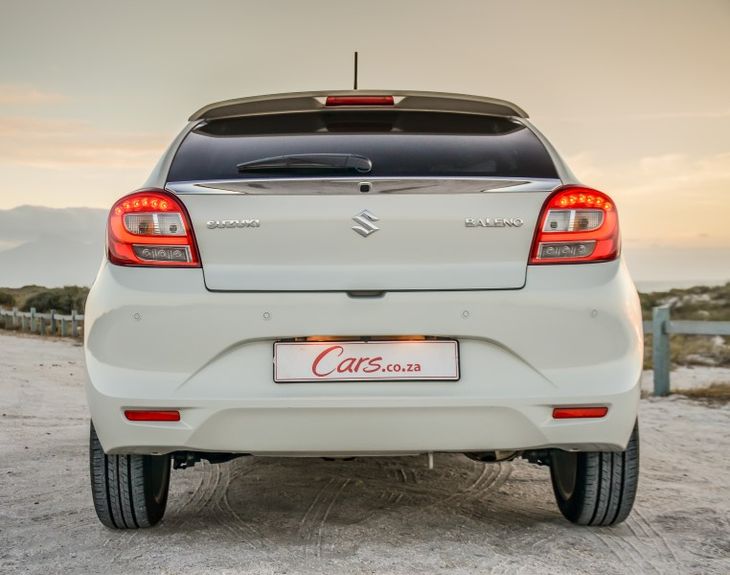 The Baleno offers sprightly performance and its comfortable ride make it a good daily runner.

In South Africa, the Baleno is powered by the same naturally-aspirated 1.4-litre engine that does duty in the Swift and Ciaz. We don't believe Suzuki's new 1.0-litre turbopetrol, which is offered overseas, will be offered in the local Baleno in the foreseeable future, but the 1.4-litre engine is adequately suited to the car and offers 68 kW and 130 Nm of torque.

Despite those numbers not being particularly impressive on paper, the Baleno's light weight helps matters somewhat and those outputs are enough to make the hatchback feel lively and perceptibly more responsive than you'd expect. The Baleno is by no means a hot hatch, but it's quick enough between robots and is eminently suitable for navigating the urban sprawl.

The front wheels are driven through a 5-speed manual gearbox, which offers a positive shift action and gear changes can be executed smoothly thanks to an easily modulable clutch pedal. The engine produces its peak outputs higher in the rev range, so to get the most out of it, you have to keep it spinning at 4 000 rpm (where maximum torque is available) and all of the modest 68 kW comes 2 000 rpm later. Therefore, in overtaking situations, you will invariably have to gear down to access more power, but we like the fact that the Baleno can be a relaxed, sedate cruiser and the newcomer's impressive fuel efficiency is a worthwhile tradeoff. Suzuki claims the Baleno will consume 5.1 L/100 km and we easily achieved 6.2 L/100 km. If driven with consideration on a regular basis, the Baleno could very well return figures below 6.0 L/100 km.

Another aspect of the Baleno that quickly became apparent is its respectable ride quality and handling characteristics. The Swift is good in those regards, but the Baleno is better. Its suspension does an admirable job of dealing with road imperfections and the ride is generally composed. The Baleno feels solid and planted in the corners, thanks, in part, to its stiffer chassis, and the steering weighting provides satisfactory feedback to the driver. This bodes well for everyday use.

Interior quality and features?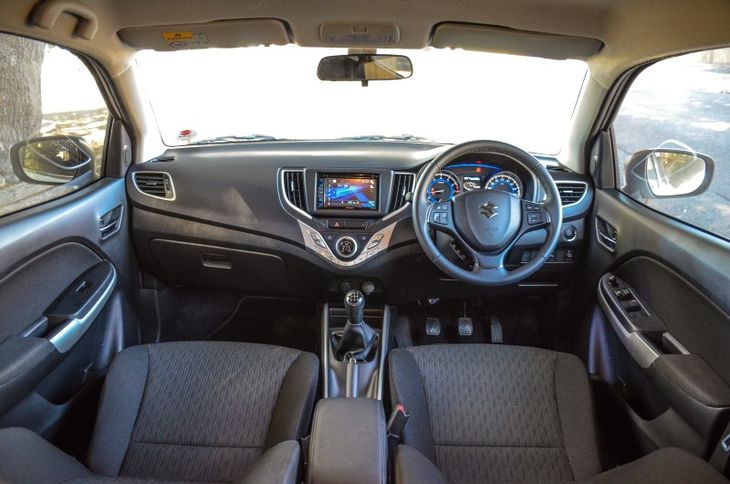 The interior of the Baleno isn't exciting, but its simple, practical and well-built.

The Baleno's interior build quality is, if less than luxurious, a model of solidity. The cabin is dominated by flush-fitting, hard-wearing plastic that will likely withstand the daily abuse from the kids on the school run. The design of the interior is by no means exciting, however. You can tell by the choice of materials that Suzuki tried to strike a balance between affordability and practicality. That said, the Baleno's cabin is not premium, nor does it feel cheap, it's rather somewhere in between.

It's a noticeably dark cabin, with the only contrast seen in the silver trim surrounding the automatic climate control air conditioning system and air vents. The instrument cluster adds some colour to the interior with its blue backlighting and houses a 4.2-inch TFT information display that includes two circular bars that indicate how much power and torque you are making use of. It looks a tad gimmicky perhaps, but bear in mind that it is but one of the availlable trip computer displays..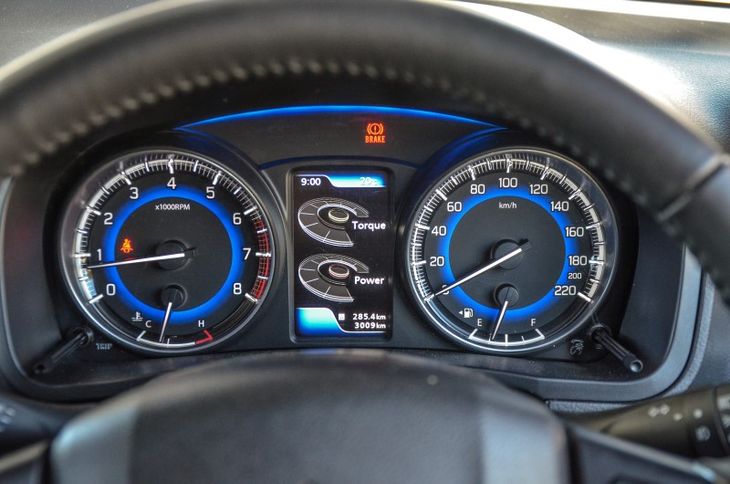 The instrument cluster adds much-needed colour to an otherwise predominantly dark interior.

The GLX derivative is equipped with an aftermarket 6.2-inch infotainment system that takes care of basic functions such radio, CD and Bluetooth streaming. The system's functions are easy enough to use once you're used to it, but we think it could be better. The small buttons make the system finicky and distracting to use; a Suzuki with a touchscreen is a novelty.

In terms of safety, the Baleno isn't equipped with electronic stability control, but it does have ABS with EBD, brake assist and the GLX model is fitted with 6 airbags. If you have offspring to cart around, there are Isofix child seat tethers on the rear seatback. Rear park distance control is included, but a reverse-view camera would have been a nice-to-have feature.

Pricing and warranty

The Suzuki Baleno 1.4 GLX manual is priced from R229 000 and is sold with a 3-year/100 000 km warranty and 4-year/60 000 km service plan. Service intervals are set at 15 000 km.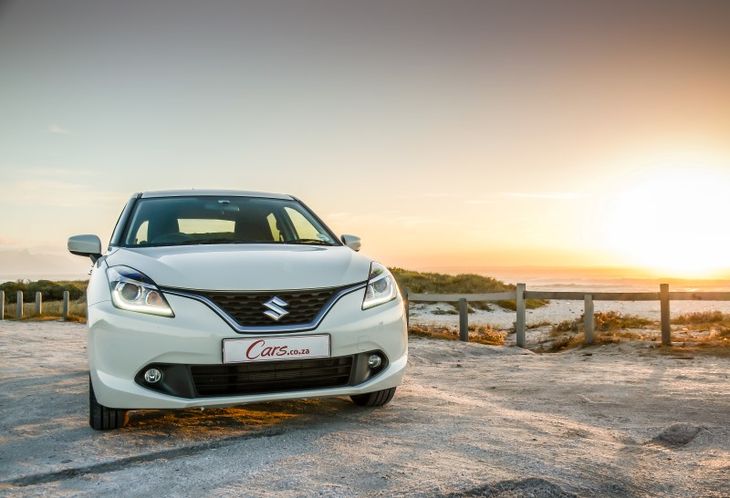 The Baleno is great if you want the practicality of a bigger hatchback at a more affordable price.
Verdict
The Baleno is a solidly impressive addition to Suzuki's vehicle range. It's a neatly-styled hatchback that offers reasonable performance, plus well-sorted ride and handling abilities, but its spaciousness (given the newcomer's keen asking price) is a stand-out feature. Even if the interior lacks a degree of aesthetic appeal, it's comfortable and well-equipped enough to live with on a daily basis and based on our experience, the Suzuki should regularly return good fuel consumption figures.

Whether the newcomer takes a big enough step in terms of adopting an exterior design that will coax a younger clientele away from "Polo-sized cars" or matches/exceeds the appeal of climbing into a small crossover is debatable – the market's response to the Baleno will tell. The 1.4 GLX represents excellent value and warrants consideration based on sheer merit.
Mike Fourie says:
The Baleno's strongest traits are its traditional, spacious hatchback configuration, generous specification and its solid build quality. It's not flashy, but certainly endearing...
Related content:
Suzuki Baleno (2016) Local First Drive
Suzuki Baleno (2016) International First Drive
5 Cars the new Suzuki Baleno needs to beat
Hyundai i20 1.2 Motion (2015) Review
Update: Ford Fiesta (2017) unveiled [with Video]
Ford Fiesta 1.0T Ambiente Automatic (2015) Review
Facelifted Renault Clio (2016) Specs & Pricing
Want to buy a Suzuki Baleno?