Suzuki has a reputation for producing reliable, no-fuss cars that offer great value for money. The Japanese marque's focus has been on small hatchbacks (Celerio and Swift), but with the launch of the new Baleno, it's moving up in size and stature.
We travelled to Belfast, Northern Ireland to drive the new Suzuki Baleno in order to get a feel for the newcomer, which is set to be launched in South Africa during the fourth quarter of 2016. The Baleno's intended for consumers who are looking for something bigger than a Swift but not a sedan (like the Ciaz) or compact SUV, such as the SX4 or Vitara. Often these buyers, who seek the reliability and security of a Suzuki, have had to go elsewhere to find a vehicle that meets their "expanded" lifestyle needs. The Baleno, then, sits somewhere between the Swift and Volkswagen Golf in terms of size but will be priced in line with the small hatchbacks such as the Ford Fiesta, Volkswagen Polo and Hyundai i20, to name a few examples.
New Boosterjet engine
The major news for the Baleno is that there's an all-new engine on offer. Ford, Opel and Renault have already adopted 3-cylinder motors at the entry-level ends of their Fiesta, Corsa and Clio line-ups and Suzuki has followed suit with a 1.0-litre turbocharged unit of its own. The motor delivers peak outputs of 82 kW and 170 Nm of torque, which compares very favourably with those of its rivals. In terms of refinement, it's particularly good and offers a smooth delivery of torque through the rev range. It's not jerky when shifting up the gears (like some other models can be) and the five-speed manual is typical of a Suzuki 'box, with a simple, short action. The sad news for our local market is that Suzuki SA isn't entirely sold on small turbos yet, so they plan to introduce the Baleno with the 1.4-litre naturally aspirated motor from the Swift and Ciaz. The 1.4 produces 70 kW and 130 Nm of torque – it's a tried and tested, reliable engine, just don't expect fireworks in terms of performance. Suzuki SA did say it plans to bring the 1.0-litre turbo to SA some time after initial introduction.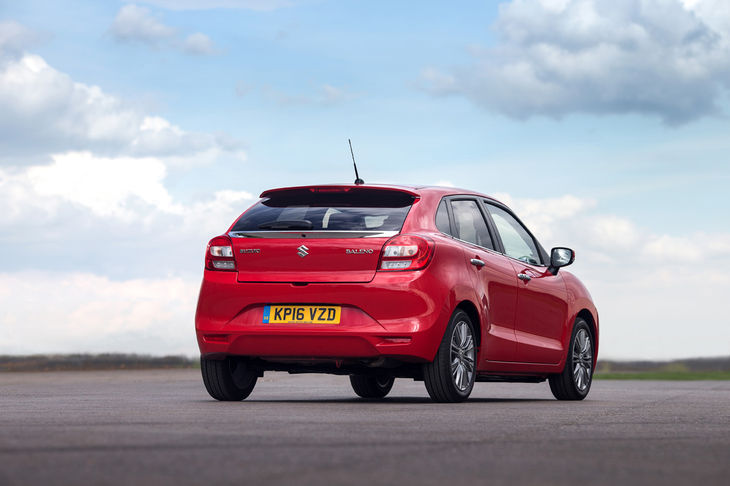 Baleno sits between Polo and Golf for size but beats both on price.
Interior
Suzuki interiors are incredibly well-made, but tend to lack a few interesting or appealing design cues. Their cabins also tend to eschew the plushest soft-touch materials in order to maintain a very keen price. The Baleno is much the same in this regard, the door inserts and transmission tunnel are finished in relatively unyielding plastics. The switchgear on the centre dashboard has a somewhat awkward layout with the air-con and fan buttons requiring quite a stretch across to the passenger's side. The Baleno offers big-car features such as automatic aircon and a large touchscreen. This is the first chance we've had to interact with Suzuki's new-generation infotainment system and it's quite good. It's responsive to soft touches and has an intuitive operating system. Navigation is also offered. Suzuki SA does intend bringing this infotainment system to South Africa but, again, not with the initial launch.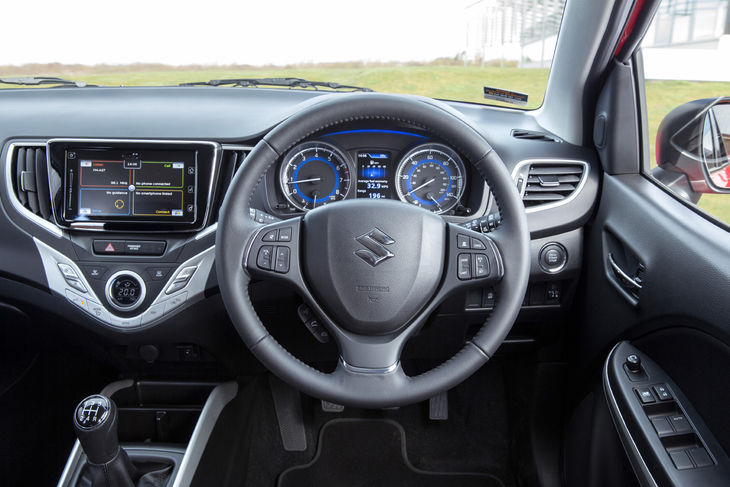 Touchscreen system is intuitive and sensitive. Only coming to SA later after the local launch.
Interior space utilisation is undoubtedly the Baleno's strongest suit.... The cabin definitely feels Golf-sized and the levels of leg- and headroom afforded to rear occupants are excellent. The Swift's Achilles heel has always been its limited luggage space, but the Baleno addresses this concern with a claimed capacity of 320 litres, which slots it in above the likes of the Kia Rio and Hyundai i20 and slightly below the Golf in terms of loading practicality.
How does it drive?
The Baleno drives smoothly and comfortably, much like the Swift. It rides bumps well and cushions jolts and road creases impressively. The Suzuki is based on a new lightweight platform (it weighs a mere 950 kg).That's quite a lot less than those of its rivals and makes the newcomer feel quite agile and spirited in urban driving conditions. The lightweight nature also translates in excellent claimed fuel economy figures. Suzuki says the 1.0 turbo should consume 4.5 L/100 km on the combined cycle and over our test route around Ireland we achieved 5.5 L/100 km, so it appears to be a particularly fuel efficient engine.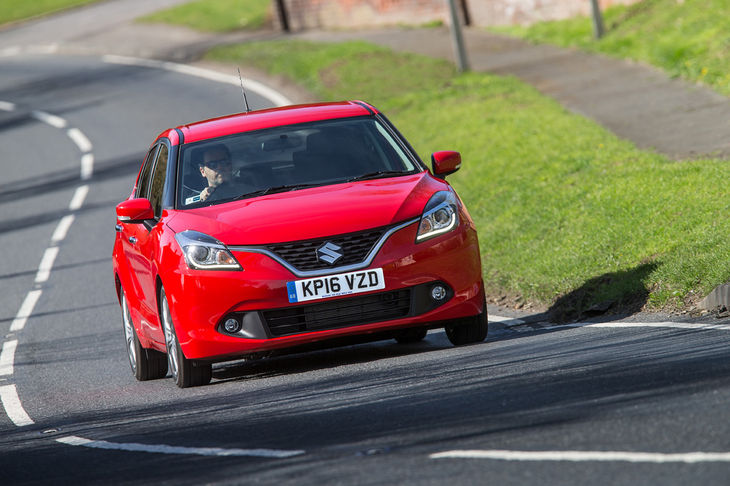 It drives and rides well, and it's also quite light at only 950kg.
We also got to see some of the technologies that Suzuki makes available in its overseas models. The British-spec Baleno comes with high-end safety technology such as radar braking, which will warn the driver if a collision is imminent and then automatically brake if it determines a collision is unavoidable. That's pretty impressive for a B/C segment hatchback. There's even adaptive cruise control on the top-spec model, which is unusual for this segment, too.
In local terms
Initially, the Suzuki Baleno will come to South Africa with the 1.4-litre naturally aspirated motor. It will also not have the touchscreen infotainment setup, but a simpler audio system comparable to that in the Ciaz. It will be just as spacious, drive well and the 1.4-litre has proved itself to be quite fuel efficient (if a little sluggish) at altitude. As far as pricing is concerned, Suzuki plans to be aggressive with its introduction. The firm reckons it will be able to launch the newcomer around the R200 000 to R220 000 mark. That compares impressively with smaller rivals, such as the Hyundai i20, Kia Rio and is on par with the Mazda2. The Baleno is also bigger, more spacious and similarly equipped to those competitors. It seems like it will be a good deal when it arrives.