Do South African consumers want an upsized compact hatchback? As Suzuki's Swift model nears replacement, the spacious, budget-positioned Baleno represents a strong value proposition. We drove it in the Eastern Cape.
Based on a new platform that is both lighter and more rigid than the one on which the Swift is based, the Baleno (pronounced bah-leno, the second part as in Jay Leno) has significant strengths insofar as rear legroom and luggage capacity are concerned: 2 things most compact hatchbacks aren't renowned for.
Stylistically, the Baleno appears neat and inoffensive, replete with its chrome-lipped grille, swept-back headlamps, floating A-pillars and (previous-gen) Audi A3-aping rear end. The chunky chrome spoiler on the tailgate of the GLX version seems a little gaudy, but at least it's a distinctive adornment!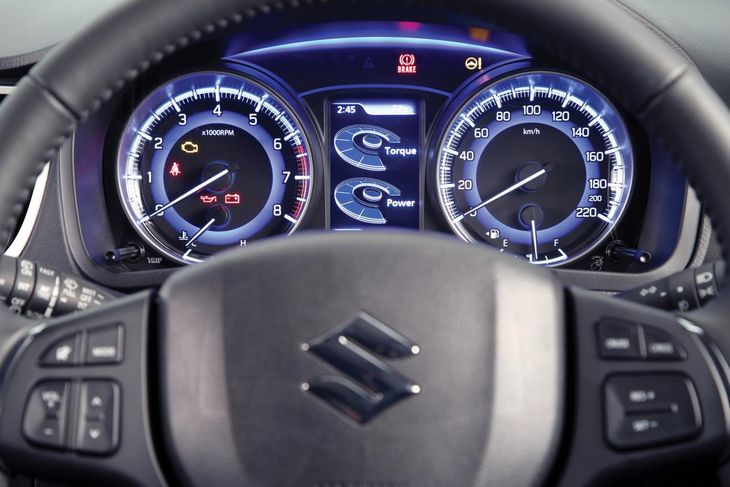 The Baleno's trip computer readouts are displayed on a TFT screen located between the instrument dials.

The newcomer's interior is similarly conventional, but unlike other Suzukis, comes with a bolt-on Pioneer touchscreen infotainment system (in the GLX), a full-colour TFT screen in the instrument cluster and a smart-looking digital climate control console. Meanwhile, the driving position is high and upright, the rear legroom is well suited to accommodating adult passengers and the impressively capacious luggage bay is only hampered by a high loading sill.
Well-damped ride quality
What stands out most about the Baleno's interior, however, is the combination of hardy-but-good looking cabin materials, substantial material trim and a level of fit and finish that is impressive at the Suzuki's price point. The product's pitch isn't akin to that of the premium manufacturers, but at least the cabin doesn't feel made to cost. The launch took the media contingent on a snaking route through Port Elizabeth's outlying rural areas and the roads of variable quality (to say the very least), yet the Baleno's interior remained creak- and rattle-free on the test drive despite sustaining a barrage of jolts and bumps.
As for the driving experience, the Suzuki was impressive in terms of its suspension's ability to absorb bumps and dips, the road holding was fair and the steering felt light, but appreciably accurate.
In fact, the entire product exudes an air of solidity and quality, from its build quality to the way it gets down the road, which is fairly well. The Japanese manufacturer's decision to stick with the 68 kW 1.4-litre 4-cylinder engine mated with a positively shifting 5-speed gearbox (the combo also does service in the Swift, Ertiga and Ciaz) will please fleet buyers and the claimed fuel economy of 5.1 L/100 km bodes well for low running costs. However, the peak torque of 130 Nm does limit the powertrain's flexibility, especially in terms of overtaking acceleration. Mid-rev range shove is good, but doesn't last very long.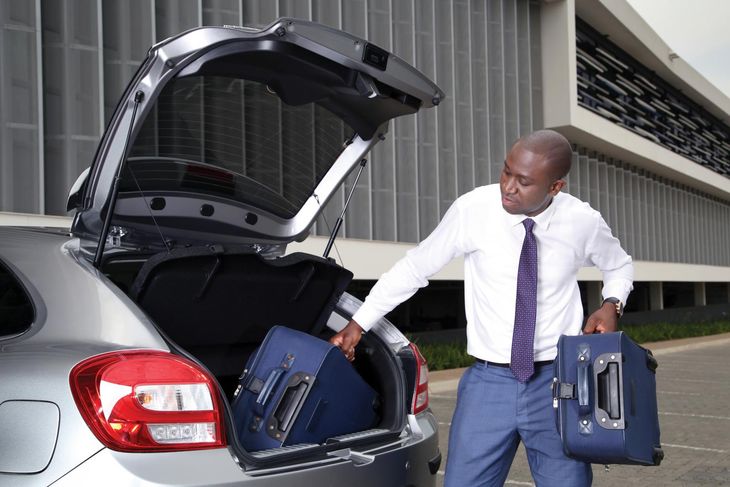 The luggage bay offers generous capacity; just a pity that the loading sill is relatively high.
With an asking price of R199 900, the 1.4 GL represents solid value. It foregoes the GLX's touchscreen 6.2-inch infotainment system (with some app support, including navigation), but the MP3-compatible CD audio system, with 6 loudspeakers, Bluetooth hands-free telephony and audio streaming, plus a USB port and an auxiliary input, can be operated via the multifunction steering wheel. There is a manual air-conditioning system with a pollen filter, remote central locking, power windows all round and electrically adjustable exterior mirrors, but only two front airbags with ABS with EBD.
Apart from its infotainment system, the 1.4 GLX further offers leather trim on the steering wheel, cruise control, automatic air-conditioning, rear park distance control, front-, side- and curtain airbags and rear disc brakes. Oh, and whereas the GL rides on 15-inch steel wheels, the GLX has 16-inch alloys.
Summary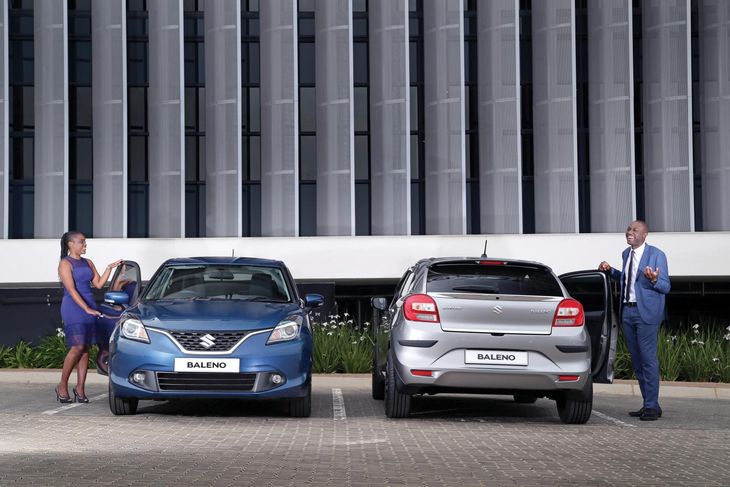 Neat and spacious, the Baleno offers a unique blend of C-segment hatchback qualities and B-segment affordability.
The following comparison may not please Suzuki South Africa very much, but the Baleno reminds us of the Nissan Tiida hatchback, which made its debut a decade ago. This newcomer feels significantly better executed, substantially better made and more modern, of course, but like the discontinued Nissan, it offers premium hatchback space and practicality at a compact hatchback price point.
The Baleno does not quite land a knockout blow… the provision of a traction/stability control system would have been welcome (the brand's representatives stressed that the product needed to remain under the R260k mark) and the GLX would have been just a bit sweeter had it offered a reverse-view camera, for example. Yet we doubt that any of Suzuki's new vehicle market rivals (all of which are compact hatchbacks such as the VW Polo, Ford Fiesta et al.) can offer 1 085 litres of utility space with their products' rear seats folded down, not least around the R230k mark.
Given Suzuki's good reputation for solid reliability and after-sales service (a 3-year/100 000 km warranty and 4-year/60 000 km service plan are included), the Baleno is well worth consideration as a value-packed compact family car. It is a very solidly made product, but whether the newcomer's overall packaging is youthful or trendy enough to appeal to young buyers looking to graduate from the budget car segment is another story…
Also Read:
Suzuki Baleno (2016) First Drive
5 Cars the new Suzuki Baleno needs to beat
Extended Test: Suzuki Swift 1.4 GLS [Video]
Suzuki Vitara 1.6 GL+ (2016) Review
Want to buy a Suzuki?