Subaru is sticking to its station-wagon guns by launching a refreshed Outback into the SUV-obsessed South African market. Does it matter? Should you care? We think you should...
We like: Excellent build quality, spaciousness, comfort and refinement, ride quality, performance, open-road economy, safety
We don't like: Confused navigation system, city fuel thirst, likely depreciation
Alternatives:
Ageing Swede: There really aren't many station wagons left on the South African market, and this Volvo is in fact the only direct competitor. It struggles to match the larger, more modern and more refined Subaru in most respects, but is arguably the "prettier" car, if that matters. What's an V60 Cross Country like to live with? Find out here.
By special order: If you really still want a traditional station wagon, Mercedes-Benz will import one for you. The C200 Estate, equipped with sporty Avantgarde kit, comes closest on price. Undeniably the more "prestigious" offering, it lags the Subaru in most respects including, notably, interior spaciousness, standard specification and power.
Compare the Subaru with its Volvo V60 Cross Country and Mercedes-Benz C-Class Estate rivals
Facts & Figures
Price: R655 000 (April 2018)
Engine: 3.6-litre, flat 6-cylinder petrol
Transmission: CVT
Power: 191 kW
Torque: 350 Nm
Fuel consumption: 9.9 L/100 km (claimed)
0-100 kph: 7.6 seconds
Top speed: n/a
What's new?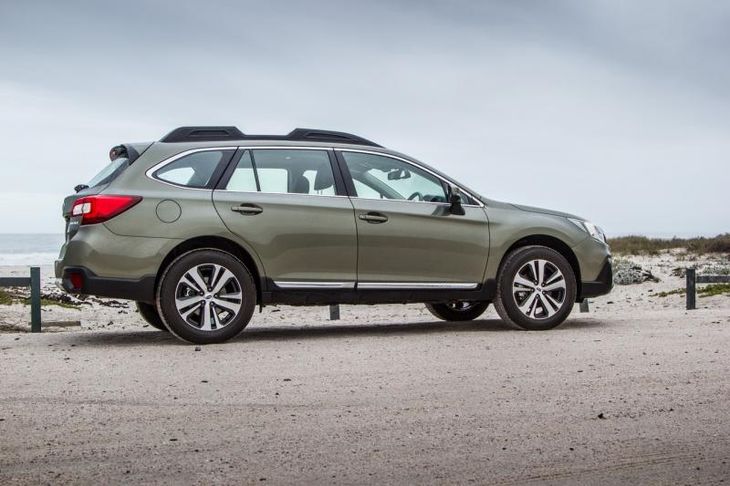 Exterior revisions are subtle and this is a new colour. Note 213mm ground clearance.
Before we get to the new bits, some background... Subaru had an impressive 2017, it registered solid sales growth, and launched a number of new products in the SA market. It also continues to do well in the Cars.co.za Ownership Satisfaction survey (complete it here), where it is highly rated for sales, service and general product excellence. You may also be surprised to hear that in 2017, the top-selling station wagon in South Africa was... the Subaru Outback. But don't get too excited – its only rivals were the ageing Volvo V60 Cross Country, the expensive and limited volume V90 Cross Cross Country and the "order upon request" Mercedes-Benz C-Class Estate. Oh... and shifting a mere 95 Outbacks in 2017 was enough to claim that title...
Nevertheless, in a country rife with anti-stationwagonism, Subaru has now introduced a facelifted version of the Outback. Besides a few exterior and interior design tweaks, the major focus has been on incorporating Subaru's advanced EyeSight safety system and upgrading the infotainment tech. They have also tweaked the suspension and added noise-suppression measures. So... small improvements all round, but as we found during our review of this derivative, they all add up!
The Good
Cabin ambience and quality

The design may be a little bland, but there's nothing wrong with the quality and ergonomics. Steering wheel is new.
The latest Outback leaves a lasting impression of exceptional comfort. It was always a soft-riding, refined and solid-feeling car, but the tweaks Subaru has made to this new model has certainly had an impact. The new sound-insulating glass, thicker insulation of the rear wheel-wells and refinements to the suspension damper settings contribute to a cabin that feels luxurious and isolated from the rough and tumble of the world (or the road surface).
When this generation of Outback was introduced, we noted that the quality of the finishes was of a far more premium look and feel compared to previous models. Subaru has made another round of small (but meaningful) improvements that further enhances the cabin ambience. The hewn-from-solid build was always a given with Subaru products, but now it has added increasing attention to detail and tactile quality to touch points. One can still debate whether it exudes the style or flair of German or Swedish premium-league brands, but in terms of quality... consider the box ticked.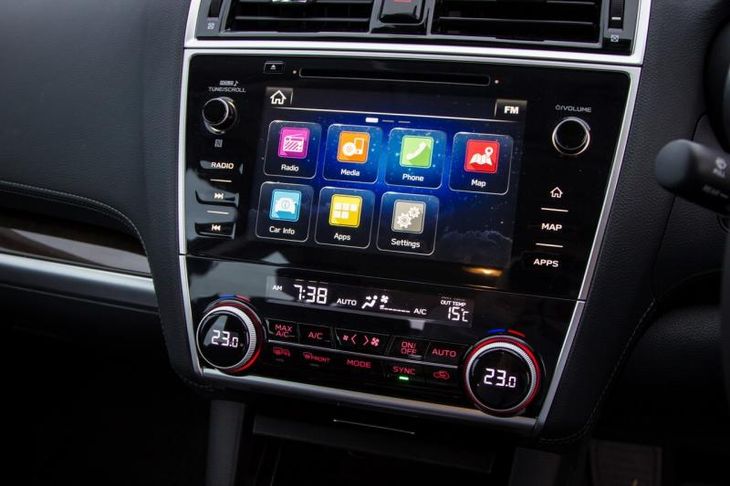 Large touch-screen infotainment screen is attractive and works well - but the navigation system on the test unit was faulty.
The latest round of changes includes a meaningful tech update, focusing on infotainment and safety. The new 7-inch infotainment system, with voice control, is a slick-looking unit and ergonomically works a treat (except for the navigation, see below). It also includes Apple CarPlay and Android Auto. The latter, of course, is not yet officially in South Africa, but if you can't wait here's a hack to help you access the feature. An 11-speaker premium Harman Kardon sound system is included too, as are USB ports for rear passengers. The revised steering wheel allows you to access many of the features without actually having to take your hands off the wheel.
Safety
The Outback is highly regarded for safety, with the pre-facelift car already having scored 85% and 87% in EuroNCAP crash testing for adult and child occupant protection, respectively, back in 2014. This new model features Subaru's EyeSight system, which essentially uses stereo cameras at the front of the vehicle to scan for potential obstructions or hazards.
Also included as standard in this model is adaptive cruise control (which works very well), pre-collision braking and throttle management, vehicle lane departure and sway warning and one of the most underrated modern automotive features, rear cross-traffic alert.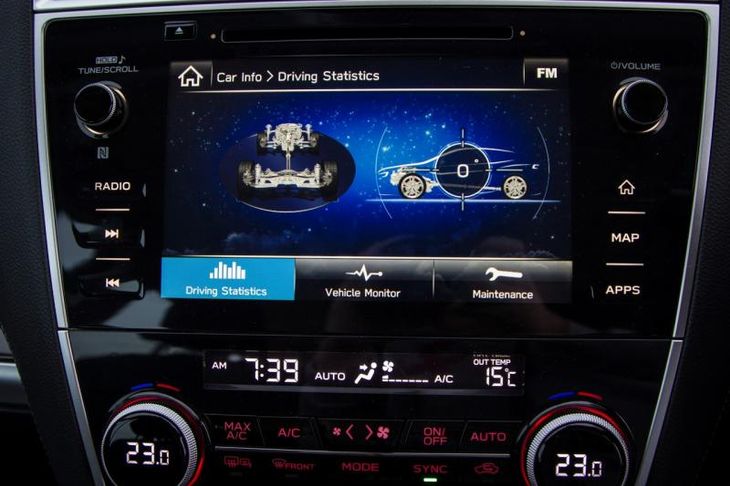 The Outback's infotainment system includes comprehensive driving information. Note new dual-zone climate controls lower down.
It's also worth pointing out the inherent safety advances of the Outback's drivetrain. Featuring symmetrical all-wheel drive and torque vectoring, the Outback exudes a sense of stability and safety, no matter what the road surface is like. Subaru says it has recalibrated the electrically assisted steering, too, and while we didn't have a pre-facelift model on hand to validate this claim, we do rate the set-up as responsive and consistent.
When the going gets really rough you'll appreciate the 213 mm of ground clearance, flat underbody and also X-Mode, which helps optimise traction in off-road conditions. There's also a Hill-Descent Control system.
Powertrain
As if consumer resistance to station wagons, in general, isn't enough, Subaru's flagship Outback is powered a large-capacity petrol engine – another potential stumbling block to market acceptance. Based on the 3.6-litre flat-6 petrol powerplant's on-paper specification, it would appear that scepticism is fair. After all, Subaru itself claims a combined cycle average consumption figure of 9.9 L/100 km!
But there are several positives too... so many, in fact, that we single out the powertrain as one of the stars of the show. Firstly, there's the power delivery. The engine packs a 191 kW punch and delivers good torque (350 Nm), too. Although the maximum torque figure is developed fairly highly (4 400 rpm), it "sustains" 90% of that maximum between 2 000 and 6 000 rpm, promising good responsiveness.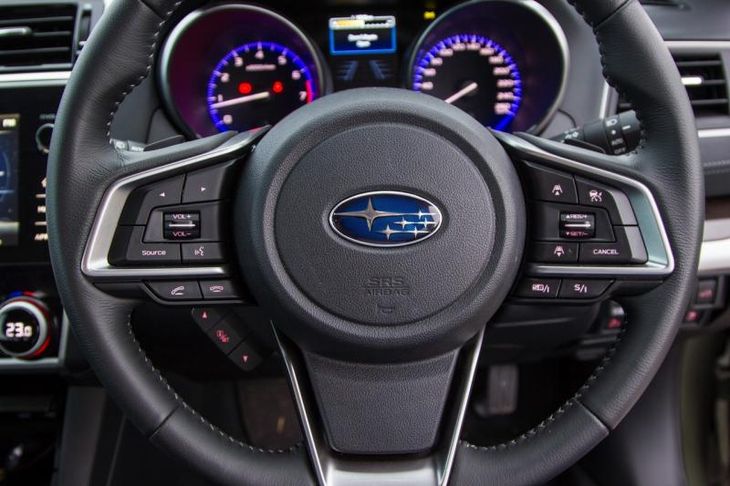 New steering wheel offers fingertip-access to a number of functions, including the i and S drive modes.
As is the case with many Subarus, you can select from efficiency-optimising "i" mode, to sportier "S" and so on. The engine is coupled with a CVT (continuously variable transmission), which is not our favourite type of transmission, but Subaru arguably makes the best one. Even when driven in "i" mode, the transmission is quick to respond to driver inputs and overtaking acceleration is always there when you need it.
Around town, it is indeed rather thirsty (forget about 9.9 L/100, you're looking at closer to 12!), but we were surprised by the engine's open-road, long-distance cruising economy. On 2 separate trips, we averaged 8.3 L/100 km, with the car fully loaded with passengers and luggage.
What will also impress is the refinement – the engine is creamy. If you're going to be doing a lot of long-distance driving, which we suspect many Outback buyers will do, then this engine/transmission combo ticks many boxes, as a matter of fact.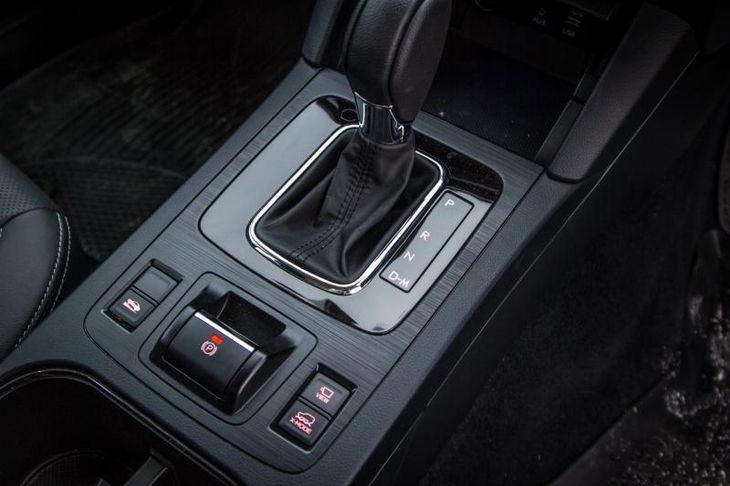 Press the X-Mode button and the various drivetrain electronics are optimised for "off-road" conditions. Hill-descent control is included.
Practicality
The Outback is a big car, measuring 4 815 mm in length, which makes it comfortably longer than a Volvo V60 Cross Country or Mercedes-Benz C-Class Estate. Interestingly, its wheelbase is shorter than either those cars', but this has not negatively impacted rear legroom. In fact, the Subaru is comfortably more spacious in the back than its Swedish and German rivals (or crossovers sold at the same price), and also offers a bigger boot (512 litres).
Raise the tailgate (automatically) and you'll notice not only the practical size and shape of the luggage bay, but also the levers mounted to the sides that allow you to flip the rear seats forward. Do that, and you'll free up a very long, very flat utility area that, quite frankly, no crossover at the price can likely compete with. On the outside, too, there are some exceptionally practical touches. The roof rails look rather elaborate at first glance, but that's because they can actually swivel across the roof the car, making it possible to immediately start using this feature, unlike most other vehicles where you'll still have to acquire separate, appropriate roof rails.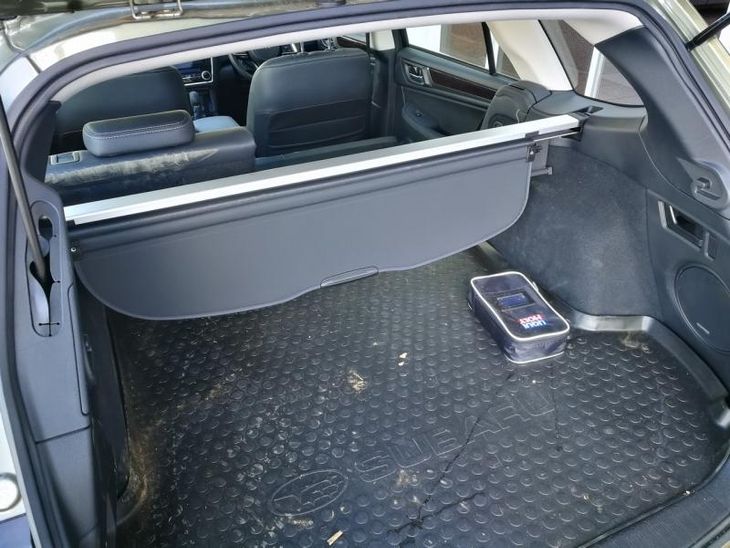 Very big boot's usability is further boosted by a rugged, easy-to-clean rubber mat.
The Bad
Navigation system issues
We found the Subaru's new infotainment system attractive and easy to use, but experienced a frustrating issue with the navigation system – it could never accurately find its own position on the map, and was therefore rendered mostly useless. According to Subaru the problem has also been picked up on other local Outbacks and is currently being investigated in Japan and locally. It says a remedy will be found soon.
City fuel thirst
As mentioned earlier in this review, the Outback is not particularly thrifty around town. Subaru itself claims an urban consumption figure of 14.2 L/100 km, but in our experience, the reality hasn't been as frightening – we achieved around 12 L/100 km. Stick to "i" mode and drive smoothly to get better city consumption. But yes, if you're buying because you need a new family runabout to "cart the kids off to school", then this is not going to be the most economical option, by a long shot.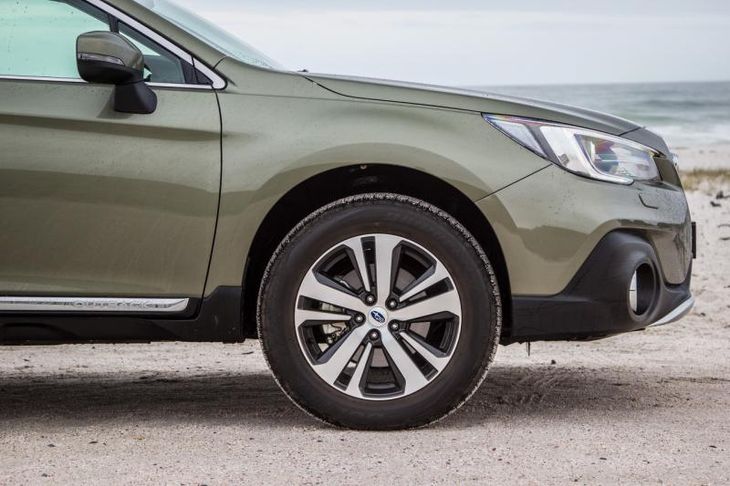 Neat, conservative looks and upmarket detailing give the Outback significant presence.
Pricing & Warranty
The current flagship Outback model sells for a heady R655 000, but it's a full-house package that lacks very little in terms of specification. It is backed by a 3-year/75 000 km maintenance plan (as opposed to a service plan) in addition to a lengthy 5-year/150 000 km warranty. Service intervals are scheduled for every 15 000 km/year.
Verdict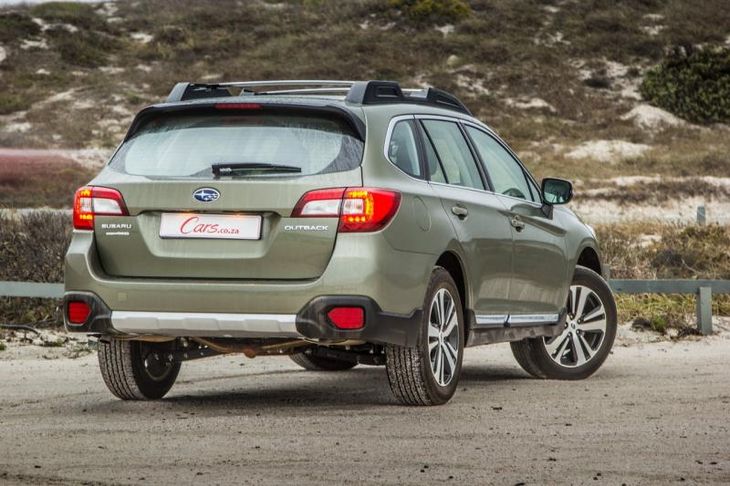 There aren't many cars (certainly not at the price) that can do so many things quite so well as the Subaru Outback...
This is an exceptional car that deserves far bigger sales support. It's a pricey prospect and concerns of potentially weak resale value linger, but, as a product, there's preciously little wrong here. Superbly refined, marvellously practical and with a hewn-from-solid feel that's largely disappearing from modern premium vehicles at this price level, the Outback is the equivalent of an automotive swiss army knife. And with this latest round of updates, Subaru has once again shown the power and value of the sum of marginal gains.
You may also be interested in:
New Subaru Forester (2018) revealed with more power and tech
3 Reasons why the Subaru XV is a #CarsAwards finalist
Do you suffer from anti-stationwagonism (video)?
Looking for a new / used Subaru Outback to buy?