In South Africa, station wagons are seen to be a trifle "fuddy-duddy", and consequently sales of these stylish, practical vehicles are slow. So... what if you added some SUV appeal to an otherwise straightforward, albeit luxurious and powerful wagon? Volvo's V60 Cross Country is just such a vehicle and we spent 2 months getting to know it better.
Volvo V60 Cross Country D4 Inscription AWD – Quick Specs
Price: R545 006
Engine: 2.4-litre, 5-cylinder turbodiesel
Transmission: 6-speed automatic
Power: 140 kW
Torque: 420 Nm
Fuel Consumption: 5.7 L/100 km (claimed)
Load Bay Capacity: 430-690 L

To understand just how out of favour station wagons (or estates) are in South Africa, consider the sales figures thus far in 2016. At present, stations wagons account for roughly 50 units a month (across all brands). This number excludes "crossover" derivatives such as the V60 Cross Country tested here, as well as the Subaru Outback and Audi A4 Allroad. But guess what... collectively these 3 vehicles only add around 15 units a month to the total! In the same time period (first 7 months of the year), SUVs and their crossover spin-offs have accounted for around 7 000 sales in South Africa.
So why do Volvo persist with a vehicle such as the V60 Cross Country? What makes it worth considering? And should buyers give the station wagon another chance? We spent two months living with the V60 Cross Country D4 Inscription AWD to find out.
Good Looks and Exclusivity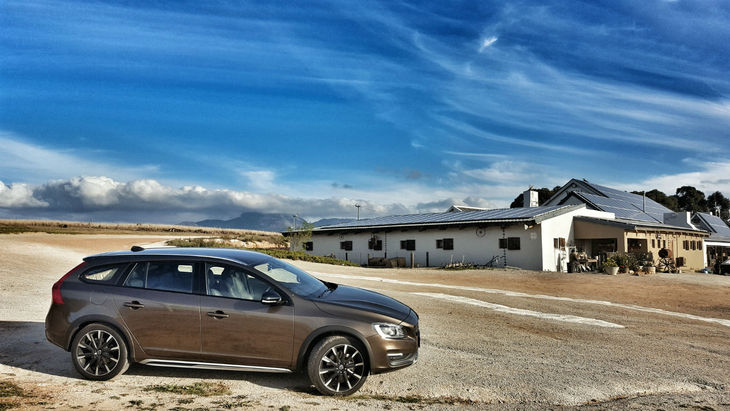 With its optional 19-inch Bor alloy wheels and Twilight Bronze paint, the V60 CC turned heads and won hearts.
The upshot of driving a slow-selling vehicle such as the V60 CC is that there aren't many of them around, so exclusivity is guaranteed in a sea of SUVs and crossovers. In the case of this rare Volvo, it also has to be said that the crossover bits and pieces have endowed the standard (and ageing) V60 shape with significant presence and a large helping of desirability.
As standard, this model rides on smart 18-inch wheels, but our test unit had very attractive optional (R15 600) 19-inch Bor wheels, with the metallic Twilight Bronze paint a further option (R2 350). Compared with a standard V60, the Cross Country rides 65 mm higher and also features skid plates at the front and rear, revised grille, fender extensions and a rear valance that has integrated exhaust tailpipes. Also adding to the sophisticated appearance are standard active-bending Xenon headlamps and LEDs. A sunroof is an optional extra.
Space and Practicality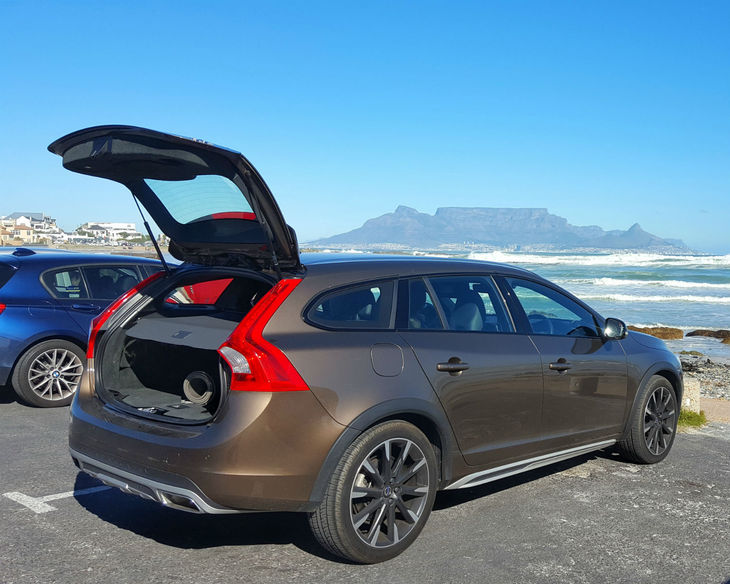 The V60's sleek design impacts on ultimate load-carrying ability, but the boot is not small.
The Volvo V60 is quite sleek as far as station wagons go and the more modern descriptor of "sports wagon" is arguably relevant here. It certainly doesn't look even remotely as boxy as Volvo wagons of the past. And while this is all good and well for designer appeal, it does impact on practicality.
The boot is claimed to have space for 430 L of stuff. This is similar to what is offered by the likes of the Mazda CX-5 and Ford Kuga, vehicles that are priced closely to the Volvo. It is quite a well-shaped boot, and we managed to fit prams (and other such awkwardly-sized items) lengthways into the load area. It is, however, not as high a loading area as in the SUVs/crossovers priced around it, which is a result of its sloping roofline. With the rear seats folded down, we managed to fit a mountain bike in quite easily, without removing any of the wheels... so it's a long, practical cabin. But it's not as wide and high as you'll find in the majority of crossovers and SUVs.
Where the V60 CC doesn't fare as well is in rear legroom. Here it is considerably more cramped than the crossovers and SUVs it competes with, but only if you have to transport adults over long distances. If its rear passengers are more likely to be children, there is sufficient space.
Overall, we found the V60 Cross Country practical and versatile enough for a family of 2 adults and 2 young children. It was used for several long-distance trips away from home, and it comfortably accommodated all the luggage, too.
Premium Car Appeal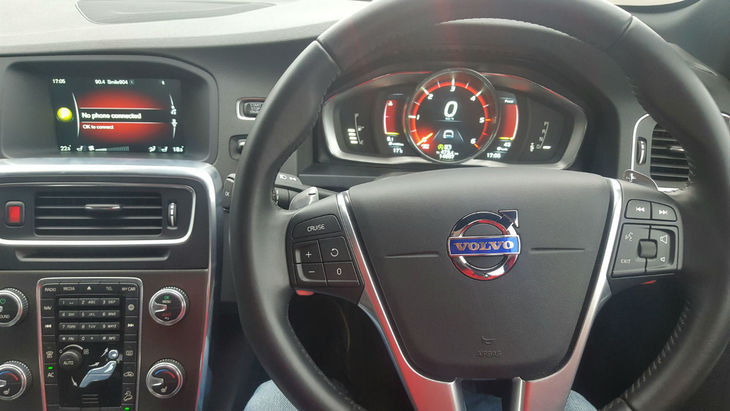 Well-made interior is loaded with features, but the ergonomics have dated.
The V60 Cross Country is, of course, based on Volvo's answer to the likes of the Audi A4, Mercedes-Benz C-Class and BMW 3 Series. As such, it is a really well made, luxurious and solid offering. Inside, the quality finishes and premium-segment design comfortably elevate the Volvo above the crossovers and SUVs offered at the same price. During its time with Cars.co.za, the V60 Cross Country didn't emit a rattle or squeak and it has to be noted that the test vehicle had already completed 15 000 km at the hands of South Africa's motoring journalists. Even by today's standards the V60 Cross Country's levels of NVH (noise, vibration and harshness) were impressively low.
This model comes with some very attractive features, including really comfortable, leather-upholstered front seats that are electrically adjustable (with memory). You have to pay extra for seat heating. In fact, our model also featured the Sport pack (R11 500), which includes the aforementioned seat heating, and also gearshift paddles, front and rear park sensors, keyless entry/start and a few other goodies. It appears to be good value for the extra outlay.
Other standard features of this model are; automatic dual-zone climate control with rear ventilation outlets, cruise control and a very good sound system that offers Bluetooth/USB/aux support and eight speakers. Navigation, sadly, is not offered as standard, which is a bit cheeky at this price level but not unique to Volvo. A navigation system with voice control will set you back a whopping R22 000! If you'd like an even better sound system than what is offered as standard, there is a Harman Kardon option for R15 600. We like the digital instrumentation with its changeable display (choose from 1 of 3 settings) – it's a little gimmicky, but nevertheless adds to the upmarket feel of the cabin, and also makes it feel slightly more modern. The latter aspect is important, because Volvo's centre stack design, with its numerous small buttons certainly dates the cabin visually and egonomically.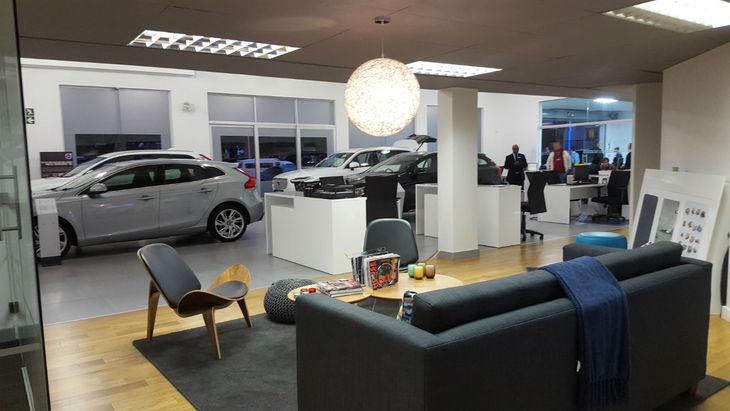 Our service experience at Volvo Cape Town was superb, and the facilities are first-class.
In terms of safety, the V60 Cross Country also comes comprehensively specified with 6 airbags, stability control, Intellisafe (including City Safety automated emergecy braking), hill-start assist, hill-descent control and Isofix child seat anchors. Our test unit also featured the optional Driver Alert system (R9 750) that includes Lane Departure Warning and Forward Collision Warning.
Something else that is a marker of a premium-segment vehicle that buyers will appreciate, is the standard 5-years/100 000 km warranty and 5-years/100 000 km Maintenance plan, as opposed to a service plan that applies to the majority of crossovers and SUVs of similar pricing.
On the Road... and slight Off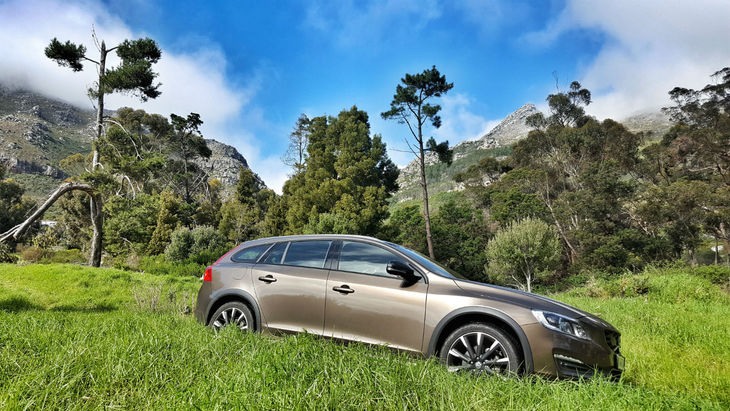 With more than 200 mm of ground clearance, the V60 Cross Country can head off the beaten track with confidence
The general concensus with regards to the usage patterns of crossovers and SUVs is that they're mostly road-bound and very seldom get used to venture onto the rough. Yet, at the same time, the very qualities that lend those vehicles a measure of off-road ability count against them on tar... So, in theory, a vehicle such as the V60 Cross Country appears better balanced. At its core, this is a refined, road-biased station wagon that has now been given an extra 65 mm of ground clearance. Volvo claims 210 mm between the V60 CC's belly and terra firma, which makes it higher than most of the crossovers priced around it! It is also fitted with all-wheel drive as standard, as well as hill-descent control and hill-start assist. We found the V60 CC's a surprisingly adept at handling off-tar excursions. It's by no means a rock climber, but its all-wheel drive system deals effectively with slippery conditions and there's enough clearance and traction for some fairly rough gravel surfaces. At higher speed on well-maintained gravel roads, the V60 CC impressed with its stability. So... yes, the Cross Country-fication of the V60 holds real advantages.
On the road, too, the V60 CC puts in an impressive showing, even though the ride is perhaps slightly too stiff at lower speeds around town. We think those smart optional wheels may be to blame, but at speed the V60 CC assumes a loping, supple ride character that makes it a great grand tourer, yet with the dynamic talents to run rings around the crossovers and SUVs of the same price.
Fast and Growly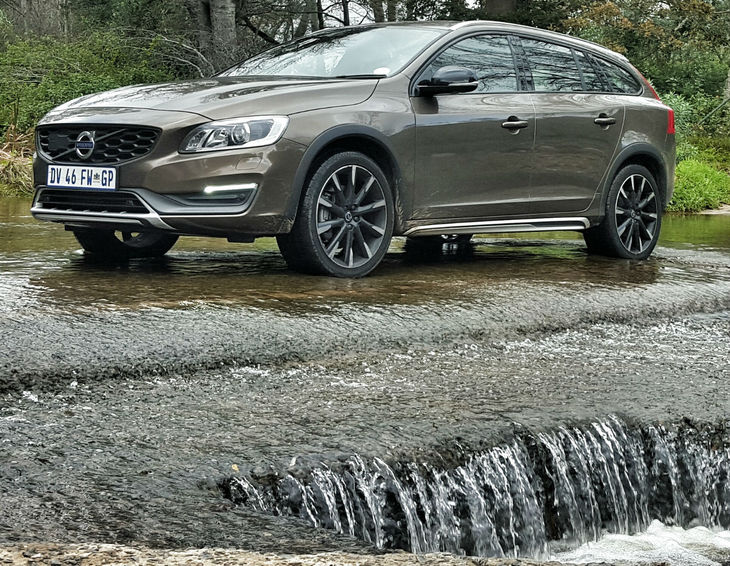 V60's turbodiesel engine gives good power, but can be thirsty
The V60 Cross Country D4 Inscription makes use of one of Volvo's older engines – a 2.4-litre, 5-cylinder turbodiesel – so it's not as efficient in the real world as some of the vehicles it competes with. Volvo claims a combined-cycle consumption figure of 5.7 L/100 km, which is similar to what is claimed for its rivals, but we couldn't achieve anything near that. Our average for the duration of the 2-month test was 9.1 L/100 km, and the best we achieved on one out-of-town run (fully loaded) was 7.9 L/100 km.
But where the big engine in the Volvo does shine, is in performance. It delivers a strong 140 kW and 420 Nm of torque, the latter available from 1 500 to 3 000 rpm, and is mated with a 6-speed automatic transmission. It is quite a growly, rumbly engine, which can be irritating in town, but you'll appreciate the performance. Volvo claims a 0-100 kph time of 8.9 seconds and a 205 kph top speed.
Verdict
During its 2 months with the Cars.co.za team, this Volvo V60 Cross Country illustrated why we still believe there to be great merit in opting for a station wagon, particularly one of these crossover derivatives. While this particular model is based on a vehicle that is somewhat long in the tooth and consequently behind on efficiency and interior ergonomics, it vividly showed that the more car-like dynamics, upmarket cabin, performance and sophistication of a traditional premium-segment vehicle can be combined with the attractive attributes of a SUV or crossover (raised ground clearance, rugged lifestyle appeal etc.). We hope that Volvo persists with, er, persisting with this kind of vehicle in the future.
Interested in buying a Volvo V60 or V60 Cross Country?
Find one for sale on Cars.co.za
You may also be interested in;
Volvo V60 Cross Country D4 Inscription AWD (2016) Review
Volvo V40 Cross Country T5 Inscription AWD (2016) Review
Volvo XC90 T8 Twin Engine Inscription (2016) Review