Android Auto is officially not yet available in South Africa, but we have a workaround which is safe, does not affect your mobile phone's warranty or require your device to be rooted/jailbroken. Here's how to get Android Auto in South Africa. UPDATED!
2019 Update: It appears that Google SA has quietly added the Android Auto application to the South African Google Play Store. To get Android Auto, simply search for it in the Play Store, or click THIS LINK with your phone browser.
Firstly what is Android Auto and why do I need it?
According to the official website, "Android Auto is a simpler way to use your phone in the car. Whether on your phone screen or on your car display, Android Auto was designed with safety in mind. With larger touch targets, a simplified interface, and easy-to-use voice actions, it's designed to minimize distraction so you can stay focused on the road."
Essentially it replicates your Android phone's screen on the car's infotainment system. Functionality is reduced and only core applications such as Google Maps, music streaming service such as Google Play Music and communication apps like Whatsapp work. This is great, because it's pretty much all you need and plus, you're supposed to be focused on the road – not fiddling with your 'phone – while driving.
Does it work? Absolutely. We've been using our workaround fix and sampling it in a variety of test cars. To activate Android Auto, plug your phone's cable into the USB port (that's over and above the handsfree Bluetooth connection). Essentially, there's no need to touch your phone while you're behind the wheel because everything can be controlled via voice command. You'll need an Android mobile phone running Android 5.0 Lollipop (minimum requirement).
If you're running an older car which does not offer USB connectivity or a modern infotainment screen, then fear not as we've got a solution for that. You see, Android Auto offers two modes. The first mode is where the phone's screen is replicated via the car's infotainment screen, but if you don't have this then you can use the second mode where you use your phone's screen. The best course of action is to purchase a phone mount where your device sits either at the base of your windscreen or mounted on an air conditioning vent. The second mode reduces phone functionality too, so you're not distracted.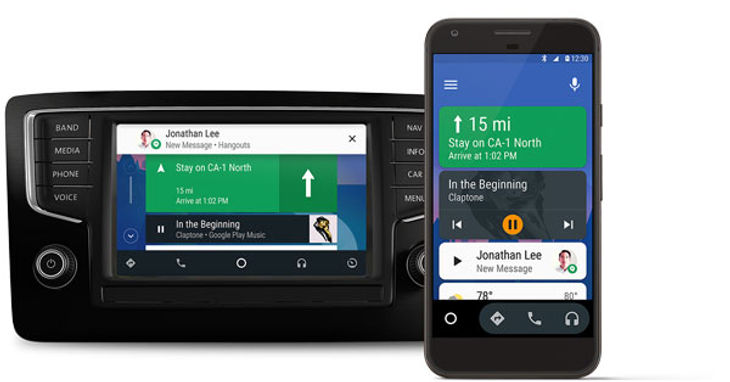 Android Auto can operate via your car's infotainment screen, or as a stand-alone application
This sounds great, but why can't we get it on Google Play? Apple rolled out its CarPlay system in South Africa without any hiccups, yet Google has, for some reason, not launched this convenient and safer app on the local market (at least not yet). As a result, it's not available in the Google Play store and to add insult to injury, it's a free app, so we're at a loss as to why it's not here yet. However, we have a fix so you can enjoy the benefits. We use Google Maps extensively at Cars.co.za, even if we're doing the commute as the live traffic service helps us dodge the worst congestion.
How to get Android Auto in South Africa?
2019 Update: It appears that Google SA has quietly added the Android Auto application to the South African Google Play Store. To get Android Auto, simply search for it in the Play Store, or click THIS LINK with your phone browser.
The best way to get Android Auto in South Africa would be for Google to activate it, but seeing as that hasn't happened, here's how you can get it without affecting your phone's warranty or rooting the device:
Open your phone's web browser to https://www.apkmirror.com/apk/google-inc/android-auto/
Find the newest version of Android Auto and select "Download APK". The button you're looking for says "Verified safe to install".
The application install file will download.
You will need to open the file and install.
Some phones may not run an application that hasn't come from the Google Play Store and you'll need to go through the settings in your phone and allow application installations from Unknown Sources.
The application will install and then it's time to set up.
A quick note that you should revisit APKMirror once a month to ensure your app is up-to-date.
Setting up Android Auto
Check if your vehicle is equipped with Android Auto compatible here. If so, simply plug the phone into the car and Android Auto will automatically start. You can then follow the prompts and you're ready to go.
If your car is older, you can just unlock your phone and immediately run the Android Auto application. You'll be greeted by a minimalist screen with big buttons and you have shortcuts for Google Maps, calls and music streaming services.
That's it, that's all it takes to get Android Auto in South Africa. If you're battling, you're more than welcome to leave a comment below or tweet us @carssouthafrica and we'll help get you connected.
Watch this Android Auto Tips and Tricks video:
Further reading:
Android Auto to Feature in 2015 Audi Models (Video)
Android and Apple versus car infotainment systems
Ford Offers Android Auto and Apple CarPlay in SYNC 3 (Video)
Volkswagen launches app for SA customers