A faster and more powerful Renault Clio RS recently landed in South Africa and we could hardly wait to drive the top-of-the-range newcomer. It's called the Renault Clio RS 220 EDC Trophy and right now it's the most hardcore Clio on sale. Is it worthy of your attention? Let's find out...
We like: Purposeful looks, immense braking power, raucous soundtrack, all-inclusive specification, reassuring handling,
We don't like: Gearbox paddle positioning, special high-performance tyres are expensive, ride quality suffers on deteriorating roads
Alternatives:
Hands-on driving fun: In this price-sensitive market, we'd find it a challenge to not recommend the Ford Fiesta ST. Now available in a more potent (and limited edition) ST200 guise, the Fiesta ticks all the boxes for a great all-round performance hatchback. Its manual gearbox is involving enough to put a smile on your face, yet docile enough to make commuting a cinch.
More luxury: The Mini Cooper S offers similar performance to the Clio Trophy, but it's a bit more premium. While it may not offer as the outright thrills and entertainment as the Renault, it's still brisk. We think it suffers from an image problem as it has become a bit softer and cuter. You could opt for the JCW, which is R50k more than the Trophy.
The popular choice: The all-new Volkswagen Polo GTI now features a 147 kW 2.0-litre turbopetrol engine and it should prove popular when it lands in South Africa in 2018. The older 1.8-powered GTI DSG is still on sale, but in terms of driving enjoyment, it's more of a warm hatch than a hot one. We'll happily recommend it as a daily driver, however.
Compare the specifications of the Clio Trophy to the Ford Fiesta ST200 and the Mini Cooper S here
Facts & figures
Price: R419 900 (base spec, June 2017)
Engine: 1.6-litre, 4-cylinder turbopetrol
Transmission: 6-speed dual-clutch
Power: 162 kW
Torque: 260 Nm
Fuel consumption: 7.6 L/100 km
0-100 kph: 6.6 seconds
Top speed: 235 kph
What is new?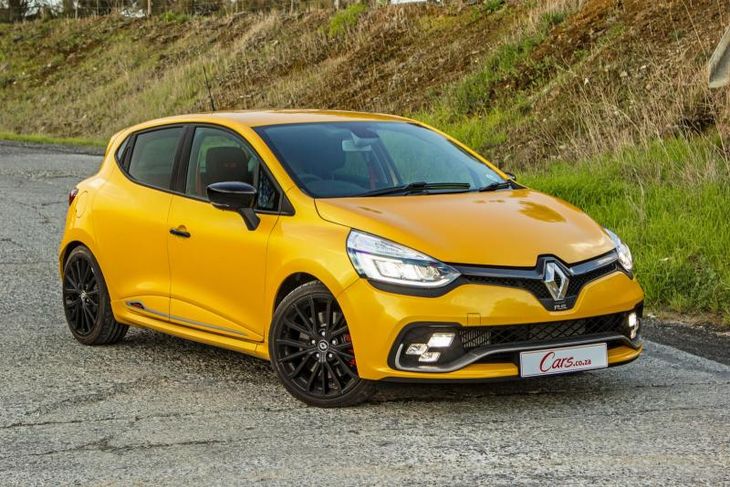 The new Renault Clio Trophy front end is dominated by the RS logo foglights. New LED headlights are potent.
The Renault Clio RS is available in 2 flavours: Lux and Trophy, whereas before it was Lux and Cup. Trophy is a special word in the vocabulary of Renault Sport as it signifies the ultimate performance incarnation of a product. Lux is geared more toward comfort and day-to-day driveability, while Cup ups the ante for a more involving and focused drive.
The Trophy, however, is a no-holds-barred road-going track toy. The facelifted Clio RS is recognisable through its revised headlight design, foglights in the shape of the RS logo, LEDs in the tail lights and for the Trophy model, there are red brakes, an Akrapovic exhaust system, 18-inch wheels, Trophy badging and. if you look closely a lower ride height.
The good
That fast feeling
If there's one thing that Renault Sport has managed to consistently get right, it's imbueing its products with that feeling that you're driving something fast. Even when you're not pressing on and just doing a mild overtake, you know you're piloting something quick. Power comes from the Renault-Nissan Alliance 1.6-litre turbocharged 4-cylinder (same motor as the Juke, but with obvious enhancements) and in Trophy application, there's 162 kW and an overboost-assisted 280 Nm. Those are big numbers for something as little as a Clio and the office debate raged about whether the facelifted Volkswagen Golf GTI 7.5 would be able to hold off a Clio Trophy in a quick drag race.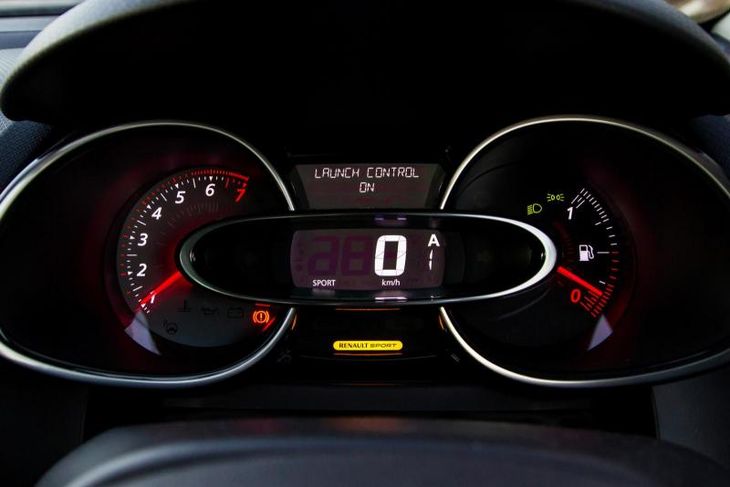 Launch control dialled up and the Clio Trophy is ready to sprint off the line
It's not something we tested, sadly, but the numbers don't lie. The Trophy hits 100 kph in a claimed 6.6 seconds with Launch Control activated. It's all very dramatic as you pull both gearshift paddles towards you and then accelerate hard, and feel the car tense up in anticipation. Hope the specialised Michelin Pilot Super Sport tyres are warm enough (they weren't, often) and release the brakes.
There's a tremendous amount of wheelspin and the Trophy springs off the line with a distinct dual-clutch induced bang accompanying each gearshift. We found that after a few launch starts, the tyres would become stickier and the car turned into a demon off the line. Unlike some hot hatches, there's no torque steer, which is incredible considering the sheer power going through those front tyres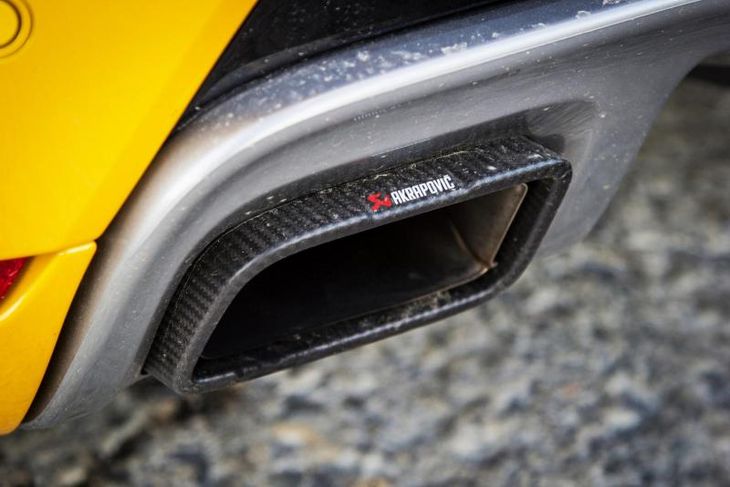 Akrapovic exhausts are beautifully finished in carbon fibre and sound the part.
Throw some corners into the mix and this is where the Trophy comes into its own. The last time I was behind the wheel of something this involving and hands on, it was the Honda Civic Type R, a mad, yet ballistic hatchback. Steering is direct and fast, although we'd note the wheel is a little thick for our liking and not giving us all the feedback we truly desire. You can throw the Clio Trophy into the corners too and it's likely you're going to run out of bravery long before the car runs out of grip. We were very impressed with the brakes and they happily dug into the tarmac and slowed the Trophy down with no fuss.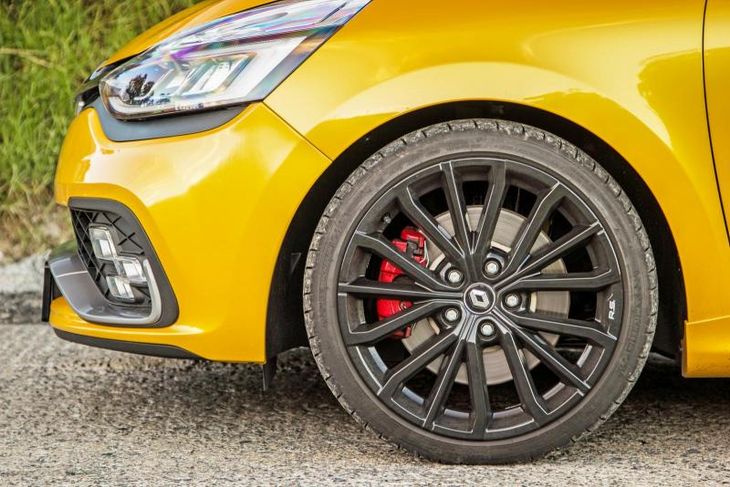 Michelin Pilot Super Sport tyres and excellent brakes make the Clio Trophy a formidable handling performer
Usually we'd cast a suspicious eye towards a non-OEM performance exhaust upgrade as they always tend to be a bit over the top. We're looking at you, Hyundai i20 Sport... In the Renault Clio Trophy's case, the Akrapovic setup is deviously unassuming in normal mode and it'll take RS (Sport) mode for it to clear its throat. There's a meatier burble and each gearshift gets that distinct bang as each cog is selected. This lovely noise ensured that we spent the majority of our time with the car in RS mode. What's French for vrrrpha? There's a Race Mode too, but seeing as that turns off the electronic stability safety nets, we left it alone.
Premium cabin
The facelifted Renault Clio interior design has made its way into the Trophy and while there's not immediately different, you'll notice some high-quality materials on the dashboard. It's a simple and unfussy design this, with a smart-looking infotainment screen dominating the centre. The R-link is a great system and it comes with TomTom satellite navigation as standard. It's handy as it'll tell you when there are accidents and jams on your route, and it'll alert you to fixed speed cameras. In terms of seats, the front passengers are in for a treat as these are the Recaro variety and feature heating, which is lovely in winter. It's spacious too, with a generous boot which is on par with class-leading.

Recaro sporty seats are comfortable and offer heating functionality. There's red stitching and red seat belts to remind you're in a performance vehicle
The levels of specification sets the Clio RS apart from its rivals. There's cruise control, auto lights, auto wipers, Bluetooth connectivity, USB connectivity and the car features a whole bunch of safety features. The Renault Clio Trophy has ABS, EBD and emergency brake assist (EBA), a new generation ESC (Electronic Stability Control) and ASR (Anti-Slip Regulation) active traction control, HSA (Hill Start Assist) and four airbags.
The not-so-good
Gearbox ergonomics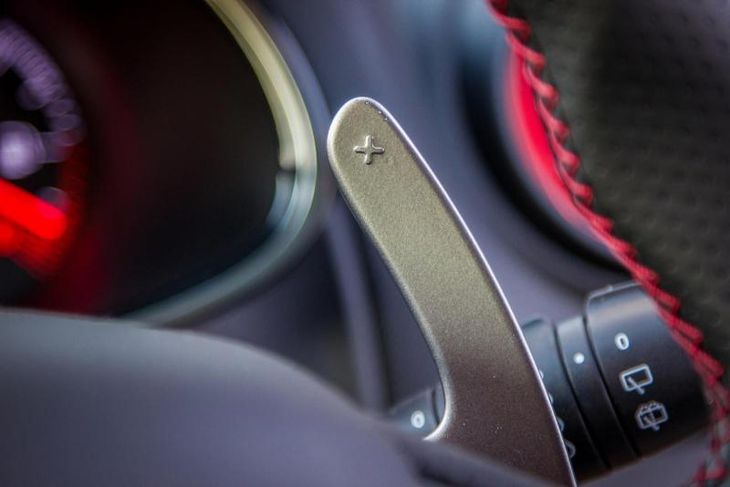 The gearshift paddles have a reassuring feel to them, but they're in the wrong place
The first Renault Clio RS with the EDC transmission was harshly judged. Understandable for 2 reasons. Firstly this model followed the legendary 2.0-litre Clio III Gordini – a magnificent piece of driving kit fitted with a delightful 6-speed manual 'box. Secondly, we've been spoilt with excellent dual-clutch transmissions from other manufacturers and this EDC mark 1 just didn't deliver as hoped. The good news is that this revised EDC is better. Shift times are faster and importantly, the downshifts a bit smoother and predictable.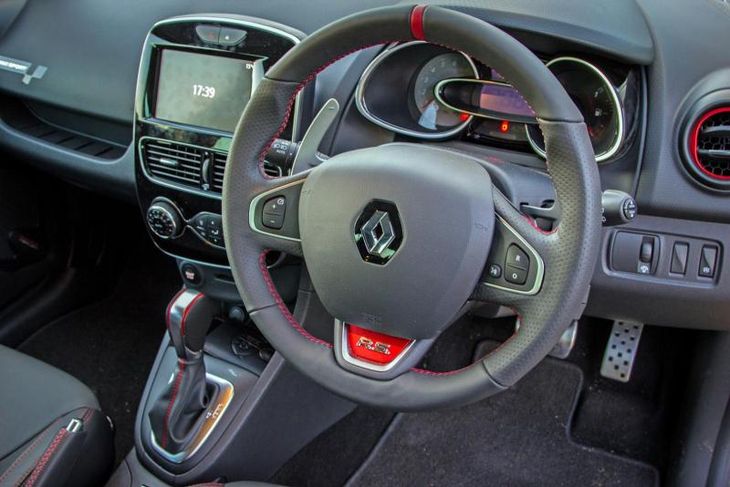 Red detailing and RS badges differentiate this from lesser Clio cabins
However, our gripe comes from the positioning of the gearshift paddles. They're mounted on the steering column, as opposed to the wheel itself and there will be times you will want to exploit that excellent chassis and superb grip and accelerate through a corner. You'll want to shift early and make the most of the grunt, but your right hand will be nowhere near a shift paddle. Frustration. Renault, if you're forcing us to accept EDC, then meet us halfway by placing the paddles in the correct spot.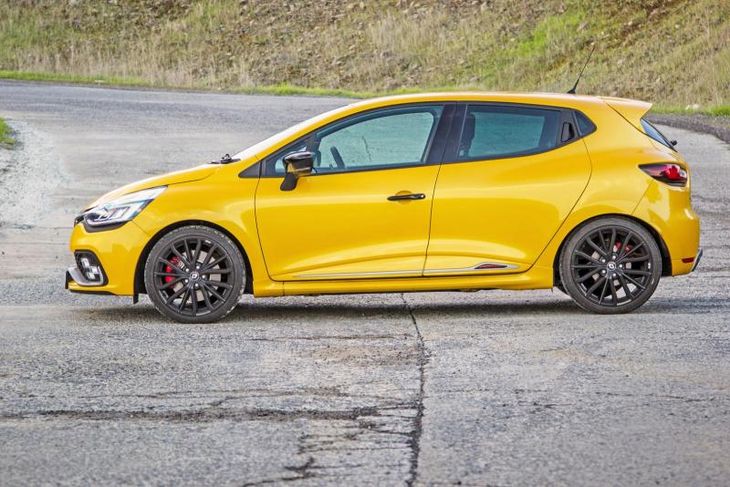 With the optional yellow paint and in Trophy spec with big wheels and lowered suspension, it really looks the part.
One-trick pony
The Clio Trophy, for all of its compelling performance, is challenging to live with on a daily basis: its ride is harsh, so much so that can feel each and every undulation in the tarmac. In normal mode, the Clio Trophy tries really hard to be docile and sedate, but it's an uneasy truce: you can feel that both the Renault's engine and transmission would far rather be in "maxmum attack mode", as opposed to dealing with the daily drudgery that is the traffic-jam infested road network.
The EDC 'box has come a long way and improved dramatically, but when left to its own devices, it's not smooth in traffic. It's much better to take the reins yourself and use the paddles. The bottom line is that the Clio Trophy is best in RS mode, with the gearbox in manual override and you have a series of beautifully smooth, sweeping tarmac in front of you. As a performance car it's great and will tick the boxes for the enthusiasts, but we think you'd struggle to live with its quirks on a daily basis.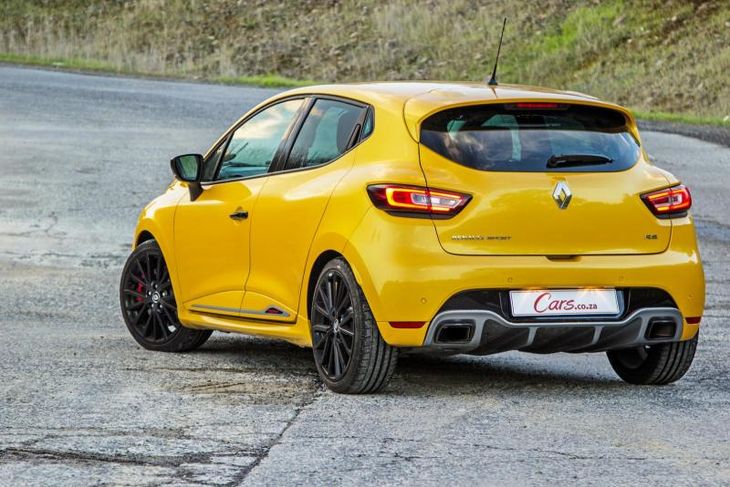 It's fun and fast, but only in specific scenarios. It does not make a great daily driver, but if you're prepared to live with it, you're in for a handful
Pricing & Warranty (June 2017)
The Renault Clio RS costs R419 900 and is sold with a 5-year/150 000 km mechanical warranty and a 6-year anti-corrosion warranty. A 3-year/30 000 km service plan applies, with service intervals at 10 000 km. Metallic paint is an option at R2 500, and you might want the limited edition colours such as Sirius Yellow and Frost Pearl White for an additional R10 000.
Verdict
Renault Sport has again worked its magic into the Clio. It's an improvement on the previous Clio Cup 200 and certainly feels more raw and untamed. The Akrapovic exhaust makes a wonderful noise at full chat, without compromising on aural comfort. It's a devilishly agile thing; you can charge into a corner knowing that the brakes are more than up to the task of stopping the car quickly and, as far as dynamics are concerned, the chassis can deliver whatever is required of it. However performance and enjoyment are just one factor in the decision-making process and while standard specification blows the competition out the water, the Clio Trophy lacks the comfort and day-to-day usability that its rivals muster as second nature.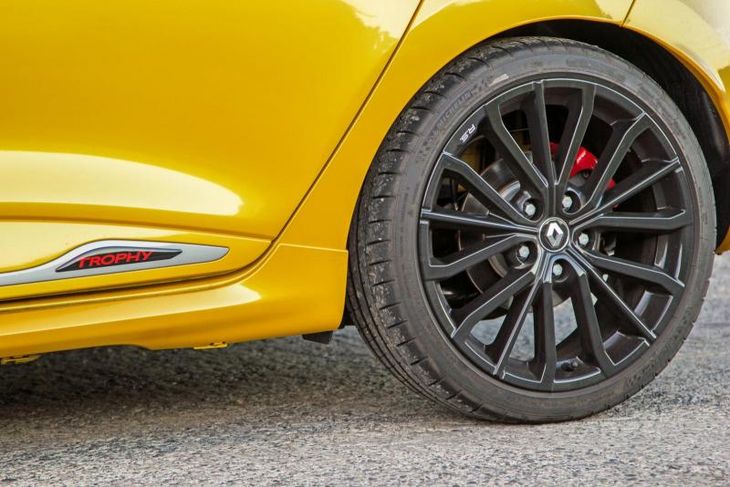 The Trophy badge and red callipers are subtle touches on the Renault Clio RS Trophy 220
There's a lesser Clio RS 200 Lux around that lacks some of the edge of the Trophy and it is fractionally slower and cheaper. However Renault Sport has never been about settling for second best and in this segment, you may as well go all in for the Trophy. You may dislike driving it to work, but if you take a long way home, you'll arrive back with a smile on your face.
Remember this combination: start up, seatbelt on, set transmission into manual mode, activate the RS mode and have fun. At its price, you're getting the market's most focused compact hot hatchback and while the likes of the (limited edition) Ford Fiesta ST200 are under the R400k barrier, we feel that the next generation Volkswagen Polo GTI will be similarly priced. Also, well done to Renault South Africa for adding the heated seats and Akrapovic exhaust to the standard specification; both items are pricey optional extras in other markets.
You may also be interested in:
Toyota Yaris Pulse (2017) Launch Review

Renault Clio GT Line (2017) First Drive

Refreshed Renault Clio gains GT Line derivative

Renault Clio GT-Line (2015) Review

Volkswagen Polo 1.0 R-Line (2017) Quick Review (w/Video)

Spy pics: New Volkswagen Polo (2017) spotted in SA

Volkswagen Polo 1.0 TSI R-Line (2017) First Drive

Kia Rio (2017) International First Drive

Hyundai i20 Range Expands in SA
Want to buy a Renault Clio?